Great organization marking milestone anniversary
Story by Amelia Schofield
Photo by Yolanda Genu:
Richelle Belzerowski, Executive Director, Friends of the Red Deer Regional Hospital Centre, Kim Storey, Senior Operating Officer at the hospital and Tracy Reberger, Acute Care Manager, stand next to one of the isolation carts purchased in 2018 by the Friends. The carts store the personal protective equipment staff require on their rounds.
Friends of the Red Deer Regional Hospital Centre celebrate milestone
This month marks 40 years that the Friends of the Red Deer Regional Hospital Centre (RDRHC) have supported the facility to the tune of around $10 million raised to date toward patient comfort and care.
"We're thrilled to celebrate our 40th anniversary. This is an important milestone, and speaks to the commitment and dedication of our staff, volunteers and board members," says Richelle Belzerowski, executive director of the Friends.
Since 1980, the group has focused its efforts on fundraising for equipment, supplies and services to enhance care for patients and families.
Over the years, their contributions have ranged from purchasing televisions and tablets for patients to enjoy, comfort items for moms and dads suffering the loss of a child, and enhancements such as new hospital furniture, blanket warmers, blood pressure monitors and more.
"We're so thankful to the Friends of the Red Deer Regional Hospital Centre for their long-time support of our hospital," says Kimberly Storey, Senior Operating Officer, RDRHC.
"Their contributions over the past four decades, along with those of the groups before them, have had a tremendous impact on the care we provide our patients. We couldn't be more grateful for their support, and look forward to our continued partnership for years to come."
Tracy Reberger, Acute Care Manager for the Palliative Care and Oncology unit at RDRHC, has worked at the hospital for more than 25 years and has witnessed first-hand the difference these contributions make for patients.
According to Reberger, the Friends have supported the purchase of several pieces of equipment for her unit over the years. More recently, their donations funded new over-bed tables for each patient, specially-designed mattresses to prevent pressure wounds as well as bedside baskets to provide nurses with easy access to pulse oximeters, thermometers and blood monitors.
"Our patients are some of the sickest in the hospital, and are often facing the scariest time of their lives," says Reberger.
"The contributions from the Friends help us provide them with the most comfortable stay we can, and go a long way to lifting the spirits of our patients."
The Friends currently has more than 120 active volunteers who raise funds predominately through a gift and flower shop, and two cafes on-site at the hospital. They also participate in charitable gaming and hosting events like their recent Friends of the RDRHC Charity Garage Sale.
"We also want to thank the community for their ongoing support of the Friends. Our heart and soul is invested in improving the experience of patients, and supporting our hospital's staff. It's with their contributions that we're able to fulfill that mission each and every day," says Belzerowski.
The Friends' roots reach all the way back to 1904 at the Red Deer Memorial Hospital, where they were then known as the Hospital Women's Aid, truly a visionary group for its time. Later, their name changed to the Women's Auxiliary to the Red Deer General Hospital, before eventually becoming the Friends of the RDRHC.
For more information on the Friends of the RDRHC and how to get involved, visit
friendsoftherdrh.com
or call Richelle Belzerowski at 403-343-4520.
Smiles Thru Lindsey reaching out with a new video message and urging Albertans to look out for each other at this challenging time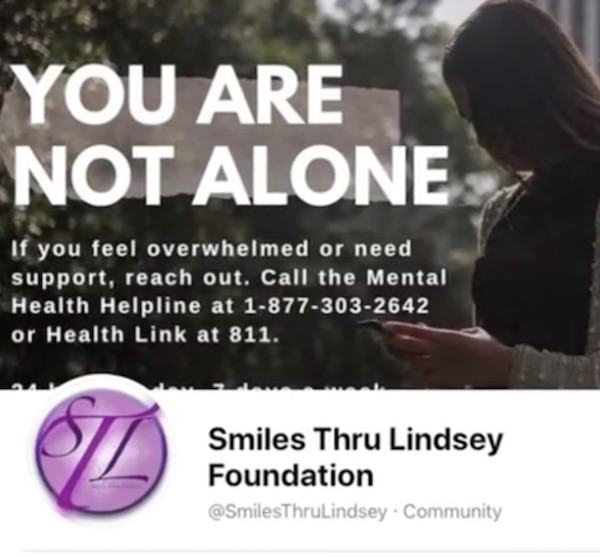 The holiday season is well behind us, we're heading into the coldest part of the winter, and although the days are starting to grow longer there's still a definite lack of daylight in our lives.  The winter blues are a real thing and this year we have COVID, a whole new serious problem to add to our mental health issues.
COVID is also the reason the Smiles Thru Lindsey team has not been able do public events for many months.  Unable to reach out physically through school visits and fund raisers, Smiles Thru Lindsey is reminding Central Albertans to check in on each other.  Also, please follow the Smiles Thru Lindsey Facebook page .  They'll lead you to the resources you or your loved ones need right away.
Meet Lindsey and the Smiles Thru Lindsey team in this powerful video.  …And remember to check in on the people in your life.
If you'd like to help Smiles Thru Lindsey with a donation please click here.
Hope, Faith and Love:  the Music Ministry of Gerard Renaud
"I feel more alive today in God than I did 20 years ago," said Gerard Renaud in the Red Deer Sacred Heart sanctuary.
The musician and worship leader had been asked by Shalom World, an international Catholic Ministry network with programs ranging from daily mass to talk shows, to provide worship music and meditations in 2019 but God had other plans.
"Shalom had come to Red Deer and put on a weekend at Sacred Heart Catholic Church and I had attended as I had never been to one before," said Renaud.  "They needed a guitarist, so I helped out and tailored my song choice to the theme of the weekend and they liked that.  Many of the international leaders were here and they invited me to be part of their Dallas event.  "
Renaud recalled that God had other plans as there were glitches in registration, so the Dallas trip was cancelled. Instead, he went to Vancouver to visit family and while he was there, he was part of 4 events with healings, music ministry and more members of Shalom management met with him!
Fast forward one year.
Early this Fall, Shalom came calling, this time they asked for two short devotions for Rejoice, one of which has already been posted (The Great Commission) and a second on Advent (Due December 18).
Communicating the grace and love of God has always been foremost in Renaud's' life.
"When I was a young man my family lived in Maple Ridge, BC, and I learned to play the guitar when I was nine years old on a 1965 Fender," remembered Renaud.  "My dad taught me 3 chords  in 1974. I credit God with giving me the talent to lean how to play and three months later, my family was the choir at St. Pats and we changed the music style to be more Avant Garde and by the time we changed churches 4 years later, church attendance was up even at the early masses."
By 1977 his family was playing up to 140 times a year in prisons, churches, and seniors' homes.
"Wherever we were wanted, we played," he said.  "The most memorable show we ever did was in 1977 at Alouette which was a medium security prison in Maple Ridge.  There were close to 200 inmates and we played during a prayer service and afterwards, we put on our regular show.  We played all kinds of music, There were not many at the service, but when we started to sing our standard set everyone left, and we were wondering what happened.  Not long later, we packed the chapel, and every wall was full!"
He noted that as a young boy of 12 he was singing 'Wasted Days and Wasted Nights,' and laughed about it.  "What does a 12-year old boy know about wasted days?  But, while we entertained our audiences, we ended up with an acapella Amazing Grace that had people in tears seeking the forgiveness of God."
Experiences like that shaped his family's music and ministry.
His spiritual journey is not restricted to music but also includes counseling and leading healing masses world-wide, a ministry that Sacred Heart has embraced for close to 3 years.
"When we had our first healing Mass in Red Deer more than 200 people came up for prayer," he remembered smiling.  "Father Tom, priest at the time, called him over and asked him a simple question, 'Where did these people come from?' I told Fr. Tom that if we hold one, they will come and they did."
Looking over the sanctuary, he continued to speak.
"But you have to remember that the Holy Spirit only moves like that after great prayer and humility, and we had spent 6 months praying every week for that," he said.  "All I did was to be obedient and do my part.  When I ministered in India, the same thing happened.  Over a couple of months, I led worship and prayed for thousands of people, some of whom I keep in contact with!  God is amazing."
When Shalom came calling, Renaud knew he had to let God speak.
The Great Commission | Gerard Renaud (shalomworld.org)
"My heart is evangelism, and I knew I had to challenge my audience with both a strong message and a powerful song so I chose 'What will you do with the time you have left,'" he said.  "We filmed it at Sacred Heart and after their editing, it debuted in early December."
He was not prepared for the impact his segment would have.
"One of the people of Shalom contacted me and told me that it had been posted in 4 countries and they had been receiving comments from Australia, Canada, Europe and the United States," he noted.  "Not only that, but even in this parish, the response from my fellow believers is amazing with people wanting to help.  Our parish priest, Father Jann wants us to produce a series of videos on faith, doctrine, and the gospels.  We are looking into equipment to help us live stream and work on our video ministry, all because of an invitation from Shalom."
Looking up at the cross, Renaud concluded with a simple statement, "If God asks something of you, do not walk away, but be obedient.  The rewards will be worth every sacrifice."
Renaud leads worship at Sacred Heart Catholic Church at the 11 a.m. Sunday Mass.