Get your arts fix with 'I Don't Get It'
What do you do when something you value isn't getting much media coverage? For the team behind I Don't Get It, you make a podcast to fill the gap.
Fawnda Mithrush and Paul Blinov met at Vue Weekly, an alt-weekly arts publication in Edmonton. Dance was getting short shrift in the local media, so in 2013 they started a podcast in which Mithrush, a dance critic, would introduce Blinov, a dance newbie, to the art. With production help from Andrew Paul, I Don't Get It was born.
In 2017, the podcast expanded to cover theatre and news on the arts community in general. They mostly cover Edmonton, but will take the occasional road trip, such as their excursion to the Badlands Amphitheatre to catch a production of Carmen, or their trip to the Banff Centre to see Orphée+.
Let's learn a little more about the team behind I Don't Get It:
Q. Why should people listen to your show?
A. Listeners will learn about what's happening on Edmonton stages, and also get a taste of theatre and dance history. Through light and fun conversation, we hope to lift the "I don't get it" veil from contemporary performance for both new and experienced audiences.  
Q. What's the most interesting comment you've received from a listener?
A. We often receive comments from the arts community that say, "Thanks for saying that, I thought the same thing," when we point out problematic aspects of a performance. One such example was a listener who sent that same message after our review of Shakespeare's R&J, when we discussed whether or not an all-male production of Romeo & Juliet was tone deaf in the post-#MeToo era.
Q. What podcasts do you listen to?
A. We're media people, so mostly media and storytelling podcasts: On the Media, Longform, New Yorker Radio Hour, Canadaland, Invisibilia.
Q. Do you have any unusual hobbies or talents that may surprise your listeners?
A. All three of us love to cook. Paul is particularly good at bread-making, Andrew is an apprentice butcher, and Fawnda has memorized all seasons of Julia Child's The French Chef.
Q. Write your own epitaph — what would it say and why?

A. "Wherever there's magic and make-believe and an audience, there's Theatre." It's a quote from 'All About Eve', in a longer speech about democratizing theatre for all audiences (it's not only for the elite). It's one of the greatest films to discuss theatre and the challenges of being an artist within it – and also features one of the best critic characters of all time, Addison DeWitt.
Q. What has been your favourite episode so far and why?

A. Season 1 Episode 1 still stands out as a classic example of what we were trying to do with the show, and also why it was important for the growth of arts media in Edmonton. We reviewed one of the city's most storied dancers and his company, and were terrified. And we nailed it on the first take (for real). Click the link below to listen.
Be sure to connect with I Don't Get It on Twitter and Facebook.
Over the next several weeks, Todayville will introduce you to members of the Alberta Podcast Network, so you can invite even more Alberta-made podcasts into your ears! You can find I Don't Get It and dozens of other shows at albertapodcastnetwork.com.
About Alberta Podcast Network
The Alberta Podcast Network, powered by ATB, is on a mission to:
-Help Alberta-based podcasters create podcasts of high quality and reach larger audiences;
-Foster connections among Alberta-based podcasters.
-Provide a powerful marketing opportunity for local businesses and organizations.
Alberta Podcast Network Ltd. is pursuing this mission with funding from ATB Financial and support from other sponsors.
Final weekend to see $880,000 dream home and buy tickets to win Red Deer Hospital Lottery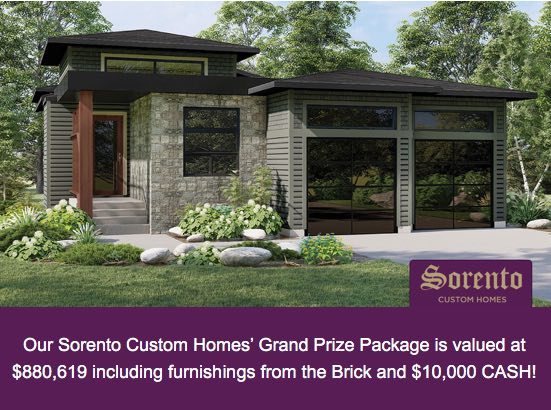 CHECK OUT OUR GREAT TICKET PACKAGES
$25 EACH | 5 FOR $75 | 10 FOR $125 | 25 FOR $250
Total value of the Dream Home prize package is $880,619!
Our Dream Home is open for viewing!
Saturday June 19 and Sunday June 20
(1:00 pm to 5:00 pm each day)
Dads! Enter to win a Father's Day gift basket valued at $400

Plus, Real Country and Z98.9 will be on site June 20 
The Mega Bucks 50 jackpot is the highest ever!
Some ticket packages are still available.
1 for $10   ·   10 for $25
25 for $50   ·   50 for $75
Win half of the current jackpot of:
CALL RED DEER & AREA OR TOLL FREE
403.340.1878      1.877.808.9005
Kenney to deliver update with Alberta on cusp of dropping all COVID-19 restrictions
EDMONTON — Alberta Premier Jason Kenney will deliver an update today on COVID-19 health rules, with the province on the cusp of fully reopening its economy.
Kenney has said Alberta needs 70 per cent of those eligible for vaccination to receive at least one dose in order to safely lift all restrictions.
That number was at 69.9 per cent in yesterday's update.
Restrictions would lift two weeks after the 70 per cent mark, putting Alberta's official reopening date in early July.
It would also make Alberta the first Canadian province or territory to return to near normal pre-COVID community activity.
Alberta has administered nearly 3.6 million vaccine doses to those aged 12 and older, and almost one-quarter of those eligible have had the required two shots.
This report by The Canadian Press was first published June 18, 2021
The Canadian Press