Get Back: Imagining The Real John Lennon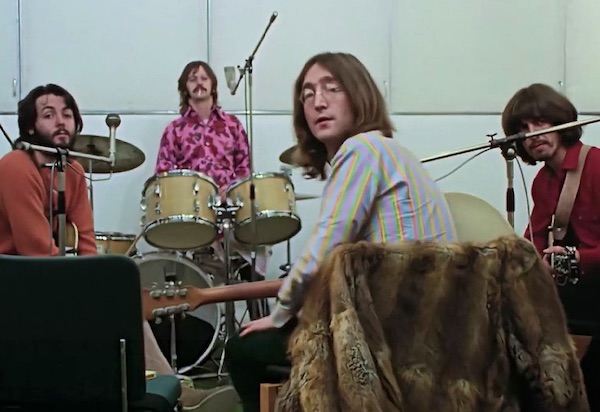 Get Back, Peter Jackson's new documentary on The Beatles taping their Let It Be album in 1969 has revelations for all generations of Beatles fans. Using video shot at the time for an earlier Michael Lindsay-Hogg film Jackson captures the creative process of the band in all its tortured glory.
Watching the four men create, procrastinate, argue, harmonize, feud and eventually part ways puts meat on the bones of their legend— particularly for those who came to their music since the band split up in1969-70. Seeing them in the context of the time reinforces their astounding productivity and creativity.
While there are have been endless tribute bands since, The Beatles themselves almost came out of thin air. They didn't discover rock and roll fire but they harnessed it to establish a template often imitated but never quite duplicated. The anticipation of a new album like Revolver (their best) was a cultural event for which there's no modern equivalent. After they split up members of the group never achieved quite the success they enjoyed as a foursome (George Harrison fans might contest this.).
Jackson's documentary does establish one salient fact. Yoko Ono did not break up The Beatles. Nor did Linda Eastman nor George Harrison nor Paul McCartney. The Brutus in this plot was John Lennon, the quixotic blunt edge of the group. Distracted and disillusioned in the film, Lennon creates the fissures that finally result in dissolution.
Nursing a nasty heroin addiction as the band starts recording, Lennon is starting the slow-motion breakdown that leads to his later incarnations as Ghandi, Gene Vincent, Randall McMurphy and finally martyred Jesus figure. He can't concentrate on anything for more that a few minutes. He wants Phil Spector, the Rasputin of rock, to produce the album. He wants Allen Klein to mange Apple, their creative company. He wants to play a public concert.
Eventually it all gets to be too much for the other Beatles. Harrison chafes to record his own music, Ringo feels bored, while McCartney wearies of trying to hold the whole business operqtion together. Lennon, meanwhile, wants to hang with the New York crowd that Yoko has introduced to him.
At its heart the band dramas were about Lennon and loyalty to The Beatles brand. His current beatific image is nothing like the man we see in Get Back. In 1969 he was the scruffy guy who'd written songs like Run For Your Life ("I'd rather see you dead, little girl, than to be with another man") and dumped his wife Cynthia for Yoko. (John singing "I'm in love for the first time" about Yoko must have been comforting for his ex-wife Cynthia and son Julian.)
His pacifist politics are summed up in Revolution ("If you talk about destruction, don't you know you can count me out") He liked getting in the face of authority. "Once they've got you violent, then they know how to handle you. The only thing they don't know how to handle is non-violence and humour."
And he famously debated his popularity versus that of Jesus. There were seams and creases to the man in the studioi who later became the sloppy drunk pal of Harry Nilsson, boozing themselves to oblivion. It wouldn't be an understatement to say he was the least loveable of The Beatles in his day— an image he was okay with, apparently.
So Lennon would probably hate the people who define him now by Imagine, the song he wrote that has been sanitized by the establishment. Imagine is what you'd get if Karl Marx met Sesame Street
Imagine no possessions
I wonder if you can
No need for greed or hunger
A brotherhood of man
Imagine all the people
Sharin' all the world?
No possessions? Kids who can't go ten feet without checking for their iPhone sing this tripe without irony. Remember that Apple's name and its iconic startup tone are Beatle tributes. There's more.
Imagine there's no countries
It isn't hard to do
Nothing to kill or die for
And no religion too
Imagine all the people
Livin' life in peace?
This is how we got Facebook censoring the posts of people who might actually prefer borders and religion. (Frankly this is the part I blame on Yoko.) And this verse prefiguring post-1980s marketing.
You may say I'm a dreamer
But I'm not the only one
I hope someday you'll join us
And the world will live as one
Because Lennon was shot to death by one of his lunatic fans— precluding any second act to his llfe— we now see him as corporatized John, smoothed out to be marketable like Big Macs and Apple tablets. As Jackson shows he was anything but a bite-sized commodity.
Watching Lennon still fascinate the public 40-plus years after his murder suggests one lyric that might serve as epitaph: "It's not like me to pretend. But I'll get you, I'll get you in the end. Yes I will, I'll get you in the end. Oh yeah." Get Bak to that.
Bruce Dowbiggin @dowbboy is the editor of Not The Public Broadcaster (http://www.notthepublicbroadcaster.com). The best-selling author was nominated for the BBN Business Book award of 2020 for Personal Account with Tony Comper. A two-time winner of the Gemini Award as Canada's top television sports broadcaster, he's also a regular contributor to Sirius XM Canada Talks Ch. 167. His new book with his son Evan Inexact Science: The Six Most Compelling Draft Years In NHL History is now available on http://brucedowbigginbooks.ca/book-personalaccount.aspx
When Leadership Fails: Add Panic And Stir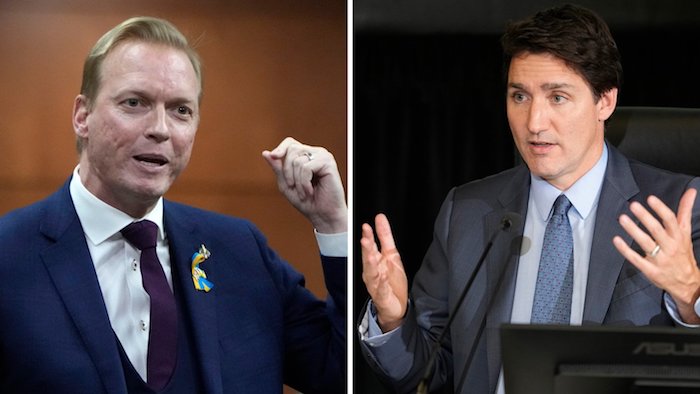 High comedy this week from pearl clutchers in the Land of Woke. They are currently having a sacred cow about the crackdown on Chinese protesting brutal Covid restrictions in that country. Indignation and virtuous rage being the popular responses. These would be the same people who lustily cheered Prime Minister Justin Trudeau employing mounted police while seizing bank accounts of truckers protesting Covid restrictions in February. Because honking.
Yes, panic is in the eye of the beholder. As a legal standard it leaves a little something to be desired. But in Canadian politics you take what you can get when trying to whip up an emergency. And do your best to censor the rest.
The Public Order Emergency Commission and the new Alberta Sovereignty Act both require that the Canadian public see some imminent threat to justify shifting the status quo. In the case of the interminable POEC proceedings a perceived sense of urgency— a threat to national security— convinced the prime minister to adopt sweeping powers to financially crush a rowdy band of truckers who parked on Ottawa's Wellington Street for three weeks or so.
Despite no significant police or jurisdictional body publicly urging him to pull the pin on the Emergency Measures Act— besides a legal opinion no one is allowed to see— Trudeau saw his dramatis persona as the last bulwark against chaos. Drama teacher as hero. So he went full Duchy of Fenwick.
Forget that the Ottawa Police Service, the OPP and RCMP were finally operating as a joint command, working on the plan that would finally clear the capital's streets later in the week. Trudeau called in the lawyers and the bankers to stifle dissent. And portrayed himself as put-upon Lincoln by rebels.
The problem in stoking this panic is that the Ottawa segment of the pushback by truckers was the least significant of three major Covid pushbacks in February/ March 2022. The most serious— the blockade of the Ambassador Bridge between Windsor, Ont., and Detroit, Michigan— was wound up through negotiations and a few tow trucks in a matter of days.
The second— the blockade of the vital Coutts, Alberta, crossing to the U.S.— was more vexing, with Ottawa and the Alberta's government passing the hot potato on the problem. There were allegations of armed vigilantes and irreparable harm to Canada/ U.S. trade. But this, too, was settled without bloodshed or mounted police charging into crowds. Or the Emergency Measures Act.
In both cases leadership prevailed. The third episode was the truck protest on Wellington street that spiralled out of control when civic, provincial and federal authorities all expected some one else to solve a traffic problem. From the prime minister— who deigned to meet the unwashed mass of truckers— down to the Ottawa police chief, avoidance, not leadership, seemed the solution.
In comparison to the two other crises, it would be hard to describe what Trudeau faced as a national crisis. The airport, train station, stores, vital utilities and Parliament itself functioned as they had under the government's own restrictive Covid regulations. The protesters were not that far removed from the homeless encampments in public parks, sidewalks and under bridges that refused to budge for six months or more. (Okay, the truckers honked horns instead of criminal drug dealing and sexual assault.) The homeless-crew protests were as thoroughly political in their goals and methods as were the Convoy bunch.
For the PM, however, the images of Bouncy Castles and open-air concerts broadcast to the world were intolerable. Embarrassing. Galling. "The protesters didn't just want to be heard, they wanted to be obeyed," he said. "The situation was out of control, with the potential for violence, not just in Ottawa but across the country."
And he'd done nothing to create this conflagration, he claimed. In the POEC hearings, using his glassy Montgomery Clift voice, Trudeau swore under oath he'd never described the protesters as anti-science misogynists and racists. He then declared himself satisfied at having stanched the alt-right hordes, locking up their leaders and braving the sarcasm of the foreign press.
His purchased media concurred, projecting public urination and honking trucks into armed white supremacy. They made up arson stories. Pollsters, too, told him Canadians in general didn't like the image of the plebes who deliver their crudités and cheap Chinese clothing acting like Trump Americans. This was a can't-miss.
He saw panic, he'd looked it in the eye, and now he was "serene". He also knows that in in the contemporary "Victims 'R Us" culture he can get away with anything he damn well pleases if it creates panic. Hell, he'd called Canadians genocidal at the UN, and no one flinched. Who'd start holding him accountable now?
Alberta's new premier Danielle Smith has the opposite "panic" problem. She has little assurance that the agitated conditions she cited Tuesday will warm her province to the Alberta Sovereignty Act. But to get them to go along she must rile up enough of the Conservatives traditional base that Ottawa is coming to to destroy the oil patch, seize their guns and impose more harsh Covid lockdowns.
As opposed to Trudeau, Smith does not have a media sussing out Putin and Confederate flags for her. The same Edmonton-based opinion makers harassed her predecessor Jason Kenny into resignation over his handling of the Covid protocols since 2020. (No surprise that Smith rapidly cashiered the upper echelons of Alberta's healthcare bureaucracy and championed the non-vaccinated citizens who, she said, had been rendered second-class citizens for rejecting what we now know was a flawed and perhaps dangerous vaccine program.)
Smith's biggest impediment to creating indignation— in what is now a far more progressive electorate— is the recent boom in Alberta's financial situation. Put simply, the province is again awash in cash, the government is declaring a $4 billion-plus surplus and Albertans are once again engaging in their traditional Hawaii, Palm Springs and Scottsdale retreats.
Smith is already spreading out that largesse to families, senior citizens, gas prices and more. Will it work? "The Land Is Strong But Ottawa Is Wrong" is a wobbly campaign slogan to take into next spring's provincial election. Her polling is terrible, and the sale on Alberta Sovereignty is a long shot.
Maybe Saskatchewan will join in, but who knows? When you play with the panic bull you sometimes get the horn. Unless you're Justin Trudeau and you have Jagmeet Singh in your pocket. Then you're "serene".
Sign up today for Not The Public Broadcaster newsletters. Hot takes/ cool slants on sports and current affairs. Have the latest columns delivered to your mail box. Tell your friends to join, too. Always provocative, always independent.
Bruce Dowbiggin @dowbboy is the editor of Not The Public Broadcaster A two-time winner of the Gemini Award as Canada's top television sports broadcaster, he's a regular contributor to Sirius XM Canada Talks Ch. 167. Inexact Science: The Six Most Compelling Draft Years In NHL History, his new book with his son Evan, was voted the seventh-best professional hockey book of all time by bookauthority.org . His 2004 book Money Players was voted sixth best on the same list, and is available via http://brucedowbigginbooks.ca/book-personalaccount.aspx
NFL Run/ Pass Maestros: Can't Catch This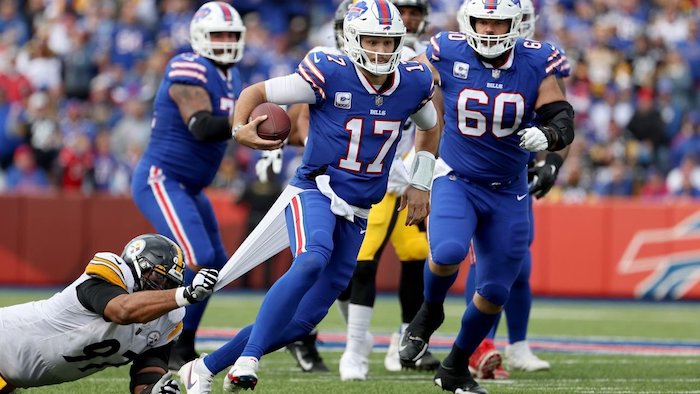 There was a time when the CFL was the league of Air-Raid football. Mobile quarterbacks throwing off the run to receivers spread across the field. Think Warren Moon. Doug Flutie. Jeff Garcia. As we saw in the recent Grey Cup game, CFL teams still spread around the ball, producing last-minute dramatics.
The NFL, by contrast, was always the league of pocket passers, riveted in place throwing rockets to receivers like Lynn Swann or Jerry Rice running proscribed routes. Think Terry Bradshaw. Ben Roethlisberger. Tom Brady. Running from the pocket was never a designed scheme but one of survival from defensive lineman with malicious intent.
NFL QBs have a running tradition going back to Fran Tarkenton in the 1960s, but their rambling was more of a survival instinct in a brutal time. Even when the NFL stuffed shirts allowed Robert Griffin III, Cam Newton, Randall Cunningham, Daunte Culpepper, Vince Young and Michael Vick to break from the pocket their careers were compromised by injuries.
The most notorious might be San Francisco's Colin Kaepernick, who did much to start the read-option craze in the league but ultimately was broken down by injuries in his fourth year as a starter— with three surgeries following the 2015 season. (Kaepernick left football to become the John The Baptist of BLM.)
Then, in act of mercy or perhaps to juice offence, the NFL took pity on the athletic QBs. "It feels like the NFL is in a moment when a defender can get called for roughing the passer or unnecessary roughness simply by breathing hard on the QB," writes Joe Mahoney of SB Nation. "It's a reason why the career longevity for running QBs like Lamar Jackson, Kyler Murray, Jalen Hurts, Justin Fields, Josh Allen, and Taysom Hill should be much longer the career lengths of some of the previous elite dual-threat QBs."
Today's NFL is indeed a changed beast at the QB position. Call it the attack of the Run/ Pass Option. The League is now Brady's Bunch versus Pat's Ma-Homies. Traditional maestros of structured football like Tom Brady against the chaos artists led by Patrick Mahomes, Lamar Jackson, Josh Allen, Kyler Murray and Jalen Hurts. They bob and weave and double back, improvising as they go, forcing defensive backs to cover receivers for as long as 10 seconds.
The Chiefs' genius Mahomes is like a welterweight, rambling from sideline to sideline to keep himself from hard hits as he makes time till Travis Kelce or Marquez Valdes-Scantling get open. Buffalo's Allen, by contrast, is a heavyweight bruiser like Mike Tyson who buys time and crushes opponents by running them over with his 6-3, 235 pound frame. Baltimore's Jackson is a sly middleweight who uses the field the way Floyd Mayweather used the ring.
As the expression goes, "If it's not one thing it's another". Paul Domowich 33rd Team has the numbers: "For the first time in the modern era of the NFL, there currently are seven quarterbacks among the league's top 50 rushers – the Ravens' Lamar Jackson (9th, 480 yards), the Eagles' Jalen Hurts (17th, 432), the Bills' Josh Allen (39th, 269), the Bears' Justin Fields (43rd, 243), the Giants' Daniel Jones (44th, 241), Washington's Taylor Heinicke (45th, 232) and the Chiefs' Patrick Mahomes (48th, 229). Last year, there were six in the top 50.
Six quarterbacks are on pace to have 80-plus rushing attempts this season, including four – Jackson, Hurts, Allen and the Cardinals' Kyler Murray — who are on a 100-carry pace. And a record 11 quarterbacks are on pace to have 25 or more rushing first downs."
Judging by current statistics The Mahomies are in the ascendance while the Brady Bunch is just holding on. Quarterback rushing yards accounted for 15.4 percent of all rushing yards in 2021 (9659 of 62,694 yards). While the percentage of rushing TDs from QBs came down from its record high in 2020, QBs still accounted for 19.4 percent of all rushing TDs in 2021. Through the midway point of the 2022 NFL season quarterbacks have run for 3310 yards which is 14.7 percent of the 22474 rushing yards so far this season."
Brady and the stick-in-the-pockets like Jared Goff, Kirk Cousins and Matthews Stafford are still viable threats, but it's clear that to stay one step ahead of defensive coordinators a QB needs the option of rolling out, isolating a defender and making him choose between the run or pass.
And that requires the athleticism previously left to running backs and receivers. For a glimpse of the future look no further than Caleb Williams of USC, the favourite to win the Heisman Trophy in U.S. college football. Williams is a hybrid of Mahomes and Lamar Jackson who makes wine from Gatorade. His two-TD performance as USC crushed Notre Dame this weekend was his defining moment in capturing the Heisman.
According to CBS: "His 267 total yards are certainly good enough, but his impact clearly went beyond his yardage total. Williams was a force. Entering this game, Williams was already one of the frontrunners for the Heisman Trophy with 3,480 yards passing, 316 yards rushing and 40 total touchdowns. This showing against Notre Dame may have just sealed the deal."
NFL teams will have to wait one more year for the sophomore Williams— who transferred from Oklahoma. But you can bet that— injuries aside—when his time comes he'll go No. 1 in the 2024 draft. He won't be alone, either. There is a posses of mobile QBs circling the airport. Because, as they've learned from this generation of NFL wizards: Catch Me If You Can.
Sign up today for Not The Public Broadcaster newsletters. Hot takes/ cool slants on sports and current affairs. Have the latest columns delivered to your mail box. Tell your friends to join, too. Always provocative, always independent.
Bruce Dowbiggin @dowbboy is the editor of Not The Public Broadcaster A two-time winner of the Gemini Award as Canada's top television sports broadcaster, he's a regular contributor to Sirius XM Canada Talks Ch. 167. Inexact Science: The Six Most Compelling Draft Years In NHL History, his new book with his son Evan, was voted the seventh-best professional hockey book of all time by bookauthority.org . His 2004 book Money Players was voted sixth best on the same list, and is available via http://brucedowbigginbooks.ca/book-personalaccount.aspx