Garfield Marks; "Oil-by-Seaway" proposal still draws interest.
The proposal to by-pass Quebec in shipping oil to refineries in New Brunswick via Thunder Bay then shipping through the St. Lawrence Seaway still has legs.
Nov 9 2019, Comments by D.B. Chalcroft on the
PROPOSAL TO SHIP OIL TO EASTERN CANADA VIA ST. LAWRENCE SEAWAY by Garfield Marks
Garfield Marks published his "Oil-by-Seaway" and it has subsequently been covered in the CBC media and more recently on CHQR 770 radio.
The Garfield Marks "Oil-by-Seaway" Proposal
Concept – To replace the eastern half (about 2600 km) of the proposed Energy East Pipeline with tanker shipping from Thunder Bay via the Great Lakes and the St. Lawrence Seaway to St. John, New Brunswick.
The Energy East pipeline proposed by TC Energy in 2014, would have converted about 3000 km of the existing natural gas pipeline from Hardisty, Alberta to the Ontario-Quebec border, to diluted bitumen transportation; and would have built 1600 kms of new pipeline from the Ontario-Quebec border to St. John, New Brunswick. The capacity of the pipeline was to have been 1.1 million barrels (200,000 tonnes) of crude oil per day, was estimated to cost $12 billion, and at 4600 km would have been the longest pipeline in North America. TC Energy subsequently cancelled the project in October 2017, citing regulatory rule changes. In addition the Government of Quebec has stated that there is no social license for the Energy East pipeline through Quebec.
"Oil-by-Seaway" Tanker Shipping Option
The "Oil-by-Seaway" proposal would include converting 2000 km of the existing TC Energy Natural Gas pipeline from Hardisty, Ab, to Thunder Bay to carry diluted bitumen, and creating a new oil tanker shipping system from Thunder Bay through the existing St Lawrence Seaway and by ocean to the major Irving oil refinery at St. John , NB.
The existing St. Lawrence Seaway has more available shipping capacity than is presently being utilized. During the 1970s and 1980s, cargo shipments from Thunder Bay, for example, averaged about 20,000,000 metric tonnes per year with between 850 and 1470 vessels per year leaving the port. Since 2009 cargo shipments from Thunder Bay have averaged only about 8,000,000 tonnes/year on some 400 vessels per year.
The existing locks in the St. Lawrence Seaway at the Welland Canal and near Montreal, impose length, width, and draft, size restrictions (maximums of 225.5 m long by 23.8 m wide and draft of 8 m) on the vessels that can use the Great Lakes shipping system. The maximum size of bulk cargo that can be shipped through the system is about 29,000 tonnes per Seaway-capable ship – these ships are known as "lakers".
The St Lawrence Seaway averages about 275 days of navigation per year – the other 90 days being closed to shipping due to winter conditions.
In order for "Oil-by-Seaway" shipping to deliver the 1,100,000 BPD (200,000 tonnes per day) of oil to the St John, NB terminal as envisaged by Energy East, in a shipping season of 275 days, would require the daily shipping deliveries to be 265,000 tonnes/day during the navigation season. This would require close to 10 "laker-tankers" per day to unload at St. John, NB. Assuming the turn-around time for a "laker-tanker" from Thunder Bay to St. John to Thunder Bay is about 16 days including 2 days for loading and unloading – means that a fleet of about 160 "laker-tankers" would be required to achieve this delivery commitment, plus storage facilities at St John of about 100,000,000 barrels.
The Welland Canal currently has about 1500-1800 vessel transits each way per year, or on average 5-7 transits per day each way. However in 1960 the total number of vessel transits was as high as 4500 each way (an average of 16 /day) although vessels were smaller carrying an average of only 3,400 tonnes of cargo. The Oil-by-Seaway proposal would add 2700 passages per year bringing the total to around 4500 per year or 16 per day each way, very similar to the 1960 record rate albeit with larger average vessel sizes.
Ballpark Cost Estimate for 160 Laker-Tankers
What would it cost to create a fleet of say 160 "Laker-tankers"? As a very rough comparison, the three Newfoundland Off-shore Shuttle Tankers that pickup roughly 230,000 BPD (47,000 tonne/day) of oil production from the five producing platforms on the Grand Banks, cost a reported $375,000,000 (ie $125M/ship)in 2016, and have a deadweight of 148,000 tonnes and gross tonnage of 85,000 tonnes each, meaning each ship can carry up to about 60,000 tonnes of cargo (oil) . These three Shuttle Tankers deliver the 47,000 tonne/day of Grand Bank oil production to the trans-shipment terminal at Whiffen Head, NL with an average turn-around time of 3-5 days . A rough cost estimate for the Laker-Tankers can be obtained by taking $125M X 29,000 t/ 60,000 t = $60 million. Therefore the cost of one "Laker-tanker" with 29,000 tonne capacity is estimated to be in the order of $60 million, and a fleet of 160 Laker-tankers would be in the ballpark of $10 billion.
Discussion
The St. Lawrence Seaway is currently handling 20-25 million tonnes of cargo per year through the Welland Canal in the Downbound direction, ie towards the east, with total transits of 1400 – 1900 per year. Oil-by-Seaway to equal the Energy East proposal of 200,000 tonnes per day would add 73,000,000 tonnes/yr. to the Downbound traffic. This is a significant increase to nearly 100,000,000 tonnes/year and 16 vessel transits per day each way, through the Seaway System. It would appear that the present Seaway infrastructure may be able to accommodate this magnitude of increase without major upgrades, because it doesn't exceed the historical highs in vessel transits which occurred in the 1960s. This would need to be confirmed with the St. Lawrence Seaway Management Corporation.
The Oil-by-Seaway proposal would require a fleet of 160 or so "Laker-Tankers" which most likely don't currently exist, and which would cost in the order of $10 billion . This concept would also require the creation of about 100,000,000 bbl. of incremental oil storage capacity at St. John, NB, that probably wasn't part of the Energy East proposal, to cover the 90 days each year when the Seaway is closed.
Utilizing the existing Seaway Infrastructure to transport oil by tanker would reverse a long trend of declining commodity traffic through the Seaway system. This scheme could create the impetus to update and modernize Seaway facilities, and could also reinvigorate the communities along the Seaway, with substantially more economic activity in their midst.
Fabricating 160 Laker-Tankers could provide a significant workload for Canada's ship-building industry, perhaps including the Davie Shipyard in Quebec, and the Irving shipyard in Halifax.
There are undoubtedly many other technical, social, environmental, and regulatory issues to be identified and considered, as well as whether this concept is commercially viable.
Preliminary Conclusion
On the surface, the Garfield Marks "Oil-by-Seaway" proposal seems to have sufficient merit to warrant a more thorough analysis than presented herein.
Comments by: David B. Chalcroft, P. Eng.
Previously published;
We have not been able to run our bitumen through a pipeline to a refinery in New Brunswick. There has been resistance in parts of Ontario and in Quebec. What if we came up with another plan. Would we consider it? There will be road blocks, but not insurmountable, would we consider it?
Yes how about Thunder Bay?
Thunder Bay, Ontario, the largest Canadian port of the St. Lawrence Seaway located on the west end of Lake Superior, 1850 kms. from Hardisty, Alberta. A forgotten jewel.
So what, you may ask.
They used to ship grain from Thunder Bay in huge tankers to ports all over the world. Why not oil?
The Saint Lawrence Seaway ships fuel, gasoline and diesel tankers, to this day.
We could run oil tankers to the Irving refinery in New Brunswick, bypassing the controversial pipeline running through eastern Ontario and Quebec.
The pipeline, if that was the transport model chosen, would only need to run through parts of Alberta, Saskatchewan, Manitoba and Ontario. Like, previously stated the pipeline would only be 1850 kms. long.
The other great thing about Thunder Bay is the abundance of rail lines. Transportation for such things as grain and forestry products from western Canada. If you can't run pipeline from Hardisty, through to Thunder Bay, use the railroad.
Why Hardisty, you may ask.
Hardisty, according to Wikipedia, is mainly known as a pivotal petroleum industry hub where petroleum products such as Western Canada Select blended crude oil and Hardisty heavy oil are produced, stored and traded.
The Town of Hardisty owes its very existence to the Canadian Pacific Railway. About 1904 the surveyors began to survey the railroad from the east and decided to locate a divisional point at Hardisty because of the good water supply from the river.
Hardisty, Alberta has the railroad and has the product, the storage capacity, and the former Alberta government planned on investing $3.7 billion in rail cars for hauling oil while Thunder Bay has the railroad and an under utilised port at the head of the St. Lawrence Seaway.
Economics are there along with opportunity, employment would be created and the east coast could end its' dependency on imported oil.
Do we have the vision or willingness to consider another option. I am just asking for all avenues to be considered.
In my interviews in Ontario there is a willingness to discuss this idea.
The St. Lawrence Seaway Management Corporation is still reviewing the idea of shipping crude oil from western Canada through its system, and it's a long way from happening, according to Bruce Hodgson, the Seaway's director of market development.
"Obviously, there needs to be an ongoing commitment on the part of a producer, and so that's going to be required for any project of this nature," he said.
We could consider it, could we not?
CBC NEWS did a story about this idea on March 7 2019;
A retired oil field worker in Alberta has "floated" a novel solution to Alberta's oil transportation woes: pipe the bitumen to Thunder Bay, Ont., then ship it up the St. Lawrence Seaway to the Irving oil refinery in New Brunswick.
Marks' proposal might be more than a pipe dream, according to the director of the Queen's Institute for Energy and Environmental Policy.
'I don't think that it's a totally nuts idea'
"I don't think that it's a totally nuts idea," Warren Mabee said. "I think that there's some flaws to it … but this is an idea that could work in certain circumstances and at certain times of year. … It's not the craziest thing I've ever heard."
The chief executive officer of the Port of Thunder Bay said shipping oil from the port "could easily be done."
"We ship refined gasoline and diesel up from Sarnia. We've done that for many many years," Tim Heney told CBC. "So it's not something that's that far-fetched."
There are, however, plenty of potential drawbacks to shipping crude through the Seaway, Mabee explained, not least of which is the fact that it isn't open year-round.
The need to store oil or redirect it during the winter months could be costly, he said.
Potential roadblocks
Another potential pitfall is capacity, he added; there may not be enough of the right-sized tankers available to carry the oil through the Seaway.
Finally, he said, the journey by sea from Lake Superior to the Irving refinery in New Brunswick is a long one, so it might make more sense to transport the product to a closer facility such as the one in Sarnia, Ont.
The St. Lawrence Seaway Management Corporation is still reviewing the idea of shipping crude oil from western Canada through its system, and it's a long way from happening, according to Bruce Hodgson, the Seaway's director of market development.
"Obviously, there needs to be an ongoing commitment on the part of a producer, and so that's going to be required for any project of this nature," he said.
So far, no producer has come forward seeking to ship crude through Thunder Bay, he said.
Asked about the possible environmental risks of shipping oil on Lake Superior, both Hodgson and Heney said shipping by tanker is relatively safe; Hodgson noted that any tankers carrying the product would have to be double-hulled, and crews are heavily vetted.
Time to rethink pipelines?
There hasn't been a spill in the Seaway system for more than 20 years he said.
Nonetheless, Mabee said, the potential for an oil spill on the Great Lakes could be a huge issue.
"The St. Lawrence and the Great Lakes have a lot of people living in close proximity, a lot of people who rely on it for drinking water," he said. "There's a delicate ecosystem there. I think a lot of people would push back against this proposal simply from that perspective."
In fact, one of the reasons Mabee appreciates Marks' proposal, he said, is because it invites people to weigh the pros and cons of different methods of transporting oil.
"If we're not going to build pipelines, but we're going to continue to use oil, it means that people are going to be looking at some of these alternative transport options," he said.
"And if we don't want oil on those alternative transport options, we need to give the pipelines another thought.
Time to consider all options, I dare say.
Canada's food costs expected to increase by $700 per family in 2024: report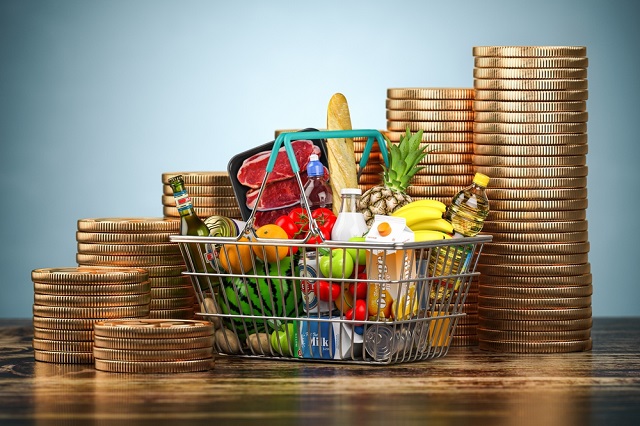 'When Trudeau's carbon tax makes it more expensive for farmers to grow food and truckers to deliver food, his carbon tax makes it more expensive for families to buy food'
A new report estimates that food costs for a family of four in Canada will increase by $700 in 2024 amid the ongoing carbon tax and rising inflation.
On November 27, researchers from Dalhousie University, the University of Guelph, the University of Saskatchewan, and the University of British Columbia published Canada's Food Price Report 2024, which reveals that food prices will only rise in 2024.
"The current rate for food price increases is within the predicted range at 5.9% according to the latest available CPI data," the report stated. The report further revealed that the increases are expected to be less than in 2023.
According to the research, the total grocery bill for a family of four in 2024 is projected to be $16,297.20, which is a $701.79 increase from last year.
Bakery, meat, and vegetables are expected to see a 5% to 7% increase, while dairy and fruit prices are projected to ride 1-3%. Restaurant and seafood costs are estimated to increase 3-5%.
The report further revealed that, "Canadians are spending less on food this year despite inflation," instead choosing either to buy less food or to buy poorer quality of food.
"Food retail sales data indicates a decline from a monthly spend of $261.24 per capita in August 2022 to a monthly spend of $252.89 per capita in August 2023, indicating that Canadians are reducing their expenditures on groceries, either by reducing the quantity or quality of food they are buying or by substituting less expensive alternatives," it continued.
In addition to food prices, the report found that "household expenses like rent and utilities are also increasing year over year."
"A recent report by TransUnion found that the average Canadian has a credit card bill of $4,000 and a 4.2% increase in household debt compared to last year, all of which are possible contributors to reduced food expenditures for Canadians," it continued.
Canadian Taxpayer Federation Director Franco Terrazzano told LifeSiteNews, "The carbon tax makes grocery prices more expensive."
"When Trudeau's carbon tax makes it more expensive for farmers to grow food and truckers to deliver food, his carbon tax makes it more expensive for families to buy food," he explained.
"The carbon tax will cost Canadian farmers $1 billion by 2030," Terrazzano added. "The government could make groceries more affordable for Canadians by scrapping the carbon tax."
Conservative leader Pierre Poilievre referenced the report, blaming the increased prices on Prime Minister Justin Trudeau's policies, saying, "EVERYTHING is more expensive after 8 years of Trudeau. He's not worth the cost."
EVERYTHING is more expensive after 8 years of Trudeau.

He's not worth the cost. pic.twitter.com/0tCwaRJHwC

— Pierre Poilievre (@PierrePoilievre) December 7, 2023
The report should not come as a surprise to Canadians considering a September report by Statistics Canada revealing that food prices are rising faster than the headline inflation rate – the overall inflation rate in the country – as staple food items are increasing at a rate of 10 to 18 percent year-over-year.
Despite numerous reports indicating Canadians are experiencing financial hardship, the Trudeau government has largely ignored the pleas of those asking for help, while consistently denying their policies have any impact on inflation or the economy more broadly.
Trudeau has continued to refuse to extend the carbon tax exemption to all forms of home heating, instead only giving relief to Liberal voting provinces.
The carbon tax, framed as a way to reduce carbon emissions, has cost Canadians hundreds more annually despite rebates.     
The increased costs are only expected to rise, as a recent report revealed that a carbon tax of more than $350 per tonne is needed to reach Trudeau's net-zero goals by 2050.     
Currently, Canadians living in provinces under the federal carbon pricing scheme pay $65 per tonne, but the Trudeau government has a goal of $170 per tonne by 2030.    
The Trudeau government's current environmental goals – which are in lockstep with the United Nations' "2030 Agenda for Sustainable Development" – include phasing out coal-fired power plants, reducing fertilizer usage, and curbing natural gas use over the coming decades. 
The reduction and eventual elimination of so-called "fossil fuels" and a transition to unreliable "green" energy has also been pushed by the World Economic Forum (WEF) – the globalist group behind the socialist "Great Reset" agenda in which Trudeau and some of his cabinet are involved. 
However, some western provinces have declared they will not follow the regulations but instead focus on the wellbeing of Canadians.  
Both Alberta and Saskatchewan have repeatedly promised to place the interests of their people above the Trudeau government's "unconstitutional" demands, while consistently reminding the federal government that their infrastructures and economies depend upon oil, gas, and coal. 
"We will never allow these regulations to be implemented here, full stop," Alberta Premier Danielle Smith recently declared. "If they become the law of the land, they would crush Albertans' finances, and they would also cause dramatic increases in electricity bills for families and businesses across Canada."     
Saskatchewan Premier Scott Moe has likewise promised to fight back against Trudeau's new regulations, saying recently that "Trudeau's net-zero electricity regulations are unaffordable, unrealistic and unconstitutional."   
"They will drive electricity rates through the roof and leave Saskatchewan with an unreliable power supply. Our government will not let the federal government do that to the Saskatchewan people," he charged.  
APP Update: Chief Actuary of Canada to provide opinion on Alberta's share of CPP assets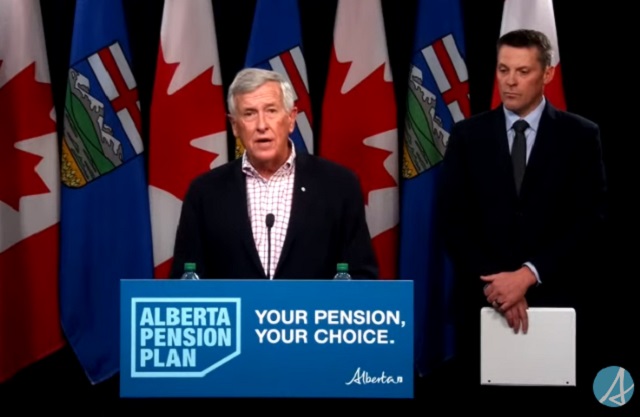 Alberta Pension Plan engagement
The Alberta Pension Plan Engagement Panel is giving the office of the chief actuary of Canada some time to release findings before scheduling new public sessions.
This fall, the Alberta Pension Plan Engagement Panel, led by former provincial treasurer Jim Dinning, invited Albertans to discuss the findings of an independent report on a potential provincial pension plan. The panel has been collecting feedback from Albertans since then, with more than 76,000 Albertans participating in five telephone town hall sessions and more than 94,000 Albertans completing the online survey. The first phase of the engagement is now complete, and the panel will now analyze what it has heard from Albertans so far.
"Albertans can rest assured that their voices have been heard and that's why I tabled the Alberta Pension Protection Act, which provides Albertans with certainty that their pension contributions are safe and that we will not proceed with a provincial plan without their say through a referendum. This is a complex process and one that we do not take lightly."
During this first phase of engagement, it quickly became clear that Albertans wanted more precise information on the value of the asset transfer Alberta would be entitled to receive if it were to withdraw from the Canada Pension Plan. While the LifeWorks report was able to provide a reasonable asset transfer value by relying on publicly available data, determining a more precise number requires analysis from the federal government.
Following discussions between Canada's finance ministers, the federal finance minister has committed to asking the chief actuary of Canada to provide an opinion on Alberta's share of the CPP assets. Alberta's government is hopeful that this work can be completed promptly so that Albertans can have as much information as possible as they consider the possibility of a new plan. To that end, the panel has decided to give the chief actuary of Canada some time to release their findings before scheduling new public engagement sessions.
Albertans continue to have the opportunity to participate in the conversation by reading the information on AlbertaPensionPlan.ca and completing the online workbook.
"We are pleased with how many Albertans we have reached with our consultations to date. The LifeWorks report presents an opportunity worth exploring and Albertans have answered that call, but what we've heard loud and clear is that they want to hear how the federal government calculates the asset transfer number. We will start the next round of public meetings when we have more clarity on that number, but in the meantime, we encourage everyone to have a look at our workbook and provide feedback there."
Throughout this entire process Alberta's government committed to ensuring the most-up-to-date information is provided to Albertans.
Related information