Free family Christmas performances at RDC this week!
The fine arts-focussed students at St. Martin de Porres are astounding.
From Red Deer Catholic Regional Schools
Kindergarten to Grade 5 students from St. Martin de Porres School are pleased to put on a Christmas production titled Straight Outta Bethlehem on Red Deer College's MainStage (100 College Boulevard)
The performance tells the story of Christmas through a loveable group of characters.
"This performance is special because it celebrates the gifts and talents of our students during this very important Christmas season. This production showcases the fine arts program at our school and students are really excited about this opportunity to perform on a large stage," said Kristie McCullough, Assistant Principal at St. Martin de Porres School.
Performances are set for Wednesday, December 19 from 1:30 to 2:25 pm and 6:30 – 7:45 pm at Red Deer College MainStage. The public is welcome to attend free of charge but note the evening performance has limited seats available, so please contact the school for tickets.
For more information, contact:
Kristie McCullough, Assistant Principal St. Martin de Porres School
403-347-5650
Christine McVie, Fleetwood Mac singer-songwriter, dies at 79
NEW YORK (AP) — Christine McVie, the British-born Fleetwood Mac vocalist, songwriter and keyboard player whose cool, soulful contralto helped define such classics as "You Make Loving Fun," "Everywhere" and "Don't Stop," died Wednesday at age 79.
Her death was announced on the band's social media accounts. No cause of death or other details were immediately provided, but a family statement said she "passed away peacefully at hospital this morning" with family around her after a "short illness."
"She was truly one-of-a-kind, special and talented beyond measure," the band's statement reads in part.
McVie was a steady presence and personality in a band known for its frequent lineup changes and volatile personalities — notably fellow singer-songwriters Stevie Nicks and Lindsey Buckingham.
During its peak commercial years, from 1975-80, the band sold tens of millions of records and was an ongoing source of fascination for fans as it transformed personal battles into melodic, compelling songs. McVie herself had been married to bassist John McVie, and their breakup — along with the split of Nicks and Buckingham — was famously documented on the 1977 release "Rumours," among the bestselling albums of all time.
Fleetwood Mac, co-founded by drummer Mick Fleetwood in 1967, was inducted into the Rock and Roll Hall of Fame in 1998. The group's many other hit singles included "Dreams," "Go Your Own Way" and "Little Lies."
The Associated Press
A celebration of writing styles and cultures, Poetry Party brings writers from around the world together in Red Deer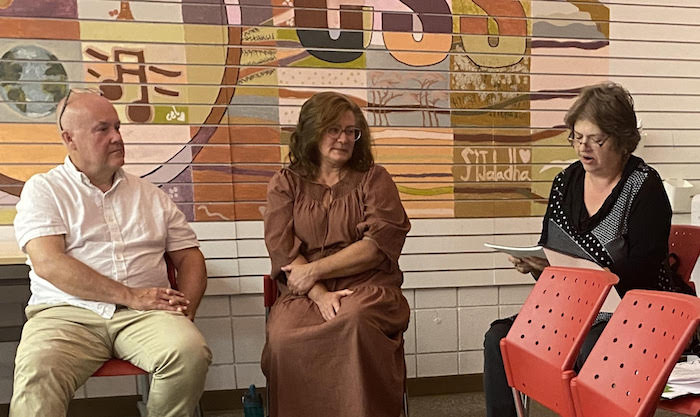 Left to right: Raymond Byiers (feature reader) with wife Rochelle Byiers, and Elena Rousseau (feature reader)
Submitted by Sabrina Samuel
Poetry Party Showcases Diverse Voices in Growing Literary Arts Community
There's an undeniable surge in arts and culture in the city of Red Deer that will carry on long after we say goodbye to Culture Days. From mural art adorning nearly every street in downtown, extensive musical programming, to theatre arts and new festivals exploding, Red Deer is flourishing and becoming a choice destination for working artists and arts purveyors.
Local poets and writers see more opportunities to gather and showcase their potential. Red Deer Writer's Ink celebrated thirty years as an organization this month, and now poets, curated by activist, advocate and community builder Jan Underwood from Care for Newcomers are committing to gathering regularly to share and celebrate their artform, after a successful inaugural Poetry Party.
Asdolah Khierandish, a global citizen who called Afghanistan home, also lived in Syria, before finding safety in Canada. He hesitated to share his poetry in Farsi. The lyrical language sounds like a song. Influenced by Sufi mystics such as Rumi and Hafiz, Khierandish explains the profound philosophical nature of their work, "A single poem can explain an entire book. The meaning is so deep."
While he was the only Farsi speaker of the group, the poem shared in his mother tongue about the Taliban overtaking his city moved others to tears. Asdolah's work penetrates the subconscious mind of the listener.
The honours English student from University of Alberta and multi-disciplinary artist, Elena Rousseau, brought levity and polish to the gathering, with poems playing into stereotypes of her Eastern European roots, "People think of vampires and Transylvania. I also love the culture of gypsies. That's something else people think of when I say I'm from Romania."
Her animated reading style drew in the audience.
All of art is a reaction to something. Beverly Beckley, known online as @beverleypithypoet takes her social media handle from her concise signature style of short and impactful poems. Her timeless work about Canadian Truth and Reconciliation from her chapbook The Little Bones, a fundraiser for The Remembering the Children Society, fit the season of Orange Shirts and Canadian historical awareness. The poet presented questions and posited opinions about the death of the queen, collective shame, and is a self confessed, "lover of personal darkness". She alluded to genius minds of mentally unwell writers including Sylvia Plath. The evening's discourse born from the poetry seemed equally interesting.
Another current event covered in my own reading was the death of Masah Amini from Iran while in custody of the morality police. A healthy twenty two year old, Masah's arrest came from not wearing a head covering (hijab) properly. The reported cause of death was a heart attack. Much of the poems I produce are to advance women and create equity. Social reality is often stark and hard to hear. The format of inclusion in the poetry circle asked all to share, though it was not required. The Poetry Party called on others to share their work in an open format as time permits after the featured readers were finished.
The most approached topic with mass appeal for poets is still love. Raymond Byiers rhyming works heaved with sentiment and personal homage to family. His first poem affirmed that the universality of grief can be captured. It lives in words, not always going beyond them. His final poem, a personal testament of deep love to his wife who was present from Didsbury renewed hope, "I wrote this just before my heart surgery. You can hear the Irish in me coming out when I read my poems aloud."
Since the Poetry Party was successful, another gathering will be held October 28, 6:00pm – 8:30 pm in the Maple Room of CARE for Newcomers (5000 Gaetz Avenue, Red Deer). All are welcome and this time, artists from all disciplines are welcome to bring their creations.