Federal Disaster Mitigation funding for Red Deer, Settler, Lacombe, Edmonton…
From the Province of Alberta
Alberta gets federal disaster mitigation funding
More than two dozen Alberta communities are getting new and replacement flood mapping to support emergency response and long-term planning.
The federal government is providing $8.7 million through the National Disaster Mitigation Program for 18 projects. They include new or replacement flood mapping for Drumheller, Medicine Hat, Siksika Nation, Red Deer, and more than 100 kilometres of the North Saskatchewan River, including Edmonton.
The province is contributing more than $5 million to the projects as part of the cost-sharing agreement.
"Our government is committed to investing in flood resilience to better protect Albertans where they live and work. The provincial and federal funding for flood mapping and community risk assessments will help us build safer communities over the long term and ensure Alberta is better prepared for severe weather events in the future."
"The Government of Canada, in partnership with provinces and territories, is committed to reducing the impacts of flooding on Canadians by investing in projects that allow communities to identify, plan for, and reduce flood risks. Investing in programming like the National Disaster Mitigation Program is an important part of the Government of Canada's strategy to address the soaring costs of natural disasters. The projects announced today will help the province of Alberta better prepare for and respond to floods."
Provincial and federal funding will also be used to assess the potential for debris floods near Canmore, stormwater vulnerabilities in Calgary and flood risks in smaller communities such as Manning, Stettler, Lacombe and the Municipal District of Crowsnest Pass.
Projects to improve forecasting and warning systems and improve access and interaction with provincial flood-inundation maps also received funding.
Alberta has launched 13 river hazard studies since 2015, including those that are wholly funded by the province. In total, these studies will produce new and replacement flood mapping for over 1,300 kilometres of river through more than 30 communities. Many of these studies are nearing completion.
Since 2013, the Alberta government has invested more than $700 million in community-level resilience projects, erosion control, upstream storage, flood mapping, flood forecasting and emergency preparedness, and watershed health to improve flood and drought resilience across the province.
National Disaster Mitigation Program funding to the Province of Alberta: Projects at a glance
Community Risk Assessment – Central Alberta
Total Project Value: $240,120
Federal funding: $120,060; Provincial Funding: $120,060
Project Start Date: September 5, 2017 (2 year project)
This project is producing a risk assessment, using the Provincial Flood Damage Assessment Tool (PFDAT), which will be used by community members and the province to better understand flood vulnerability for a range of flood events in four communities in Central Alberta: Carbon, Stettler, Millet, and Lacombe. With the improved capacity, these four communities will be able to better plan and implement mitigation strategies that will reduce the impact of flooding.
North Saskatchewan River Hazard Study
Total Project Value: $1,670,000
Federal funding: $835,000.00; Provincial Funding: $835,000.00
Project Start Date: August 22, 2018 (2 year project)
This project is assessing and identifying river and flood hazards along approximately 111 km of the North Saskatchewan River, from the western edge of 32-50-26-W4 to the eastern edge of 35-56-21-W4, including the Town of Devon, City of Edmonton, and the City of Fort Saskatchewan. The study reach extends through the following local authorities: Parkland County, Leduc County, Strathcona County including Sherwood Park, and Sturgeon County.
Red Deer River Hazard Study
Total Project Value: $1,530,000
Federal Funding: $765,000; Provincial Funding: $765,000
Project Start Date: August 1, 2017 (2 year project)
This project is assessing and identifying river and flood hazards within the City of Red Deer, the Town of Penholds, Red Deer County, and Lacombe County. The map will also be used to ensure future developments are not built in areas where flooding has been identified as a concern. In the event of a flood, the map will benefit emergency responders by helping them decide the best route of evacuation, as well as informing the best location for the construction of temporary flood control barriers.
Canopy Growth reports Q4 net revenue down 25 per cent from year ago
SMITHS FALLS, Ont. — Canopy Growth Corp. reported a smaller quarterly loss compared with a year ago as its net revenue fell 25 per cent.
The cannabis company says it had a net loss of $578.6 million or $1.46 per diluted share for the quarter ended March 31 compared with a net loss of $616.7 million or $1.85 per diluted share a year earlier.
Net revenue in what was Canopy's fourth quarter totalled $111.8 million, down from $148.4 million in the same quarter last year.
The drop in revenue came as the company's global cannabis net revenue fell to $66 million in its latest quarter compared with $101.3 million a year earlier.
Other consumer products revenue amounted to $45.8 million for the quarter, down from $47.1 million.
Canopy chief executive David Klein says the company will remain focused on building its market share in the key segments that will drive profitable growth and continuing to grow its premium brands across North America.
This report by The Canadian Press was first published May 27, 2022.
Companies in this story: (TSX:WEED)
The Canadian Press
McDavid scores in OT, Oilers down Flames to advance to Western Conference final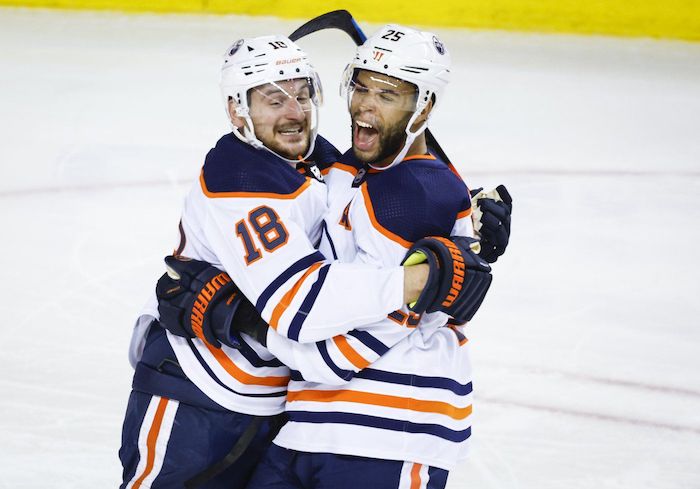 By Joshua Clipperton in Calgary
The Edmonton Oilers are off to the Western Conference final.
Connor McDavid scored at 5:03 of overtime as the Oilers defeated the Calgary Flames 5-4 on Thursday to win their second-round playoff series 4-1.
The Edmonton captain fired his seventh goal of the post-season past Jacob Markstrom off a pass from Leon Draisaitl to send the Oilers spilling over the bench in celebration.
Zach Hyman, with a goal and two assists, Darnell Nurse, Jesse Puljujarvi and Evan Bouchard also scored for the Oilers. Mike Smith made 32 saves as Edmonton claimed the first post-season Battle of Alberta in 31 years.
Draisaitl added four assists — his fifth straight contest registering three-plus points to build on the NHL playoff record he set in Game 4.
McDavid and Draisaitl have both amassed 26 points to lead the playoffs so far.
The Oilers will face either the Colorado Avalanche or St. Louis Blues in their first conference final appearance since 2006. Colorado leads that series 3-2, with Game 6 set for Friday in St. Louis.
Mikael Backlund, with a goal and an assist, Johnny Gaudreau, Calle Jarnkrok and Andrew Mangiapane replied for Calgary. Blake Coleman added two assists, while Jacob Markstrom made 30 saves as the Flames dropped to 0-10 when trailing a playoff series 3-1.
Coleman, who won the Cup the last two seasons with the Tampa Bay Lightning, appeared to snap a 4-4 tie with just under six minutes left in regulation after Backlund took the puck hard to Edmonton's net. But the goal was waved off following a video review after it was ruled the winger kicked the puck over Smith's goal line with his skate as he battled with Oilers defenceman Cody Ceci.
With his team trailing 1-0 after a tentative first period, Edmonton interim head coach Jay Woodcroft double-shifted Draisaitl and McDavid early in the second, and it nearly paid off on a couple of good opportunities.
But the Flames, who topped the Oilers by seven points in the regular season to claim the Pacific Division crown, went up 2-0 at 5:41 when Backlund scored his fifth on a slick deflection.
The Oilers got on the board at 7:40 after Draisaitl protected the puck against Backlund before finding Nurse in the slot for him to fire his second past a screened Markstrom.
Edmonton tied it up just 2:26 later on a 3-on-1 rush when Markstrom could only get a piece of Hyman's shot before Puljujarvi swept home his second as the Oilers erased another multi-goal deficit on the road.
The offensive floodgates then really opened over a wild stretch that would see four pucks find the back of the net in 71 seconds.
Hyman scored his sixth goal of the series, and eighth of the post-season, on a power play at 14:57 before Gaudreau tied things again at 3-3 at 15:12 with his third.
Jarnkrok then scored his first as a member of the Flames since coming over in a trade with the Seattle Kraken at 15:28 to make it 4-3.
But the Oilers responded again at 16:08 when Bouchard's blast beat Markstrom for his second as the teams set an NHL record for the fastest four goals in playoff history — 22 seconds faster than the previous mark set by the Philadelphia Flyers and Toronto Maple Leafs in 1976.
Following a tepid start for both teams inside a nervous Scotiabank Saddledome, the Flames nudged in front at 10:13 of the first when Mangiapane took a terrific pass from Coleman to bury his third goal of the playoffs.
The winger's first point of the series gave his team its first lead since late in the second period of Game 2 — a stretch of exactly 155 minutes — that started a run of three straight losses to push Calgary to the brink of elimination.
One of three finalists for the Vezina Trophy as the league's top goalie in the regular season, Markstrom entered Thursday with an .850 save percentage in the series after posting a .943 mark in Calgary's seven-game victory over the Dallas Stars in the opening round.
After the Oilers, who beat the Los Angeles Kings 4-3 to set up the matchup with their provincial rival, killed off a McDavid high-sticking penalty, the Flames goaltender had to scramble to keep the Edmonton captain's dash to the net at bay with the puck briefly lying free in Calgary's crease.
This report by The Canadian Press was first published May 26, 2022.
___
Follow @JClipperton_CP on Twitter.