Short films are becoming popular amongst ambitious realtors looking for a competitive edge to stand out in the city's housing market.
Forget the gimmicks, fridge magnets, or free home evaluations, short films are becoming popular amongst ambitious realtors looking for a competitive edge to stand out in the city's housing market.
A successful woman driving a Telsa pulls up and parks in the two car garage, she struts confidently through her back yard. She's obsessed with a song by a trendy Soundcloud famous DJ, Mallrat https://www.facebook.com/lilmallrat/, from which she switches from her Model 3 electric car, to iPhone, then to her house Sonos system, seamlessly, to which she starts to dance. We're given a cinematic tour of the smart home, from room to room has the dancer, performed by professional dancer, and successful Edmonton business woman, Larissa Kovelanko, as she rhythmically moves her body throughout the entire home. The home located at 8617 108A Street, Edmonton, Alberta, Canada.
While the beautifully shot film could be advertising any number of things – electric cars, dance classes, new religion for adults seeking meaning – it's actually an ad for a home. The home, a brand new custom infill home built by Vrabel Homes in the core of Edmonton, near 109st, and Saskchawean drive, blocks south of Whyte Avenue. Edmonton's bustling market place is prime location for people to shop, or hang out with friends at the local coffee shops within a short radius.
The film is the brainchild of realtor Nikita Gylander with Core Real Estate Group (corerealestategroup.ca), who sold Edmonton cinematographer Raoul Bhatt (https://www.facebook.com/raoulbhatt) his home which was built by the same builder. Nikita, the social and well connected Edmonton realtor who's kept tight relationships with all her clients, approached Bhatt for a video, whom she was aware was in the movie business. The movie's uniqueness shines throughout this 4min and 20second video, which we discover the three-storey house, visually and emotionally.
"The price point was much higher than what was common in the neighbourhood, because it's a brand new home, an infill, and it has a unique layout, high end finishing's and ability to generate an income with it's basement suite, ideal for someone who wants a new home, but is investment savvy, ie the two bedroom legal basement suite could rent for $1800 a month, which would cover $350,000 of the mortgage. With university students at UofA just blocks away, and anyone that may enjoy flavourful foods and sips of chai at hip local indian fusion 'coffee shop' Remedy. So I knew the exposure [of the listing] needed to be greater than usual," she explains.
With that in mind, Raoul suggested a short video that would appeal to her perceived prospective buyer… Nikita, an outside the box thinker, thought it would appeal to a young family looking for a quiet property in an attractive neighbourhood, or a professional that wants to be in the mix of it all. And it worked. The video has been viewed thousands of times, and the house with increasing inquiries for viewing, which was listed just last week, for the asking price at $1.1 million.
In Edmonton, real estate videos – from fanciful creations like straightforward virtual tours – are becoming more popular among realtors looking for a competitive edge in a saturated market.
According to the Edmonton Real Estate Board, there are some 3000 real estate agents working in the Edmonton and surrounding area. Forget fridge magnets. Some realtors are now doing anything to attract new clients, from throwing "wine and cheese night" open houses to branding ice cream bicycles that pedal around local fairs, this just shows how far agents are willing to go for their clients, in this case the builder of this infill.
Raoul Bhatt, After 22 years of running a software company, who initially got into film to create cinematic stories of his softwares, which have been used by NHL, Superbowl, WWE Wrestlemania, Fall Out Boy. Which also produced a short web series for Booster Juice in 2017. Has been increasingly been approached to produce docs and tv shows by national Canadian brands. Bhatt, still a CEO of his software company, has ventured into the movie business, being featured by Jetset Parking which got 1/2 million views (https://www.youtube.com/watch?v=7AtsFUKho98), and Swimco.com (https://www.swimco.com/2018/06/meet-our-swimsuitmodel-raoul-bhatt/). Early into his new career, Raoul has realized, it's doing things differently that makes his business stand out, and storytelling through cinema compliments his other ventures.
"The typical Realestate video, they're definitely cheesy, but the films do to job, but when you make a movie, those are never forgotten, doesn't matter what you're offering" says Raoul Bhatt, who advocates anything he does be like a movie.
His film isn't just showing off the space's amenities, they're also meant to be aspirational. For Nikita Gylander and Vrabel Homes, he tailored this video to who he imagines is the prospective buyer, whether it's a professor, or a young successful career woman.
"These films show what life could be like if you lived in this home," says Bhatt. "Instead of just some beauty shots where you can turn off the video halfway through, [lifestyle films] work because people want to see the beginning, middle and the end."
Telus Corp. marks opening of Telus Sky in downtown Calgary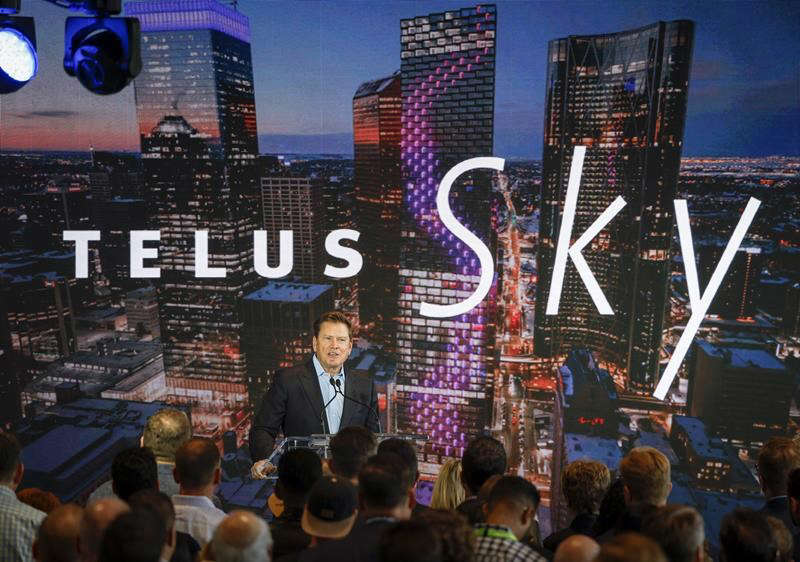 CALGARY — Telus Corp. marked the opening of its new 60-storey Calgary headquarters on Wednesday.
The new $400-million skyscraper, Telus Sky, has been in development for nine years and is now the third-tallest building in downtown Calgary. It features 750,000 square feet of office and retail space as well as 326 rental homes.
The building's eye-catching design, by architects Bjarke Ingels Group (BIG) and Dialog, along with developer partner Westbank and Allied, starts with a rectangular floorplate and then gradually twists as it rises.
Integrated into the facade of Telus Sky is Canada's largest public art display. "Northern Lights" by Canadian author and artist, Douglas Coupland, creates a light show across the building's exterior.
Telus Sky will be home to more than 1,600 Telus employees. It joins TELUS Garden in Vancouver, TELUS Harbour Toronto, TELUS House Ottawa, and Place TELUS Québec as one of the company's LEED (Leadership in Energy and Environmental Design) Platinum-certified buildings.
Among the building's environmental features is a storm water management system that recycles rainwater for use in washroom toilets, reducing the building's municipal water demand by 70 per cent.
This report by The Canadian Press was first published July 6, 2022.
Companies in this story: (TSX:T)
Amanda Stephenson, The Canadian Press
Business Spotlight: Massage Above All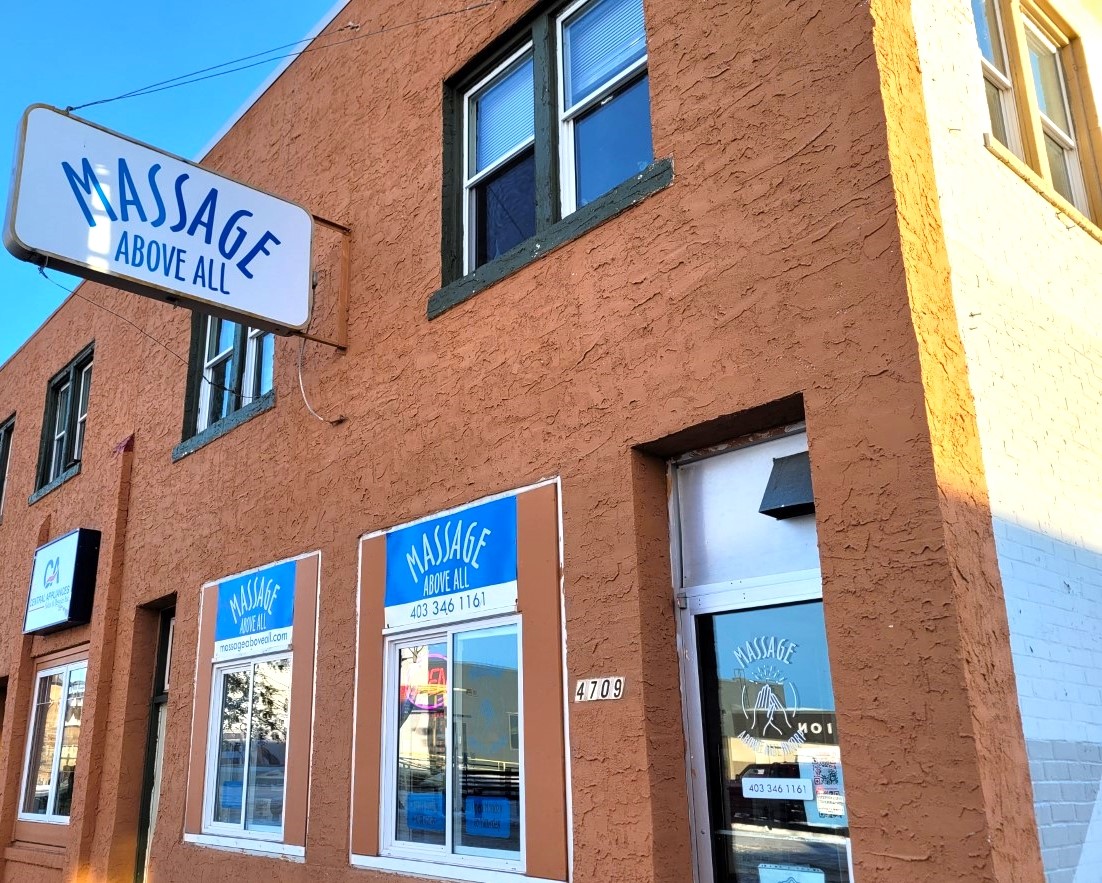 This week's Business Spotlight shines on Massage above all an excellent place to heal and relax with truly professional staff.
1. What is your business?
We are a Professional Therapeutic and Holistic Massage clinic serving Central Alberta in Downtown Red Deer since 1995.
2. When did your business open?
Originally opened in a small rental space in 1995, as we grew, it became apparent that we would need to expand. We purchased and completely renovated our current 2525 sq ft property with our clients in mind. Each treatment is spacious, clean and meets all health standards as per AHS.
3. What makes your business unique?
We are a local Massage Clinic that owns our property and has thrived in the Downtown for some 27 years: 6 treatment rooms spacious lobby. Our therapists are registered with professional associations, and as such, we can direct bill to most insurance companies. *Some conditions apply*
4. What are some products/services that you offer?
We offer Professional Massage Therapy services, including Therapeutic, Relaxation, Lymphatic, Hot Stone, Couples Massage, Reflexology, Cupping, and Craniosacral therapy.
We also offer fair trade merchandise from around the world. Stop in and see
5. Why did you choose Downtown Red Deer as the location for your business?
Personally, I chose the Downtown because our family has owned and operated businesses since 1974 when we moved to Red Deer from Calgary when my parents took over Red Deer Auction Co Ltd.
6. What do you think makes Downtown vibrant?
The unique and friendly businesses and business owners and staff.
7. Finish this sentence: I love Downtown Red Deer because…
It is the core of the city, close to home. A vibrant community with eclectic and unique shopping experiences.
For more information
Facebook – Massage Above All | Facebook
Twitter –@MassageAboveAll