Flying Bob Turns School into a Circus
From Red Deer Catholic Regional Schools
Kindergarten to Grade 5 students from St. Martin de Porres School spent the week of March 18-22 immersed in learning the special talents of circus performers.  "Flying Bob," a local circus performer and his assistant Aton spent the week teaching students an assortment of activities related to circus performances.
Students learned how to juggle, walk a tight line, walk on stilts, diablo, peacock feather balances, spinning plates, etc. Flying Bob and Anton helped encourage students develop a growth mindset through taking chances and performing in front of each other. Students understand that the circus is a process and a place where they can always learn new skills.
"As a Catholic Fine Arts School we are passionate about providing a variety of unique fine arts experiences for our students. The circus residency has allowed our students to reflect humanness and sacramentality as they have journeyed through this new learning experience and have been given the opportunity to share their newfound God-given gifts and talents. What has been most poignant throughout the residency has been that students and staff have actively supported and celebrated the arts with each other throughout this whole week," said Kristie McCullough, Assistant Principal at St. Martin de Porres School.
The culminating performance today was thrilling for parents and special guests to watch. Each grade performed at separate times throughout the day on March 22.
St. Martin de Porres School serves over 250 Kindergarten to Grade 5 students in Red Deer with a fine-arts focus. As a learning institution, the St. Martin de Porres School is committed to serving students with a complete offering of learning opportunities delivered within the context of Catholic teachings.
Jessica Snyder honoured as 2021 Gateway Christian School Valedictorian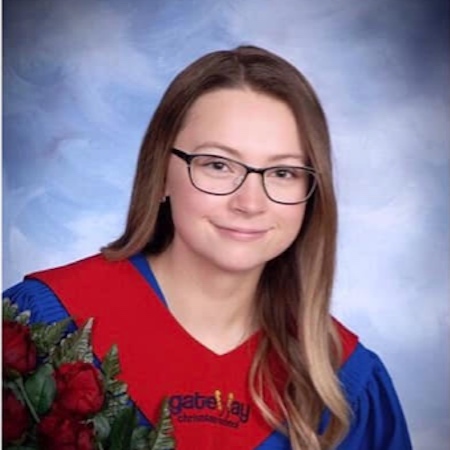 Gateway Valedictorian to become a teacher to make a difference
Emily Liu honoured as 2021 Hunting Hills High School Valedictorian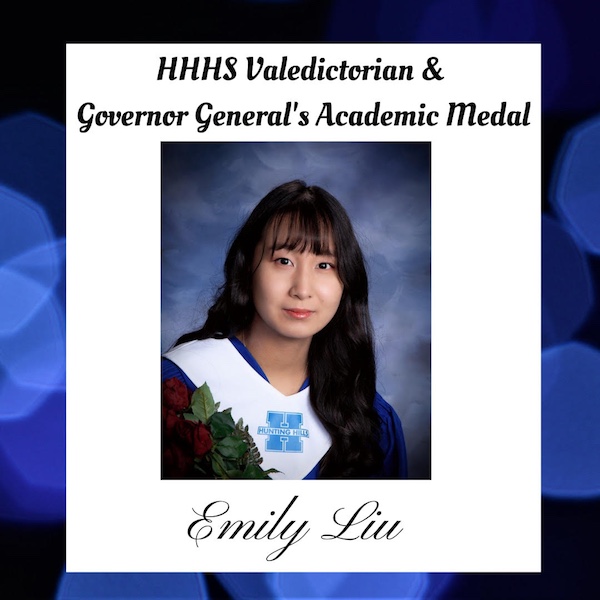 Hunting Hills Valedictorian looks to pursue career in the medical field
This year has been like no other for the Graduating Class of 2021, but the valedictorian at Hunting Hills High School is not letting the pandemic stop her from achieving her goals.
Grade 12 student Emily Liu has been named this year's Valedictorian at Hunting Hills High School.
"It's an incredible honour to be named valedictorian. I was very proud of myself when I learned that I was going to be this year's valedictorian," she said. "In Grade 9 when I first received the honour of being the top academic student in my class, that really came as a huge shock to me because I always knew I performed well in school, but I never imagined I could be the top academic student. After that, it was something that I was really inspired to work towards, and it's kept me motivated ever since."
Emily added when she reflects on her high school experience, she could never have predicted we would be in the midst of a global pandemic.
"I don't know if it necessarily took away from my high school experience, but it's definitely hindered me in my day-to-day life whether it's trying to pay attention during online school, or being able to hang out with my friends," she said.
Graduation ceremonies for Hunting Hills High School will take place on June 25 at the Centrium. The day will include staggered ceremonies with three groups of graduates at a time in compliance with Alberta Health Services guidelines.
Emily said her message to fellow graduates is one they can carry into the future.
"If there's one thing that this pandemic has taught me it's that the relationships we have in our lives are so incredibly precious. When your only way of communicating with your friends or your family is through a screen or a phone call, there's aspects of simple physical interaction that you really can't get through in an online medium," she said. "We need to treasure the relationships we have in our lives, maybe a little more. It may be a little clichè, but you really don't appreciate what you have in your life until they are gone."
Looking to the future, Emily said she hopes to soon be able to explore the world once restrictions allow. She has also been accepted to the University of Alberta.
"I'm going to study biochemistry. It's one of my hopes to pursue a career in the medical field in the future," she said, adding her volunteer work has given her an interest in that field. "I have been volunteering at the Red Deer Hospital for the past four years, and I've also been volunteering as a piano player at the Red Deer Hospice. I think my time at the hospital and hospice has been really enriching in the way that I am able to interact with people and learn more about people's lives and maybe provide them some kind of comfort or support when they are in a really vulnerable moment."
Christine Chappell, Vice Principal at Hunting Hills High School, said she is proud of Emily's achievements.
"An accomplished pianist, community volunteer, and HHHS Leadership student, Emily possesses an incredible work ethic. In every endeavour, whether it be academics or extracurricular activities, she embodies kindness, determination, and tenacity," she said. "Along with excelling in academics, Emily has completed her Grade 10 Piano with First Class Honours (Royal Conservatory). As a Leadership student, she has dedicated countless hours to our Bikeathon, Enviro Club and school activities. HHHS is honoured to recognize Emily as our 2021 Valedictorian and Governor General's Medal recipient."