Flames and Oilers Alberta license plates available Monday
Calgary Sports & Entertainment president John Bean (left), Service Alberta Minister Brian Malkinson and Edmonton Oilers Community Foundation executive director Natalie Minckler reveal new Calgary Flames and Edmonton Oilers specialty licence plates.
From the Province of Alberta
Flames and Oilers licence plates unveiled
Albertans have a new way to support their community and show pride for their favourite hockey teams.
Whether Albertans cheer for the Calgary Flames or the Edmonton Oilers, they can proudly display their support on their vehicles. Service Alberta is introducing two new specialty licence plate designs that feature team logos, slogans and colours. Money raised from the plates will benefit the Calgary Flames Foundation and the Edmonton Oilers Community Foundation.
"Albertans are passionate about hockey. We're pleased to give them a way to not only express their loyalty to their favourite NHL team on their vehicles, but also give back to their communities. I'm looking forward to seeing the battle of Alberta extend to licence plates on our highways and roads."
Starting Nov. 19, the plates can be ordered from Alberta registry agents for a one-time cost of $75 plus a registry agent charge. From those funds, $20 is retained by the government to recover costs of producing and shipping the plates, and the remaining $55 will go to the Calgary Flames Foundation or the Edmonton Oilers Community Foundation, depending on the plate selected.
"We are very appreciative of the Government of Alberta for inviting us to participate in this program. We look forward to sharing the proceeds raised by this initiative with charitable and other organizations based in southern Alberta in support of health and wellness, education and amateur and grassroots sports. The new licence plates will allow the Calgary Flames Foundation to continue to make a positive impact on the lives of southern Albertans and build on the over $32 million distributed since inception. Thank you for selecting the Flames brand to make a difference in our community."
"The Edmonton Oilers Community Foundation is excited for the opportunity to partner with the Government of Alberta on their specialty licence plate program. The proceeds from the licence plates will be used to help the Oilers Foundation pursue its goal of helping build strong, vibrant and safe communities, with a focus on programs that support health and wellness, education and minor hockey programing for youth in northern Alberta."
Plates will be mailed to Albertans after the order is placed through the registry agent. If they choose to register the plate to a vehicle after receiving it, standard registration fees apply.
The two new hockey designs are an expansion of the existing specialty licence plate program, which features the popular Support Our Troops design honouring current and former members of the Canadian Armed Forces.
Police looking for these 3 suspects after Super 8 Motel in Innisfail robbed early Monday morning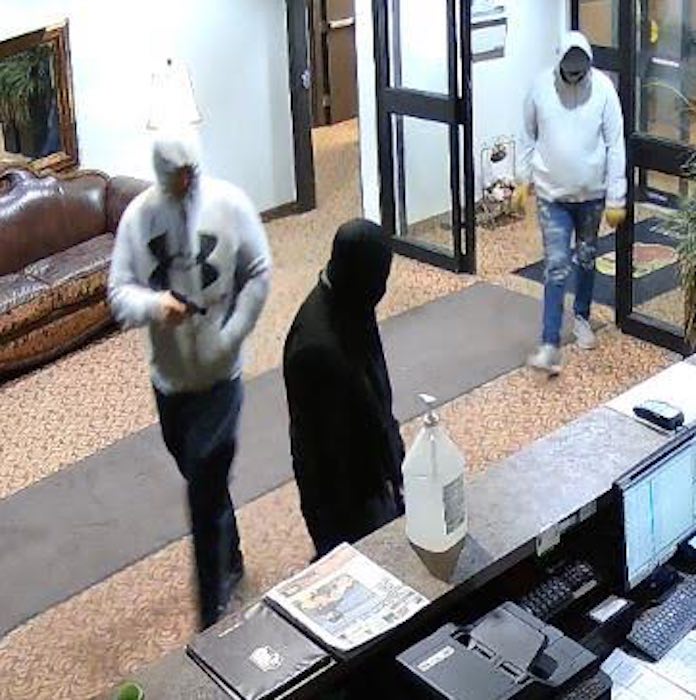 Innisfail RCMP investigate robbery
Innisfail Ala. – On May 29, 2023, at approximately 4:10 a.m., the Super 8 motel in Innisfail was the victim of an armed robbery. Three male suspects entered the hotel, two of which had firearms. Money was demanded from the manager. All three left the motel in a vehicle which is described as:
Chevrolet Dura Max truck
Sliver
Lifted
The suspects are described as:
Suspect #1: Caucasian male, tall and muscular. Wearing jeans and a grey Under Armour hoody. He was carrying a pistol.
Suspect #2: Caucasian male, short. Wearing all black. He was carrying a sawed off shotgun
Suspect #3: Caucasian male tall with a chubby belly. He was wearing a grey hoody, jeans and a black ball hat.
If you have information about this incident, please call the Innisfail RCMP at 403-227-3341 or call your local police. If you want to remain anonymous, you can contact Crime Stoppers by phone at 1-800-222-8477 (TIPS), by internet atwww.tipsubmit.com, or by SMS (check your local Crime Stoppers www.crimestoppers.ab.ca for instructions).
'Tragic accident' blamed for recent death of giraffe at Calgary Zoo
The Wilder Institute/Calgary Zoo says a "tragic accident" led to the recent death of an adult Masai giraffe. A statement from the zoo says the female giraffe named Emara died May 19 after tangling one of her horns on a cable surrounding her enclosure. THE CANADIAN PRESS/HO-Wilder Institute/Calgary Zoo-Sergei Belskey
Calgary
The Calgary Zoo says a "tragic accident" led to the recent death of one of its adult Masai giraffes.
A statement from the zoo says a female giraffe named Emara died May 19 after tangling one of her horns in a cable surrounding her enclosure.
The statement says a necropsy revealed Emara fell against the enclosure fence and died almost instantly of a broken neck.
Emara, who had just turned 12, came to Calgary from the San Diego Zoo in 2016.
The statement says she was a treasured member at the zoo and was known for her cautious yet curious personality and gentle nature.
The zoo says it is checking fencing within its African Savannah Yard enclosure to see if changes are needed to better protect the other giraffes and animals that share the space.
Doug Whiteside, interim associate director of animal care and welfare at the zoo, said Emara was in her prime and was in excellent health when she died.
"Major life changes such as this not only affect our people but can affect our animal residents as well," Whiteside said in the statement Monday.
He said the zoo's remaining giraffes, Nabo and Moshi, are doing well.
Grief counsellors are being made available to Emara's caregivers and other zoo staff.
This report by The Canadian Press was first published May 29, 2023.