Federal government poised to pile on more spending and debt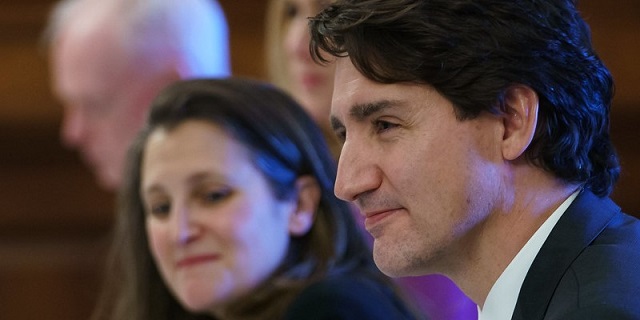 Next week, the Trudeau government will release its fall fiscal update, which, considering the sorry state of federal finances, should demonstrate a newfound approach to spending and borrowing. But don't hold your breath.
Although the Trudeau government describes itself as "fiscally responsible," in reality it has a track record of unrestrained spending and large budget deficits. And it's overseen the five highest years (2018 to 2022) of per-person program spending (adjusted for inflation) in Canadian history. Even excluding COVID-related spending, 2020 and 2021 remain the two highest years of per-person spending on record.
The Trudeau government has also run deficits every year since it took office in 2015—according to forecasts, this year's deficit will eclipse $40 billion even though COVID is in the rearview mirror. Consequently, federal debt will have increased nearly $900 billion since 2014/15, up to $1.9 trillion for 2023/24.
While the prime minister and Finance Minister Chrystia Freeland often downplay the level of debt accumulation by noting that Canada has the lowest net debt-to-GDP ratio among the G7 countries (Germany, Italy, Japan, France, the United Kingdom and the United States), this is misleading.
Net debt is calculated as total (gross) debt minus all financial assets, with the implicit assumption that those assets could be used to offset debt. However, the Canada and Quebec Pension Plans (CPP and QPP) are included in the financial assets used to calculate net debt in Canada. But because CPP/QPP assets are needed for existing and future retirees, in reality they can't be used to offset government debt.
Therefore, a better measure is gross debt, which measures all liabilities that require future payment of interest and/or principal by the debtor to the creditor. Compared to 29 other advanced economies, including the G7 countries, Canada's gross debt as a share of the economy ranks 20th—meaning Canada is among the most indebted countries.
Clearly, the Trudeau government has been anything but fiscally responsible. And the current levels of spending and borrowing impose real costs on Canadians.
For example, since 2014/15 federal government debt interest costs have nearly doubled—reaching an estimated $43.9 billion, or 9.6 per cent of total revenues, for 2023/24. This means roughly one in every 10 dollars Ottawa collects from Canadian taxpayers this year will go towards debt interest costs, rather than government services or tax relief.
In light of these fiscal realities, if the Trudeau government wants to move anywhere close to a balanced budget in the foreseeable future, it must take meaningful steps in the upcoming fall fiscal update to restrain spending growth.
Unfortunately, this is unlikely to happen.
In a recent report, the Parliamentary Budget Officer (PBO) estimated that, due to spending increases, the federal government will run a deficit of $46.5 billion for 2023/24—$6.4 billion more than the government's budget projections in March.
The government will also likely include new spending in the upcoming fiscal update meant to address housing and affordability. And will likely soon table legislation on national pharmacare, which the PBO estimates will cost $11.2 billion in 2024/25 alone.
Finally, not only does this unprecedented level of spending rack up mountains of debt, according to Bank of Canada Governor Tiff Macklem, "government spending is starting to get in the way of getting inflation back to target." In other words, more spending by the federal government to address affordability concerns could actually worsen the problem by keeping inflation (and interest rates) higher than would otherwise be the case, eroding the purchasing power of Canadians.
While Ottawa's fiscal situation demands a fiscally responsible fall fiscal update, it's likely we'll see much of the same next week from the Trudeau government—more spending and more borrowing.
Authors:
Carbon tax, not carve out, Trudeau's real failure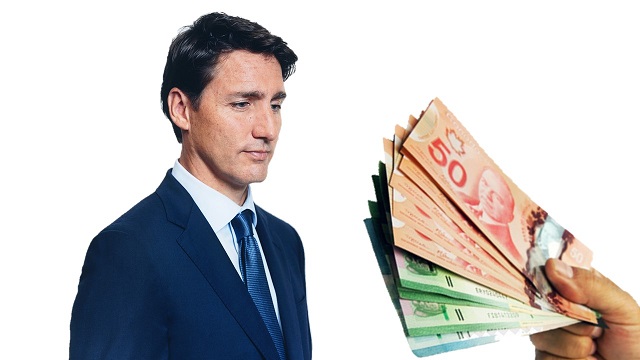 Author: Franco Terrazzano
Prime Minister Justin Trudeau stepped in it when he removed the carbon tax from furnace oil, while leaving 97 per cent of Canadians out in the cold.
Even in Atlantic Canada, where Trudeau tried to buy off MPs with the carve out, 77 per cent of people in the region support carbon tax relief for everyone.
But Trudeau's mistake wasn't providing relief. The real lesson here is Trudeau never won the hearts and minds of Canadians. And he lost credibility early on.
Months before the 2019 election, the former environment minister said the government had "no intention" of raising the carbon tax beyond 11 cents per litre of gas.
After the election, Trudeau announced he would keep cranking up his carbon tax until it reached 37 cents per litre.
Trudeau and his ministers repeat the myth that eight-out-of-ten families get more money in rebates than they pay in carbon taxes.
Their favourite talking point limps on despite the obvious reality that a government can't raise taxes, skim money off the top to pay for hundreds of administration bureaucrats and still make everyone better off.
In fact, the carbon tax will cost the average family up to $710 more than they get back in rebates this year, according to the Parliamentary Budget Officer.
The government said carbon taxes reduce emissions.
But even in British Columbia, which had the first and (for years) costliest carbon tax, emissions rose. B.C. imposed its carbon tax in 2008. B.C.'s emissions have increased between 2007 and 2019 – the last year before the pandemic brought economic activity to a screeching halt.
And even if the carbon tax cut emissions at home, "Canada's own emissions are not large enough to materially impact climate change," as the PBO explains.
Making it more expensive to live in Canada won't reduce emissions in China, Russia, India or the United States. And this leads to Trudeau's diplomatic failure.
At the United Nations, the Trudeau government launched the Global Carbon Pricing Challenge to get more countries to impose carbon taxes.
"The impact and effectiveness of carbon pricing increases as more countries adopt pricing solutions," the Trudeau government acknowledged.
The world's largest economy, the United States, rejects carbon taxes.
President Joe Biden, a Democrat, hasn't imposed a carbon tax. Good luck convincing a Republican president to impose one.
The U.S. is the rule, not the exception.
About three-quarters of countries don't have a national carbon tax, according to the World Bank's Carbon Pricing Dashboard.
And while Trudeau raised taxes, peers like the United Kingdom, Sweden, Australia, South Korea, the Netherlands, Germany, Norway, Ireland, India, Israel, Italy, New Zealand and Portugal, among others, cut fuel taxes.
If Canada's carbon tax is essential for the environment, shouldn't all taxpayers pay the same rate?
A driver in Alberta pays a carbon tax of 14 cent per litre of gas. In Quebec, the carbon tax is about 12 cents. By 2030, that gap will grow to more than 14 cents per litre.
Quebec's special deal proves Trudeau's carbon tax is about politics, not the environment.
When crafting the carbon tax, the government never truly asked the people what they thought. Everyone wants a better environment. You won't find opposition to that.
But did anyone ask Canadians if they support a carbon tax even if it means average families will lose hundreds of dollars every year? Did anyone ask Canadians if they support a carbon tax even though most countries don't?
Trudeau is displaying rank regional favouritism. But his real mistake wasn't the carve out that favoured Atlantic Canada. It's that he never won the hearts and minds of the people and failed to acknowledge carbon taxes cause real pain.
Budget update proves Trudeau isn't serious about federal finances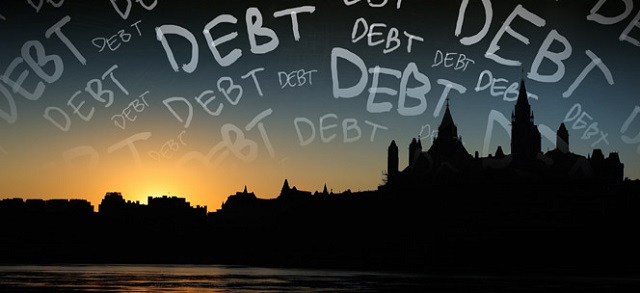 Author: Franco Terrazzano
"when you pay the GST on a hockey stick, a tank of gas or bar of soap, every penny will go to interest charges on the federal debt. In fact, interest charges will surpass federal health-care transfers next year"
Taxpayers should brace for impact based on the finance minister's latest projections.
Interest charges on the federal debt will go from $47 billion this year to $61 billion in 2028-29, according to the budget update.
But what does $61 billion mean to you?
Sixty-one billion is the same amount the government plans to collect with the GST in 2028-29.
So, in a few short years, when you pay the GST on a hockey stick, a tank of gas or bar of soap, every penny will go to interest charges on the federal debt.
In fact, interest charges will surpass federal health-care transfers next year.
Let the shock sink in just a little deeper: what could we do if it weren't for the federal debt?
We could virtually double federal health spending.
Or we could completely eliminate the GST in a couple years.
Somehow the government is communicating these perplexing projections with considerable calmness.
Finance Minister Chrystia Freeland claims "the foundation of our Fall Economic Statement is our responsible fiscal plan."
But last year the government spent $474 billion. And this year the feds plan on spending $489 billion. By 2029, the government will be spending $595 billion a year.
Pro-tip for Freeland: when you spend billions of dollars more every year, you're saving money wrong.
And all that spending comes on top of an already ballooned base line. Even before the pandemic, the Trudeau government was spending all-time highs. And that's after accounting for inflation and population differences.
Last year's $35-billion deficit will increase to $40 billion this year. The feds have no plan to balance the budget. And that's pushing up interest charges.
Again, brace yourself, because in 2028, federal debt interest charges will cost taxpayers $61 billion. For context, pre-pandemic interest charges were around $20 billion a year.
Meanwhile, if you're hoping for meaningful tax relief from this government, you shouldn't hold your breath.
"I absolutely understand that after three difficult years – with a global pandemic, global inflation, and global interest rate hikes – Canadians are worn out, frustrated, and feeling the squeeze," Freeland said. "What Canadians deserve today is for us to address the very real pain that so many are feeling."
The easiest and simplest way for Freeland to help Canadians is to stop taking so much money from taxpayers' wallets in the first place.
But Freeland and Prime Minister Justin Trudeau aren't even willing to provide the simplest forms of tax relief like ending the sales tax-on-tax at the gas pumps. The GST on the carbon tax alone will cost taxpayers $429 million this year.
The government isn't willing to end the anti-democratic escalator that increases alcohol taxes every year without a single vote in Parliament. Next year's hike will cost taxpayers about $100 million.
The government isn't even willing to extend the same relief to all Canadians that it gave Atlantic Canadian families and remove the carbon tax from everyone's home heating bills. The carbon tax on natural gas will cost the average family $300 this year.
The budget update is an admission that the government has a spending problem, but it still isn't serious about managing our finances or providing real tax relief.
The solution for Trudeau and Freeland should be simple: put down the credit card and pick up some scissors.
This column was originally published in the Toronto Sun on Nov. 24, 2023.