Federal and Provincial governments to spend $400 million to clean up Alberta oil and gas sites, create thousands of jobs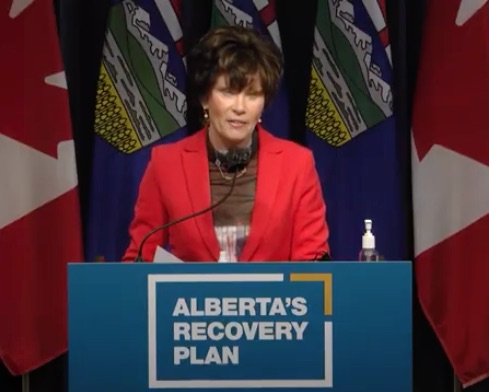 Funds target cleanup on Indigenous oil and gas sites
Two new rounds of the Site Rehabilitation Program will provide $400 million to create thousands of jobs for Albertans while completing significant environmental cleanup across the province – including on First Nations reserves and Metis Settlements.
The governments of Alberta and Canada are advancing their commitment to ensure Indigenous businesses and communities play a meaningful role in Alberta's post-pandemic energy strategy by targeting $100 million of federal Site Rehabilitation Program (SRP) grant funding to clean up inactive oil and gas sites in Indigenous communities across Alberta.
Alberta's government worked with Indigenous communities, Indigenous businesses, the Indian Resource Council and the Metis Settlements General Council to develop the details of this grant allotment, which includes $85 million for First Nations reserves and $15 million for Metis Settlements to work with licensees to close sites located on or around their lands.
"The Site Rehabilitation Program is cleaning up legacy oil and gas sites across the province and creating thousands of much-needed jobs. As stewards of the land, this funding will ensure that Indigenous people benefit from resource development on land that was first inhabited by their ancestors."
"Working with Minister Savage and the Government of Alberta, we are creating jobs, cleaning up our environment, and supporting the hard-working people in our oil and gas sector – including in First Nations and Métis communities."
"This is an investment in a strong future for Indigenous people in Alberta, who will benefit from the jobs created and the reclaimed lands in their communities. Programs like this are game-changers for Indigenous communities."
"First and foremost, I am thankful to the Creator for another day and for the bounty that Mother Earth provides. The SRP Indigenous set aside will allow Alberta First Nations and Metis Settlements to reduce liabilities by decommissioning and cleaning up well sites across Alberta. During this time, First Nations-owned companies and member-owned companies, along with existing and new partnership creations, can get working to create gainful employment in a difficult period as this pandemic and downturn of the oil industry has caused hardships for many. We look forward to working with the province, ministers, industry, Indian Resource Council and service providers to make this program a success. 'Our Mother Earth takes care of us, as her children, we need to take care of her.'"
"This $100-million collaboration between First Nations represented by the Indian Resource Council, the Metis Settlements and the Government of Alberta shows unprecedented progress towards reconcili-action in the protection of land, lives and livelihoods."
A second new funding allotment will provide up to $300 million to oil and gas producers who paid for closure work in 2019 or 2020. This is the program's largest grant period and is designed to give contractors and licensees the funding and time to work on closure projects of all scopes and sizes – leading to the cleanup of a significant number of oil and gas sites across the province.
"Closure work creates jobs and positive environmental outcomes that enhance Alberta's ESG record and provides valuable economic benefits to rural communities. PSAC has long advocated for a mechanism to accelerate the decommissioning of orphan and inactive sites to provide the sector with jobs during this prolonged downturn. We are pleased that the Governments of Canada and Alberta have heard us and responded with this important program."
Including these two rounds, which will open to applications on Feb. 12, $800 million in SRP grants have been made available to eligible applicants since launching in May 2020. In total, the program is expected to generate almost 5,300 direct jobs and lead to indirect employment – and economic benefits – across the province.
The Alberta government continues to work with an Industry Advisory Committee and an Indigenous Roundtable to help make continuous improvements to the program and its processes.
Alberta's Recovery Plan is a bold, ambitious long-term strategy to build, diversify, and create tens of thousands of jobs now. By building schools, roads and other core infrastructure we are benefiting our communities. By diversifying our economy and attracting investment with Canada's most competitive tax environment, we are putting Alberta on a path for a generation of growth.
Quick facts
Through the Site Rehabilitation Program (SRP), launched in May 2020, the Alberta government is directing up to $1 billion of federal oil and gas COVID-19 economic stimulus over two years to get Albertans back to work by speeding up well, pipeline and site closure efforts in the energy sector.
As of Feb. 12, $310.3 million of grant funding has been allocated to 633 Alberta-based companies for periods 1 through 4 of the program.
Applications for grant periods 5 and 6 will remain open until March 31, 2022.
During period 6, Indigenous communities will be provided a community-specific allocation.
Contractors have until Dec. 31, 2022, to complete their work through the program.
Remaining grant periods for the balance of the $1-billion funding commitment will be announced in the coming months.
Blue Bombers become first CFL team to earn playoff spot with 26-16 victory over Elks
EDMONTON — Zach Collaros threw two touchdown passes as the Winnipeg Blue Bombers defeated the Edmonton Elks 26-16 on Friday night to become the first CFL team to clinch a playoff berth.
Winnipeg (9-1) captured its seventh straight victory and improved to 7-0 within the West Division. Collaros finished 15-of-24 passing for 210 yards with an interception to remain the CFL's passing leader (2,565 yards) but is also tops in TD passes with 15.
This marks the fifth straight season that Winnipeg, the defending Grey Cup champion, has made the playoffs.
Edmonton (2-7) suffered its fifth straight loss and dropped to 0-5 at home this season.
Edmonton's defence forced a safety at 9:31 of the first quarter, then came up big five minutes later as Trumaine Washington intercepted Collaros in the end zone. The Bombers closed out the opening quarter with a 37-yard Ali Mourtada field goal.
The Elks responded with Sean Whyte's 34-yard field goal at 11:22 of the second.
Winnipeg took the lead with three minutes left in the first half as a 47-yard completion to Kenny Lawler set up Collaros's five-yard TD strike to Andrew Harris. But Harris appeared to suffer an injury to his right knee and did not return as Brady Oliveira finished up with 105 yards rushing on 16 carries.
Whyte kicked a 25-yard field cut Winnipeg's half-time lead to 10-8.
Mourtada converted from 27 and a career-high 43 yards to start the third. Edmonton tied it 16-16 on Taylor Cornelius's 11-yard TD toss to Shai Ross. Backup quarterback Dakota Prukop added the two-point convert.
Rookie Cornelius got the start as incumbent Trevor Harris was a healthy scratch.
Moments after Elks defender Aaron Grymes couldn't hang on to an easy interception opportunity, Collaros hit Rasheed Bailey on a 48-yard completion before finding him on a five-yard scoring strike six minutes into the fourth.
Mourtada cemented the win with a 23-yard field goal with 50 seconds remaining.
Winnipeg hosts the B.C. Lions next Saturday while Edmonton has a bye week before returning home against the Hamilton Tiger-Cats on Oct. 29.
NOTES: Harris being sidelined while healthy has led to speculation the Elks are actively shopping their veteran quarterback on the trade front… Lawler returned to the lineup after being suspended by Winnipeg for its last game for an impaired driving arrest… The actual attendance appeared to be far beneath the announced 24,276 fans.
This report by The Canadian Press was first published Oct. 15, 2021.
This report by The Canadian Press was first published Oct. 15, 2021.
The Canadian Press
Medical examiner describes deaths of mother, toddler at Calgary murder trial
CALGARY — A forensic pathologist has told a murder trial that a Calgary woman and her young daughter suffered blunt force trauma to their heads.
Jasmine Lovett and 22-month-old Aliyah Sanderson were reported missing in April 2019.
The next month, their bodies were found buried in a day use area in Kananaskis Country, west of Calgary.
Robert Leeming has pleaded guilty to second-degree murder in the death of Lovett but not guilty to second-degree murder in the child's death.
Deputy medical examiner Dr. Akmal Coetzee-Khan described his findings through a series of autopsy photos.
He says Lovett appeared to have been moved after her death, judging from pooling of blood in her body.
She also had a black eye and bruising on her face.
The Canadian Press