Federal and Provincial governments to spend $400 million to clean up Alberta oil and gas sites, create thousands of jobs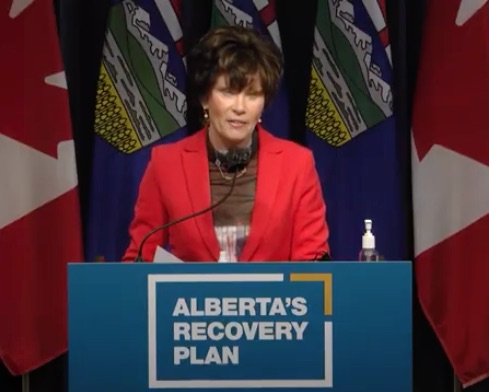 Funds target cleanup on Indigenous oil and gas sites
Two new rounds of the Site Rehabilitation Program will provide $400 million to create thousands of jobs for Albertans while completing significant environmental cleanup across the province – including on First Nations reserves and Metis Settlements.
The governments of Alberta and Canada are advancing their commitment to ensure Indigenous businesses and communities play a meaningful role in Alberta's post-pandemic energy strategy by targeting $100 million of federal Site Rehabilitation Program (SRP) grant funding to clean up inactive oil and gas sites in Indigenous communities across Alberta.
Alberta's government worked with Indigenous communities, Indigenous businesses, the Indian Resource Council and the Metis Settlements General Council to develop the details of this grant allotment, which includes $85 million for First Nations reserves and $15 million for Metis Settlements to work with licensees to close sites located on or around their lands.
"The Site Rehabilitation Program is cleaning up legacy oil and gas sites across the province and creating thousands of much-needed jobs. As stewards of the land, this funding will ensure that Indigenous people benefit from resource development on land that was first inhabited by their ancestors."
"Working with Minister Savage and the Government of Alberta, we are creating jobs, cleaning up our environment, and supporting the hard-working people in our oil and gas sector – including in First Nations and Métis communities."
"This is an investment in a strong future for Indigenous people in Alberta, who will benefit from the jobs created and the reclaimed lands in their communities. Programs like this are game-changers for Indigenous communities."
"First and foremost, I am thankful to the Creator for another day and for the bounty that Mother Earth provides. The SRP Indigenous set aside will allow Alberta First Nations and Metis Settlements to reduce liabilities by decommissioning and cleaning up well sites across Alberta. During this time, First Nations-owned companies and member-owned companies, along with existing and new partnership creations, can get working to create gainful employment in a difficult period as this pandemic and downturn of the oil industry has caused hardships for many. We look forward to working with the province, ministers, industry, Indian Resource Council and service providers to make this program a success. 'Our Mother Earth takes care of us, as her children, we need to take care of her.'"
"This $100-million collaboration between First Nations represented by the Indian Resource Council, the Metis Settlements and the Government of Alberta shows unprecedented progress towards reconcili-action in the protection of land, lives and livelihoods."
A second new funding allotment will provide up to $300 million to oil and gas producers who paid for closure work in 2019 or 2020. This is the program's largest grant period and is designed to give contractors and licensees the funding and time to work on closure projects of all scopes and sizes – leading to the cleanup of a significant number of oil and gas sites across the province.
"Closure work creates jobs and positive environmental outcomes that enhance Alberta's ESG record and provides valuable economic benefits to rural communities. PSAC has long advocated for a mechanism to accelerate the decommissioning of orphan and inactive sites to provide the sector with jobs during this prolonged downturn. We are pleased that the Governments of Canada and Alberta have heard us and responded with this important program."
Including these two rounds, which will open to applications on Feb. 12, $800 million in SRP grants have been made available to eligible applicants since launching in May 2020. In total, the program is expected to generate almost 5,300 direct jobs and lead to indirect employment – and economic benefits – across the province.
The Alberta government continues to work with an Industry Advisory Committee and an Indigenous Roundtable to help make continuous improvements to the program and its processes.
Alberta's Recovery Plan is a bold, ambitious long-term strategy to build, diversify, and create tens of thousands of jobs now. By building schools, roads and other core infrastructure we are benefiting our communities. By diversifying our economy and attracting investment with Canada's most competitive tax environment, we are putting Alberta on a path for a generation of growth.
Quick facts
Through the Site Rehabilitation Program (SRP), launched in May 2020, the Alberta government is directing up to $1 billion of federal oil and gas COVID-19 economic stimulus over two years to get Albertans back to work by speeding up well, pipeline and site closure efforts in the energy sector.
As of Feb. 12, $310.3 million of grant funding has been allocated to 633 Alberta-based companies for periods 1 through 4 of the program.
Applications for grant periods 5 and 6 will remain open until March 31, 2022.
During period 6, Indigenous communities will be provided a community-specific allocation.
Contractors have until Dec. 31, 2022, to complete their work through the program.
Remaining grant periods for the balance of the $1-billion funding commitment will be announced in the coming months.
Alberta's Walker into Hearts semifinal with 9-8 win over Manitoba's Jones
CALGARY — Alberta's Laura Walker advanced to the semifinal of the Canadian women's curling championship with a 9-8 win over Manitoba's Jennifer Jones in Sunday's tiebreaker game.
Walker faces defending champion Kerri Einarson in an afternoon semifinal with the winner taking on Ontario's Rachel Homan for the championship at night.
Jones missed an attempted double takeout in the 10th end, which left Walker an open draw to score three for the win in the tiebreaker.
Manitoba and Alberta were tied for third at 9-3 after the championship round, which required a tiebreaker game to solve.
Jones, a six-time champion at the Scotties Tournament of Hearts, was chasing a record seventh title.
This report by The Canadian Press was first published Feb. 28, 2021.
The Canadian Press
Let 'er buck: Study suggests horses learn from rodeo experience, grow calmer
CALGARY — Rodeo fans love the thrill of a bronc exploding into the ring, cowboy temporarily aboard. How the horse feels about it hasn't been so clear.
Newly published research out of the University of Calgary looks at three years of roughstock events from that city's Stampede in an attempt to peer inside the mind of an animal about to let 'er buck.
"I try to understand the animal's perspective," said Ed Pajor, a professor of veterinary medicine. "We asked the question whether or not horses find participating in the rodeo to be an adversive experience or not."
Pajor and his co-authors — Christy Goldhawk from the University of Calgary and well-known animal behaviourist Temple Grandin — studied 116 horses in bareback, novice bareback, saddle bronc and novice saddle bronc events. They looked at animals about to be loaded into a trailer and taken to the ring. They also observed how the horses behaved while in the chute waiting to be unleashed.
Horses have all kinds of ways of showing they're unhappy, Pajor said. They might move back and forth, chew their lips, swish their tail, defecate, roll their eyes, paw the ground, toss their head, or rear up in protest.
The researchers found that the more people were around them, the more likely the horses were to show unease. That's probably because they spend most of their time in fields and pastures and aren't used to the bustle, Pajor said.
The other factor that affected behaviour was experience. If it wasn't their first rodeo, the horses were much less likely to act up.
"We didn't see a lot of attempts to escape. We didn't see a lot of fear-related behaviours at all," Pajor said. "The animals were pretty calm.
"The animals that had little experience were much more reactive than the animals that had lots of experience."
There could be different reasons for that, he suggested.
"We don't know if that's because they're used to the situation or whether that's because of learned helplessness — they realize there's nothing they can do and just give up."
Pajor suspects the former.
"When the cowboys came near the horses, they would certainly react and you wouldn't really see that if it was learned helplessness."
The researchers also noted that the horses' bucking performance, as revealed in the score from the rodeo judges, didn't seem to be reduced by repeated appearances as it might be if the animals had become apathetic.
That doesn't necessarily mean the horses are having a good time, said Pajor, who's also on the Stampede's animal welfare advisory board. There are a couple of ways of interpreting active behaviour in the chute, he said.
"An animal might be getting excited to perform. Or an animal might be having a fear response."
"Understanding if animals like to do something is a tricky thing to do."
Pajor knows there are different camps when it comes to rodeos and animals.
"People have very strong opinions on the use of animals for all kinds of reasons. I think no matter what we're going to use animals for, we really need to make sure that we treat them humanely.
"My job is to do the research to understand the animals' perspective."
This report by The Canadian Press was first published Feb. 28, 2021.
— By Bob Weber in Edmonton. Follow @row1960 on Twitter
The Canadian Press