Far From The Madding Covid Crowd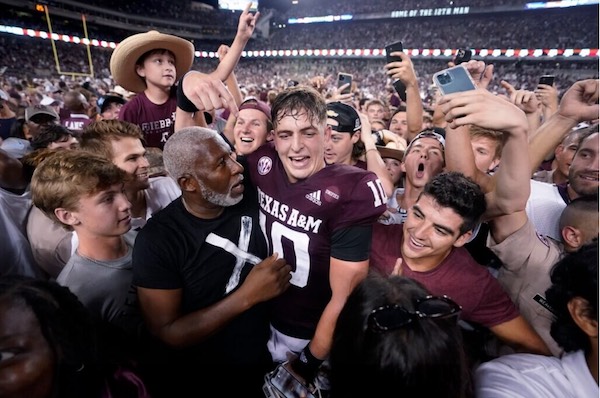 "The pandemic will end not when some arbitrary government mandated goals are met. It will end when people decide it should end. Texas has decided". Dr. Eli David
There's a Terminator quality to the mandatory-vaccine resistance movement. Ridiculed, fired, forbidden from dining, prohibited from flying… they abide. The often-imitated but never-duplicated Media Party has demonized them, while police strong-arm them at the mâitre 'd table.
And yet. Saturday there were 106,000 people gathered for the Alabama/ Texas A&M football game in College Station, Texas. Oblivious to the admonishments about masking, distancing, vaccinations and relentless PSA pounding they were in full-throated rapture about being jammed together like Hebrew National frankfurters.
They weren't alone. The NFL featured a huge crowd in London, England, for the Jacksonville/ Atlanta neutral-site game. And now the NHL opens its schedule (with some vaccination restrictions) this week to largely open arenas— with the NBA on the way.
You'd almost think they'd been lied to about Covid-19 being stopped by hand sanitizer (never!) . What is going on here? Do they not understand this is risky behaviour according to Dr. Fauci? Haven't they seen the un-vaxxed regretting their behaviour on TV from a hospital bed?
Or the texts that ask why Scotiabank Arena can host 16,000 screaming fans while families are told by the always-helpful Liberal shill Patty Hajdu to stay at home for Thanksgiving, tell the family not to come over and, egad, don't travel to see Grandma and Grandpa. What a bunch of yokels they must be.
In fact, despite the attempts to portray them as Pappy Yokums, almost all these people are now cognizant of the risks. Despite Big Tech censoring opposing viewpoints, they grasp the data. But they have had enough of the pandemic mentality. Specifically, they've turned off the righteous and moral wrath of the expert class. They want their lives back.
They have had their fill of being told by the knowledge industry how dumb they are with their online "prohibited claims". They're not worrying every moment about a 99 percent chance of surviving the virus with nothing more than a scratchy throat or a blocked sinus. They've seen too many deadlines come and go.
As Nate Silver of FiveThirtyEight observed, "Low-probability risks are hard for our brains to compute, period. And after a year+ of having our brains rewired by (often legitimately very scary) COVID risks, it's even harder now." Author/ cartoon list Scott Adams notes, "Dear government, What level of virus risk do we need to reach before ending all mandates and restrictions? If you don't have a target, don't expect compliance."
Right now they only see word salads about certainty from laptop experts and disgraced politicians. And so the football fans in Texas are deciding the next move in the pandemic progress.
Or perhaps it's the employees of Southwest Airlines— whose work-to-rule campaign this week in protest of the mandatory vaccine policy of the airline— who have decided (United Airlines employees are said to be replicating the walkout). Or what look to be longshoremen unions and employee groups who resent being the whipping post for authoritarian behaviour. They are threatening to grind the economy to a near-halt to convince Biden to cease his demonization of anyone who has a different opinion.
It's a demonization that targets Biden's critics, says author Steven Pinker. "There is a myth that 'cancel culture' is a myth. But literally hundreds of scholars have been targeted, & a majority of the attacks result in punishment, often firings." To say nothing of Biden celebrating the firings of airline, rail and automobile industry workers in his latest tele-prompter ramble.
The crisis he's inviting, in case you didn't know, is caused by just 775 people in Canada who have serious or critical Covid-19 infections. And that, in a country of 38 million, has crippled our healthcare system. Here's Canada "overflowing with Covid" situation: 96,000 hospital beds; 2,700 allegedly with Covid-19. Ergo, 2.8 percent of hospital beds in Canada are reportedly Covid patients.
This is a Healthcare® fail not a virus problem. And Patty Hajdu, whose government can't sell ice cream in the desert, wants you to shelter in place. Fans in football stadiums are united in saying "stuff it".
Apparently the public has computed the unreliability of the media, and— like MLB hitters turning down the shift to accept the easy bunt—are taking steps to reclaim their lives from the Fear Merchants. As long as fear won, the entrenched interests sought to exploit the observation of Canadian psychiatrist J.T. MacCurdy. "We are all of us not merely liable to being afraid. We are also prone to being afraid of being afraid."
What we now are— perhaps— seeing is an epidemic of people casting off fear. It might be the most healthy thing they've done since March of 2020Bruce Dowbiggin @dowbboy is the editor of Not The Public Broadcaster (http://www.notthepublicbroadcaster.com). The best-selling author of Cap In Hand is also a regular contributor to Sirius XM Canada Talks Ch. 167. A two-time winner of the Gemini Award as Canada's top television sports broadcaster, his new book with his son Evan is called InExact Science: The Six Most Compelling Draft Years In NHL History is now available on http://brucedowbigginbooks.ca/book-personalaccount.aspx
Rays Of Sunshine In MLB's Pointless Lockout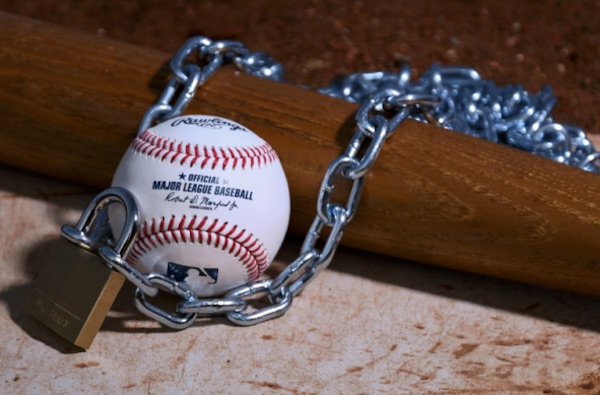 If you're a baseball fan planning on going to 2022 spring training to see your favourite team you might want to pause before booking a flight or hotel room. In case you didn't see the news, MLB has locked out its players again as the two sides jockey for a new collective bargaining agreement.
"We hope that the lockout will jumpstart the negotiations and get us to an agreement that will allow the season to start on time," says MLB owners commissioner Rob Manfred. "This defensive lockout was necessary because the Players Association's vision for Major League Baseball would threaten the ability of most teams to be competitive. It's simply not a viable option." Sure. Go with that.
Understand that for baseball fans the words collective-bargaining agreement are as welcoming as a reminder that you're due for a colonoscopy. Labour actions of the past have ruined seasons and— in the case of the Montreal Expos— doomed a franchise. (See: 1994 lockout )
"The Expos were widely regarded as the best team in baseball that season, prohibitive favorites to win the World Series for the first time in franchise history. Once play resumed, the cash-strapped Expos tore apart their contending team, shipping off their best players in trades for lesser prospects in most cases." By 2005 they had moved to Washington.
Since that 1994 disaster MLB has managed to avoid losing playing time to strikes/ lockouts. But the pressure has been building since the sport rejected the notion of a salary cap in favour of a much-less-restrictive luxury tax on free-spending terms. While the NHL, NBA and NFL operate more stringent salary cap systems, baseball has gone its own way in controlling salaries.
Concurrent with that has been an explosion of revenues for MLB, sending salaries and franchise values into the stratosphere. (See my book Cap In Hand for a full history of salary-cap economics and how a return to freer player markets is the future of the business.)
In a sign of how loose the financial reins have become, Max Scherzer's $43-million annual salary with the New York Mets is more than the entire payroll of two MLB teams. With no minimum payroll, Pittsburgh and Baltimore are free to lap up their 1/30th share of MLB's lucrative digital/ TV package, logo rights and other baubles.
Meanwhile players are concerned that while the stars become rich as Saudi princes the working class of the sport is not getting a proper share of the revenues. They claim owners are using devious practices to delay players getting to arbitration and free-agency. And they decry owners tanking for better draft picks or simply to make money.
None of this says that an early solution is imminent should the sides get past the next few weeks. The only lever for players is cancelling games, and there are none scheduled till next February (spring training) and late March (regular season). Likewise players are paid their salaries only during the regular season, meaning no player will lose any money till the games begin. Translation: They're not panicking either. So expect the real negotiating to start in February as camps set to open for 2022.
The hiccup in the debate over highly paid superstars and exploding payrolls is the Tampa Bay Rays. The definitive "small MLB market" Tampa has found a way to get to the 2020 World Series and the 2021 ALDS using a formula that involves dumping their name players (Evan Longoria, Blake Snell, David Archer) and culling prospects and rejects from other clubs.
While teams like the Blue Jays, Mets, Yankees, Dodgers and Angels are profligate spenders on big names, Tampa throws around nickels like they were manhole covers. The Rays are so frugal that they're proposing their summertime games be played in Montreal.
You want more? The cash-strapped Rays traded their stopper at the 2021 trade deadline— even as they led the majors in wins. They virtually invented the notion of reducing the value of starting pitching by creating the "bullpen" day, in which they start a relief pitcher and followed him with a series of other situational pitchers. Picking through the bargain bin they found inexpensive rejects and burnouts on other staffs and thrust them into their lineup.
As Mack Cerullo of Yahoo Sports noted, the Rays used 39 different pitchers last season; of the nine relief pitchers on Tampa Bay's opening-day roster, only three remained at season's end. The team's three All-Stars, Joey Wendle, Mike Zunino and Andrew Kittredge, made a combined $5 million last year. Brandon Lowe, Randy Arozarena and Austin Meadows, the heart of their batting order, made less than $3.7 million among them.
Despite cutting corners the Rays had the No. 1 ranked system in baseball starting 2021. By season's end prized rookies Wander Franco, Arozarena, Luis Patino and Shane McClanahan were all keys to TB getting to the ALDS. When they get too expensive the Rays will likely trade them for prospects or let them walk in free agency.
(Although the Rays tarnished their Scrooge reputation by signing the brilliant young Franco an eleven-year, $182 million contract extension, with a club option of $25 million for a twelfth year.)
Which begs the question: why are the tall foreheads of MLB shutting down the sport to save a system that has worked so well for Tampa? There is a ready template to compete and prosper in smaller markets. Why is this news to other owners? Likely it's easier to lock out players than do the heavy lifting of the Rays. With no threat of losing a franchise via relegation (as in soccer) or being cut off from the MLB gravy train why bother?
So prepare for months of crocodile tears from owners that MLBPA's demands "would threaten the ability of most teams to be competitive". And prepare to hold your nose when they say they've solved the Grand Old Past-Time.
Bruce Dowbiggin @dowbboy is the editor of Not The Public Broadcaster (http://www.notthepublicbroadcaster.com). The best-selling author was nominated for the BBN Business Book award of 2020 for Personal Account with Tony Comper. A two-time winner of the Gemini Award as Canada's top television sports broadcaster, he's also a regular contributor to Sirius XM Canada Talks Ch. 167. His new book with his son Evan Inexact Science: The Six Most Compelling Draft Years In NHL History is now available on http://brucedowbigginbooks.ca/book-personalaccount.aspx
Get Back: Imagining The Real John Lennon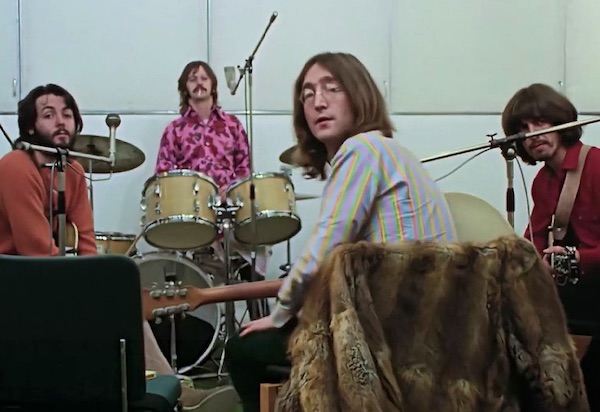 Get Back, Peter Jackson's new documentary on The Beatles taping their Let It Be album in 1969 has revelations for all generations of Beatles fans. Using video shot at the time for an earlier Michael Lindsay-Hogg film Jackson captures the creative process of the band in all its tortured glory.
Watching the four men create, procrastinate, argue, harmonize, feud and eventually part ways puts meat on the bones of their legend— particularly for those who came to their music since the band split up in1969-70. Seeing them in the context of the time reinforces their astounding productivity and creativity.
While there are have been endless tribute bands since, The Beatles themselves almost came out of thin air. They didn't discover rock and roll fire but they harnessed it to establish a template often imitated but never quite duplicated. The anticipation of a new album like Revolver (their best) was a cultural event for which there's no modern equivalent. After they split up members of the group never achieved quite the success they enjoyed as a foursome (George Harrison fans might contest this.).
Jackson's documentary does establish one salient fact. Yoko Ono did not break up The Beatles. Nor did Linda Eastman nor George Harrison nor Paul McCartney. The Brutus in this plot was John Lennon, the quixotic blunt edge of the group. Distracted and disillusioned in the film, Lennon creates the fissures that finally result in dissolution.
Nursing a nasty heroin addiction as the band starts recording, Lennon is starting the slow-motion breakdown that leads to his later incarnations as Ghandi, Gene Vincent, Randall McMurphy and finally martyred Jesus figure. He can't concentrate on anything for more that a few minutes. He wants Phil Spector, the Rasputin of rock, to produce the album. He wants Allen Klein to mange Apple, their creative company. He wants to play a public concert.
Eventually it all gets to be too much for the other Beatles. Harrison chafes to record his own music, Ringo feels bored, while McCartney wearies of trying to hold the whole business operqtion together. Lennon, meanwhile, wants to hang with the New York crowd that Yoko has introduced to him.
At its heart the band dramas were about Lennon and loyalty to The Beatles brand. His current beatific image is nothing like the man we see in Get Back. In 1969 he was the scruffy guy who'd written songs like Run For Your Life ("I'd rather see you dead, little girl, than to be with another man") and dumped his wife Cynthia for Yoko. (John singing "I'm in love for the first time" about Yoko must have been comforting for his ex-wife Cynthia and son Julian.)
His pacifist politics are summed up in Revolution ("If you talk about destruction, don't you know you can count me out") He liked getting in the face of authority. "Once they've got you violent, then they know how to handle you. The only thing they don't know how to handle is non-violence and humour."
And he famously debated his popularity versus that of Jesus. There were seams and creases to the man in the studioi who later became the sloppy drunk pal of Harry Nilsson, boozing themselves to oblivion. It wouldn't be an understatement to say he was the least loveable of The Beatles in his day— an image he was okay with, apparently.
So Lennon would probably hate the people who define him now by Imagine, the song he wrote that has been sanitized by the establishment. Imagine is what you'd get if Karl Marx met Sesame Street
Imagine no possessions
I wonder if you can
No need for greed or hunger
A brotherhood of man
Imagine all the people
Sharin' all the world?
No possessions? Kids who can't go ten feet without checking for their iPhone sing this tripe without irony. Remember that Apple's name and its iconic startup tone are Beatle tributes. There's more.
Imagine there's no countries
It isn't hard to do
Nothing to kill or die for
And no religion too
Imagine all the people
Livin' life in peace?
This is how we got Facebook censoring the posts of people who might actually prefer borders and religion. (Frankly this is the part I blame on Yoko.) And this verse prefiguring post-1980s marketing.
You may say I'm a dreamer
But I'm not the only one
I hope someday you'll join us
And the world will live as one
Because Lennon was shot to death by one of his lunatic fans— precluding any second act to his llfe— we now see him as corporatized John, smoothed out to be marketable like Big Macs and Apple tablets. As Jackson shows he was anything but a bite-sized commodity.
Watching Lennon still fascinate the public 40-plus years after his murder suggests one lyric that might serve as epitaph: "It's not like me to pretend. But I'll get you, I'll get you in the end. Yes I will, I'll get you in the end. Oh yeah." Get Bak to that.
Bruce Dowbiggin @dowbboy is the editor of Not The Public Broadcaster (http://www.notthepublicbroadcaster.com). The best-selling author was nominated for the BBN Business Book award of 2020 for Personal Account with Tony Comper. A two-time winner of the Gemini Award as Canada's top television sports broadcaster, he's also a regular contributor to Sirius XM Canada Talks Ch. 167. His new book with his son Evan Inexact Science: The Six Most Compelling Draft Years In NHL History is now available on http://brucedowbigginbooks.ca/book-personalaccount.aspx