Energetic Leader Sought For New Community Choir In YEG!
Cool Choir is in search of a fun, knowledgeable individual to lead it's new YEG location! Check out post below!
Cool Choir is a new concept in community choirs – direct from the UK. This is a non-auditioned, all-inclusive adult rock and pop choir experience performing original and exclusive arrangements of songs by legendary groups and artists – in rich harmony.
Already successful in Calgary, there are nearly 400 members of public singing weekly across multiple locations and now Cool Choir has grown to be Calgary's largest, recreational choir and the only non-auditioned adult rock and pop choir of its kind in the city – just two years since launch.
Our fun, fast growing, young and one-of-a-kind vibrant company is seeking an exceptionally talented, energetic candidate to launch Cool Choir in Edmonton in September 2018.
Working alongside the company's Director, you will launch and run this community based business and your skills as a natural leader, along with your ability to inspire and motivate those around you will ensure its success. You will be self-employed and running your own business, so bring your entrepreneurial skills to the party!
You will have a bubbly, engaging and sometimes quirky personality (personality is key to this role!) and like us, you will have a passion for rock and pop music.  Our ideal candidate will have advanced piano skills but a formal background in music is not necessary.  Your boundless energy, ear for harmony, ability to hold a tune and your enthusiasm for technology and social media will keep your members wanting more.
This is a role requiring a long-term commitment and would be suited to new graduate musicians, teachers/vocal coaches looking for a new challenge, professional musicians looking for a second income or anyone with the skills required, looking for an entrepreneurial business opportunity.  You must:
Be able to read music
Have the ability to network, promote and be comfortable being interviewed by the media
Be exceptionally comfortable with technology and social media
Have the desire to motivate, inspire and engage others
Be a great communicator
Have a bubbly, engaging and quirky personality
Be energetic and vibrant
Driven, highly motivated and ambitious
Have great leadership and people skills
Have endless enthusiasm and energy
Be able to take creative direction and guidance on occasion
Car owner/driver essential
Own or be willing to purchase a portable piano, pa system and microphone
The following skills are desirable but not essential;
Knowledge of music software and recording
Ability to arrange music
If you are looking to elevate your own status as an independent artist or build a fan base this role is not for you
You must be permanently resident or have citizenship status in Canada and legally allowed to work
Full training will be given and for the right candidate, this is a fantastic opportunity to be part of a growing company.
Please submit your resume to [email protected] along with a link to a 1 minute video uploaded to You-tube showing the fun side of your personality (this does not need to be music related).
Deadline for applications is February 28th and whilst we thank everyone for their time, only suitable candidates will be contacted.
Find us at www.coolchoir.com
Facebook www.facebook.com/coolchoircanada
Twitter @coolchoircanada
Instagram @coolchoircanada
Read more stories from Todayville.com.
Evaluation Assistant – Part-time Casual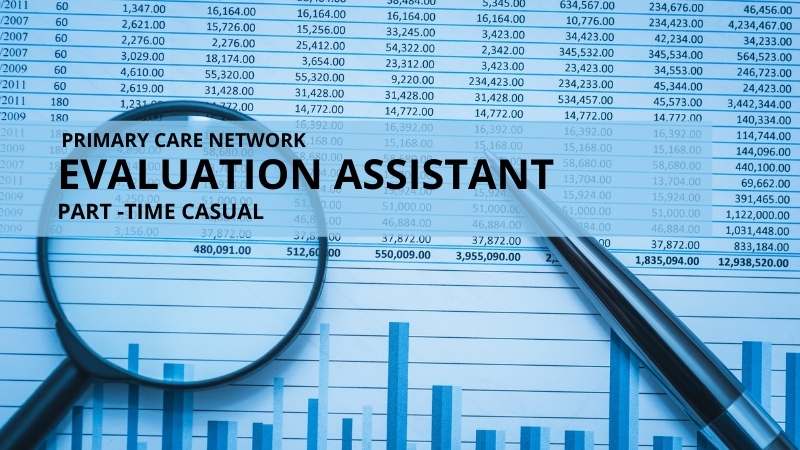 Evaluation Assistant – Part-time Casual
The Evaluation Assistant will be part of the Evaluation Team at the Red Deer Primary Care Network (RDPCN) working under the direct supervision of the Evaluator. The main responsibilities include data collection, data entry, as well as supporting both analysis and reporting for a broad spectrum of RDPCN programs and services. The successful candidate should be competent at working both independently and in a team environment; accurately managing data, and contributing to high quality reports and other deliverables.
Key Strengths of Candidates;
Bachelor degree in social sciences or health-related area
Experience in applied research or evaluation, quantitative and/or qualitative (minimum 2
years preferred)
Excellent command of Microsoft Excel, Word, Power Point and Outlook
Strong written and verbal communication skills
Detail orientated and organized
Able to work flexible hours with some evenings
and/or weekends.
This position is part-time casual, with varying hours
Act now. APPLY
Submit your curriculum vitae to [email protected] (with "Evaluation Assistant" in the subject line), or by fax to 403.342.9502. A full job description can be found at https://rdpcn.pcnpmo.ca/Careers.
Closing date: April 19, 2021 or until a successful candidate is found. Only candidates selected for an interview will be contacted.
City will identify potential locations for new homeless shelter by early May