You are NOT alone! Text4Hope aims to help Albertans shoot down the Covid-19 Blues
Are you self-isolated or quarantined? Are you feeling anxiety, stress, angst, depressed or struggling through this COVID-19 crisis? Alberta Health Services (ASH) has launched a new daily, no cost mental health and wellness text-based service called, Text4Hope.
"Connection is so vitally important to our mental health and well-being," said Dr. Deena Hinshaw, Alberta's chief medical officer of health as she explained the free program, "aims to help provide encouragement and hope to Albertans." Continuing, "Text4Hope sends subscribers (a daily) text message of support and encouragement, to ease stress or anxiety." All an Albertan has to do to sign-up for this platform, "Is texted, Covid- 19 hope, to 393939 to subscribe." Hinshaw said, "In return, they will receive text messages on healthy thinking or actions to help manage their mood."
Dr. Vincent Agyapong, Clinical Professor, Department of Psychiatry, University of Alberta & AHS's Edmonton Zone Clinical Section Chief for Community Mental Health, created a similar outlet for people during the 2016 Fort McMurray wildfires, said "One of the biggest benefits to Text4Hope is that it offers immediate support when experiencing stress and anxiety."
No community-based Alberta-wide project like this can come together this fast without the generous financial support of numerous organizations, helping ASH make Text4Hope possible include; the Mental Health Foundation, the University Hospital Foundation, Calgary Health Trust, Alberta Children's Hospital Foundation and the Royal Alexandra Hospital Foundation.
The initiative cost four dollars per-person to run through this three-month project and is budgeted for 2-million-dollars right now. Donations are being accepted by all of the non-profit partners that have put up in advance to make Text4Hope possible.
While this program provides a free, evidence-based one-way text communication and is a helpful option for people in self-isolation, or quarantined and those in remote locations around the province, Dr. Agyapong stressed, "The program isn't intended to replace (face to face) therapies or interventions but is rather another added support to someone's overall care plan."
All of Alberta Health Services mental health support lines and web resources remain operational during this time. For details and links for the services available in your health region across Alberta, visit this link; "Help in Tough Times"
Dr. Hinshaw added that the "program is an additional resource to help us find encouragement and strength as we navigate the day-to-day challenges of a new normal."
Stay home plea from a healthy Canadian shocked to be a victim of COVID
Judge decides 'Freedom Convoy' organizer Tamara Lich stays out on bail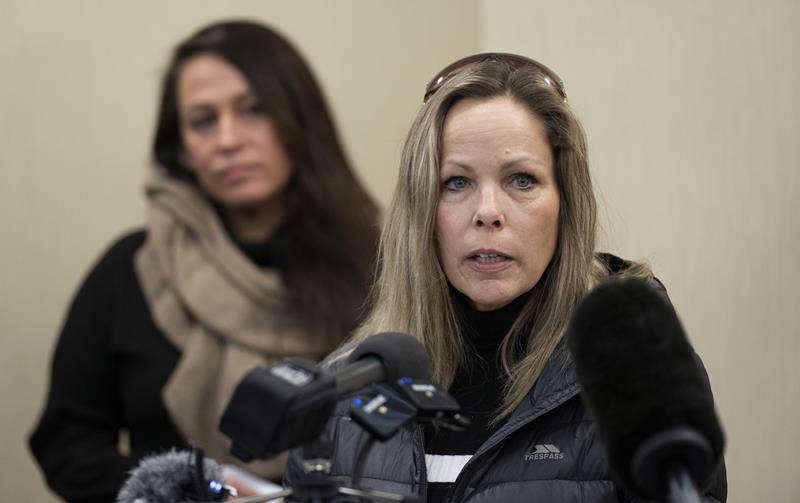 OTTAWA — Tamara Lich, a key organizer of the "Freedom Convoy" protest that gridlocked Ottawa for weeks, will remain released on bail while awaiting trial, a judge ruled Wednesday.
Ontario Superior Court Justice Kevin Phillips said he made his decision because she has followed her bail conditions, her surety has supervised her well and she's already had a "taste of jail," which he said lowered her risk to reoffend.
The judge said he does not accept that Lich breached her release conditions by agreeing to receive an award, and added Lich can be trusted to respect the conditions of her release.
She was released in March with a long list of conditions, including a ban from all social media and an order not to "support anything related to the Freedom Convoy."
The terms of Lich's release were intended to prevent a similar protest from happening in the national capital, the judge said, adding the court does not seek to control people's political views.
"The courts are not a thought police. We seek only to control conduct to the extent that certain behaviour will violate or likely lead to violation of the law," he said.
The protest is over and has left Ottawa, he said, adding it would be "practically impossible" to mount a similar protest in the city again.
Lich's lawyer, Lawrence Greenspon, said in an interview Wednesday that he was pleased with the decision.
"She'll be able to conduct her life in a lot more normal fashion as a result of the judge's ruling," said Greenspon.
Moiz Karimjee, a Crown prosecutor, said last week that Lich violated one of her bail conditions by agreeing to accept an award for her leadership during the Ottawa protest, and should be sent back behind bars to wait for her trial.
Greenspon argued last week her bail conditions should be loosened to allow her to come to Ontario and use social media.
He told the court that the social media ban imposed on Lich was unnecessarily broad and has had a huge impact on her life while she's been out of custody.
However, Phillips said Wednesday the ban on Lich's access to social media is warranted.
"Social media can be a problematic feedback loop where people get egged on and caught up in group activity they would never perform on their own," he said.
Social media "undoubtedly contributed to and even drove" Lich's conduct related to the protest, and her separation from it is necessary to lower her risk of reoffending, said Phillips.
Noting that Lich is in her late 40s, Phillips said she should be able to remember "how to use the social skills she surely built up before the advent of the internet."
Lich is able to communicate by many other means, including email, phone or meeting in person, he said.
Greenspon said while he would have liked to see the social media ban reversed, "the most important thing was the rejection of the Crown's efforts to to put her back in jail for agreeing to accept an award."
The judge did amend her release conditions to allow her to visit Ottawa.
Lich's motivation for coming to the city cannot be disclosed because it is under a court-ordered publication ban.
Phillips reiterated the high unlikelihood that Lich could organize an event resembling the convoy protest.
While she's permitted to come to Ottawa, Lich is not allowed to visit the downtown core so as not "to walk around the very neighbourhoods she is alleged to have traumatized," he said, except to attend court or meet with legal counsel.
Lich and fellow protest organizer Chris Barber are jointly accused of mischief, obstructing police, counselling others to commit mischief and intimidation.
The "Freedom Convoy" protest evolved into a weeks-long demonstration that congested the streets of Ottawa in February.
This report by The Canadian Press was first published May 25, 2022.
———
This story was produced with the financial assistance of the Meta and Canadian Press News Fellowship.
Erika Ibrahim, The Canadian Press
OSC withdraws some charges against former CannTrust leaders at hearing
VAUGHAN, Ont. — Three former CannTrust Holdings Inc. leaders accused of securities offences have had some charges dropped, the Ontario Securities Commission said Tuesday, though the fraud charges remain.
OSC spokesperson JP Vecsi says the withdrawn charges against Peter Aceto, Mark Litwin and Eric Paul were linked to making false or misleading statements to the OSC in CannTrust press releases.
OSC lawyer Dihim Emami said in a virtual courting hearing held in Ontario today that the charges were being withdrawn to reduce the length of the upcoming trial.
Aceto, Paul and Litwin still face charges of fraud and of authorizing, permitting or acquiescing in the commission of an offence.
Litwin and Paul are also facing insider trading charges and Litwin and Aceto are charged with making a false prospectus and false preliminary prospectus.
The charges were first laid by the OSC in June 2021, roughly three years after CannTrust was found to be growing thousands of kilograms of cannabis in unlicensed rooms, while executives told shareholders the Vaughan, Ont. company was compliant with regulatory approvals.
In May, the company was renamed Phoena Holdings Inc.
This report by The Canadian Press was first published May 25, 2022.
The Canadian Press