COVID-19 Friday update, 4 new deaths, 58 new case, outdoor gatherings upped to 50 people, Dr. Hinshaw cutbacks & more
In the government's COVID-19 Friday May 15th update, chief medical officer of health for Alberta Dr. Deena Hinshaw reported four more deaths, 58 new case, changes to the outdoor gathering rules now up to 50 people and she plans to cutback her attendance at the daily reports, among other information.
There have been four new deaths and 58 new case since Thursday's report. Alberta has now had a total of 125 deaths and 6,515 confirmed cases of the coronavirus since the pandemic began here in early March. The four latest victims were residents of continuing care facilities in the Calgary Zone. There are currently 1,073 active cases across the province, 62 of them in hospital, and nine of those in intensive care units.
Dr. Hinshaw had a message for Albertans as they head into a long weekend, "Even while we begin to enter Stage 1 of our relaunch, let us remember this virus still poses a risk, particularly to the elderly and people with chronic medical conditions," Adding, "We need to remember that no Albertan is expendable."
"The better that we can collectively hold our infection rate stable and low as we move into this Stage 1, the quicker we can move into Stage 2," Dr. Deena Hinshaw
Updated guidelines for outdoor gatherings to 50 people
"As we start to ease certain restrictions, it is increasingly important that we all continue to take proper precautions to prevent the spread of COVID-19." Hinshaw said As the weather continues to warm up and just in time for the long weekend, the limit for outdoor gatherings has increased from 15 to 50 effective Friday May 15.
Albertans are still asked to keep a two-metre distance from others and practising proper hygiene.
If you're holding a gathering in your backyard, you're encouraged to sanitize doorknobs and washrooms if guests are going inside and have hand sanitizer available. Indoor gatherings are still limited to a maximum of 15 people or fewer.
Physical distance of two metres must remain between people from different households, and attendees must follow proper hygiene practices.
Attendees should not share food or drinks.
Indoor gatherings are still limited to fewer than 15 people, except when otherwise identified in public health orders such as workplaces, places of worship, and in restaurants.
Download the ABTraceTogether app and turning it on when leaving home.
Staying safe over the long weekend
Provincial parks are open, but some facilities remain closed, campfires are not permitted, and camping does not open until June 1.
Albertans should follow public health guidelines and take extra steps to keep members of their household safe when heading to provincial parks, cottages, and onto public land this weekend.
This includes:
Respecting the health and safety of small communities along the way by planning their trip without stops for gas or food, where possible. Continuing to practise physical distancing and proper handwashing.
Respecting municipal restrictions for playgrounds. If playgrounds can be accessed, encourage children to play with children in the same household or their cohort family, sanitize hands before or after playing on a play structure, and remember to wash everyone's hands thoroughly as soon as possible.
Download the ABTraceTogether app and turning it on when leaving home.
Dr. Hinshaw to reduce her attendance at media updates
In a surprise announcement, the stoic, confident, strong face and voice Albertans have grown accustomed at the daily Covid-19 update, Dr. Hinshaw announced she is cutting back her attendance after this long weekend.
Explaining, "The pandemic is far from over," Hinshaw said. "However, in consideration of the reduced number of cases overall and the fact that we have begun to resume operations under Stage 1 of Alberta's relaunch strategy, I made the recommendation to scale down the frequency of my availabilities."
"I know many have become accustomed to these daily updates. I ensure you I remain committed to transparency and while the number of availabilities may decrease, I will continue to provide the information you rely on." She said
Hinshaw new schedule for attending news conferences will be every other weekday, starting Tuesday, but of course would revert back if Covid-19 numbers or policies changed significantly. Updates on numbers will be provided daily in online reports throughout the long weekend.
Coviod-19 by the numbers. Alberta cases as of Friday:
58 new cases reported, bringing the number of total active cases to 1,073.
There are 103 active cases and 576 recovered cases at continuing care facilities; 91 residents at these facilities have died.
The total deaths are 125. With 89 in the Calgary zone, 15 in the North zone, 12 in the Edmonton zone, eight in the South zone and one in the Central zone.
Calgary zone: 870 active, 3,505
South zone: 106 active, 1,069
Edmonton zone: 61 active, 444 recovered.
North zone: 18 active, 195
Central zone: 13 active, 85 recovered.
Five active cases and 19 recovered cases in zones yet to be confirmed
There have been 189,225 people tested for COVID-19, with a total of 204,723 tests performed by the lab. In the last 24 hours, 4,505 tests have been completed.
Alberta Connects hours of operation
The Alberta Connects Contact Centre (310-4455) has resumed normal operating hours and is available to Albertans Monday to Friday, from 8:15 a.m. to 4:30 p.m. The centre will not be operating over the long weekend. Service will resume on May 19.
Stage one of relaunch has begun
Stage one of Alberta's relaunch strategy puts safety first as restrictions are gradually lifted and Albertans begin to get back to work. Calgary and Brooks will see a more gradual reopening, taking into account higher case numbers in these two cities, to balance public safety with the need to get businesses open and services restored for Albertans.
Supporting Alberta businesses through relaunch
The Alberta Biz Connect web page provides business owners with information on health and safety guidelines for general workplaces and sector-specific guidelines for those able to open in stage one of relaunch to ensure businesses can reopen safely during the COVID-19 pandemic.
Businesses and locations that are reopening can access a template on at BizConnect to publicly post how employees and patrons are protected from the spread of infection. The timeline to complete this template has been extended from seven to 14 days.
This template is voluntary for locations that have remained open.
Alberta Transportation is developing a plan to safely resume all road tests while preventing the spread of COVID-19.
As part of the Government of Alberta's response to the COVID-19 pandemic, a limited number of road tests are available.
Information on the limited road tests can be found on the COVID-19 Commercial Carrier Information
The Court of Queen's Bench will extend its limitation of hearings to emergency and urgent matters only to June 26, and the adjournment of criminal jury trials and jury selections to September 8.
More information can be found online.
Albertans are encouraged to download and use ABTraceTogether app

The ABTraceTogether app will enhance current manual contact tracing and capacity, and facilitate early detection to help reduce the spread of the virus and better protect Albertans. It means Albertans will be contacted more quickly if they are at risk.
Use of the app is voluntary; users must opt in.
The app does not track the user's physical location and does not use GPS. Protecting privacy is paramount; all contact data is only on the user's phone and is deleted after 21 days.
Secure contact tracing is a cornerstone of Alberta's Relaunch Strategy. More information on the app, including links to download it, can be found online.
The app currently has 171,884 registered users.
Confidential supports are available to help with mental health concerns. The Mental Health Help Line at 1-877-303-2642 and the Addiction Help Line at 1-866-332-2322 are available 24 hours a day, seven days a week. The Canadian Mental Health Association has a variety of resources available at mentalhealthweek.ca
The Kids Help Phone is available 24-7 and offers professional counselling, information and referrals and volunteer-led, text-based support to young people by texting CONNECT to 686868.
Online resources provide advice on handling stressful situations and ways to talk with children.
A 24-hour Family Violence Information Line is available at 310-1818 to get anonymous help in more than 170 languages.
Alberta's One Line for Sexual Violence is available at 1-866-403-8000, from 9 a.m. to 9 p.m.
The requirement for in-person Emergency Protection Order (EPO) applications for those fleeing family violence has been temporarily suspended; provincial courts can now hear applications for EPOs via telecommunication.
Information sheets and other resources on family violence prevention are available at alberta.ca/COVID19.
The most important measure Albertans can take to prevent respiratory illnesses, including COVID-19, is to practise good hygiene. This includes cleaning your hands regularly for at least 20 seconds, avoiding touching your face, coughing or sneezing into your elbow or sleeve, and disposing of tissues appropriately.
Any individual exhibiting symptoms of COVID-19, including cough, fever, runny nose, sore throat or shortness of breath, is eligible for testing. People can access testing by completing the COVID-19 self-assessment online. A separate self-assessment tool is available for health-care and shelter workers, enforcement and first responders. After completing the form, there is no need to call 811.
Albertans are asked to share acts of kindness they have experienced in their community during this difficult time by using the hashtag #AlbertaCares.
Rookie goalie Jaxson Stauber in form as Blackhawks dump Flames 5-1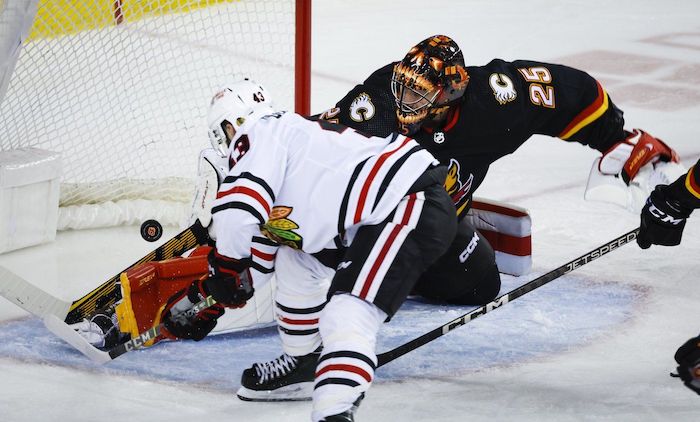 By Darren Haynes in Calgary
Rookie goaltender Jaxson Stauber made it two wins in as many career starts by making 34 stops on Thursday to help the Chicago Blackhawks to a 5-1 victory over the Calgary Flames.
Taylor Raddysh, Boris Katchouk, Jason Dickinson, Sam Lafferty and Connor Murphy, into an empty net, scored for Chicago (15-28-4), which entered the game last in the NHL's overall standings. Max Domi had an assist to extend his point streak to four games (one goal, three assists).
Jonathan Huberdeau scored for Calgary (23-17-9). The Flames sit outside of a playoff spot in the Western Conference after last season finishing atop the Pacific Division.
Markstrom had 24 stops for the Flames. Winless in his last four decisions (0-3-1), his record fell to 13-13-5. That's 10 times this season Markstrom has received one or no goals for support.
With Alex Stalock (concussion) out, Stauber made his NHL debut on Saturday in a 5-3 win in St. Louis.
The undrafted 23-year-old is in his first pro season after signing as a free agent last March after playing the previous two years with Providence College. He began the season with AHL Rockford.
Tied 1-1 after 20 minutes, Chicago seized control in the second period with three unanswered goals.
At 9:39, Katchouk one-timed a pass from Luke Philp past Markstrom, who was screened.
Chicago made it a two-goal lead at 15:37 when both Flames defencemen Nikita Zadorov and MacKenzie Weeger went to Patrick Kane, leaving the middle of the ice open. Kane's pass sent Dickenson in alone and he beat Markstrom over his shoulder.
Just 30 seconds later, another defensive miscue from the Flames resulted in a two-on-one rush with Colin Blackwell setting up Lafferty for his eighth goal of the season.
The Flames outshot the visitors 18-6 in the third period, but couldn't beat Stauber. The scattered booing from disgruntled fans throughout the stanza was at its loudest at the final buzzer as Calgary players left the ice.
In a listless first period from the home side, Chicago scored first at 17:47 when Raddysh beat Markstrom under his arm.
The Flames would tie it in the final minute. Huberdeau took a pass from Kadri and made a slick move to tuck the puck behind Stauber.
TOEWS AND TANEV OUT
Both teams were without key players. Calgary defenceman Chris Tanev (upper body) was out. His spot was taken by Connor Mackey, a healthy scratch the last 16 games.
Chicago was without captain Jonathan Toews (non-COVID illness). Philp was inserted into the lineup and recorded his first NHL point.
MILESTONE FOR TOFFOLI
Tyler Toffoli played in the 700th game of his career. He has played 86 games for the Flames.
Toffoli has also played for Los Angeles (515), Vancouver (10) and Montreal (89).
UP NEXT
Blackhawks: Wrap up a three-game road trip on Saturday in Edmonton.
Flames: Are back in action Friday night in Seattle.
—
This report by The Canadian Press was first published Jan. 26, 2023.
Premier Danielle Smith sent this letter to PM Justin Trudeau today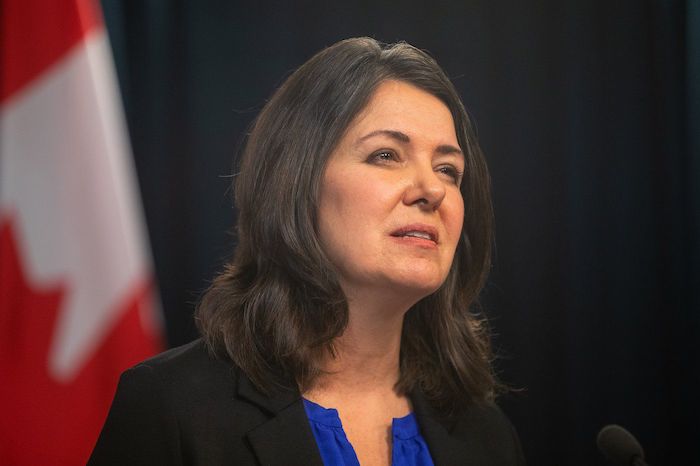 An alternative to Just Transition: Premier Smith
Alberta Premier Danielle Smith invites Prime Minister Justin Trudeau to work with her to develop "Sustainable Jobs" legislation as an alternative to the proposed "Just Transition" legislation.
Dear Prime Minister:
I am writing to once again raise Alberta's serious concerns with the proposed federal 'Just Transition' legislation. The world needs more Canadian energy, not less. It would be premature and ill-advised to signal the end of a vibrant, thriving industry that has the ability to reduce Canada's and the world's emissions through technological innovation and increased exports of LNG and other clean burning fuels the world so desperately needs. It is also critical to the security of our nation and allies to lessen dependence on fuel sources from unstable, undemocratic and dangerous countries with atrocious environmental records.
Simply put, the world needs more Canadian energy and technology, not less, and as the owner of the world's third largest oil and gas reserves and the most advanced environmental technology on the planet – we need to signal our intention to provide substantially more of both.
According to your government's own predictions, the federal Just Transition initiative alone will risk a full 25 percent of Alberta's economy and 187,000 jobs in Alberta, while also causing major disruptions and displacement to 13.5 percent of Canada's workforce. At a time when Canadians are struggling to afford basic services and goods, Canada's oil and gas sector offers some of the highest wages in Canada, which translates to strong business and community support across the country. Signalling a move away from these types of high paying jobs, threatens the national economy, and the livelihoods of hundreds of thousands of workers across the country at a time when good jobs are needed the most. It also creates a chilling effect on investors considering large scale investments in the Alberta and Canadian energy sector.
Prime Minister, we are at a crossroads in Alberta's relationship with the Federal Government. We can continue with the endless court challenges, legislation to protect jurisdictional rights and inflammatory media coverage over our disagreements, or, as is my strong preference, Alberta and Ottawa can work in partnership on a plan that will signal to all Canadians and investors from around the world that our governments have cooperatively designed a series of incentives and initiatives intended to achieve the following objectives:
Substantially decreasing Canada's and Alberta's net emissions;
Accelerating private and public investment in projects and infrastructure that utilize and develop Carbon Capture Utilization and Storage (CCUS), Bitumen Beyond Combustion, Geothermal technology, petrochemicals, hydrogen, lithium, helium, zero-emissions vehicles and nuclear technologies;
Attracting and growing a larger skilled workforce to fill positions in both the conventional energy sector as well as emerging industries using the technologies cited above; and
Significantly, and through the lens of global emissions reduction, increasing the export of LNG and other responsibly developed conventional oil and natural gas resources to Europe, Asia and the United States.
Prime Minister, all of the above objectives need to be clearly articulated and integrated into any Federal legislation or policies your government seeks to implement in the coming months, or that legislation will face irrepressible opposition from Alberta. I genuinely do not want to see that happen.
Further, this proposed legislation must be developed through cooperative discussions with affected provinces – namely Alberta. I would therefore invite you to meet with me in February on this matter, after which I would propose we have our appropriate ministers and officials meet repeatedly in the coming months with the goal of coming to a joint agreement on the key items to be included in your contemplated legislation so that it can be introduced and passed by the end of Spring.
Further, I request that you take to heart, and acknowledge publicly, the following items, in an extension of good faith to Albertans:
Immediately drop the verbiage of "Just Transition". Accordingly, rename the "Just Transition Act" to the "Sustainable Jobs Act";
Vow that all provisions of any forthcoming legislation will be designed to incentivize investment and job growth in both the conventional energy sector as well as in emerging industries utilizing Carbon Capture Utilization and Storage (CCUS), Bitumen Beyond Combustion, petrochemicals, hydrogen, lithium, helium, geothermal, zero-emissions vehicle and nuclear technologies;
Demonstrate that no provision of the Act will be designed to phase out or reduce Alberta's conventional oil and natural gas sector and workforce (as we are already experiencing a workforce shortage in this sector);
Commit your Government to actively partnering with Alberta to expand LNG exports to Asia and Europe as part of our nation's overall emissions reduction strategy; and
Promise that you and your Government will work with Alberta in partnership to set reasonable and meaningful emissions reductions targets and will not unilaterally impose such targets on Alberta's energy, agriculture and other industrial sectors on a go forward basis.
Investments by Alberta's oil and natural gas industry are driving the creation of the very clean technologies needed to bring emissions down both in Canada and around the world. Oil and natural gas companies representing the majority of production in Canada are investing $24 billion on projects to help reduce annual GHG emissions from operations by 22 million tonnes by 2030, and have committed to emission neutrality by 2050. Putting an end to or hampering this important work, and continued tepid support for increased LNG export, is the best way for your government to fail in its goal of reducing our nation's and the world's emissions. It would be the ultimate example of scoring on our own net.
The Alberta energy sector has grown and thrived through innovation, providing good paying jobs for thousands and contributing billions of dollars in tax revenue for all levels of government. They will continue to evolve and adapt to new technologies in search of new low to zero-emitting fuel sources like hydrogen and provide new, high-paying skilled jobs for decades to come. It is essential that the federal government stands shoulder to shoulder with Alberta to reduce emissions and continue to develop our oil and natural gas and future energy sources responsibly, while also positioning Canada as the optimal solution to global energy needs and security.
Prime Minister, we can and must work together. Operating in political silos, as adversaries on this issue, is getting us nowhere, and I believe all Canadians are tired of seeing it. Canada should be the world's greatest energy superpower. It can be, if we come together collaboratively in pursuit of that objective. There is no limit to our nation's potential.
Let's turn the page starting with a meeting between us next month followed by a dedicated effort to craft "Sustainable Jobs" legislation that a vast majority of Albertans and Canadians will welcome and support. The consequences of missing this opportunity will be dire for the Canadian and Alberta economies, workforce and environment.
I look forward to your prompt reply.