Stay home plea from a healthy Canadian shocked to be a victim of COVID
Shared by Erin Leigh from Chilliwack, BC
Hi Friends and Family!
I have been admitted since I currently need oxygen support. We will wean that off tonight and see how my lungs handle it. I'm currently on oxygen and at 95%. I guess I'll be monitored for a night or two.
I started having symptoms last Wednesday, and haven't left my house since. This is a community infection. I have not travelled, nor have I been around someone who has, and I don't know anyone with this virus. As doctors have said, this virus is unpredictable. I have practiced social isolation and followed the government rules.
I was called this morning by the health department to notify me of the positive test. I was only able to form 1-2 word sentences because of the severe shortness of breath. I was directed to hang up and call 911. To be honest, I expected them to come and say you're ok, and leave me at home. This was not the case and when I walked to the ambulance, my oxygen dropped. The paramedics told me that they would be rushing me to the hospital and that it may be a bumpy ride. I was placed on oxygen support at that time.
On arrival to the hospital, there were about a dozen hospital personnel gowned up and ready for me. It was organized chaos. Every person had a different role and they worked fast. I was a little incoherent because I was so focussed on breathing. The doctor came to my left bedside, looked me straight in the eyes, and stated "I'm Dr. P. I think you are going to be okay, but I need you to know, if your oxygen plummets more, I may have to intubate you, and you will wake up in the ICU"… shit just got real.
I've now stabilized and have been brought up to an internal medicine ward.
I don't want sympathy. I want people to start listening to what the doctors are saying! This is no joke… please stay home! You are only supposed to be interacting with people you live with… no one else. That means NO ONE! Please do your part, as the medical personnel are working their asses off! These people on the front lines are putting patients before themselves. Because of me, alone, this hospital has probably gone through 3 dozen sets of personal protective stuff (gowns, masks, gloves) since I've been treated here, and that's only a few hours. These workers shouldn't have to work with a shortage of these things, so if you have any items to donate, please do!
Please #stayhome and stay healthy!
Yes, you may share. If this helps one person, then it's been worthwhile. I don't wish this upon anyone!
Your story is important – #RedDeerStrong – free and easy story form
Force Play: The Vaccines And The Damage Done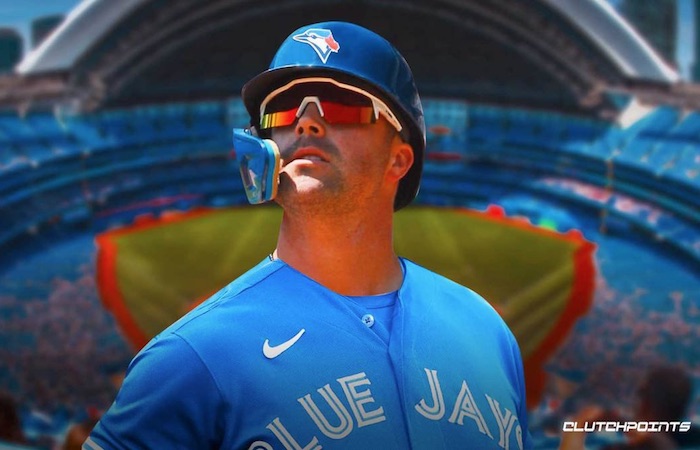 Sign up today for Not The Public Broadcaster newsletters. Hot takes/ cool slants on sports and current affairs. Have the latest columns delivered to your mail box. Tell your friends to join, too. Always provocative, always independent. https://share.hsforms.com/16edbhhC3TTKg6jAaRyP7rActsj5
Warning: This article could contain Covid-19 heresy. Readers are asked to take precautions. The Whit Merrifield crisis is over. The Toronto Blue Jays latest infield acquisition from Kansas City got a COVID-19 vaccine and can now play in his new team's home games. Provided he doesn't get COVID-19 all the same. Or have a freak heart problem. But we digress.
Canada has not allowed dozens of unvaccinated MLB players to play against the Blue Jays at Rogers Centre— including Merrifield when the Royals visited in July. (Similar bans affected unvaxed NBA and NHL players entering Canada.) But Merrifield wanted to play in the MLB postseason, so he relented to Trudeau's pressure and took the shot.
Merrifield's stubbornness mirrors how pig-headed Canada has been in employing its standard— vaccines uber alles— that clearly has little remaining basis in The Science®, if it ever did. Newly released documents obtained by former NY Times reporter Bari Weiss show that "in the days leading up to the implementation of the (Canadian) travel mandate, transportation officials were frantically looking for a rationale for it. They came up short."
Further, "no one in the 'COVID Recovery unit', which was responsible for enacting the policy, had any training in epidemiology or public health… instead, the director-general has a degree in literature." The real decision, said a member of the unit, came from above. "A senior official in the prime minister's Cabinet or possibly the prime minister himself had ordered COVID Recovery to impose the travel mandate… I'm not at liberty to disclose anything that is subject to cabinet confidence."
It's the same in the U.S. Food and Drug Administration documents newly obtained show the agency knew almost nothing about how well mRNA boosters might work when it okayed them. Or why travel lockdowns work. As we reported here in "Revise, Hide, Resubmit" White House Task Force member Deborah Birx simply lied to the the president about having evidence to prolong lockdowns. "We had to make these (moves) palatable to the administration by avoiding the obvious appearance of a full Italian lockdown… We were playing a game of chess in which the success of each move was predicated on the one before it."
Dilbert cartoonist/ social media star Scott Adams sums up the confusion of ordinary folks."Regarding vaccinations, people I don't trust say they have access to data I am not allowed to see, and because of that I should be concerned about the risks."
Not that it mattered in Whit Merrifield's case. It could have been 2020 as far as Health Canada is concerned. Even as we learn that multiple vaccinations do not prevent re-infection (POTUS Joe Biden is five shots in and sick again) or that the scientific evidence for vaccine efficacy was always missing, Justin Trudeau still stands like a Stalinist wall against revising earlier bans on the un-vaxxed.
What are the odds he'll revisit his Convoy-inducing policies? He only just relented on allowing Canadians to fly domestically without a vaccine. The PM himself goes maskless in Costa Rica, begging the question why he adheres to a liberal standard on holiday while the plebs— and baseball players— back home must obey his diktats on Covid prevention.
The Science®, people!! No jab, no journey to Canada's Blunderland. And No Talking!!
Maybe not. The vaccines have short-term benefits of six or eight weeks. After that Health Canada and the CDC claim they lessen the impact of the virus— but millions still get sick or die. That's nothing like the powers Health Canada and Trudeau attributed to them when rushing them into the market. Increasing evidence shows that the vax cures for Covid-19 and its variants might be worse than the virus. Millions getting the virus a second, third or fifth time belies those assurances. Or the threats of expulsion that accompanied them.
Estimates now suggest as many as 40,000 certified deaths worldwide may have resulted from "vaccine injuries". Meanwhile, five surveys of the American public, totalling over 2,500 people, show that while 4.4 percent of respondents reported that someone in their household had died from COVID-19; 8.9 percent said someone had died as a result of Covid vaccination.
What's going on here? Researcher/ author Alex Berenson notes that funeral giant Service Corporation is showing excess deaths persisting into year three of the pandemic. But not from Covid-19. "Smoking and obesity take decades to kill, and drinking usually takes a decade or more," says Berenson, who was banned from Twitter for Wrong Think. "Overdoses are way up and traffic accidents are higher too, but not nearly enough to account for the overall rise in deaths.
"Gee, I wonder what could be leading to all the excess non-Covid deaths we've suddenly seen in the last 12 months, not just in the United States but all over Western Europe and Australia too? Something definitely changed near the end of 2020, I just wish I could remember what…"
Lincoln National Insurance has reported a 63 percent increase in the rate of death claims for their customers. "The only new thing that's happened in 2021," says Baylor University cardiologist Dr. Peter McCullough, "is the Covid vaccine." The one that Trudeau insists you get or lose your job or liberty to travel.
Berenson notes another head scratcher. "The poor countries that avoided the mRNA shots have largely put Covid behind them, while wealthy countries navigate their fifth or sixth or seventh waves. (India: lots of people, no mRNA vaccines, no boosters, no second boosters, no super-special Omicron boosters, not so much Covid!)"
The previous antidote for believers in The Science® was banning or censoring this research. "California's Medical Board, has been extorting MDs not to speak out against actual COVID misinformation by labeling what we say as misinformation and threatening licenses to practice," says Dr. Jay Bhattacharya. "Docs just sued the medical board. Read the suit. Brilliant!"
The establishment in the person of globe-trotting/ no-masking Trudeau is making a bet on many levels that it can bluff through its agenda. It is testing social will. The results may prove bracing to those like Trudeau who presume authority for themselves as a right of his class.
Bruce Dowbiggin @dowbboy is the editor of Not The Public Broadcaster (http://www.notthepublicbroadcaster.com). A two-time winner of the Gemini Award as Canada's top television sports broadcaster, he's a regular contributor to Sirius XM Canada Talks Ch. 167. Inexact Science: The Six Most Compelling Draft YearsIn NHL History, , his new book with his son Evan, was voted the eighth best professional hockey book by bookauthority.org . His 2004 book Money Players was voted seventh best, and is available via http://brucedowbigginbooks.ca/book-personalaccount.aspx
Top commander defends military's vaccine requirement, says 'tweak' in the works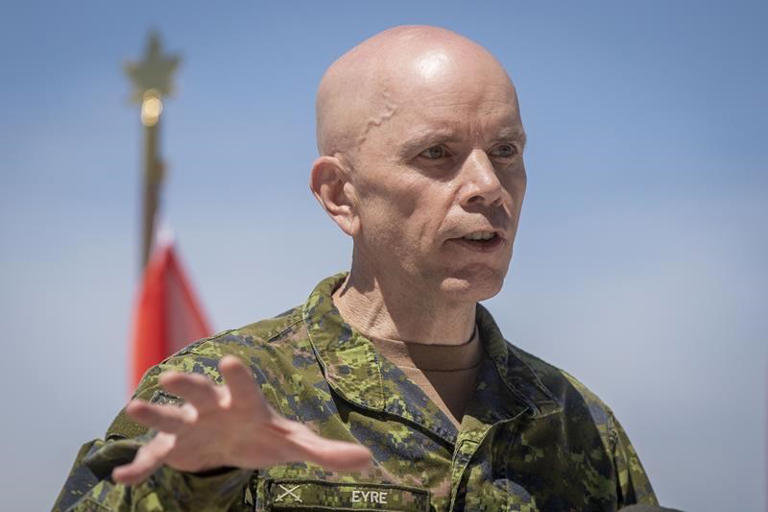 OTTAWA — Canada's top military commander says he plans to "tweak" the Armed Forces' vaccine requirement in the next few weeks.
But defence chief Gen. Wayne Eyre is also defending the use of mandates, describing them as necessary to ensure the military is ready to respond to any emergency.
Eyre made the comments in an interview with The Canadian Press as hundreds of service members remain unvaccinated despite orders to get the shot late last year.
The order is still in place even though a similar mandate for most other federal public servants was suspended in June.
Eyre says the military is different from other federal departments and agencies because of the way it operates and its importance as what he called Canada's "insurance policy."
As for the planned changes, Eyre says finding the right approach is complicated as officials consider the legal, medical, operational and ethical aspects of a revised mandate.
This report by The Canadian Press was first published Aug. 9, 2022.
The Canadian Press