Trio of Passionate Edmonton Women Overflowing with Humanity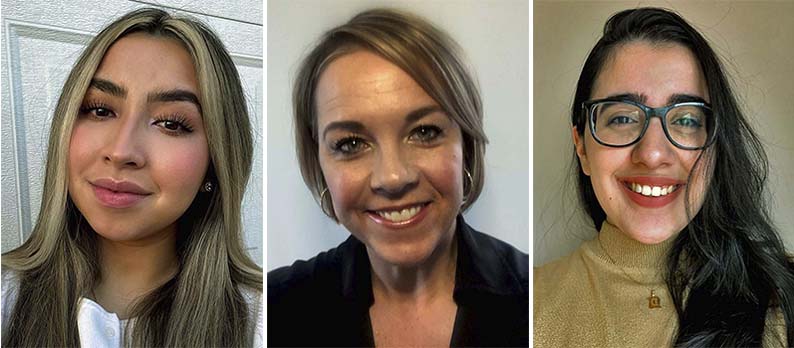 New website works to make a permanent record for seniors' stories and knowledge
Launching live at the start of April, the community response to Seniors Of Humanity (SOH), has already been, "amazing and incredible, we are so thankful", say the three co-creators.
Meera Kassam, Erin Gaudet and Diana Dagher were brought together through @YegSeniorsProject (YSP), an, inspiring, multi activity, Metro Edmonton initiative that brings community connections and joy to homebound seniors.
This new SOH initiative hopes to build on its sister project's past successes. Kassam is very adamant saying, "This project is not about us, it is about the amazing people that have passed and are still alive. We want their stories, memories and knowledge told and remembered." While the features so far have been Edmonton based, this energetic group it thinking big and can see the day where it will grow across Alberta, Canada and even the world.
Sporting more passion and energy than a super-charged Energizer Bunny, 20-year-old Edmontonian, Meera Kassam, founder of both SOH and YSP is currently one of Alberta's busiest people.
This humble go-getter is currently finishing her 3rd year of undergrad studies at the University of Alberta, in the fall she is transferring to the University of Calgary to complete her degree in the Social Work program. Also, on Kassam's busy weekly plate is, working at a retirement home, is a personal trainer, is a caregiver for her grandparents and special needs uncle, does the family shopping and their errands as well. Once all of these responsibilities are completed, she spends the rest of her energy and hours dedicated to helping the two growing community initiatives she has founded.
Asked where she gets so much passion and energy for the community? "I give my parents and family all the credit for the person I am today. "Kassam was born in Kabul, Afghanistan, before the 9/11 attacks. When she was a year-old, with the war on terror raging, she was able to immigrate to Canada. Kassam has had travel thoughts, "People dream to go back to their homeland, but for me it doesn't work like that." Continuing, "As a western woman, I would be in grave danger if I went back to my birth country, even for a visit."
This senior's memory concept is something that she wanted to do for some time, "In my second year at the University of Alberta I talked at length with my Genitourinary professor on creating a project that would preserve seniors' stories," Kassam said.
Erin Gaudet, made contact through Kassam's YSP's website. They clicked right away she explained, "I had never met Meera, during our first call, we hit it off and quickly discovered that we had the exact same idea."
In 2015, Gaudet, married mother of two very active boys, helped her father write his life's memoirs. Later he started battling health issues, "I lost my incredible father to brain cancer in 2019." Thankful for her dad's already documented and written memories, "I learned a lot about his life that I did not know. He left us all a legacy of love." Continuing, "These memories and knowledge would have gone by the waste side, forgotten over time."
Two became a third co-creator, when Diana Dagher joined the team to help with the full suite of social media channels. With some great content ready to go, things moved very quickly from January.
Kassam explains how a simple shopping trip inspired the name, "I needed a pair of jeans, fell in love with a pair made by, Citizens of Humanity. They were hundreds of dollars, had to put them back." Then the creative lightbulb went off, "I thought hey, Seniors of Humanity. Why not?" The name was born.
Seniors of Humanity wants to be as inclusive as possible. Their goal is to share the wisdom, the struggles, and the stories of seniors with the world.
Gaudet points out, "Seniors offer a large untapped resource, but their value and inputs are wildly underrepresented on social media. With this project we hope to change that." Adding, "If your parents, grandparents, great grandparents and other family members cannot write their own story, sit down with them and do it together. You never know what you might learn that you did not know before."
One of the first features posted online by Seniors of Humanity is, Monica Miles Lipscombe, mother of well-known Edmonton actor, producer and community advocate Jesse Lipscombe, founder of the #MakeitAwkward campaign. Monica is also one of seven children of a true Edmonton legend, three time Grey Cup champion with Edmonton Football Team, Canadian Football Hall of Fame member, Alberta Sports Hall of Fame member, on the Edmonton Eskimos Wall of Honour, University of Alberta grad and long-time Edmonton Catholic School teacher, Rollie Miles. Lipscombe's SOF story
Gaudet Added, "If you do not have someone to write the story, please email us the background information and we will endeavour to call them and document their story."
Stories can be submitted through the website; HERE
Quote collection for, "Words of Humanity" came be submitted; HERE
Seniors of Humanity; Email
Seniors Of Humanity Social media;
Other media coverage;
Ryan Jespersen's Real Talk feature; Link
Adrienne Pan's CBC Radio Active feature; Link
www.CovidKindness.ca highlight of @YegSeinorsProject's (YSP), Mother's Day parade giant drive-by for Edmonton seniors. LINK
Province demanded plan: Edmonton mayor outlines ways city will try to curb crime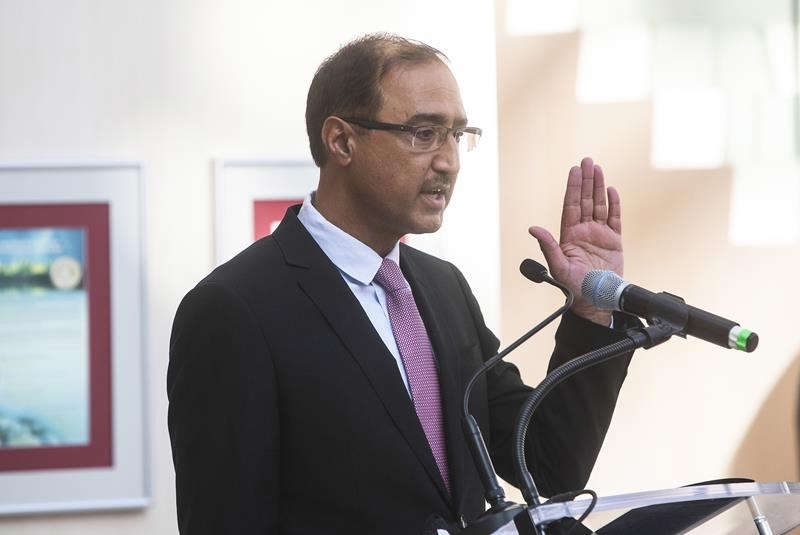 He added that Calgary also receives 40 to 50 per cent more in funding to support community efforts to end homelessness.
"I don't understand the reason for this discrepancy when both cities are facing similar challenges," he said.
"We're asking the government of Alberta to immediately close this discrepancy and provide Edmonton the same level of support they provide to Calgary."
Sohi's comments come after the city published Thursday the final version of its safety plan for downtown, Chinatown and the transit system. The city abided by a deadline set two weeks ago by Justice Minister Tyler Shandro.
Shandro used his ministerial power to demand a report from the city on what is being done to get crime under control. In a letter to Sohi on May 26, Shandro also pointed to the recent killings of two men in Chinatown.
Sohi said he had been working on problems affecting the city's core since he took office in October. He has said the areas of action that help address social disorder — mental health, drug addiction and homelessness — are mainly within the province's jurisdiction.
"If (the province is) really and truly serious about safety and about the well-being of Edmontonians, then give us the same support that you give Calgary," he said.
The plan combines immediate steps and longer-term initiatives.
In the short term, the city will put more police and peace officers on the street, fund private security to patrol Chinatown, implement programs to prevent and respond to drug overdoses, and increase responses to encampments and derelict homes.
There is also a plan to immediately set up an operations centre in Chinatown for police, peace officers and staff from social agencies. A location is yet to be determined.
Several initiatives call for cleaning streets and back alleys several times a day, adding more public washrooms in core neighbourhoods, and implementing a needle cleanup program.
Longer-term initiatives include decentralizing social services from core neighbourhoods and streetscape improvements.
Sohi also said the province should increase funding for Edmonton police to reflect population growth and inflation.
"In 2008, the province funded 105 police officers for our city, but capped the per capita cost to $100,000," he said. "That funding has not been adjusted for inflation and, in 2022, the cost per officer has nearly doubled."
Sohi added the city has made up that shortfall by increasing property taxes.
Shandro said in a statement Thursday that the plan has been submitted to his office and is being reviewed
"I am encouraged by the constructive discussions I've had with Mayor Sohi and the recent steps municipal officials have taken to improve public safety for Edmontonians — including city council's vote to amend the municipal transit bylaw to ban loitering and drug use on public transit," he said.
"There is still a considerable amount of work to do to address crime and violence in downtown Edmonton and make it safer for everyone, but these are positive steps in the right direction."
This report by The Canadian Press was first published on June 9, 2022.
Daniela Germano, The Canadian Press
Alberta justice minister demands answers from Edmonton on crime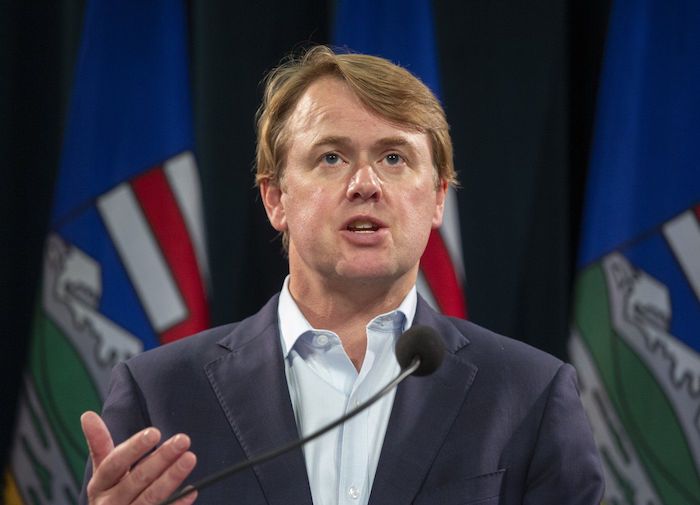 By Dean Bennett in Edmonton
Alberta's justice minister says people in Edmonton are not being kept safe from violent crime, particularly on public transit, and he's ordering Mayor Amarjeet Sohi to provide answers.
Tyler Shandro has told Sohi he's invoking his ministerial powers under the province's Police Act to demand a report within two weeks on what the city will do to arrest a spike in serious crime.
In a letter to Sohi made public Thursday, Shandro cited an increase in downtown crime as well as in aggressive encounters and drug use on light-rail rapid transit.
He pointed to the killings last week of two men in the Chinatown district downtown.
"As the minister of justice and solicitor general, I have a responsibility under the Police Act to ensure the people of Edmonton receive adequate and effective policing," Shandro said in the letter.
"It is quite apparent that residents feel uncomfortable and unsafe in the downtown core, riding transit and traversing the transit centre corridors.
"In short, the people of Edmonton deserve better than what this city council is delivering."
Sohi called the letter an overreach by the provincial government, but added that he is glad the provincial government is finally paying attention.
"I share the same concerns about the safety in our downtown, Chinatown and on the LRT that he highlighted in this letter," Sohi said Thursday. "The social issues that are causing these safety issues are nothing new.
"The disorder and crime that we are seeing in our downtown is directly linked to the lack of provincial investments in ending houselessness, the mental-health crisis, the drug poisoning and addictions crisis."
Shandro's letter said the United Conservative government is doing its part to address core issues that can lead to crime, including spending millions of dollars to fight drug addiction and homelessness.
Shandro did not make himself available to media to answer questions.
There was no comment from the Edmonton Police Service. Chief Dale McFee was to attend a city council meeting Friday.
Edmonton city councillors are currently debating whether to set this year's police budget at $385 million, which would be a drop of $22 million if police could not secure extra funds from declining photo radar revenues.
Shandro said earlier this week he would be concerned if Edmonton's police budget were to be cut.
The police budget has not been cut, said Sohi, who added that the city has invested more in transit officers, community action teams and in safety-related projects in affected areas.
"Council is investing in many issues that are the responsibility of the province and, frankly, they are falling short," he said.
"The pandemic has brought to light so many social issues that are not being properly addressed or adequately funded."
Sohi said he looks forward to meeting with the minister next week to outline his concerns and explain how the city is doing its part.
Irfan Sabir, justice critic for the Opposition NDP, said violent crime in Alberta's capital is a serious issue that needs to be addressed. But, he added, the UCP government is choosing to off-load complex problems and pick fights instead of collaborating.
"People in Edmonton want a plan in place (so) they can be assured that they are safe in their homes and their communities. But in this instance, the minister is just passing the buck," said Sabir.
This report by The Canadian Press was first published May 26, 2022.
— with files from Colette Derworiz in Calgary