Trio of Passionate Edmonton Women Overflowing with Humanity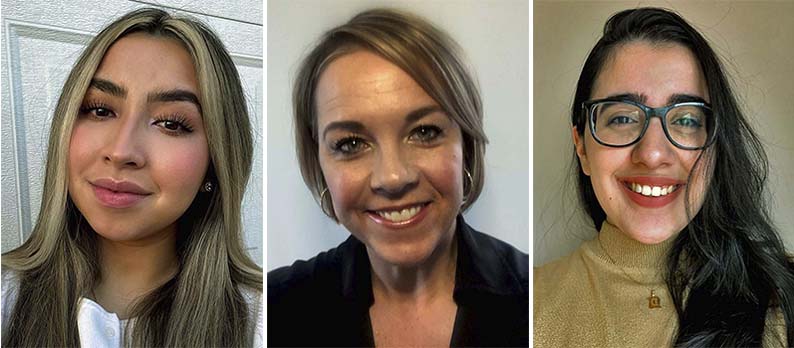 New website works to make a permanent record for seniors' stories and knowledge
Launching live at the start of April, the community response to Seniors Of Humanity (SOH), has already been, "amazing and incredible, we are so thankful", say the three co-creators.
Meera Kassam, Erin Gaudet and Diana Dagher were brought together through @YegSeniorsProject (YSP), an, inspiring, multi activity, Metro Edmonton initiative that brings community connections and joy to homebound seniors.
This new SOH initiative hopes to build on its sister project's past successes. Kassam is very adamant saying, "This project is not about us, it is about the amazing people that have passed and are still alive. We want their stories, memories and knowledge told and remembered." While the features so far have been Edmonton based, this energetic group it thinking big and can see the day where it will grow across Alberta, Canada and even the world.
Sporting more passion and energy than a super-charged Energizer Bunny, 20-year-old Edmontonian, Meera Kassam, founder of both SOH and YSP is currently one of Alberta's busiest people.
This humble go-getter is currently finishing her 3rd year of undergrad studies at the University of Alberta, in the fall she is transferring to the University of Calgary to complete her degree in the Social Work program. Also, on Kassam's busy weekly plate is, working at a retirement home, is a personal trainer, is a caregiver for her grandparents and special needs uncle, does the family shopping and their errands as well. Once all of these responsibilities are completed, she spends the rest of her energy and hours dedicated to helping the two growing community initiatives she has founded.
Asked where she gets so much passion and energy for the community? "I give my parents and family all the credit for the person I am today. "Kassam was born in Kabul, Afghanistan, before the 9/11 attacks. When she was a year-old, with the war on terror raging, she was able to immigrate to Canada. Kassam has had travel thoughts, "People dream to go back to their homeland, but for me it doesn't work like that." Continuing, "As a western woman, I would be in grave danger if I went back to my birth country, even for a visit."
This senior's memory concept is something that she wanted to do for some time, "In my second year at the University of Alberta I talked at length with my Genitourinary professor on creating a project that would preserve seniors' stories," Kassam said.
Erin Gaudet, made contact through Kassam's YSP's website. They clicked right away she explained, "I had never met Meera, during our first call, we hit it off and quickly discovered that we had the exact same idea."
In 2015, Gaudet, married mother of two very active boys, helped her father write his life's memoirs. Later he started battling health issues, "I lost my incredible father to brain cancer in 2019." Thankful for her dad's already documented and written memories, "I learned a lot about his life that I did not know. He left us all a legacy of love." Continuing, "These memories and knowledge would have gone by the waste side, forgotten over time."
Two became a third co-creator, when Diana Dagher joined the team to help with the full suite of social media channels. With some great content ready to go, things moved very quickly from January.
Kassam explains how a simple shopping trip inspired the name, "I needed a pair of jeans, fell in love with a pair made by, Citizens of Humanity. They were hundreds of dollars, had to put them back." Then the creative lightbulb went off, "I thought hey, Seniors of Humanity. Why not?" The name was born.
Seniors of Humanity wants to be as inclusive as possible. Their goal is to share the wisdom, the struggles, and the stories of seniors with the world.
Gaudet points out, "Seniors offer a large untapped resource, but their value and inputs are wildly underrepresented on social media. With this project we hope to change that." Adding, "If your parents, grandparents, great grandparents and other family members cannot write their own story, sit down with them and do it together. You never know what you might learn that you did not know before."
One of the first features posted online by Seniors of Humanity is, Monica Miles Lipscombe, mother of well-known Edmonton actor, producer and community advocate Jesse Lipscombe, founder of the #MakeitAwkward campaign. Monica is also one of seven children of a true Edmonton legend, three time Grey Cup champion with Edmonton Football Team, Canadian Football Hall of Fame member, Alberta Sports Hall of Fame member, on the Edmonton Eskimos Wall of Honour, University of Alberta grad and long-time Edmonton Catholic School teacher, Rollie Miles. Lipscombe's SOF story
Gaudet Added, "If you do not have someone to write the story, please email us the background information and we will endeavour to call them and document their story."
Stories can be submitted through the website; HERE
Quote collection for, "Words of Humanity" came be submitted; HERE
Seniors of Humanity; Email
Seniors Of Humanity Social media;
Other media coverage;
Ryan Jespersen's Real Talk feature; Link
Adrienne Pan's CBC Radio Active feature; Link
www.CovidKindness.ca highlight of @YegSeinorsProject's (YSP), Mother's Day parade giant drive-by for Edmonton seniors. LINK
200 plus homeless people will find shelter in former Stony Plain Road hotel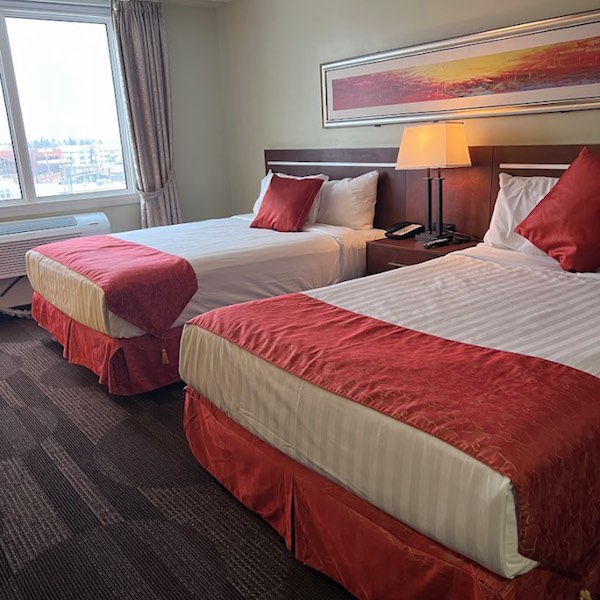 From the City of Edmonton
Temporary emergency shelter opens its doors
The new 24/7 temporary emergency shelter funded by the City of Edmonton and operated by Tallcree Tribal Government in partnership with Jasper Place Wellness Centre (JPWC) will open its doors today.
The shelter, located in a former hotel at 15540 Stony Plain Road in the city's west end, will accommodate 209 individuals experiencing homelessness when fully operational. The first of 59 private rooms will open, with a phased opening of 150 congregate living spaces throughout the remainder of January and February. Until the congregate living spaces are available, the site will be referral based only.
"Every single Edmontonian deserves access to a safe and warm space and that is exactly why this City Council prioritized funding this shelter," said Mayor Amarjeet Sohi. "We are grateful to Tallcree Tribal Government and Jasper Place Wellness Centre for working with us to provide Edmontonians with a safe place to stay during this winter as we continue to support individuals transitioning to long term solutions like permanent supportive housing."
People accessing the shelter will have a safe, warm place to sleep, receive daily meals and have access to health services, harm reduction support, case management support and be connected with a housing support worker who will help them find longer term housing.
"Jasper Place Wellness Centre is excited to collaborate with Tallcree Tribal Government and the City of Edmonton on this important project," said Taylor Soroka, JPWC's co-founder and vice president of strategy. "This space will provide unhoused Edmontonians with safety, services and a pathway to permanent housing."
"We know that many First Nation People are experiencing homelessness," said Tallcree Tribal Government Chief Rupert Meneen. "Tallcree Tribal Government is pleased to work with Jasper Place Wellness Centre and the City of Edmonton to address this urgent need, connecting First Nation people, and others in need, to culturally appropriate interventions and services in a safe environment. By doing so, we'll achieve better outcomes for all."
The City of Edmonton is providing $7.5 million from the financial stabilization reserve to fund the emergency shelter.
Homeward Trust's By Name List indicates that more than 2,750 Edmontonians are experiencing homelessness. About 1,250 of those individuals are primarily sleeping in emergency shelters or outdoors each night.
The Government of Alberta funds 622 permanent shelter spaces year round in Edmonton. For the winter months, the Government of Alberta is funding 450 additional shelter spaces for winter 2022/23 and winter 2023/24, increasing overnight shelter capacity in Edmonton to 1,072 spaces during the winter months. The additional spaces at the City-funded shelter will increase capacity to 1,281 spaces.
The City-funded shelter is expected to remain open until May 31, 2023
Edmonton's Single-Use Item Reduction Bylaw to ban plastic shopping bags, force restaurants to serve in reusable cups and accept customer cups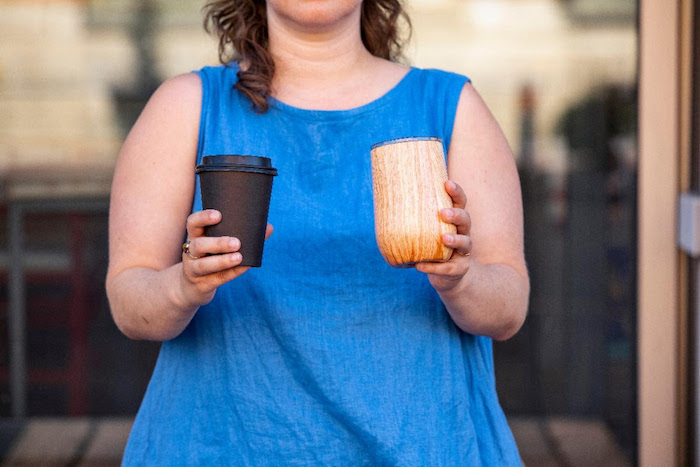 News release submitted by the City of Edmonton
City council passes bylaw to significantly reduce waste
The City of Edmonton is taking action to decrease the use of single-use items, which will help reduce the amount of waste being littered and ending up in landfills.
"This is an exciting first step towards climate resiliency. We're beginning to change our course," said Mayor Amarjeet Sohi. "We all have a part to play in preserving and protecting our environment, and participating in single-use item reduction is an easy way for all Edmontonians to commit to sustainability. I am supportive of this bylaw and know that together, we can build a greener and more climate-resilient future for all of us."
On October 4, Council approved the Single-use Item Reduction Bylaw, which will go into effect on July 1, 2023. The bylaw aims to reduce waste by targeting items that can easily be avoided or replaced with reusable options, and by making those reusable options more accessible.
Edmontonians will see the following changes:
Single-use plastic shopping bags will be banned, and businesses must charge at least 15 cents for a paper bag and at least $1 for a new reusable shopping bag.
These minimum fees will increase on July 1, 2024 to 25 cents for a paper bag and $2 for a new reusable bag.
Styrofoam (foam) plates, cups and containers will be banned.
Restaurants must serve dine-in drink orders in reusable cups, and accept reusable customer cups for dine-in and takeout orders.
Accessories (like utensils, straws, pre-packaged condiments and napkins) will only be available by request or self-serve.
Approximately 450 million single-use items are thrown in the garbage each year in Edmonton, plus more that are recycled and littered. Through these measures, the City aims to reduce the number of regulated single-use items used in Edmonton by 20 per cent by 2027.
"Our goal is to reduce single-use items overall, not just to switch from plastic items to non-plastic items," said Denis Jubinville, Branch Manager of Waste Services. "In addition to diverting more waste from landfill, this bylaw will also help residents think more broadly about waste reduction.
"Something as simple as bringing a reusable cup to a coffee shop may feel like a small step, but when a city of a million residents commits to small behaviour changes, the impact can be significant."
The City will ensure businesses are well informed and supported through awareness campaigns and various resources, including plain-language guidelines for implementing the changes and customer communication tools.
The bylaw exempts registered charitable organizations, to ensure they're able to maintain their focus on providing critical social services. Some types of businesses are also currently exempt from portions of the bylaw for safety or feasibility reasons.