WATCH: 'ExecuTrek' takes business leaders on a tour of Canada's largest military training event
CFB Wainwright- May 14, 2019
I was fortunate recently to take part in the Canadian Forces Liaison Council's (CFLC) 'ExecuTrek' to see Exercise Maple Resolve in Wainwright, AB. There were about 80 of us; business leaders from the region, some of my fellow Honorary Colonels from across the west, and a group of International Studies students from Simon Fraser University in BC. We travelled in a Hercules aircraft from Edmonton International. From there, buses took us to see everything from battles to briefings.
The scale of Maple Resolve is quite extraordinary. Approximately 5,500 soldiers, 250 actors, contractors and consultants are on site at the Canadian Manoeuvre Training Centre at Wainwright, AB. Every asset in the field, from tank to LAV to every weapon, every soldier, has sensors attached. Every metric is captured on each and every asset; if a gun is only accurate at 300 metres, then a shot from 400 metres will fail, etc. etc. If wounded, a soldier is assessed a 3 hour window in which to get medical attention. If they don't receive it, they become a casualty. Computer modelling allows every activity in the operation to be easily recreated and reviewed in real time.
Canadian Army soldiers serving with 1 Canadian Mechanized Brigade Group (CMBG) based at the Edmonton Garrison and in Shilo, Manitoba will train with elements of the Royal Canadian Air Force, the British Army, the French Army, the United States (U.S.) Army, U.S. National Guard, U.S. Army Reserve, and U.S. Marine Corps. There are more than 900 soldiers from the U.S. Armed Forces, about 150 soldiers from the British Army, and 40 soldiers from the French Army. There are a number of US Blackhawk helicopters from the Colorado National Guard being used for medical air support.
As the premier Canadian Army training event of the year, Exercise MAPLE RESOLVE 19 is a proving ground for soldiers in the contemporary operating environment.
During the exercise, soldiers will test their ability to integrate with Allies, non-governmental organizations, and host nation forces as they hone their skills within a realistic, complex and challenging environment. The exercise, designed and developed by the Canadian Manoeuvre Training Centre, provides Canadian Army soldiers, leaders, and other Canadian Armed Forces personnel a unique opportunity to enhance their combat readiness.
A wide variety of tactics, weapons, simulation technology, armoured fighting vehicles, and aircraft are used within a realistic, evolving and challenging operating environment. This exercise puts elements of our Canadian Armed Forces and our allies together in the most realistic setting possible short of an actual deployment.
CMTC's mission is to design and deliver full-spectrum, immersive, joint and collective training events for the Canadian Armed Forces in a complex Contemporary Operating Environment in order to certify High-Readiness forces. In conjunction with the Royal Canadian Air Force, CMTC is a focal point in the Air Land Integration of the CAF. While major exercises are conducted within the Wainwright training area, support to exercises and training is exportable to any location, and CMTC frequently deploys in support of exercises around Canada and the world.
CFLC ExecuTrek program brings together business leaders to experience, firsthand, Reservists training for domestic and international response. The Canadian Forces Liaison Council (CFLC) mandate is to build diverse relationships that promote the value of reservists to Canadian communities and to improve understanding and support for the military.
"As Alberta Chair for Canadian Forces Liaison Council

it was a privilege to host business leaders at our CFLC ExecTrek Maple Resolve, says Carolyn Patton." Alberta Chair of Canadian Forces Liaison Council.

"

It was an exceptional day to experience, firsthand,

CAF members training for domestic and international support

.

Reservists are an incredible resource of talent and bring a wealth of experience, professionalism, and leadership to many organizations.

Our guests truly got to see them in action,

up close and personal.

Our community, workplaces and country are the beneficiaries of their well respected training. Many thanks to 3rd

Canadian Division and the staff and

leadership at CMTC

Wainwright. I mentioned to the business leaders, when you see a Reservist thank them for their service. Better yet, hire them!"
There is more information about Exercise Maple Resolve here.
For more information about the Canadian Forces Liaison Council, click here.
Here are links to several videos from Exercise.
Here are a few photos from the day.
Memphis braces for release of video in Tyre Nichols' arrest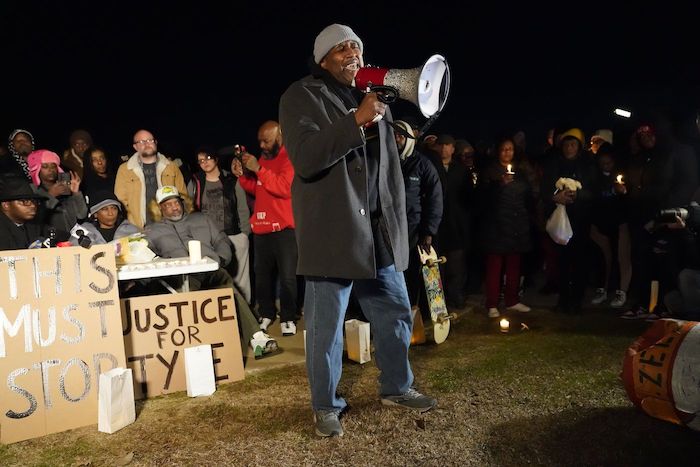 By Adrian Sainz in Memphis
MEMPHIS, Tenn. (AP) — The city of Memphis and the nation on Friday awaited the release of a police video depicting five officers viciously beating Tyre Nichols, a Black man whose death prompted murder charges against the cops and outrage at the country's latest instance of police brutality.
The officers were charged Thursday with murder and other crimes in the killing of Nichols, a motorist who died three days after a confrontation with the officers during a traffic stop.
Shelby County District Attorney Steve Mulroy told a news conference that although the officers each played different rolesin the killing, "they are all responsible."
The officers, who are all Black, each face charges of second-degree murder, aggravated assault, aggravated kidnapping, official misconduct and official oppression.
Nichols' family members and their lawyers said the footage shows officers savagely beating the 29-year-old FedEx worker for three minutes in an assault that the legal team likened to the infamous 1991 police beating of Los Angeles motorist Rodney King. His family urged supporters to protest peacefully.
Memphis Police Director Cerelyn Davis said she expected protests after the release of video showing officers' actions, which she described as "heinous, reckless and inhumane," but she also urged the community to remain peaceful.
"I expect our citizens to exercise their First Amendment right to protest, to demand actions and results, but we need to ensure our community is safe in this process," she said. "None of this is a calling card for inciting violence or destruction on our community or against our citizens."
Davis said Friday that her department has been unable to substantiate the reckless driving allegation that prompted the stop.
"As far as I know today, I do believe that the stop itself was very questionable," she told Good Morning America.
Video of the Jan. 7 traffic stop will be released to the public sometime Friday evening, Mulroy said, noting that local and state investigators wanted to complete as many interviews as possible before releasing it.
Davis told GMA that the decision to release the video on Friday evening rather than earlier in the day had been made after consulting with other local leaders, who believe it's best to do it when schools are out and people are home from work.
As a precaution, Memphis area schools canceled all after-class activities and postponed a school event scheduled for Saturday morning.
Nichols' stepfather, Rodney Wells, told The Associated Press by phone that he and his wife, RowVaughn Wells, who is Nichols' mother, discussed the second-degree murder charges and are "fine with it." They had sought first-degree murder charges.
"There's other charges, so I'm all right with that," he said.
The Wellses were joined by several dozen supporters on a cold Thursday night for a candlelight vigil and prayer service at a Memphis skate park. Nichols, who had a 4-year-old son, was an avid skateboarder.
RowVaughn Wells, who said her family is "grief-stricken," warned supporters of the "horrific" nature of the video set to be released Friday, but like Davis, pleaded for peaceful protests.
"I don't want us burning up our city, tearing up the streets, because that's not what my son stood for," she said. "If you guys are here for me and Tyre, then you will protest peacefully."
Activists and clergy led the group in prayer and a drummer played a steady rhythm to lead into the spoken part of the vigil. Afterward, skaters rode their boards as the Wellses watched.
Court records showed that all five former officers — Tadarrius Bean, Demetrius Haley, Desmond Mills Jr., Emmitt Martin III and Justin Smith — were taken into custody.
Martin's lawyer, William Massey, confirmed that his client had turned himself in. He and Mills' lawyer, Blake Ballin, said their clients would plead not guilty. Lawyers for Smith, Bean and Haley could not be reached.
"No one out there that night intended for Tyre Nichols to die," Massey said.
Both lawyers said they had not seen the video.
"We are in the dark about many things, just like the general public is," Ballin said.
Second-degree murder is punishable by 15 to 60 years in prison under Tennessee law.
The attorneys for Nichols' family, Ben Crump and Antonio Romanucci, issued a statement saying that Nichols "lost his life in a particularly disgusting manner that points to the desperate need for change and reform to ensure this violence stops occurring during low-threat procedures, like in this case, a traffic stop."
At the White House, President Joe Biden said the Nichols family and the city of Memphis deserve "a swift, full and transparent investigation."
"Public trust is the foundation of public safety, and there are still too many places in America today where the bonds of trust are frayed or broken," Biden said in a statement.
Davis said other officers are still being investigated for violating department policy. In addition, she said "a complete and independent review" will be conducted of the department's specialized units, without providing further details.
Two fire department workers were also removed from duty over the Nichols' arrest.
As state and federal investigations continue, Davis promised the police department's "full and complete cooperation" to determine what contributed to Nichols' Jan. 10 death.
Crump said the video showed that Nichols was shocked, pepper-sprayed and restrained when he was pulled over near his home. He was returning home from a suburban park where he had taken photos of the sunset.
Police have said Nichols was stopped for reckless driving and at some point fled from the scene.
Relatives have accused the police of causing Nichols to have a heart attack and kidney failure. Authorities have only said Nichols experienced a medical emergency.
One of the officers, Haley, was accused previously of using excessive force. He was named as a defendant in a 2016 federal civil rights lawsuit while employed by the Shelby County Division of Corrections.
The claims were ultimately dismissed after a judge ruled that Sledge had failed to file a grievance against the officers within 30 days of the incident.
___
Associated Press reporters Aaron Morrison in New York, Travis Loller in Nashville and Rebecca Reynolds in Lexington, Kentucky, contributed to this report.
Focus on retaining nurses before recruiting nurses from other provinces: association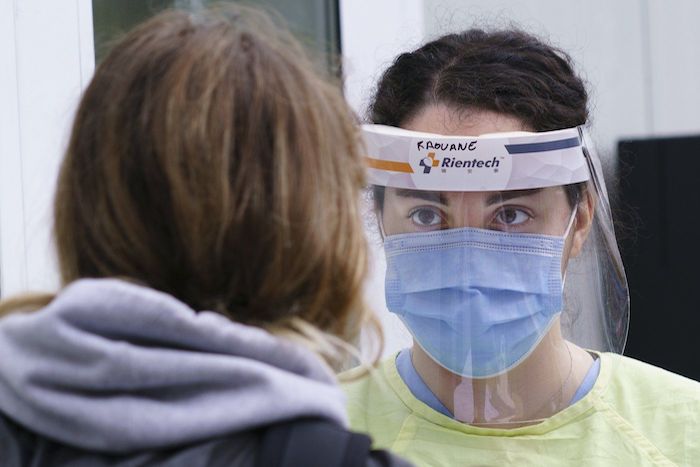 By Jacob Serebrin in Montreal
Efforts to lure nurses from other provinces are underway in several parts of the country, but the head of a national nurses association says the poaching won't solve anything unless working conditions are improved.
"We know that nurses are facing inadequate working conditions, and that is the main reason many are leaving their jobs," Sylvain Brousseau, the president of the Canadian Nurses Association, said in an interview Thursday. "If working conditions and retention are not the focus, the new nurses recruited from other provinces may find themselves wanting to leave their jobs."
This week, Horizon Health Network, one of New Brunswick's two health authorities, held three-day recruiting events in Edmonton, Toronto, Ottawa and Montreal. Its pitch to attract 120 nurses to the province includes the promise of an appealing life near the ocean with financial incentives of up to $20,000.
A spokesperson said recruiting from outside of New Brunswick isn't new, and that it's also hiring nurses through partnerships with universities in Maine and in India, as well as taking steps to retain workers. The province's other regional health authority, Vitalité Health Network, says it will be attending several career fairs in Quebec in the coming weeks.
Last week, Ontario Premier Doug Ford announced that the province will start automatically recognizing the credentials of health-care workers registered in other provinces and territories. "A doctor from British Columbia or a nurse from Quebec who wants to come and work in Ontario shouldn't face barriers or bureaucratic delays to start providing care," Ford told a Jan. 19 news conference.
Newfoundland and Labrador has introduced incentives in an effort to lure home health-care workers with connections to the province, while Quebec said it's looking to recruit internationally.
"All provinces in Canada face the same challenge of a shortage of labour in their health-care systems," the office of Health Minister Christian Dubé said in a statement. "It's in everyone's interest to recruit people internationally. Meanwhile, we continue to work so that our network becomes an employer of choice and to improve working conditions."
Brousseau said nurses need better pay, more support staff — so they can focus on caring for patients — and responsibility for fewer patients.
"Thirty years ago on surgery, I had six patients during the day, seven to eight on the evening shift and 12 on night shift, and now it's 15 during the day in surgery in some places, or 10. This is too much," he said.
Brosseau said he'd also like to see an end to practices like mandatory overtime, which remains common in Quebec, and nurses being pressured to work ostensibly optional overtime shifts.
He said the nurses association isn't opposed to nurses going to another province to work and that it has been calling for a reduction of barriers between provinces — but that won't fix the problems.
"It's not by going to poach nurses from one province to (another) that you will solve the health-care system crisis that we are going through right now," he said. "It's by giving them better working conditions and a better health-care environment."
Ivy Lynn Bourgeault, a University of Ottawa professor and director of the Canadian Health Workforce Network, said the efforts to recruit nurses across provincial boundaries are a symptom of a wider problem.
While it's not the first time Canadian health-care systems have looked to other parts of the country for staff, the shortage of nurses and other health-care workers is worse than before.
"I think what is new is the extent of the problem and that every province is in these circumstances, and this is not just a Canadian problem. This is happening across the world," she said in an interview Thursday.
Solving Canada's nursing shortage needs to start with retention, she argues; recruitment alone can't solve it. "It's focusing on one part of the challenge, of bringing more in, and we're not looking at all of those who are leaving," she said. "It's not a long-term strategy."
Bourgeault said governments need better data for workforce planning and that federal agencies, such as the Canadian Institute for Health Information and Statistics Canada, could be used to give provinces better tools.
Mandatory nurse-to-patient ratios would also help retain nurses, she said, but they could in the short term lead to longer wait times.
"I think that as a society, we need to have a crucial conversation about how we manage this crisis going forward," she said.
This report by The Canadian Press was first published Jan. 27, 2023.