Introducing Neil MacDonald's HOMEGROWN and a feature on Canadian gem Mike Plume
At Todayville we welcome guests to our platform to help entertain and enlighten our readers on a host of topics. In this article we welcome Neil MacDonald. An accomplished musician in his own right, Neil has been part of Edmonton's music scene for many years. He's also shared the stage with some of our best and most-beloved Canadian artists. Neil has decided he'd like to use some of his time during isolation to promote artists from the region. Watch for Neil's articles over the coming weeks.

In the meantime, I'm going to kick this off. Today of course, the music industry is being decimated. Live venues, concerts, festivals, even busking – they're the lifeblood of musicians and virtually everything is cancelled for the foreseeable future. While we are in this funk it's hard to imagine a world with live music venues filled with your favourite artists. But maybe we can use this time to learn more about the great artists that we don't hear everyday on the radio, but who create amazing music and tell unique Canadian Stories.
So while we are all sitting around in isolation and waiting for Neil to pen some stories, I thought I'd feature an artist that I've been familiar with for a long time, but really lost touch with. While Neil and I were talking about some of the artists that he could feature, he reminded me of his friend Mike Plume and how Mike is the perfect example of the kind of artist Neil feels should get more attention and appreciation.
Here's a bit of what I've learned about Mike Plume.
Mike was born in Moncton, New Brunswick in 1968, or as he says "… in the year of the White Album."
A fixture around Edmonton for a long time. he's been living in Nashville and touring for many years. Now back in our city, he signed a record deal with Edmonton's Royalty Records last last year and is getting set to release a new 10 track album entitled Lonesome Stretch of Highway. You can stream a couple of tracks from the new album here.
While we wait for the new release, watch a favourite of mine called 8:30 Newfoundland. You'll like the nod to one of Canada's most-enduring earworms … the Hinterland Who's Who.
Here is a great rundown of Mike's career and story from his Facebook page. Reading through this, you will realize how much you've missed if you don't know who Mike Plume is.
This tribute to Stompin' Tom Connors was written in mere hours Stompin after Connors' death in 2013. Mike was invited to perform it at Connors' funeral.
"Writing a song is like building a chair," says Mike Plume. "You can build one in about 5 minutes, and you can sit on it, but you might get splinters. I can write a song in 5 minutes, but by the time I think it's done it could be a year and a half. I just keep running my hand over it, to see where I get the splinters."
Produced by 6 time Grammy winner, Brent Maher, who has produced numerous multiplatinum artists ranging from The Judds to Johnny Reid (with Elvis, Ike and Tina, Kenny Rogers and more in between) and Grammy winning engineer, Charles Yingling in Nashville's Blue Room Studios, 8:30 Newfoundland is the Moncton born, Bonnyville bred songwriter's first record with the Mike Plume Band since 2001. Equal parts down home folk and raw country stomp, 8:30 Newfoundland cover a lot of years and a lot of miles: from 'Norman Wells to The Rock' on the title track and lead single; from late winter games of shinny on a frozen Alberta pond, where 'the season never ended' on More Than a Game; from the highways out of town where dreams begin, on Free, to back roads leading nowhere, where people who's dreams have died go to heal in peace.

But no matter how far 8:30 Newfoundland takes you, Plume's unrelenting optimism and forthright delivery tie it all together with an authenticity that comes from the kind of hard won truths and lyrical details you'd never be able to remember – let alone put on paper – if you hadn't been there, in the flesh, living every word of every line. Even still, for Plume to come to some of those truths in his own mind, it took distance and time.
The day of their release the Band listened to 9/11 unfold on the BBC while driving to a gig in Bournemouth, UK.
"It took a year and a half to write most of these songs." Like "This is our Home (8:30 Newfoundland)", he says, co-written with Road Hammer, Jason McCoy. "I couldn't have written that song if I was living in Canada. I had to be homesick. I had to get away from everything to realize just how great our home is."
"We wrote the first verse and chorus in 10 minutes, in 2006. For 16 months, every time I was walking my dogs, I'd visit that melody and come up with more lyrics. I could've finished it in an hour, but I'm not sure it would have ended up being the song that it turned into."
A recent review of the title track by FYI Music contributor Bob Segarini quotes "I love songs like this. The thought that goes into the lyrics alone gives me a headache, they are so well thought out…First of all, the country element is in the lyric…A down-home name-check of just about every well known place in Canada, and an overall homage to our home and native land. Then you've got a fairly roots-y reading by the musicians, complete with an Al Kooper-esque Hammond organ part swirling in the background, and finally, a vocal that sounds eerily like John Mellencamp channeling a 20 year old Bob Dylan, with a bit of mid-period, 'country honk' Rolling Stones looseness thrown in for good measure. Hear this one enough times, and it'll cause you to buy a used '58 corvette ragtop, grab a map of Canada, and hit the road. It also makes me want to drink beer…"
Truth be told, he didn't know if it would turn into anything. Then again, when he first formed the Mike Plume Band in the mid '90's he couldn't be sure that would turn into anything either. In fact, up to that point, he had every reason to think exactly the opposite. "I was fired from every band I've ever been in except this one, and if this wasn't called The Mike Plume Band, I would have been canned years ago."
In 1994, on the heels of his debut, Songs from a Northern Town, Plume and his band hit the road hard, playing 200-250 one-nighters a year, and releasing two records in one year, in 1997, Song and Dance Man, and Simplify. The former sold more than 10,000 copies offstage along the way through Europe, the US and Canada.
In the end, though, it was Plume, not his band, who pulled the plug. Unlike a song, the road's rough patches don't get any smoother, no matter how often you go over them, and Plume has gone over them more often than most. Eventually, inevitably, some of those rough edges began to wear on him
The beginning of the end, Plume says, came four years later, after the release of the band's last record, Fools for the Radio. "It was originally supposed to come out May 1st. Then we had a big 'meeting of the minds' and they said, 'Know what, May 1st isn't a good date – we pick September 11, 2001'."
The day of their release the Band listened to 9/11 unfold on the BBC while driving to a gig in Bournemouth, UK. Rather than pack it in they kept right on driving. But fifteen months later Plume hopped out of the van in Boston to check into their rooms for the night, heard the screech of the tires and realized two things simultaneously. First, that he'd left the van in drive, and second, that it was time he put himself in park for a while. After six records, eight years, and over 1200 shows across Canada, The United States and Europe, Plume decided to put down roots and find out what it was like to live in a town for more than 12 hours at a time.
"It's a grass is always greener thing," he says. "After every gig I'd get behind the wheel at 2 AM and drive 'til 10. At sunrise, when you're driving through a town, you start seeing the lights in houses coming on. In your head, you picture the guy shuffling around the kitchen, making a pot of coffee, kissing his wife and heading the kids off to school. And I would just think I would give anything to be that guy right now. So now I'm that guy. I wouldn't trade it for anything. Music is what I do, but being married and having a kid is who I am. It took me a long time to figure that out."
While the band continued to tour and record under the name The Populars, Plume, newly married and living in Nashville, put out two records on his own before putting down his guitar for good, he thought, in 2003, and moved back to Canada.
Three years later, during a visit to Tennessee, Plume picked up right where he'd left off. "While I was gone, everybody I'd written with had #1 songs, and I thought, Jesus, maybe I shouldn't have left town when I did." After hooking up with some old friends to pen a few songs while he was in town he landed a publishing deal with Moraine Music and got to thinking that maybe, just maybe, he was missing something.
Relocating to Nashville once again in 2006, Plume soon made up for lost time: writing with the likes of country legend Guy Clark, landing a gig as the voice of the Chevy Silverado, and, recently, turning a small 'School of Rock' style music program he originated in Parry Sound, into a national program for Tim Hortons' Children's Camps.
Along the way he discovered that he can put down his guitar and his dreams whenever he needs to, and pick them right back up again whenever he wants. And that the good old days, far from being hollow echoes of past glories and fading memories, happen all the time. As he sings on Like a Bullet From a Gun, when you're 'looking back at the good old days, ten years from now that'll be today'. "That's my favourite line on the record," Plume says. "When you turn 50, you're gonna wish that you were turning 40, so why not be envious of your position right now?"
With that spirit in mind, when a European agent called to float the idea of reuniting Plume and his old band for a tour, one thing led to another. Though the tour never happened, once Plume started writing songs again he couldn't stop. "Before we went in to record 8:30 Newfoundland the guys and I hadn't played together in four years. They came to Nashville, I counted them in, and we just fell into it." "Somehow we'd all found our own definition of happiness and making music together again was the common denominator."
"It's how you go about your day in the face of the inevitable, you know? It's all about making a decision in how you want to live your life" Plume says. "To quote Shawshank Redemption… '(you gotta) get busy living or get busy dying.'"
"Or another lyric from "Like A Bullet From A Gun"."These good old days happen all the time. And you know what? They do happen all the time, we just have to remind ourselves that they are and that the cup is half full and it always is."

Watch for Neil's articles promoting other amazing musicians and songwriters in the upcoming weeks.
Click to read more stories on Todayville Edmonton.
Flames bounce back with 5-1 victory over Ducks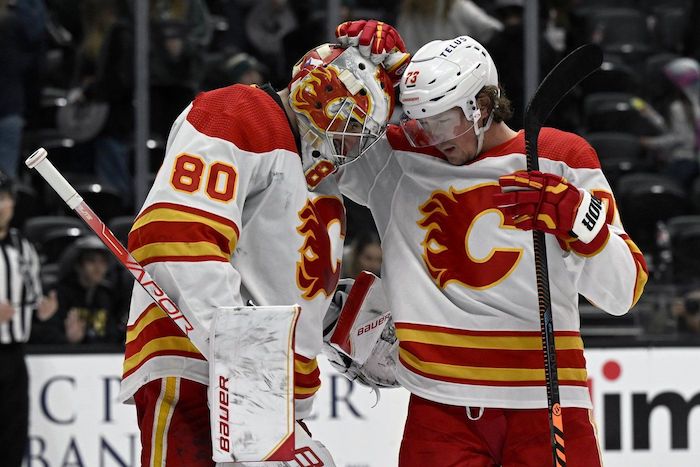 Calgary Flames right wing Tyler Toffoli (73) celebrates with goaltender Dan Vladar (80) after the Flames defeated the Anaheim Ducks in an NHL hockey game in Anaheim, Calif., Tuesday, March 21, 2023. (AP Photo/Alex Gallardo)
By Joe Reedy in Anaheim
ANAHEIM, Calif. (AP) — Tyler Toffoli had three assists, Calgary scored twice on the power play and the Flames bounced back from a six-goal loss one night earlier with a 5-1 victory over the Anaheim Ducks on Tuesday.
Toffoli has nine points in the past four games, including six assists.
Nick Ritchie, Troy Stecher, Rasmus Andersson, Elias Lindholm and Andrew Mangiapane scored Calgary's goals. Mikael Backlund had a pair of assists and Dan Vladar stopped 19 shots for the Flames, who rebounded from an 8-2 defeat Monday night in Los Angeles.
"We just wanted to put that game behind us. And there's no better way to put it behind you than to just go out there and play right away," said Mangiapane, who scored on a breakaway with less than five minutes remaining for his 12th of the season. "I think the first period set the tone for us. We wanted to come out strong and hard and just keep building off of that."
The win kept Calgary four points behind Winnipeg for the final wild-card berth in the Western Conference with 10 games remaining after the Jets beat Arizona 2-1.
"As a coach it is really simple: I just want to keep every game meaningful," Flames coach Darryl Sutter said.
Frank Vatrano scored Anaheim's lone goal. John Gibson made 38 saves, facing more than 40 shots for the 20th time this season.
"We knew that they were going to be a little ornery after their game last night against L.A., and other than a few spurts in the second period, maybe for about six minutes in the second, we couldn't sustain much. Every time we turned, they were in our face," Ducks coach Dallas Eakins said.
Calgary has 12 goals with the man advantage over the past month, which is fifth best in the NHL.
Andersson put Calgary up 3-0 less than three minutes into the third period on a one-timer off Toffoli's pass. It was Andersson's 11th goal and his third in the past six games.
The Flames grabbed the lead 37 seconds into the game when Ritchie put in the rebound after Gibson made a pad save on Noah Hanifin's shot from the point. Ritchie's 12th of the season marked the sixth time Calgary has scored in the opening minute.
Stecher broke a 90-game goal drought at 16:50 of the first with a snap shot from the right faceoff circle to the high side of the far post. Stecher — whose last goal was on Feb. 17, 2022 — has three points (one goal, two assists) since being acquired from Arizona at the trade deadline.
Anaheim got on the board five minutes later when Vatrano lifted a wrist shot over Vladar's shoulder on his glove side. Vatrano's 17th marked only the second goal in Anaheim's last 15 power-play opportunities.
Lindholm scored his 21st and gave Calgary a 4-1 lead 46 seconds into the third on a one-timer.
NOTES
Hanifin extended his point streak to six games with the first assist on Ritchie's goal. He has six points (two goals, four assists) during that span. … Calgary defenceman Chris Tanev was scratched an hour before the game due to an upper-body injury. … Anaheim forward Nikita Nesterenko made his NHL debut. Nesterenko was acquired from Minnesota in the John Klingberg trade at the deadline. Nesterenko played three seasons at Boston College and signed a two-year, entry-level contract last Wednesday.
UP NEXT
Flames: Open a three-game homestand against the Vegas Golden Knights on Thursday.
Ducks: Host the Winnipeg Jets on Thursday.
2022 World Senior Men's gold medalist rink and Cheryl Bernard among teams at Senior Curling Championships at Red Deer's Pidherney Centre this week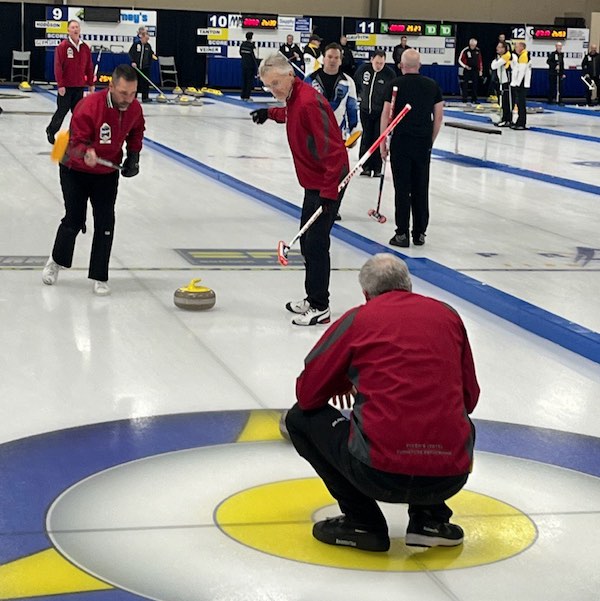 The 2023 Alberta Servus Credit Union Senior Men's and Women's Championships will take place at Red Deer's Pidherney Centre on March 21 to 26.
Thirty-three rinks are on hand to vie for the right to represent Alberta at the Men's and Women's Canadian Championships next fall.
The 2022 World Senior's gold medalists, Team Wade White looks to add yet another championship title to his name alongside teammates, third Barry Chwedoruk, second Dan Holowaychuk and lead George White. While defending Alberta champion, Team Pahl will keep the pressure on to represent Alberta once again.
Other noteworthy names on the men's side include, Mickey Pendergast; Master's Provincial Champion and former teammate of local legend, Rob Armitage, and 2017 Senior's Champion, Glen Hansen.
The talent continues on the women's side with nine of the top senior women's teams in the province.
The star studded line-ups include Olympians, Cheryl Bernard, Carolyn McRorie, Sandra Jenkins and Shannon Kleibrink forming a team under Bernard, and Glenys Bakker and Atina Ford-Johnston skipping their own rinks, with Cory Morris joining Ford-Johnston as lead.
With defending champion, Diane Foster, out of the race, it truly is anyone's title to claim.
Draws run throughout the week with the semi-finals of both the women and men at 9 am on Sunday March 26 followed by the finals at 2 pm.
Admission is free thanks to support from Servus Credit Union.