Albertans encouraged to wear cloth masks in public: easy tips and links on "How To" make your own
It is not the law, but Canada and Alberta have agreed with the idea that wearing a homemade cloth mask might help in the spreading the coronavirus, especially when it is hard to maintain the 2-metre physical distancing when in public.
It is a culture clash between eastern and western countries. Unlike most Asian countries where a lot of the population regularly wear masks in public, in Western counties wearing a mask in public is not as easily accepted by the majority of the population. Many people find that they are treated as "infected" when they wear a face mask in public. Only time will tell if this Covid- 19 pandemic will change the majority of Canadians opinion people wear masks in public.
In February, China's state media site posted a very strong opinion piece entitled, "Refusing Mask Wearing In Public Is A Threat To Civilization."
Also not pulling any punches, virologist and immunologist, George Gao told ScienceMagazine.org, "The big mistake in the U.S. and Europe – is that people aren't wearing masks. Gao is the director-general of the Chinese Center for Disease Control and Prevention, "This virus is transmitted by droplets and close contact.
You've got to wear a mask, because when you speak, there are always droplets coming out of your mouth – masks, can prevent droplets that carry the virus from escaping and infecting others." Across Asian countries the populations are onboard that, "there are an unknown number of people that are asystematic, carrying the coronavirus and they do not even know it." So, in the spirit of a country's solidarity, "there is a need to protect others from yourself."
In recent weeks countries have seen the stats and cannot ignore the lower numbers of infected in mask wearing countries like, South Korea, Taiwan, Japan, Singapore, the region of Hong Kong and China has also now flatted the curve and have loosed up on the city military lock-downs.
Recently passing laws that make it mandatory to wear a face mask in public are the Czech, Slovakia, Indonesia and the Philippines. On April 3rd, US President Donald Trump, announced that the Centers for Disease Control and Prevention (CDC) is recommending, on a voluntary basis, that Americans wear "non-medical cloth" face coverings.
In Canada Chief public health officer Dr. Theresa Tam has changed her view and is now saying, "Wearing a non-medical mask, even if you have no symptoms, is an additional measure that you can take to protect others around you in situations where physical distancing is difficult to maintain, such as in public transit or maybe in the grocery store."
In Alberta, the view has also changed on the general public wearing mask in public. Leading off with the premier Kenney, who has seen countries that have been successful in keeping the transmission of COVID-19 down, have all had widespread use of face masks. Alberta's Chief Medical Officer of Health, Dr. Deena Hinshaw said at a press conference, "What we know is that people who are sick spread illness – wearing a non-medical mask, such as a homemade cloth mask, has not been proven to protect the person who is wearing it," but added, "However, it may be helpful in protecting others around you."
The Alberta government wants people to follow these rules, even when wearing face coverings in public.
Continue to follow all other public health guidance (staying two metres away from others, wash hands regularly, stay home when sick).
Avoid touching your face and mask while using it.
Wash hands before putting on a mask, then before and after removing it.
Clean a cloth mask as soon as it gets damp or soiled.
Put it directly in the washing machine or a sealed bag that can be emptied into the washing machine and then be disposed of.
Cloth masks can be laundered with other items using a hot cycle, then dried in the dryer at the highest temperature setting.
Medical masks can't be washed and should be discarded and replaced as soon as they get damp, soiled or crumpled.
Dispose of these masks in a lined garbage bin.
Do not share masks with others.
There are many online resources where you can easily make a cloth mask with or without a sewing machine.
Click here to read more on Todayville Edmonton.
Flames bounce back with 5-1 victory over Ducks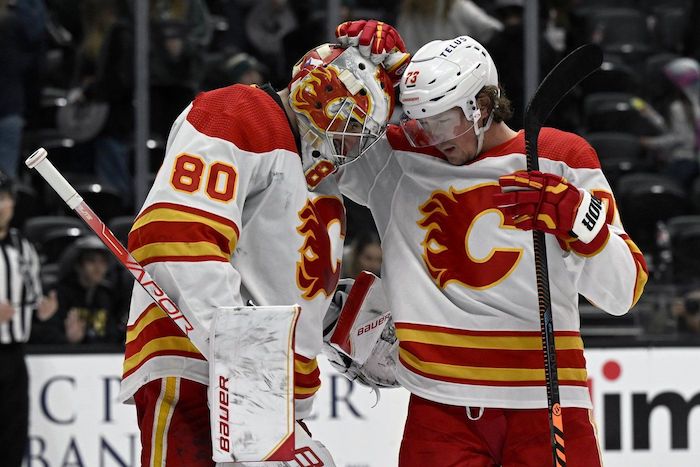 Calgary Flames right wing Tyler Toffoli (73) celebrates with goaltender Dan Vladar (80) after the Flames defeated the Anaheim Ducks in an NHL hockey game in Anaheim, Calif., Tuesday, March 21, 2023. (AP Photo/Alex Gallardo)
By Joe Reedy in Anaheim
ANAHEIM, Calif. (AP) — Tyler Toffoli had three assists, Calgary scored twice on the power play and the Flames bounced back from a six-goal loss one night earlier with a 5-1 victory over the Anaheim Ducks on Tuesday.
Toffoli has nine points in the past four games, including six assists.
Nick Ritchie, Troy Stecher, Rasmus Andersson, Elias Lindholm and Andrew Mangiapane scored Calgary's goals. Mikael Backlund had a pair of assists and Dan Vladar stopped 19 shots for the Flames, who rebounded from an 8-2 defeat Monday night in Los Angeles.
"We just wanted to put that game behind us. And there's no better way to put it behind you than to just go out there and play right away," said Mangiapane, who scored on a breakaway with less than five minutes remaining for his 12th of the season. "I think the first period set the tone for us. We wanted to come out strong and hard and just keep building off of that."
The win kept Calgary four points behind Winnipeg for the final wild-card berth in the Western Conference with 10 games remaining after the Jets beat Arizona 2-1.
"As a coach it is really simple: I just want to keep every game meaningful," Flames coach Darryl Sutter said.
Frank Vatrano scored Anaheim's lone goal. John Gibson made 38 saves, facing more than 40 shots for the 20th time this season.
"We knew that they were going to be a little ornery after their game last night against L.A., and other than a few spurts in the second period, maybe for about six minutes in the second, we couldn't sustain much. Every time we turned, they were in our face," Ducks coach Dallas Eakins said.
Calgary has 12 goals with the man advantage over the past month, which is fifth best in the NHL.
Andersson put Calgary up 3-0 less than three minutes into the third period on a one-timer off Toffoli's pass. It was Andersson's 11th goal and his third in the past six games.
The Flames grabbed the lead 37 seconds into the game when Ritchie put in the rebound after Gibson made a pad save on Noah Hanifin's shot from the point. Ritchie's 12th of the season marked the sixth time Calgary has scored in the opening minute.
Stecher broke a 90-game goal drought at 16:50 of the first with a snap shot from the right faceoff circle to the high side of the far post. Stecher — whose last goal was on Feb. 17, 2022 — has three points (one goal, two assists) since being acquired from Arizona at the trade deadline.
Anaheim got on the board five minutes later when Vatrano lifted a wrist shot over Vladar's shoulder on his glove side. Vatrano's 17th marked only the second goal in Anaheim's last 15 power-play opportunities.
Lindholm scored his 21st and gave Calgary a 4-1 lead 46 seconds into the third on a one-timer.
NOTES
Hanifin extended his point streak to six games with the first assist on Ritchie's goal. He has six points (two goals, four assists) during that span. … Calgary defenceman Chris Tanev was scratched an hour before the game due to an upper-body injury. … Anaheim forward Nikita Nesterenko made his NHL debut. Nesterenko was acquired from Minnesota in the John Klingberg trade at the deadline. Nesterenko played three seasons at Boston College and signed a two-year, entry-level contract last Wednesday.
UP NEXT
Flames: Open a three-game homestand against the Vegas Golden Knights on Thursday.
Ducks: Host the Winnipeg Jets on Thursday.
2022 World Senior Men's gold medalist rink and Cheryl Bernard among teams at Senior Curling Championships at Red Deer's Pidherney Centre this week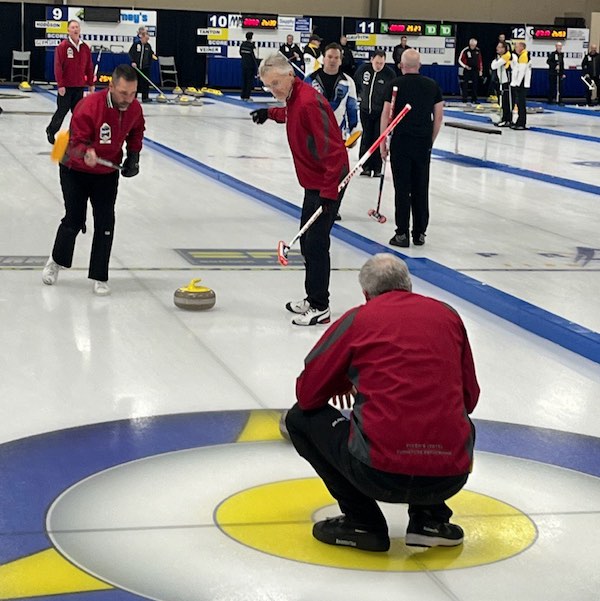 The 2023 Alberta Servus Credit Union Senior Men's and Women's Championships will take place at Red Deer's Pidherney Centre on March 21 to 26.
Thirty-three rinks are on hand to vie for the right to represent Alberta at the Men's and Women's Canadian Championships next fall.
The 2022 World Senior's gold medalists, Team Wade White looks to add yet another championship title to his name alongside teammates, third Barry Chwedoruk, second Dan Holowaychuk and lead George White. While defending Alberta champion, Team Pahl will keep the pressure on to represent Alberta once again.
Other noteworthy names on the men's side include, Mickey Pendergast; Master's Provincial Champion and former teammate of local legend, Rob Armitage, and 2017 Senior's Champion, Glen Hansen.
The talent continues on the women's side with nine of the top senior women's teams in the province.
The star studded line-ups include Olympians, Cheryl Bernard, Carolyn McRorie, Sandra Jenkins and Shannon Kleibrink forming a team under Bernard, and Glenys Bakker and Atina Ford-Johnston skipping their own rinks, with Cory Morris joining Ford-Johnston as lead.
With defending champion, Diane Foster, out of the race, it truly is anyone's title to claim.
Draws run throughout the week with the semi-finals of both the women and men at 9 am on Sunday March 26 followed by the finals at 2 pm.
Admission is free thanks to support from Servus Credit Union.