Response: Tom Milroy Wants To Deport The UCP & Wexiteers, Ban All Weapons & Restrain the Oilpatch
Green Party candidate Tom Milroy exemplifies how NOT to win friends and influence people to be more green-friendly. Among his plethora of tone-deaf tweets, and condescending facebook rants is this gem of a post:
" I suspect that with oil going for LESS THAN ZERO we could now buy Alberta for cheap, Deport the UCP & the moronic wexiteers to the USA, start the Canadian ban on weapons of all kinds there, build solar & wind farms, restrain the oilpatch workforce and be done with this BS forever!" -@tommilroyjr
I can forgive the poor grammar, after all it's just twitter, but his callous disregard for the real and palpable pain which Albertan's have been enduring during the Trudeau Jr. era requires a response. Mr. Milroy is not alone with his hand wringing at the thought of the Alberta energy sector collapsing. PM Justin Trudeau is certain to be equally eager to witness Alberta's demise, never realizing that the death of the Alberta advantage, is also the death of the Canadian advantage. Perhaps they should take eight minutes to listen to our plight HERE.
Albertans are fiercely patriotic, yet we have been abused by Ottawa to the point where many have come to the unpleasant conclusion that separation is the only way to survive. Tom Milroy clearly thinks that survival instinct is "moronic", and that all ideas which are conservative are inherently evil. His views are largely shared by many in the Toronto/Montreal crowd which only fuels western alienation. Why would Albertans want to be hitched to a Country which economically attacks, and openly berates them? It's only natural to consider other options.
The soapbox upon which Mr. Milroy stands is portrayed as environmental, but in fact is xenophobic. Energy workers aren't like Tom and his friends, which is why they don't understand them and they choose to berate them. Tom Milroy, you are an unapologetic anti-Albertan bigot with a twitter account. Your ghastly posts are a stain on the fabric of Canadian values.
His claim of moral superiority however has been thoroughly discredited by a recent documentary by..of all people, Michael Moore. In his new documentary, Planet of the Humans Michael Moore destroys the argument that solar and wind are in any way cleaner than Canadian procured fossil fuels. In fact, when you do the math, it's clear that both wind and solar create a LARGER ecological footprint than Alberta's Oil Sands.
Photo-Voltaic cells (solar panels) for instance are not made from "sand" as is often claimed. They are created by melting quartz and coal together in a massive furnace. Both quartz and coal are procured from mining, and mining is an incredibly carbon-intensive activity. Cobalt, and other materials which are required for windmills are mined using horrific child labour. Not only are solar and wind not clean energy, they both have a negative net yield when all factors are considered.
Heaped on top of the negative energy yield, massive mining footprint, and excessive carbon load required for "green energy", is the human suffering which includes horrific child labour. There is nothing moral about six-year-old children working in an African Cobalt mine. Ignoring this fact is nothing short of evil.
Regardless of your beliefs on environmental issues, reacting to ideas that are contrary to your own with name-calling is not helpful, nor is it productive. It's easy to disregard the pain of others by spouting bigoted epithets at them. It's easy, and is a sure sign of a lazy mind. What's difficult is to put yourself in the shoes of others in order to try to understand where they are coming from. Empathy is hard, and requires significant effort from a clear mind which is unshackled by ego. At the moment, empathy seems to be beyond the reach of Mr. Milroy.
The environmentalist groups need to take an honest look in the mirror. Being a jerk to others is not going to sway opinions. Regardless of political leanings, the vast majority of Canadians also want pristine water, clean air, and to have cleaner energy solutions. The technology exists today to achieve all of the above, but we're just not bringing it to market. Solar and Wind have both been proven to NOT be the solution. The focus must be on reducing consumption, not on punishing production. Passenger cars can easily achieve 100 mpg, and industrial smokestacks can certainly be engineered to emit less than half of the particulates which they are currently belching. The technology has been around since the '80s, all we have to do is use it.
Caring about the environment is important, but actually doing something about it is far more admirable than proclaiming your moral and intellectual superiority over Albertans. The common assumption is that our energy sector is dirty and immoral. Do you prefer Saudi oil? Shutting down Alberta does nothing to help the environment, all it does is displace the oil production to nations like Saudi Arabia, who throw gays off buildings, behead accused wrongdoers, and force their women to stay covered head to toe. Every sentiment against Alberta energy is a proclamation of support for the Saudi regime, and their human rights abuses.
Alberta energy workers are the highest skilled, safest, and most regulated on earth. As a result, they enjoy healthy compensation which some people bemoan so as to cloak their jealousy. Oh how fun it is to throw stones at the families of energy workers, and denigrate them for enjoying the fruits of their difficult and dangerous labour. How satisfying it must be to turn your nose up to the gun-toting, hunting, fishing, outdoor-loving Albertans who would rather explore nature in the backcountry than bang bongos at a climate change rally. Alberta energy workers have every right to be proud. They provide us all with our way of life, similar to how Soldiers protect our freedoms. Without oil, the global population of roughly 7.8 Billion would not be sustainable. Until other technologies are allowed to flourish, we're stuck with what we got. Unfortunately Wind and Solar simply don't fill the gap, regardless of the blind arguments to the contrary.
Mark E. Meincke
Buy the Home Seller's Bible by clicking HERE
Buy "Why not Me?" HERE
For more stories, visit Todayville Calgary
New app uses AI to help Calgary medical students practise interacting with patients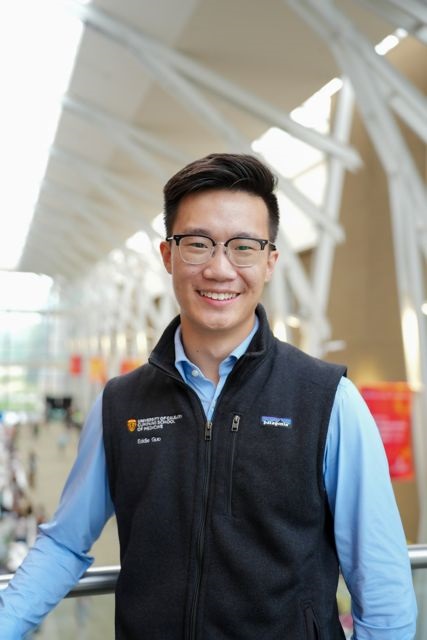 A Calgary medical student has developed a new app that allows future doctors to work on their diagnostic and communication skills before they set up their practices. Eddie Guo, seen in an undated handout photo, is a second-year student at the University of Calgary's Cumming School of Medicine. He says that one of the challenges in medical school is becoming better at interacting with patients. THE CANADIAN PRESS/HO-University of Calgary
By Bill Graveland in Calgary
A Calgary medical student has developed an app that allows future doctors to work on their diagnostic and communication skills before they set up their practices.
Eddie Guo, a second-year student at the University of Calgary's Cumming School of Medicine, said one of the challenges beyond the book learning in medical school is becoming better at interacting with patients.
As a result, he's turned to the rapidly growing area of artificial intelligence to create a number of virtual patients, with a variety of health conditions, that a student can talk to.
"It's good to get more than just two or four hours of the practice we get in medical school to really be able understand what it's like to communicate in a real-life scenario," said Guo.
"We think it's a good idea to have more than a few hours of practice before actually going out into the wild and seeing patients for the first time."
Guo created a program, called OSCE-GPT, where the computer is the patient. Users choose the patient's gender and can select a scenario or let the computer decide on one for them.
"I'm Ben Johnson and I've been having some really bad abdominal pains over the past two days. It's in the right upper quadrant and it spreads to my back," said the robotic male voice in the program.
"I've also been feeling nauseous and vomiting. I'm here in the emergency department because of the pain."
The AI patient can answer questions about its condition and, after the conversation, provides feedback to the student along with a list of other questions that could have been asked.
Guo said until he is finally allowed on the medical wards, the only other interactions he gets are with standardized patients, professional actors who present with various conditions.
"As you can imagine, they're really quite good at their job, but they're also very expensive," Guo said.
"We don't get that much opportunity really to practise speaking with a patient, and so what this app was born out of was a lack of possibility to practise."
Guo collaborated with medical resident Dr. Mehul Gupta. He said this kind of additional help will make for better doctors.
"One of the things we learn again and again in medical school, and that's reinforced again in residency, is that the history you take from a patient is almost 99 per cent of the diagnosis that you make and the impression you make on a patient the first time you speak with them is long-lasting," Gupta said.
"If you have the opportunity to practise to tailor your questions to see how you could have done better, you really do become a better doctor overall."
Guo said the app is still being upgraded and at this point there is no image of a patient that shows up on the screen. He said he is hoping that things like a chest X-ray, a CT scan or a picture of someone's skin could be incorporated into the program.
Within the first month of the app's launch, more than 550 health-care trainees from Canada and across the world including Europe, India, Saudi Arabia and the United States signed on.
This report by The Canadian Press was first published Sept. 22, 2023.
Officials say some patients showing 'severe symptoms' in Calgary daycare outbreak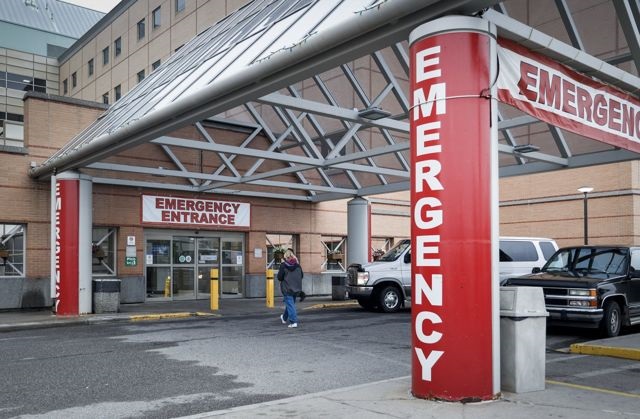 The entrance to the emergency department at Peter Lougheed hospital is pictured in, Calgary on Tuesday, Aug. 22, 2023. An Alberta health official says some of the 22 patients in hospital after an E. coli outbreak at several Calgary daycares have severe symptoms. THE CANADIAN PRESS/Jeff McIntosh
By Bill Graveland in Calgary
An Alberta health official says some of the 22 patients in hospital after an E. coli outbreak at several Calgary daycares have severe symptoms.
Alberta Health Services says there are now 96 laboratory-confirmed cases due to the outbreak, which is up from 56 on Tuesday.
Dr. Francesco Rizzuti, medical officer of health for the Calgary Zone, said Wednesday that the number in hospital has risen from 15. He said 16 are at Alberta Children's Hospital and six are at Peter Lougheed Centre.
"The majority of individuals that get sick from E. coli generally improve on their own and without specific treatment, typically within 10 days," Rizzuti said.
"However, a small portion may develop more severe complications. Currently, we have a handful of children who are hospitalized with these more serious illnesses related to this outbreak."
Rizzuti said that due to privacy concerns, he couldn't say how many are suffering from severe symptoms. He also would not would confirm any of them have hemolytic uremic syndrome, also known has HUS, which affects the kidneys and causes blood clots.
"Hemolytic uremic syndrome can be a severe consequence. At this time, because we do have small numbers and I want to respect the privacy of the parents, I'm unable to speak to the exact numbers," he said.
"But it is a small proportion of our laboratory-confirmed cases who do have severe illness and are in hospital at the moment."
Rizzuti said it was his decision to close six Calgary Fueling Brains daycares and five others out of an abundance of caution after he received calls from city emergency wards.
He said it could take a while before the investigation into the source of the E. coli is found. Public health officers have already taken samples from the central kitchen shared by the daycares.
"They collected a number of food samples, both leftover foods as well as frozen foods, from the site and these are being tested in our laboratory. These do take some time," Rizzuti said.
"Typically in outbreaks like this, we may not find a food source."
Faisal Alimohd, co-founder and chairman of Fueling Brains, said he's saddened that children are sick and immediately began working with AHS to investigate the outbreak.
"Though not all Fueling Brains child-care campuses are currently classified as being on outbreak status by AHS, we have proactively closed all potentially impacted locations as a precaution," Alimohd said in a statement.
"The exact source of the outbreak has not been identified, but we will be reviewing our policies, procedures and sourcing related to food services for our facilities."
This report by The Canadian Press was first published Sept. 6, 2023.