New text and online reporting tool to track rising incidents of hate speech and racism towards Asians
May 5, 2020
Calgary-AB
Act2endracism launches a new text and online reporting tool to gather information on microaggressions, hate speech and racism directed towards Asians due to Covid-19.
The tool is the latest resource to be developed in Canada to gather information on incidents, which often go unreported.
The texting and online reporting tool is a virtual helper named, ​'Mei'​, ​which takes a victim through a series of questions to document an incident. Mei was developed by Linda Chan, the founder of BIGSBPS technology solutions in Calgary. The technology was created for the financial and mortgage industry initially but with escalating violence and aggression towards Asians due to the pandemic, Chan adapted it as a mechanism to report hateful incidents.
Former Alberta MLA Teresa Woo-Paw, of Action, Chinese Canadians Together (ACCT) Foundation, stated, "May is Asian Heritage Month and we thought it was the perfect name for the new multilingual, national text line. Racism is ugly and we wanted to make reporting easier and more supportive. It's quick and easy to use. We encourage people to share their experiences to build community."
ACT2endracism was created in just two weeks as a coordinated response between thousands of concerned Canadians worried about escalating anti-Asian sentiment. The network pressed the Conservative Party to expel one of its MPs for racist remarks directed at Chief Public Health Officer, Dr. Theresa Tam. The inaction from our leaders normalizes hateful behaviour.
Judy Hanazawa, Greater Vancouver Japanese Canadian Citizens' Association President, added,
"We encourage everyone to add this number, 587-507-3838 to their contact list. We offer support to victims and it allows bystanders to file a report if they witness an attack. If you are injured and in immediate danger you should call 911."
The reporting tool offers an option to those who may be uncomfortable with reporting incidents to police. The network is collaborating with other community organizations, which are also collecting data.
Data will be used to help develop education and anti racism initiatives. The network will refer people to community supports and track trends.
Major drug haul; ALERT seizes $3 million in drugs and cash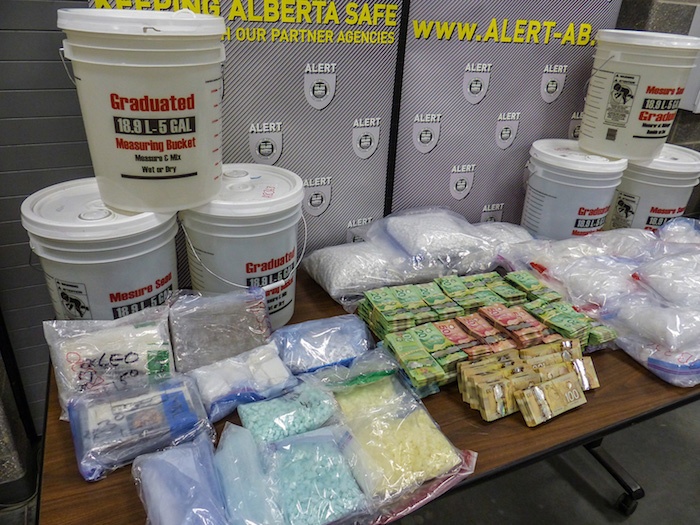 Post submitted by Alberta Law Enforcement Response Team (ALERT)
Three million dollars' worth of drugs and cash was seized from two Calgary homes, including what is believed to be the province's largest seizure of gamma-hydroxybutyrate (GHB).
On April 27, 2021 ALERT Calgary's organized crime and gang team concluded a short-term investigation with a record drug haul. ALERT seized enough methamphetamine, fentanyl, cocaine, and GHB to equal an estimated 100,000 doses.
The GHB seizure of 113.5 litres is believed to be the largest seizure of its kind in Alberta.
Meanwhile, the amount of methamphetamine and fentanyl pills seized ranks amongst ALERT Calgary's biggest busts.
"The totality of what was seized is staggering, and represents a high degree of community harm. Behind so many doses are crimes committed to feed that addiction; be it property crimes, thefts, frauds, and robberies, and all feeding into social disorder," said Supt. Dwayne Lakusta, ALERT CEO.
In total, ALERT seized roughly $3 million worth of drugs and cash:
113.5 litres of GHB;
22.3 kilograms of methamphetamine;
18,000 fentanyl pills;
1.5 kilograms of fentanyl;
4.1 kilograms of cocaine; and
$386,220 cash.
GHB is colourless and odourless, and is commonly referred to as the "date-rape drug" but is usually abused as a club drug. In July 2013 Edmonton Police Service seized 106 litres of GHB, which at the time, was believed to be Alberta's largest seizure.
ALERT's investigation is ongoing and additional charges are being contemplated. To date, 14 drug-related charges have been laid against three suspects:
Ashley Stanway, 30-year old from Calgary;
Rayann Blackmore, 22-year old from Calgary; and
Harmandeep Tiwana, 28-year old from Calgary.
ALERT began its investigation just a month prior after receiving information about suspected drug trafficking activity in the Calgary region.
Members of the public who suspect drug or gang activity in their community can call local police, or contact Crime Stoppers at 1-800-222-TIPS (8477). Crime Stoppers is always anonymous.
ALERT was established and is funded by the Alberta Government and is a compilation of the province's most sophisticated law enforcement resources committed to tackling serious and organized crime.
There's Resistance Everywhere To Building Anything. We Need Government Help
For more videos, see WeMaple.