Premier Jason Kenney shares photos of the Keystone XL pipeline crossing the Canada US border.
Alberta Premier Jason Kenney announces that shovels are in the ground in Alberta, Saskatchewan and parts of the United States on the Keystone XL pipeline expansion.
On Saturday, the day after Alberta premier announced at a press release that after the province made a $1.1 billion dollar equity investment in the Keystone XL pipeline, that shovels were already in the ground. Jason Kenney shared pictures on social media pictures of the pipeline crossing into the United States along the Saskatchewan border.
A long with the initial investment to get the pipeline project going again, the province will also provide an additional $4.2 billion in loan guarantees to help developer TC Energy start construction immediately. Kenney has said that the government had been negotiating with the company for months, and that no private sector bidders were ready to finance the project at this time. "In other words," Kenney has said, "without this investment by Alberta, the pipeline would not be built."
The project when completed, "in the spring or summer of 2023 will connect Canada's oil sands with refineries in the United States. The pipeline is critical to the long-term future of Alberta's oil industry, which has maxed out its capacity to bring oil to foreign markets using rail. Cars and existing pipelines. The Keystone XL pipeline will carry 830,000 barrels per day south from Alberta to a number of locations in the states.
Aside from announcing that, "construction is well under way" Kenney also added, "Our historic investment in getting a major pipeline built, creating good, high paying jobs – one of the reasons was to get work moving now in this construction season and throughout 2020."
Alberta faces a long road to an economic recovery once the country can get past the Covid- 19 pandemic, Kenney is staying positive, "This investment will create 7,000 jobs, directly and indirectly here in Alberta this year alone. We believe that Alberta's government will receive back at least 30 billion dollars in additional royalties and other revenues because of the additional shipments that Keystone XL will make possible."
Stars and RCMP chopper combine to rescue fallen ice climber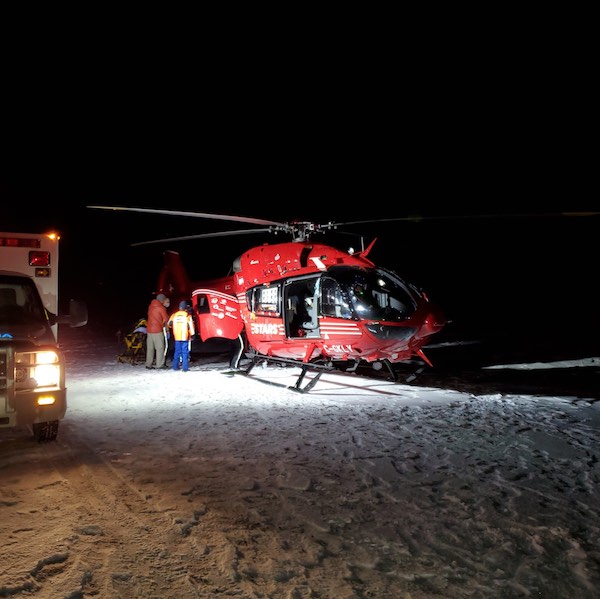 From Alberta RCMP media relations
Rocky Mountain House RCMP assist in ice climber rescue
On Jan. 15, 2021 at approximately 2:30 p.m., Rocky Mountain House RCMP received a dispatch of a fallen ice climber who was in need of medical assistance. A SOS beacon was received locating the fallen ice climber at the south end of Abraham Lake. Reports indicate the climber fell approximately 12 meters.
RCMP, EMS, Search and Rescue (SAR), STARS air ambulance and Alstrom Helicopters assisted in the rescue. The 28 year old injured male was long line rescued from his location by Alstrom Helicopters, with the assistance of Rocky Mountain House SAR. STARS was waiting nearby and further transported the injured male to a Calgary hospital.
The rescued male suffered serious but non life threatening injuries as a result of his fall.
Everyone who assisted in this rescue should be commended for their professional, swift and incredible work. Well done!
Oilers place goalie Mike Smith on long-term injured reserve
EDMONTON — The Edmonton Oilers have placed goaltender Mike Smith on long-term injury reserve, and have re-assigned Olivier Rodrigue to the club's taxi squad, pending quarantine protocols. 
Edmonton announced both transaction on Friday, but did not elaborate on Smith's injury.
Smith was supposed to start Thursday's game at home against the Vancouver Canucks but was declared inactive, forcing Mikko Koskinen into back-to-back starts. 
Smith and Koskinen were expected to split duties in the Oilers net this season. Edmonton re-signed the 38-year-old Smith to a one-year contract in the off-season. 
Rodrigue had been with the Graz99ers of the Austrian National League.
The 20-year-old Rodrigue was drafted 62nd overall by Edmonton in 2018.
This report by The Canadian Press was first published January 15, 2021.
The Canadian Press