New W.H.O. Proposed COVID-19 Mitigation: Euthanize Every Non-Essential Person Over The Age Of 65 and/or Anyone Who Tests Positive For COVID19
"Desperate times call for desperate measures, and now is the time to consider all options, no matter how Machiavellian." says Dr. Killemall, said the head Epidemiologist for the W.H.O.
In response to this eyebrow-raising official statement, Canadian Prime Minister Justin Trudeau assured all Canadians that the W.H.O. is both infallible, and omniscient, therefore whatever they say, we will obey without question. To further bring home the point, PM Trudeau said yesterday,
"Our Government is now bringing forth new emergency legislation to immediately imprison anyone who makes any statements, either online, or otherwise which contradict, criticize, or question the recommendations of the W.H.O.
This is the type of serious response to the Pandemic that Canadians want, and it's the response they deserve. We're listening, and what's more, we are taking the appropriate actions necessary for the betterment of all Canadians. We have heard the concerns of many Canadians who are facing financial hardship due to the economic impact of the Covid19 pandemic, and we are required to find a solution so we can get people back to work. Also, we must consider the mental health of Canadians. Many Canadians have already watched everything worth watching on Netflix, and now are cruelly forced to interact with family members through conversation, board games, and other interactive activities. No Canadian should have to suffer such hardships, so as a response, we have decided to follow the W.H.O. recommendations, and starting next week, we will be Euthanizing all Canadians over the age of 55, who are non-essential. Further, to save on medical costs, and eliminate the further spread of COVID19 we will also Euthanize everyone who tests positive for the virus, and is also deemed to be non-essential. Difficult times call for difficult choices, and I'm confident that Canadians will understand and support their Government. As fair warning, any protests, complaints, or obstruction of any kind will result in a minimum five-year prison sentence."
If the parody above doesn't make you at least a little bit uncomfortable…it should. Actions far worse than the unthinkable measures in this piece have been done before, with far less provocation. Six months ago, if someone told you that all Canadians would be confined to their homes for up to eighteen months, would you have believed it? Or, would you have responded by scoffing, "That's ridiculous, it could never happen here! Where's your tinfoil hat?" This is an important question to ask yourself right now. How far will the Government go? You've already been surprised by the current state of affairs, so be prepared for the Government to continue to expand its power by taking away your rights, with or without reasonable cause.
It starts with a well-meaning Police officer issuing an improper ticket to a family for rollerblading together. The family will likely win in court, but that's not the point. The point is, a family who is simply spending health time together received an $800.00 fine for an action that did not actually contravene the currently imposed rules of social isolation. If you don't respond with outrage at this, because it's not happening to you, then let me remind you of a famous, and sadly relevant quote by the German Lutheran pastor Martin Niemöller.
First, they came for the socialists, and I did not speak out—
Because I was not a socialist.
Then they came for the trade unionists, and I did not speak out—
Because I was not a trade unionist.
Then they came for the Jews, and I did not speak out—
Because I was not a Jew.
Then they came for me—and there was no one left to speak for me.
Many people will be unable to accept that the above sentiment is either appropriate, or relevant to our current situation, and that would be an understandable response. It's a bit much for most people to consider that we are now in a perilous position. Nearly every single time for all of recorded human history, when National Governments expand their power, they keep at least some of their new power. Often, the expansion of power continues until the only solution is a violent revolution to topple the tyrannical Government. You may not be interested in History, but I can assure you, history is directly relevant to your life right now.
Be vigilant, and be brave enough to speak out when the Government goes too far. If you don't speak out early, you won't have the ability to speak out at all when it's too late. Remember, the Government is here to serve you, not subjugate you.
Yes, we all need to do our part during the Pandemic, and yes we need to be socially responsible for the good of all. We must be equally committed to fully regaining our freedoms once this is over, or we will face the very real possibility of living under a dictatorship.
for more stories, visit Todayville Calgary
Bail hearing set for Alberta man accused of sexually assaulting five women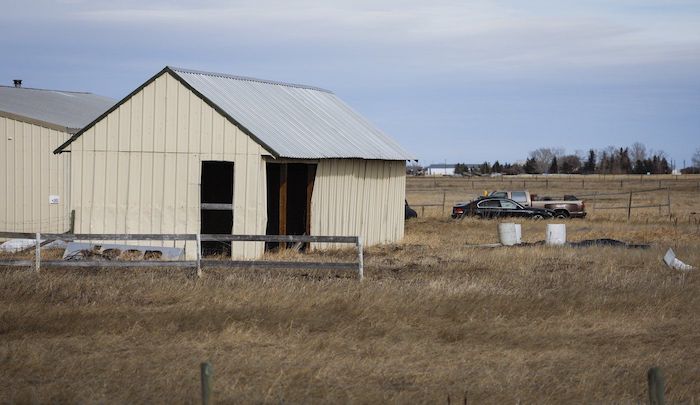 A rural property is seen near Langdon, Alta., Monday, April 10, 2023. A bail hearing for a man accused of kidnapping and sexually assaulting women in Calgary's sex trade will be held later this month. THE CANADIAN PRESS/Jeff McIntosh
Calgary
A bail hearing for a man accused of kidnapping and sexually assaulting women in Calgary's sex trade is to be held later this month after two more complainants came forward.
Richard Robert Mantha, who is 59, faces two new charges of sexual assault and two additional charges of administering a noxious substance.
They are in addition to 13 offences he faces in relation to three women, including sexual assault causing bodily harm.
Mantha appeared in court and a bail hearing was scheduled for May 26.
Police say the women allege they were approached by a man, then drugged and taken to a rural property, where they were physically and sexually assaulted.
Mantha was charged after officers cordoned off a property east of Calgary and brought in cadaver dogs, but police said at the time that no bodies were found.
This report by The Canadian Press was first published May 12, 2023.
'A man lost his life': Youth to receive adult sentence in officer's hit-and-run death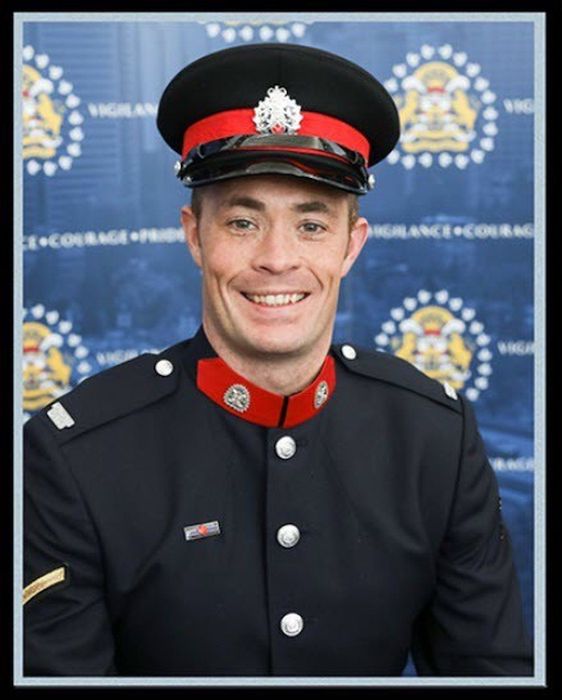 Sgt. Andrew Harnett of the Calgary Police Service is shown in an undated handout image provided by the police service. An Alberta judge ruled that a young man convicted of manslaughter in the hit-and-run death of Sgt. Harnett will face an adult sentence. THE CANADIAN PRESS/HO-Calgary Police Service
By Bill Graveland in Calgary
A young man convicted of manslaughter in the hit-and-run death of a Calgary police officer will face an adult sentence, an Alberta judge ruled Wednesday.
Sgt. Andrew Harnett died after being dragged by an SUV, then falling into the path of an oncoming car on Dec. 31, 2020.
The offender, who is now 20, was days away from turning 18 when Harnett died and was driving the vehicle when it took off from a routine traffic stop with the officer holding on to the wheel and trying to get him to stop.
He testified during his trial that he was scared when Harnett and another officer approached the vehicle during a traffic stop and he saw Harnett put his hand on his gun.
Court of King's Bench Justice Anna Loparco found the young man not guilty of first-degree murder but guilty of manslaughter last year.
The Crown wants the 20-year-old to serve between 11 and 13 years in prison.
Loparco said the offender had shown maturity, even when committing the offence, and was living on his own.
"I find that on the whole he demonstrated traits more aligned with an adult than a young person," Loparco said.
"He did not return to the family home following his flight from police. Rather, he went to his own suite and monitored the situation on social media. When he discovered Sgt. Harnett had died, he did not involve his family."
Loparco rejected defence arguments that the actions were largely impulsive and said the objective of the court is to hold the individual, who as the driver was taking a lead role, accountable.
"He reached speeds of 80 to 90 kilometres an hour. He also intentionally engaged in a variety of manoeuvres aimed at dislodging Sgt. Harnett from the car," Loparco told the court.
"The consequential harm done was immense. A man lost his life, a family lost a husband and soon-to-be father, brother and son. A wide circle lost a friend. Society lost a police officer who exemplified professional conduct."
Loparco said she doubted the genuineness of the young man's expressed remorse and added his recounting of the events "deflects blame and minimizes his role." She said he is also considered to be a high risk to reoffend.
The judge said although he may need counselling and support, that can't be offered with a three-year youth sentence.
"In my view, a maximum youth sentence, even without credit for any pretrial custody, would not be of sufficient length to hold (the offender) accountable for his offending behaviour," she said.
"This court shall, therefore, impose an adult sentence."
Loparco is to hear final arguments on sentencing from both lawyers May 31.
This report by The Canadian Press was first published May 10, 2023.