ONE RELATIONSHIP AT A TIME:  THE PATH TO PROJECT SUCCESS
ONE RELATIONSHIP AT A TIME: THE PATH TO PROJECT SUCCESS
Infrastructure development is full of risks, which are managed in a number of ways. Risk management might sound cold and impersonal, but it has the potential to incent real human connections and build genuine relationships. Key risks may have leading practice on how best to mitigate, transfer, ignore or hold those risks, but when it comes to energy development across Canada, meaningful consultation and accommodation is non- negotiable. As most are well aware at this point, the Crown must consult and accommodate where Aboriginal or Treaty rights are impacted. Far from being a mandatory 'checkbox' in the process of project development, the undertaking of engagement and relationship-building holds the potential for mutual benefits for both the project and the impacted First Nations, Inuit, or Métis community.
Genuine relationship-building is a solid foundation for partnership on energy projects, to the benefit of both parties. This partnership can take the form of Impact Benefit Agreements (IBA) Mutual Benefit Agreements (MBA) or equity participation arrangements, among others. Both IBAs and equity arrangements have the potential to grow economic and social prosperity, but determining which approach is the best fit will be influenced by the priorities and capacity of both the developer and the Indigenous community.
In both these common approaches there are similar objectives:
Compensation for and mitigation of potential impact
Influence or control over project design and development
Securing benefits for the community
Securing social license
Working towards consent and support of the project
Reduced risk of opposition or disruption
Improved financing as a result of managed risks
Both also reflect an underlying premise that it is no longer acceptable to develop resources or energy infrastructure in a manner where impacts fall to one party, and benefits to the other.
When comparing and contrasting IBAs and equity arrangements, some key considerations are the degree of potential impact, the capacity and interest of the community in the project's development and management, the project's term, risk tolerance of either party, and financing and funding opportunities.
Impact Benefit Agreements between a project developer and impacted Indigenous community formalize project benefits sharing. Often, these IBAs will provide some employment, training, and contracting opportunities, but the economic benefits will often be tied to the project's degree of impact to traditional lands and lifestyle (e.g., land impacts, hunting and gathering impacts, etc.). Regardless of how well the project is performing, the IBAs will guarantee a steady revenue stream to the Indigenous community. This can be a safe bet for risk adverse councils but holds the potential for serious revenue inequity in the case where the project is successful and very profitable.
Pivoting from partnership to ownership, equity participation agreements clearly scale the revenue sharing between the project developer and community as the project success and profitability increases. If the energy project does well, the First Nation, Inuit, or Métis equity partner is also going to do well and see greater revenues. The inverse is also true. In these equity arrangements, which are becoming more prevalent in the eastern provinces, the Indigenous partner has a greater say in project operations, as they are a shareholder. It also arguably provides more security to the developers, as the Indigenous partner is a proponent of the project, and no longer a potential opponent. Both partners would look to maximize the economic benefits of the project, while minimizing the adverse economic, environmental and social consequences flowing from the project. Without focusing too much on the direct revenue arrangement, equity arrangements will often also include guaranteed or preferential opportunities for contracting, procurement, employment and training.
To be clear, in either an IBA or equity arrangement model, the duty to consult and accommodate is neither negated nor automatically fulfilled. But the relationship between developer and community becomes formalized and clearer, adding transparency and certainty to an otherwise risk-filled process.
Managing project risk is a mandatory part of project development. But the means of managing risk holds so much potential for empowerment, leadership, and benefit. Project success and economic development are not an end in themselves, but rather a means to an end – the end being healthier and more prosperous First Nations, Inuit, and Métis communities, and Canada as a whole. All the while moving the dial on reconciliation through real connections, business developments, and cultural education – one relationship at a time.
Robyn Budd was a 2019 member of the Energy Council of Canada's Young Energy Professionals program and was a Manager in KPMG's Global Infrastructure Advisory practice, based in the unceded territory of the Musqueam, Squamish, and Tsleil-Waututh nations (Vancouver). She was also the Leader of KPMG's National Indigenous Network.
Zachary McCue is Founder of The Waabgaag Group, with expertise in renewable, infrastructure, and resource development, specializing in equity participation and impact benefit agreements. He is a proud member of Curve Lake First Nation and is based in Ontario.
Thanks to Todayville for helping us bring our members' stories of collaboration and innovation to the public.
Click to read a foreward from JP Gladu, Chief Development and Relations Officer, Steel River Group; Former President and CEO, Canadian Council for Aboriginal Business.
Canada under pressure to produce more food, protect agricultural land: report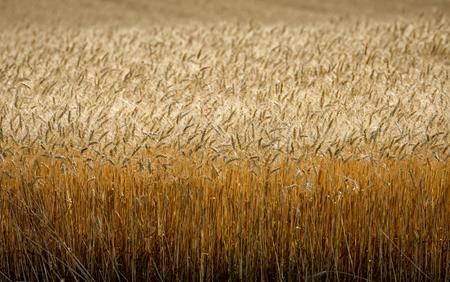 Canada's agricultural land is under increasing pressure to produce more food as demand grows domestically and internationally, while the industry grapples with limited resources and environmental constraints, a new report found.
"We need to grow more food on less land and in a volatile climate," said Tyler McCann, managing director of the Canadian Agri-Food Policy Institute.
The report by the institute released Thursday looks at the pressures on Canada's agricultural land to produce more food while also mitigating and adapting to the effects of climate change, said McCann.
Despite Canada being a big country, it doesn't have as much agricultural land as people might think, said McCann, with the report noting that agricultural land makes up only around seven per cent of the country.
Because of that, we can't take what we do have for granted, he said. "We need to be really thoughtful about how we are using our agricultural land."
In 2020, Canada was the eighth largest country in terms of cropland area, the report said, with that cropland decreasing by seven per cent over the previous two decades.
Canada is a major producer and net exporter of agriculture and agri-food products, the report said, exporting $91 billion in products in 2022, and one of the top 10 exporters of wheat, canola, pulses, pork and beef.
In the coming years, Canada will face increased demand from countries whose populations are growing, the report said.
"With population growth on one side and climate change on the other, Canada will be amongst an increasingly smaller number of countries that is a net exporter," said McCann, noting that Canada's own population is growing, and farmland also needs to be protected against urban sprawl.
The wildfires clouding Canadian skies this week are a "vivid reminder" of the pressure that extreme weather and the changing climate are putting on the agricultural sector, said McCann.
"We need to clearly mitigate … agriculture's impact on climate change. But we also need to make sure agriculture is adapting to climate change's impacts," he said.
One of the ways the world has responded to demand for increased agricultural production over time is to create more agricultural land, in some cases by cutting down forests, said McCann. But that's not a viable option for Canada, which doesn't have a lot of land that can be sustainably converted into farmland — and even if it could, doing so could have a variety of adverse environmental effects, he said.
Some of the practices used to reduce emissions and sequester carbon in agriculture can also improve production output on existing farmland, the report found, such as precision agriculture and no-till practices.
However, intensifying the production of current agricultural land also comes with potential environmental downsides, the report said.
For example, McCann said fertilizer is an important part of sustainable agriculture, but there's a balance to be struck because excessive use of fertilizer can quickly turn food production unsustainable.
"We need to be a lot more thoughtful about the inputs that we're using," he said, adding the same can be said about the use of technology in agriculture and the policies and programs put in place to encourage sustainable intensification of Canadian agriculture.
The report recommends that Canada adopt policies that provide financial incentives and technical assistance to farmers and develop regulatory frameworks promoting sustainable land use, as well as promoting education and awareness campaigns, so that the country can "ensure the long-term sustainability of its agricultural sector while protecting the environment."
This report by The Canadian Press was first published June 8, 2023.
Rosa Saba, The Canadian Press
Lawyer tells Alberta's highest court review board biased in de Grood's case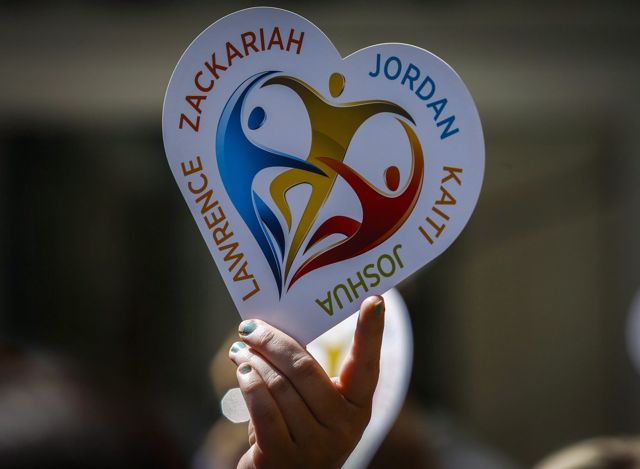 A family member of five slain students holds a heart sign with their names on it following a court decision in Calgary, Alta., Wednesday, May 25, 2016. Alberta's highest court is being asked to overturn a review board decision on the stabbing deaths of five young people at a Calgary house party that confined a man to a supervised Edmonton group home. THE CANADIAN PRESS/Jeff McIntosh
By Ritika Dubey in Edmonton
Alberta's highest court is being asked to overturn a review board decision that confined a man to a supervised Edmonton group home after the stabbing deaths of five young people at a Calgary house party.
The lawyer representing Matthew de Grood argued Wednesday the review board's decision was biased, citing what she described as political interference from Alberta's former justice minister.
"The appellant says, 'I think the conclusion about me is wrong. The board's conclusion is incorrect and not supported by evidence,"' Jacqueline Petrie said before the Alberta Court of Appeal. "He says there's no significant evidence that he's a risk."
De Grood, 31, was found not criminally responsible in 2016 for the killings two years earlier of Zackariah Rathwell, Jordan Segura, Kaitlin Perras, Josh Hunter and Lawrence Hong because he was suffering from schizophrenia at the time. Petrie said de Grood has been stable on medication, is at low risk to reoffend and should be allowed to live with his parents while being monitored under a full warrant.
She argued the review board misunderstood medical evidence during the September 2022 review, which deemed de Grood a significant risk despite the assessment showing improvements. She said the board is supposed to recommend the least onerous disposition compatible with public safety and did not do that for de Grood.
The defence lawyer has said the review had been influenced by former justice minister Doug Schweitzer, who weighed in on de Grood's case in October 2019 after the panel allowed de Grood to transition from institutional care to a supervised group home.
He has been under supervision at a group home. His case is reviewed by the Alberta Review Board yearly to see whether he can transition back into the community while maintaining public safety.
Petrie pointed at de Grood's "exemplary record," and that he has been "compliant to the (medical) treatment team."
"Nobody knew he had schizophrenia (at the time of the stabbings) and needed medication."
Crown prosecutor Matthew Griener said the board considered a conditional discharge but dismissed it, citing a relapse in schizophrenia symptoms in 2021.
Griener said de Grood's relapses were brief and happened at the hospital, providing an early window for medical professionals to intervene.
Justice Kevin Feehan said de Grood may be low-risk, but the consequences of even one relapse could be significant.
Reading from an expert's report, Feehan said: "A low risk to offend doesn't mean the reoffence would not be severe."
Some family members of the victims drove from Calgary for the hearing.
Segura's mother, Patty, said the last nine years have been about de Grood and his rights.
"He should be thankful that he ended up NCR (not criminally responsible) rather than end(ing) with five life sentences for murdering five people," she said. "He should not be appealing."
Hunter's father, Barclay, opposed a potential full release.
"The idea that he wouldn't be monitored for the rest of his life seems to defy logic, it doesn't make any sense," said the father.
Hunter's mother, Kelly, said the family has had "no healing."
"We do this every year, at least once. Now, this is the second appeal," she said. Barclay
Hunter said although there are attempts to reintegrate de Grood into society, he hopes the man is not left on his own with an absolute discharge.
"Regardless of what they say, he killed five people. If that doesn't stand on its own as a risk factor, then I don't know what does."
This report by The Canadian Press was first published June 7, 2023.
—