Indigenous Clean Energy (ICE) promotes collaborative frameworks for renewable energy, energy efficiency, advanced energy systems and green energy infrastructure
Indigenous communities across the country have a growing capacity to deliver energy projects that deliver clean, affordable and reliable power to their communities, and into the grid, thus generating jobs and revenue.
Indigenous Clean Energy (ICE) is the national platform for Indigenous communities to promote collaborative frameworks for renewable energy, energy efficiency, advanced energy systems and green energy infrastructure. ICE has cross-Canada relationships amongst Indigenous communities, along with a demonstrated track record of accomplishment in capacity-building, project/organizational collaboration, and clean energy cooperation.
Initiatives, such as the Indigenous Energy Across Canada Compendium demonstrates how the relationships have evolved in the last decade between industry, and the Indigenous People in Canada.
Indigenous communities are already major participants and owners of clean energy projects and businesses comprised of 184 medium-large scale projects in hydro, wind, solar, or biomass, and over 2,300 small renewable energy projects. Projects owned, or co-owned, by Indigenous communities, or with a defined financial benefit agreement represent a total of 18% of Canada's electricity generating capacity, which is approximately one of sixth of the electrons consumed in Canada.
While the energy sector is broad and shifting towards more innovation in energy transition, there is still much to do in terms of sharing opportunities and building capacity for Indigenous communities. Capacity building programs include the award winning 20/20 Catalysts Program, which has an alumni of 82 Catalysts and has empowered First Nation, Inuit and Métis communities to drive forward clean energy projects and initiatives in their communities. Working collaboratively with the guidance of Indigenous leaders and clean energy practitioners from across the country, catalysts gain the skills and tools needed to maximize the social and economic benefits communities gain through clean energy initiatives. A result of ongoing dialogue with communities the need to act on housing and community energy efficiency to make energy more affordable, improve health conditions, and establish new and ongoing jobs. ICE has responded to this by creating a new program Bringing it Home. (BiH) The premise of BiH is that 'Healthy Energy Living' in Indigenous communities can be unlocked through synergy between clean energy and sustainable investment to ensure that homes: a) last longer, b) are more durable and healthier, and c) are cheaper to operate over the short and longer term.
Platforms such as the icenet.work allow the growing community of Indigenous clean energy leaders, to further collaborate with clean energy industry and governments on clean energy projects, access to financial capital for clean energy infrastructure, and share project and business experiences internationally.
Indigenous inclusion in Canada's growing clean energy, and clean growth economy is a force for change, and partnering with First Nations, Inuit and Métis is the way forward.
By Terri Lynn Morrison, Director of Strategic Partnerships and Communications, Indigenous Clean Energy
Thanks to Todayville for helping us bring our members' stories of collaboration and innovation to the public.
Click to read a foreward from JP Gladu, Chief Development and Relations Officer, Steel River Group; Former President and CEO, Canadian Council for Aboriginal Business.
Hydro-Québec takes partnerships, environmental measures and sharing of wealth to new levels
Provincial funds help build biofuel plant at Lethbridge reducing emissions equivalent to 41,000 homes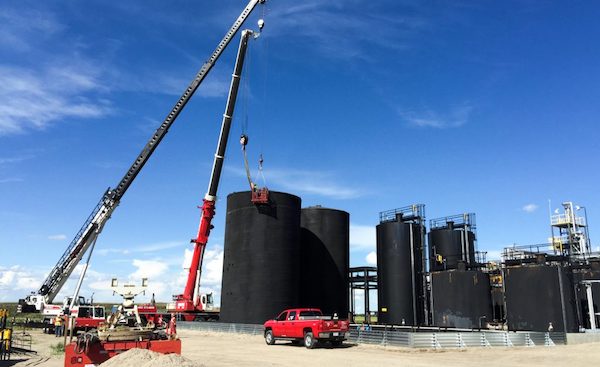 Diversifying the economy with cutting-edge tech
The Technology Innovation and Emissions Reduction (TIER) fund is supporting a new facility in southern Alberta that will create jobs and cut emissions by transforming agricultural waste.
Alberta's government is using $4.7 million from the TIER fund through Emissions Reduction Alberta to create a $28.6-million facility in Lethbridge that will produce an estimated 70 million litres of high-value renewable fuel. This facility will be the first of its kind in Canada, turning local agricultural waste, inedible animal fats and used cooking oil into biodiesel fuel and glycerin.
The facility will buy more than $375 million of local feedstock from farmers over the next five years, generating about $500 million in revenue and supporting up to 130 local jobs in fields like engineering, construction and transportation. It will also cut about 224,000 tonnes of emissions each year – the same as reducing emissions from the electricity used by 41,000 homes.
"Alberta is home to world-renowned expertise on cutting agricultural emissions, and the Canary Biofuels facility is another world-class project Alberta's government is supporting to diversify the economy and create jobs. I'm pleased to see the expansion of another groundbreaking Alberta-based technology that is cutting emissions and getting Albertans back to work."
The facility's biodiesel will have up to one-third the carbon intensity of petroleum diesel. The renewable fuel produced at the facility has also been pre-sold to a leading Canadian supplier of biodiesel whose customers include fuel retailers, wholesalers, distributors and fleet managers across Canada and the United States. This builds on Alberta's strong record of environmental, social and governance actions.
"As world leaders in agricultural emission reductions, Alberta farmers will be key beneficiaries of the renewable diesel produced at this facility. Projects like this showcase the steps Alberta is taking to diversify the economy with cutting-edge technology and to create local jobs and opportunities."
"Emissions Reduction Alberta continues to identify and invest in opportunities that accelerate the innovation required to strengthen Alberta's economy and reduce greenhouse gases. Canary's project will create new revenues for western Canadian agricultural producers and help meet the growing North American demand for biodiesel. This project is another example of what can happen when government, industry and entrepreneurs come together to deliver better economic and environmental outcomes."
This funding is part of the province's commitment of up to $750 million for emissions reduction and economic diversification programs and projects through the TIER fund and other funding that will directly support about 9,000 jobs and inject $1.9 billion into Alberta's economy.
"Canary Biofuels is Alberta's first Generation 2 biodiesel producer with its flagship facility in Lethbridge. Canary is excited to lead the path in Alberta in abating emissions through sustainable waste-based biodiesel production that supports the energy and agriculture industries in Alberta and the Prairies. Canary would like to thank all its investors and partners, including the Government of Alberta, for their tremendous support. Canary is proud to support Alberta in creating new jobs and helping Alberta industry on its journey to net zero."
"Canadian canola is used in biofuel production around the world because it's a low-carbon, sustainable and renewable resource. We are excited to see more investment in Lethbridge that will directly benefit canola farmers and Alberta's agriculture value chain."
"Canary Biofuels will provide long-term diversified business opportunity for R.K. Heggie Grain and Transmark. Local canola producers will have direct market access to the growing biofuel industry, and the livestock industry will get a much-needed supply of canola meal. Canary Biofuels is natural fit with R.K. Heggie Grain and Transmark to provide the company with feedstock for the plant and rail infrastructure to the get finished product to international markets."
TIER funding
The TIER system is funded by large industry that pay into the fund when they do not meet emissions targets. Alberta is using the TIER fund for a range of programs that are reducing emissions, boosting the economy and getting Albertans back to work.
Quick facts
The new Canary Biofuels facility is expected to be operational by fall 2021.
TIER helps industrial facilities, which account for more than 60 per cent of Alberta's total emissions, find innovative ways to reduce emissions and invest in clean technology to save money and stay competitive.
Emissions Reduction Alberta invests revenues from TIER to accelerate the development and deployment of innovative clean technology solutions.
Since 2009, Emissions Reduction Alberta has committed $649 million toward 204 projects worth $4.5 billion that are reducing emissions, creating competitive industries and leading to new business opportunities in Alberta. These projects are estimated to deliver cumulative reductions of almost 35 million tonnes of emissions by 2030.
TransAlta completes second of three planned Alberta plant conversions to natural gas
CALGARY — TransAlta Corp. has taken another step in its goal of becoming carbon neutral by converting the second of three planned coal-to-gas conversions at its Alberta Thermal power generation facilities near Wabamun.
The conversion of Keephills Unit 2 to natural gas is part of the Calgary company's plan to entirely generate clean energy in Alberta by the end of the year.
TransAlta has said it wants to reduce its annual greenhouse gas emissions by 60 per cent, or 19.7 million tonnes by 2030 over 2015 levels and achieve carbon neutrality by 2050.
Chief executive John Kousinioris says the latest conversion maintains its current generation capacity and reduces carbon dioxide emissions by more than half to about 0.51 tonnes CO2e per MWh.
The Keephills conversion cost $31.5 million while another $64.7 million was spent on system upgrades, gas infrastructure and maintenance projects.
It was the second conversion project after Sundance Unit 6 was converted in February. Keephills Unit 3 will be converted later this year.
"This not only highlights TransAlta's commitment to meet Alberta's need for safe, reliable and low-cost electricity but also our commitment to meet our sustainability goals focused on clean electricity generation," stated Kousinioris.
This report by The Canadian Press was first published July 19, 2021.
Companies in this story: (TSX:TA)
The Canadian Press