INDUSTRY-INDIGENOUS RELATIONS: A TREND TOWARD DEEPER ENGAGEMENT
INDUSTRY-INDIGENOUS RELATIONS: A TREND TOWARD DEEPER ENGAGEMENT
The Canadian oil and natural gas industry has a strong history of engagement with Indigenous peoples. Since its early initiatives, the petroleum sector has had many learnings and opportunities for growth with respect to its interactions with Indigenous communities. Consequently, these relationships have evolved towards ever-deepening forms of engagement including consultation and business partnerships. However, the nature of these relationships has been difficult to communicate with credibility; arrangements between companies and communities are often confidential, thus limiting the ability of industry to share positive stories of engagement.
The Canadian Association of Petroleum Producers (CAPP), an association that represents Canada's oil and natural gas producers, has utilized multiple surveys of its members in order to better understand the relationship between industry and Indigenous peoples. One of these surveys, known as the Telling Our Story survey, was commissioned by CAPP and conducted by Dr. Ken Coates of the University of Saskatchewan. Additionally, CAPP developed its own survey focused on procurement, community investment and consultation capacity funding in the oil sands. These surveys provide data that demonstrate the value producers place on building long-term, sustainable relationships with Indigenous communities. In particular, economic engagement is viewed as a primary opportunity to establish good relations and support Indigenous self- determination.
Survey Methodology
The purpose of the Telling Our Story survey was to collect information about the oil and natural gas industry's efforts to engage Indigenous communities. Research was conducted by Dr. Ken Coates, Canada Research Chair in Regional Innovation at the Johnson-Shoyama Graduate School of Public Policy, University of Saskatchewan. Dr. Coates used a comprehensive survey of industry representatives, in partnership with CAPP, plus CAPP's member companies and partner associations including the Canadian Council for Aboriginal Business, the Petroleum Services Association of Canada, the Canadian Energy Pipeline Association, and the Canadian Association of Geophysical Contractors. A total of 122 companies participated in the study, representing a cross-section of the oil and natural gas industry in Canada. Data was collected in a confidential manner, anonymized and aggregated into a final report. The survey highlighted key themes related to industry's engagement with Indigenous communities.
Consultation and Community Engagement
Companies within the oil and natural gas industry have developed long-term relationships with communities, and these relationships are multifaceted. Of course, a core aspect of relationship-building takes place through consultation processes. The trend toward consultation accelerated in 2004 with the Supreme Court of Canada decision on Haida Nation v. British Columbia, which determined the Crown has a duty to consult and accommodate Indigenous peoples when making a decision that could affect their constitutional rights. Procedural aspects of this duty can be delegated to industry, and now industry conducts the majority of project consultations. Survey respondents noted that today, companies are actively engaged in this process, seeking to ensure meaningful, two-way discussion in consultations. CAPP members indicated that they view these relationships formed through consultation as critically important to their business. Many companies have teams of staff dedicated to consulting and building relationships with communities, and funding is often provided to support community capacity to engage in consultations. A separate survey of CAPP's oil sands members found that between 2015 and 2016, oil sands operators provided $40.79 million for consultation capacity funding to local Indigenous communities.
Associated with consultations are a variety of forms of engagement. CAPP's members placed particular value on supporting various community activities, social and cultural priorities, and infrastructure needs. The aforementioned survey of oil sands members found that between 2015 and 2016 operators in the region spent $48.6 million on Indigenous community investment. According to companies, these focused investments positively impact relationships. Furthermore, there has been a trend toward the negotiation of long- term, collaborative agreements between project proponents and Indigenous communities in areas of operation that address community concerns and include clauses related to procurement, employment, community investment, dispute resolution, capacity funding and other topics of importance to the proponent and the community.
Economic Engagement
According to oil and natural gas producers, there is a strong emphasis on economic engagement as the priority in building relationships. In particular, procurement – the purchasing of goods and services from Indigenous businesses – presents a significant opportunity for mutual benefit. Both joint venture partnerships and preferential contracting arrangements with Indigenous-owned companies enable companies to build links and trust with communities. The focus on these arrangements is evidenced by substantial financial investment: in 2015 to 2016, oil sands producers spent $3.3 billion on procurement from 399 Indigenous owned- companies in 65 Alberta communities. While a sizable proportion of Indigenous businesses may be small or new, the data suggests their role in the sector will continue to increase.
This type of engagement allows Indigenous peoples to leverage their own expertise, build capacity, and ultimately establish pathways to prosperity. In this regard, industry can play an important role in supporting successful, self-determining communities. Although procurement was ranked most highly in terms of its benefit to the relationship between producers and communities, there are other forms of economic engagement; a number of companies have Indigenous recruitment strategies and support training programs intended to build the technical skillset of Indigenous employees and contractors.
Conclusion
The research commissioned by CAPP highlights the emphasis that oil and natural gas sector companies place on meaningful consultation, partnerships, and in particular, economic engagement. Industry has made strides in building deeper partnerships, and it is expected that the trend toward more meaningful engagement will continue. As an industry association, CAPP believes the oil and natural gas sector has an important role in tangibly advancing reconciliation together with Indigenous peoples in response to the Truth and Reconciliation Commission's Call to Action 92. CAPP believes its role in reconciliation can be described as identifying and finding feasible ways to share economic opportunities arising from resource development, while continuing to learn, grow and improve strong relationships based on trust, respect, and open communication. Industry's understanding will continue to develop, and the sector is open to further dialogue in order to inform its understanding of industry's role in reconciliation.
Thanks to Todayville for helping us bring our members' stories of collaboration and innovation to the public.
Click to read a foreward from JP Gladu, Chief Development and Relations Officer, Steel River Group; Former President and CEO, Canadian Council for Aboriginal Business.
PETER SUTHERLAND SR GENERATING STATION POWERS NORTHEAST ONTARIO
TC Energy shuts down Keystone pipeline system after leak in Nebraska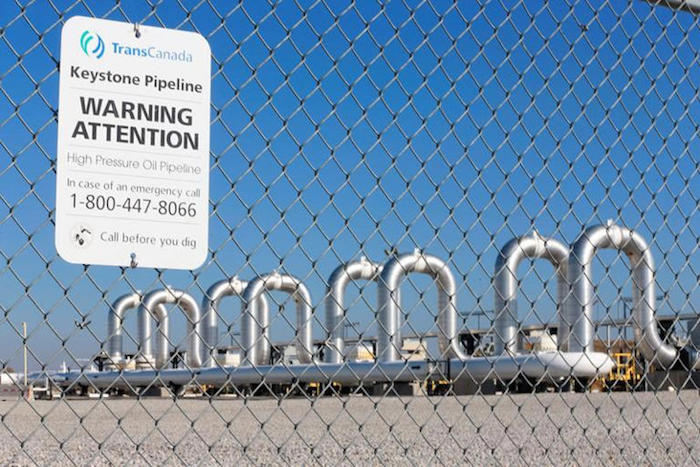 CALGARY — TC Energy Corp. says it has shut down its Keystone pipeline after a leak in Nebraska.
The company says it has mobilized people and equipment in response to a confirmed release of oil into a creek, about 32 kilometres south of Steele City, Neb.
TC Energy says an emergency shutdown and response was initiated Wednesday night after a pressure drop in the system was detected.
It says the affected segment of the pipeline has been isolated and booms have been deployed to prevent the leaked oil from moving downstream.
The Keystone pipeline system stretches 4,324 kilometres and helps move Canadian and U.S. crude oil to markets around North America.
TC Energy says the system remains shutdown as its crews respond and work to contain and recover the oil.
This report by The Canadian Press was first published Dec. 8, 2022.
Companies in this story: (TSX:TRP)
The Canadian Press
Two deputy chief medical officers resign from their positions with Alberta Health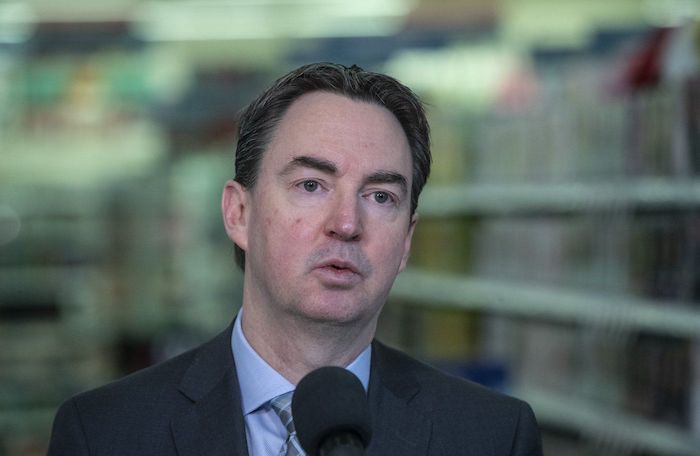 Edmonton – Alberta's two deputy chief medical officers of health are leaving their roles — less than a month after Dr. Deena Hinshaw was removed as the province's top doctor.
Health Minister Jason Copping confirmed during question period Wednesday that both of the doctors have submitted letters of resignation.
"They are still continuing to work at this point in time," he said in the legislature. "We are in the process of actually looking to fill those roles."
A statement from Alberta Health said Dr. Rosana Salvaterra and Dr. Jing Hu, who are listed as public health physicians on the department's website, have given notice.
When reached by her department email, Salvaterra responded: "Unfortunately, we are not able to comment."
She later added that she respects and admires both Dr. Hinshaw and Dr. Hu.
"They are brilliant, hard-working, and compassionate public health physicians and I consider myself fortunate to have had the opportunity to work alongside them for these past 14 months."
Salvaterra, who has extensive public health experience including as the medical officer of health for Peterborough, Ont., joined the office in October 2021.
Her career in public health includes work in "the COVID-19 response, mental health, the opioid response, women's health, poverty reduction, health equity, community food security and building stronger relationships with First Nations."
Hu's out-of-office message said her "last day at work with Alberta Health was Nov. 18, 2022," and noted she wouldn't have access to the department email after that date.
She got extensive training in China and at the University of Calgary before joining the health department in January 2020.
Their resignations came within a month of Hinshaw, who became the face of Alberta's public health response to the COVID-19 pandemic, being removed from her position.
Hinshaw was replaced by Dr. Mark Joffe, a senior executive member of Alberta Health Services, on an interim basis.
"Dr. Joffe will be supported by medical officers of health within AHS, by other staff in the Office of the Chief Medical Officer of Health, and by the Public Health Division," said the statement from Alberta Health late Wednesday.
"We expect these changes to have no impact on the department's and Dr. Joffe's ability to meet the requirements of the Public Health Act."
Hinshaw's dismissal didn't come as a surprise.
Premier Danielle Smith announced on her first day in office in October that she would be replaced.
Smith has made it clear that she blames both Hinshaw and Alberta Health Services for failing to deliver the best advice and care for Albertans as the hospital system came close to buckling in successive waves of the COVID-19 pandemic.
"A lot of the bad decisions were made by Alberta Health Services on the basis of bad advice from the chief medical officer of health," Smith told reporters on Oct. 22.
Smith has not placed the blame on front-line doctors and nurses but broadly on AHS senior management. Joffe, while serving as chief medical officer of health, retains his role in AHS senior management as a vice-president responsible for areas in cancer and clinical care.
Hinshaw, an Alberta-trained public health specialist, became a celebrity of sorts in the first wave of the pandemic in the spring of 2020, as she delivered regular, sometimes daily, updates to Albertans on the virus, its spread and methods to contain it.
This report by The Canadian Press was first published Dec. 7, 2022.
— By Colette Derworiz in Calgary.