A conversation about Dignity in a Pandemic: Podcast
October 21, 2020
Edmonton-AB-​On Global Dignity Day, the John Humphrey Centre for Peace and Human Rights launches a larger conversation about dignity in collaboration with the community in a new podcast titled, Dignity In a Pandemic.
The podcast theme is 'no one left behind'. The discussions explore what dignity looks like for vulnerable members in our community and how it has been affected by the pandemic. Our team began gathering stories in March when the pandemic began to take hold of the world. Our first episode features Shima Aisha Robinson, a poet, community organizer, and activist. We talk about Camp Pekiwewin, which is led by Indigenous 2 Spirit women working in solidarity with Black and 2SLGBTQ communities.
Renee Vaugeois, Executive Director of John Humphrey Centre of Peace and Human Rights, adds, "I'm excited for others to hear the new podcast. The episodes uplift local voices with lived experience and name injustices we see during Covid-19 for a call to action. These are real people with tough realities, who imagine futures where human rights are upheld."
#YEGdignity was first created by members of our Youth Action Project in 2015 where art was used to challenge perceptions of poverty. The campaign launched that year with the public painting of four murals looking at dignity and poverty. Five years later, the project has expanded to include a podcast to give voice to the vulnerable.
Each week over the next three months, JHC will share new episodes told with diverse Edmontonians. This effort is part of JHC's commitment to building a Human Rights City, where all participate, belong and are included.
Click here to listen to the first in the series of podcasts.
The ​John Humphrey Centre for Peace and Human Rights works to advance a culture of peace and human rights through education and community building guided by the principles of the Universal Declaration of Human Rights.
Read more on Todayville.
\
Tour "The Abigail" by Sorento Custom Homes – Grand Prize in the 2022 Red Deer Hospital Lottery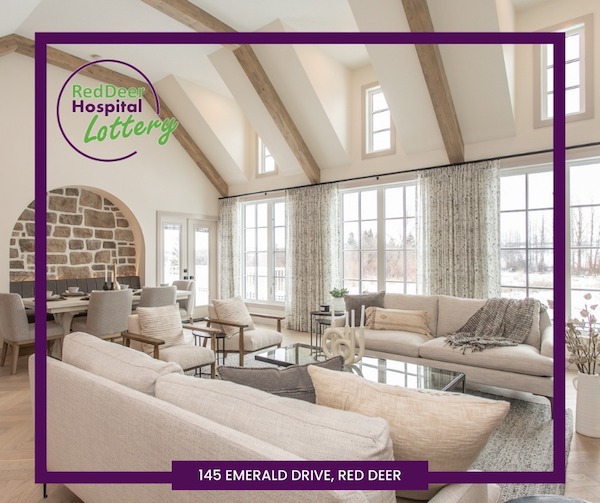 Have you seen it yet? Take a nice long look at the beautiful grand prize dream home!
NEW
TICKET GIFTING
OPTION
Step 1 – Click the GIFT TICKETS NOW! button
Step 2 – Enter the order for tickets and your personal information under buyers details
Step 3 – Click Send as Gift button and enter the giftee name and information
Print off this order form and mail in to the address listed on order form.
You can choose to get your tickets by mail, you will receive them in 3 to 4 week once processed by the lottery office.
You can also choose e-ticket and you will receive your tickets by email the day your order is processed. A valid email address is mandatory for e-ticket.
Mail to:
Red Deer Hospitals Lottery
PO Box 1098 Red Deer AB T4N 6S5
Call 1-877-808-9005 and a representative would be happy to help with your order, our agents are taking calls 7 days a week from 8am to 11pm
MAIN TICKETS
1 for $25 | 5 for $75 | 10 for $125 | 25 FOR $250
ORDER BY PHONE
Call Toll Free: 1.877.808.9005
MEGA BUCKS 50
1 for $10 | 10 for $25 | 25 for $50 | 50 FOR $75
5 winners already in Red Deer Hospital Lottery – Previous Supporters Draw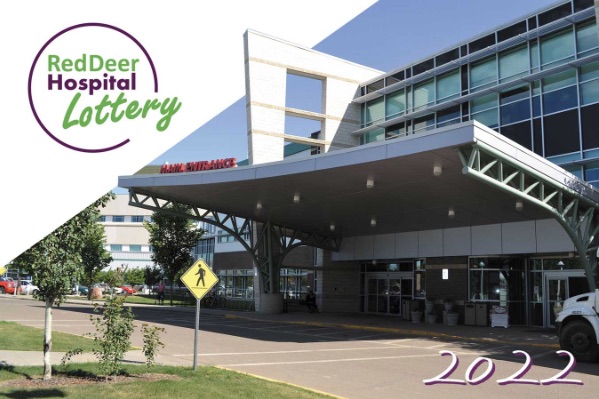 Five lucky people are already glad they purchased a Red Deer Hospital Lottery ticket – and the winning has just begun!
Thank you to Cecile A of Red Deer, Lynda H of Lacombe, Dan & Wendy K of Sylvan Lake, Bobbi & John W of Millet, and Jack W of Stettler who supported our hospital. They each won $1,000 in our Previous Supporter draws.
There are still 115 prizes totaling over $1.1 million to be won!
Our Grand Prize Dream Home package is valued $940,332.00 including furnishings from Urban Barn and $10,000 Dream Home CASH!
Maybe you'll win a 2022 GMC Yukon SLT worth over $81,000.00! Tickets are only $25 each.
There's still more. Buy before May 25th and you could win our EARLY BIRD CASH PRIZE OF $25,000
CHECK OUT OUR GREAT TICKET PACKAGES
$25 EACH | 5 FOR $75 | 10 FOR $125 | 25 FOR $250
Win half of an increasing jackpot of up to $1,000,000.
The jackpot grows with every ticket sold!
1 for $10 • 10 for $25
25 for $50 • 50 for $75
Win half of the current jackpot of:
17 of 83 pieces of equipment have already been funded!
Every ticket purchased will support the Red Deer Regional Hospital Centre with proceeds used to purchase eighty-three pieces of medical equipment for several units.
Since opening a few weeks ago, we've already secured funding for 17 stretchers benefiting 8 different units at our hospital!
CALL RED DEER & AREA OR TOLL FREE
403.340.1878 1.877.808.9005
Red Deer Hospital Lottery
PO Box 1098
Red Deer AB T4N 6S5Lottery Licence 590314 | Mega Bucks 50 Licence 590315
© RED DEER HOSPITAL LOTTERY 2022