My European Favourites – One Day In The Bavarian Alps
My European Favourites – One Day In The Bavarian Alps
My favourite area of Germany is Bavaria. It's the largest state, about one fifth the size of the country, and is located in the south-east of Germany. Bordering the Czech Republic and Austria, the state's capital Munich is an easy place to fly into, and it is a great city to explore and enjoy, especially during Oktoberfest.
Oberammergau, Germany
The Bavarian Alps are about an hour drive south from Munich, and one of my favourite places to stay is in the town of Oberammergau. You may have heard of the town as it is well known worldwide for its performance of the "Passion Play," which is performed in the aptly named, Passion Play Theatre. In 1633, while the plague was rampant in Europe, the villagers promised to perform the play every ten years if no further deaths from the plague occurred in Oberammergau. The play details the suffering, death and resurrection of Christ. Their prayer was answered, and they kept their promise with the first play staged in 1634. The most recent performance was supposed to be in 2020, but due to the covid-19 pandemic, it has been moved to 2022.
Oberammergau is a compact place easily explored on foot. The Bavarian State Woodcarving School is located there, and there are shops where you can purchase everything from wooden toys to elaborate woodcarvings, including those of religious saints and crucifixes. As you walk through the town, you will see many buildings with painted frescoes (Lüftlmalerei) on their exterior walls with scenes from fairy tales, Bavarian folk themes, religious scenes and decorations that imitate architectural elements.
To be able to accomplish our sightseeing today we need to start with an early breakfast at one of the local hotels. One of my favourites is the Hotel Wittlesbach which is located right in the town centre and has been operated and owned by the Ternes family for many years. The hotel is full of the Bavarian charm you would expect, and the breakfast they offer is very good. We have stayed there many times over the years, and our groups love the hotel and location.
Mad King Ludwig II of Bavaria
Linderhof Palace is only a 15-minute drive away from Oberammergau and is the smallest of the three places or castles built by King Ludwig II of Bavaria. The Kingdom of Bavaria existed from 1805 until 1918, and the Ludwig's Wittelsbach family ruled during the kingdom's entire existence. In 1864, Ludwig became king at the age of 18. He had little interest in politics and soon began to spend his own wealth on personal projects, like three fairy tale palaces or castles. His spending and accumulating debt became such a concern by Bavaria's political elite that they had a medical commission declare him insane and
incapable of reigning. A day later, he was on a walk with his psychiatrist, and they were both found dead; presumably drowned and floating in Lake Starnberg. Now that you know some of the story of King Ludwig II, we can talk about two of the three places or castles he built, Linderhof Palace and Neuschwanstein Castle. The third and largest building, the New Herrenchiemsee Palace, which will not be part of our day, was built on an island in Lake Chiemsee and was to be a copy of Versailles in France, but it was never completed.
Linderhof Palace
Linderhof is the only palace that King Ludwig II lived to see completed, and it is located near where his father, King Maximilian II, had the royal hunting lodge. Ludwig went there many times as a child and was very familiar with the location in the Graswang Valley near Ettal.
Ludwig idolized the French Sun-King Louis XIV and wanted to emulate his grand palaces in Bavaria. Throughout the Linderhof Palace, you will find sun decorations as an homage to his idol and as a symbol of royal absolute power. Linderhof was initially intended to be Ludwig's Versailles, but due mainly to an unsuitable sized area, it became a smaller project which was completed in 1886. During his construction of Linderhof, Ludwig purchased the much larger Herrenwörth island on Lake Chiemsee, and it became the new site to build his Versailles as Herrenchiemsee Palace.
The Linderhof Park is fun to explore and has a mixture of different garden designs, cascading waterfalls, fountains, and a large pond with a gilt fountain that jets water 25 meters in the air. As you walk through the park, you will find a swan pond, the Moroccan House, the Terrace gardens, a Temple of Venus, a Neptune fountain, a Royal Lodge, a chapel, a music pavilion, a Moorish kiosk, various parterres (level gardens with symmetrical patterns) and a grotto. The Venus grotto is an artificial grotto and theatre where Ludwig could sit in his small boat as it was gently rocked by a wave machine and watch his favourite operas by Wagner.
A ticket is required to tour the palace with a guide, but there are really only four rooms that served a specific purpose. The first room is the "Hall of Mirrors" which served as the main living room. Then there is Ludwig's bed chamber, the dining room with a disappearing dumb-waiter, and the small audience chamber which was used by Ludwig as a study and not a room where he would see people. There are two "Tapestry Chambers" which serve no real purpose, and there are no real tapestries on the walls, but instead, there are canvas paintings made to imitate tapestries.
A visit to Linderhof is enjoyable mainly for the gardens and palace exterior, but you might as well see the palace interior if you are there. Near the parking area, there are shops where you can purchase your ticket to tour the palace, buy a souvenir or a snack. The Schloss Linderhof Hotel is there as well, but I would rather stay in Oberammergau.
Fussen
After spending the morning at Linderhof, we travel west for about an hour through winding mountain roads to the town of Fussen just north of the Austria border. Our hockey tours often go to Fussen to play at the BLZ Arena or Bundesleistungszentrum, which ever you prefer. The main arena is a fabulous structure with windows installed above the seating area offering natural light into the building and onto the ice surface. The hometown team, EV Fussen, nicknamed the Leopards, play in the U20 Deutsche Nachwuchsliga II. The BLZ complex also has a second arena, and surprisingly, a curling rink.
Fussen is at one end of the Romantic Road which is a 350 km tourist route with interesting towns, villages and sights. Wurzburg, in wine country, is at the other end and the medieval walled town of Rothenburg, just south of Wurzburg, is one the must stops on the road.
We will stop in Fussen for a couple of hours to explore the old town and have time for lunch. Fussen is an underappreciated town with medieval walls, baroque churches, a former Benedictine Abbey (St. Mang's) and a museum with historical music instruments including violins and lutes. The interesting Fussen Castle has the unfortunate luck of being located on a few kilometers from one of the most famous castles in the world and gets no respect. With just a couple of hours in Fussen I'm walking directly to the old town's pedestrian friendly cobblestone streets to find a nice place to have lunch. I don't have a big sweet tooth, but I will try to make time to slip over to the Hotel Schlosskrone's Konditorei Kurcafe for a nice dessert. The hard part at the pastry shop is deciding which one to have.
Hohenschwangau Castle
Just a few kilometers from Fussen, you will find one of Germany's top attractions- the Neuschawanstein Castle. When you arrive to the parking place, you will immediately see a mustard colored castle that is not as famous, named Hohenschwangau. King Maximillian II of Bavaria, Ludwig's father, rebuilt this 19th century castle on the ruins of a previous castle which had been partially destroyed in various wars. The castle was restored to its original plans and became the summer residence of the royal family and a young Ludwig. The castle, which is now often overlooked by the larger Neuschwanstein Castle, can be toured along with the Museum of the Bavarian Kings. Unfortunately, our schedule does not allow time for it.
Neuschwanstein Castle
Our goal today is to see the Neuschwanstein Castle before it closes. It's a good idea to reserve your time online prior to arriving, especially in the busy season from May to September. After getting your ticket and tour time at the ticket office, you must get up to the castle courtyard on your own in time to join your tour. There are three ways to get up to the castle from the town; a walking path up to the castle that can take 20-30 minutes, horse carriages that take you most of the way up to the castle, and a shuttle bus that takes you up to the Mary's Bridge (Marien Brucke). We will take the shuttle bus which costs a couple of Euros to the Mary's Bridge drop off. The Mary's Bridge offers a fantastic panoramic view of the castle and the valley below. Tourists flock here prior to or after touring the castle to take their most prized photo of the day.
After taking our photo, we still have to walk from the Mary's Bridge on a paved path to the castle courtyard to join our English tour which takes about 35 minutes and ends, as most tours do, in a souvenir shop.
Despite its medieval look, Neuschwanstein was built in the 19th century and served no defensive purpose. It was built for one man, King Ludwig II of Bavaria, but unfortunately, he only spent eleven nights there. The original castle name was New Hohenschwangau Castle but was changed to Neuschwanstein Castle after Ludwig's death. Neuschwanstein literally means "New Swan Castle" and was named after a character in one of Wagner's operas, the Swan Knight.
In addition to being a big admirer of the French King Louis XIV, Ludwig was a big fan of the renowned composer Richard Wagner and was his patron. Many rooms in the castle were inspired by other characters in his operas, but sadly, Wagner never got a chance to see the castle as he died before its completion. The singer's hall which occupies the entire third floor is adorned with characters from Wagner's operas. The amazing woodwork in Ludwig's bedroom took fourteen carpenters four years to complete. You will find that there is no throne room in the castle for Ludwig as the Throne Hall had not been completed by the time of his death. Although the fairy tale castle is one of the most photographed buildings in the world, tourists are not allowed to take photos inside the castle.
After our tour, we can slowly make our way down to the parking area and make our 45-minute drive back to Oberammergau where we can have dinner and enjoy the evening at an outdoor patio. Maybe tonight we will go to the Ammergauer Maxbräu in the Hotel Maximillian where they brew their own beer. That concludes a great day in the Bavarian Alps.
Explore Europe With Us
Azorcan Global Sport, School and Sightseeing Tours have taken thousands to Europe on their custom group tours since 1994. Visit azorcan.net to see all our custom tour possibilities for your group of 26 or more. Individuals can join our "open" signature sport, sightseeing and sport fan tours including our popular Canada hockey fan tours to the World Juniors. At azorcan.net/media you can read our newsletters and listen to our podcasts.
Images compliments of Paul Almeida and Azorcan Tours.
Flames trying to shake off 'worst' playoff effort in 4-1 loss to Oilers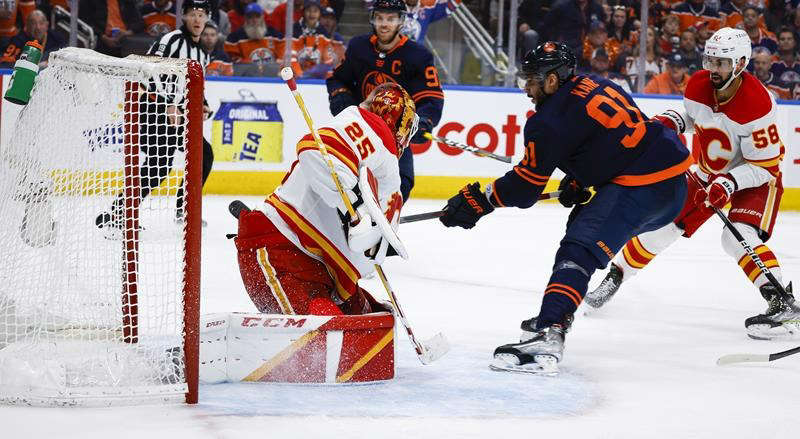 EDMONTON — If the Calgary Flames thought their second-round series was going to be a cakewalk after scoring nine goals in the opening game, they forgot the firepower of their opponent.
Evander Kane had a natural hat trick in the second period, Leon Draisaitl had four assists and Connor McDavid had three helpers to put him at 23 points in just 10 games, as the Edmonton Oilers cruised to a 4-1 win Sunday to take a 2-1 lead in the Battle of Alberta series after losing the first game 9-6.
Flames defender Rasmus Andersson felt is was easily his team's worst effort of the series.
"Yeah, probably. For sure that second period, at least," he said. "You're never happy when you play like that and you lose the second period 4-0. We left (goalie Jacob Markstrom) out to dry there one too many times."
McDavid became the first player in NHL history to record nine multi-point games in the first 10 games of the playoffs and has been a constant thorn in the Flames' side to this point.
"He had another, what, three or four-point night?" Andersson said. "He played really well today and we just have to find a way to stop him together."
It certainly wasn't just McDavid, as Draisaitl set an NHL playoff record as well, becoming the first player to ever record four assists in one period.
"They haven't played at home in this round yet and they were going to come out hard and really play with a lot of purpose in their game, a lot of speed, and they did," Flames head coach Darryl Sutter said.
The Flames can take solace that they were also down 2-1 in their opening-round series against the Dallas Stars and came back to win in seven games.
"They have home-ice advantage right now. We've got to win one game here to get it back," said Flames forward Matthew Tkachuk. "We could've lost 10-0 tonight. We could've lost 1-0 in overtime. It's the same result. We were in this position last series. It's not that hard of a recipe to figure out here. We've just got to win one game and get the series tied and go back home."
"That's the beauty of the playoffs, I guess — it's a new game in a day-and-a-half and we're excited for that," Andersson added. "Now we flip the page, we move on."
Game 4 takes place on Tuesday in Edmonton.
This report by The Canadian Press was first published May 22, 2022.
Shane Jones, The Canadian Press
Kane, McDavid, Draisaitl lead Oilers over Flames 4-1 to take 2-1 series lead
EDMONTON — Evander Kane didn't have a team four months ago.
The controversial winger lugging around plenty of off-ice baggage was confident of an NHL return at some point. He just didn't know when or where.
Now he's filling the net alongside two of hockey's best.
Kane scored a natural hat trick during an electric six-minute span and Connor McDavid provided more magic with three assists in another dominant performance as the Edmonton Oilers downed the Calgary Flames 4-1 on Sunday to take a 2-1 lead in their second-round playoff series.
I'm just happy to be part of this group," said Kane, who had his contract terminated by the San Jose Sharks in January before signing on in the Alberta capital. "Just trying to do my part."
McDavid, meanwhile, now has 23 points (six goals, 17 assists) through 10 playoff games this spring. The only players in post-season history with more over the same span are Wayne Gretzky (29 in 1983 and 25 in 1985), Mario Lemieux (25 in 1992) and Rick Middleton (23 in 1983).
"He's been on fire in the playoffs and has taken his game to the next level," Kane said. "He's not just doing it on the scoresheet. That's what's allowing him to really showcase his skill. He's physical, he's involved. A dominant force."
Leon Draisaitl, meanwhile, became the first player in league history to register four assists in a playoff period by setting up each of the home side's goals in a frantic second as the Oilers' top line combined for 10 points. Zach Hyman had the other goal for Edmonton.
"(Draisaitl) has been really good for our group," Kane said of a teammate sitting second behind McDavid in the overall playoff scoring race with 19 points despite battling through a suspected injury.
"Seems to find another level each and every night."
Mike Smith, who was briefly pulled from the action by the league's independent concussion spotter midway through the third after getting clobbered into the boards by Milan Lucic, made 32 saves for the victory.
Oliver Kylington replied for Calgary, while Jacob Markstrom allowed four goals on 34 shots before getting the hook behind a Flames group that has been outscored 8-1 since taking a 3-1 lead in the second period of Game 2. Dan Vladar made seven saves in relief.
"We lose the second period 4-0," Calgary defenceman Rasmus Andersson said. "We let one guy (McDavid) dominate."
The Oilers will look to take a 3-1 stranglehold on the best-of-seven Battle of Alberta — the first post-season meeting between the provincial rivals in 31 years — Tuesday night back at Rogers Place.
The first playoff contest in Edmonton to feature the Oilers and Flames since April 14, 1991, when Theo Fleury scored in overtime of Game 6 to spark a wild and memorable celebration, the Oilers exploded for those four goals in just over 12 minutes in the middle period, including Kane's second hat trick of the month.
Hyman opened the scoring with his sixth of the post-season 52 seconds after the restart following a 21-shot Edmonton first off a setup from Draisaitl and McDavid to ignite the crowd inside and outside the raucous, packed-to-the rafters arena.
"I think we had a lot of our younger guys that haven't been in this situation before (and) were a little bit intimidated by the atmosphere," Calgary head coach Darryl Sutter said.
Kane scored his first of the night at 6:58 off a feed from Draisaitl after the Flames turned the puck over at the offensive blue line.
He then pushed the lead to 3-0 on an outrageous McDavid rush after stepping past Calgary defenceman Noah Hanifin like he wasn't even there just 53 seconds later.
"We've let one guy beat us a few nights now," Flames forward Matthew Tkachuk said of McDavid's mastery.
"Back to the drawing board and figure out a way to stop him."
Smith made a great stop on a Johnny Gaudreau breakaway later in the period before also denying Tkachuk.
"Just trying to make saves for our group," said the 40-year-old goaltender, who spent a big chunk of the season out injured. "Trying to stay as poised as possible."
Kane completed his hat trick — the seventh-fastest in post-season history — with his 10th goal of the 2021-22 playoffs at 12:58 on a 2-on-1 with McDavid before fans littered the ice with headgear.
The 30-year-old Vancouver native is just the third Edmonton player to score three straight goals in a post-season game, joining Gretzky (1983) and Petr Kilma (1991).
After his contract was voided by San Jose, Kane signed on with his fourth NHL team despite plenty of questions about his past — from suspensions due to COVID-19 protocol violations, a bankruptcy and self-confessed gambling problems.
The biggest headlines from his personal life, however, were related to allegations of abuse lodged by his former wife, which were not proven in court. Kane has custody of the former couple's daughter.
"I didn't know Evander Kane at all," said Edmonton interim head coach Jay Woodcroft, who replaced the fired Dave Tippett in February. "What I've learned is he is a hockey player with really, really good habits.
"There's a reason why he finds success."
Markstrom, who allowed 11 combined goals in Games 1 and 2 after posting a .941 save percentage in the opening round against the Dallas Stars, got the hook in favour of Vladar to start the third with the Flames turning their attention to Game 4.
Seven points clear of Edmonton in the standings to top the Pacific Division and minus injured defenceman Chris Tanev (undisclosed) for a fourth straight contest, Calgary got a power play early in the final period looking for a spark, but Smith was sharp at every turn.
Lucic subsequently ran over the veteran netminder behind the Oilers' net midway through the third to ignite a melee involving all 10 skaters.
"When you're getting run through the end wall and you're not expecting it … it's not an ideal situation," Smith said.
"A play out of frustration, running our goalie," added Kane.
Smith was removed by the spotter in favour of Koskinen, who didn't have to make a save in just over four minutes of action, before Edmonton's starter returned to a huge ovation after re-emerging from the locker room.
Kylington got a consolation goal for the visitors — his first of the playoffs — with under five minutes to go in regulation.
The Oilers fell behind early in both games at Calgary's Scotiabank Saddledome, but following a wild 9-6 loss in the opener, rebounded with a 5-3 comeback victory two nights later to even the series.
Edmonton had a much better start Sunday, including Brett Kulak's point shot that leaked through Markstrom and hit post before being cleared.
The Flames had hoped to keep the action at 5-on-5 as much as possible after McDavid, Draisaitl and the Oilers took advantage of power play, short-handed and four-on-four situations in Game 3, but took two penalties to Edmonton's one in the first.
McDavid, who seemed to have the puck all night, went on one of his jaw-dropping rushes during his team's second man advantage, but Markstrom was there to deny the Oilers captain in what was a sign of things to come.
"Good to come back home and play these guys on our home ice," Kane said. "A good win for our group."
And one he probably didn't envision being part of not that long ago.
This report by The Canadian Press was first published May 22, 2022.
___
Follow @JClipperton_CP on Twitter.
Joshua Clipperton, The Canadian Press