My European Favourites – One Day In The Bavarian Alps
My European Favourites – One Day In The Bavarian Alps
My favourite area of Germany is Bavaria. It's the largest state, about one fifth the size of the country, and is located in the south-east of Germany. Bordering the Czech Republic and Austria, the state's capital Munich is an easy place to fly into, and it is a great city to explore and enjoy, especially during Oktoberfest.
Oberammergau, Germany
The Bavarian Alps are about an hour drive south from Munich, and one of my favourite places to stay is in the town of Oberammergau. You may have heard of the town as it is well known worldwide for its performance of the "Passion Play," which is performed in the aptly named, Passion Play Theatre. In 1633, while the plague was rampant in Europe, the villagers promised to perform the play every ten years if no further deaths from the plague occurred in Oberammergau. The play details the suffering, death and resurrection of Christ. Their prayer was answered, and they kept their promise with the first play staged in 1634. The most recent performance was supposed to be in 2020, but due to the covid-19 pandemic, it has been moved to 2022.
Oberammergau is a compact place easily explored on foot. The Bavarian State Woodcarving School is located there, and there are shops where you can purchase everything from wooden toys to elaborate woodcarvings, including those of religious saints and crucifixes. As you walk through the town, you will see many buildings with painted frescoes (Lüftlmalerei) on their exterior walls with scenes from fairy tales, Bavarian folk themes, religious scenes and decorations that imitate architectural elements.
To be able to accomplish our sightseeing today we need to start with an early breakfast at one of the local hotels. One of my favourites is the Hotel Wittlesbach which is located right in the town centre and has been operated and owned by the Ternes family for many years. The hotel is full of the Bavarian charm you would expect, and the breakfast they offer is very good. We have stayed there many times over the years, and our groups love the hotel and location.
Mad King Ludwig II of Bavaria
Linderhof Palace is only a 15-minute drive away from Oberammergau and is the smallest of the three places or castles built by King Ludwig II of Bavaria. The Kingdom of Bavaria existed from 1805 until 1918, and the Ludwig's Wittelsbach family ruled during the kingdom's entire existence. In 1864, Ludwig became king at the age of 18. He had little interest in politics and soon began to spend his own wealth on personal projects, like three fairy tale palaces or castles. His spending and accumulating debt became such a concern by Bavaria's political elite that they had a medical commission declare him insane and
incapable of reigning. A day later, he was on a walk with his psychiatrist, and they were both found dead; presumably drowned and floating in Lake Starnberg. Now that you know some of the story of King Ludwig II, we can talk about two of the three places or castles he built, Linderhof Palace and Neuschwanstein Castle. The third and largest building, the New Herrenchiemsee Palace, which will not be part of our day, was built on an island in Lake Chiemsee and was to be a copy of Versailles in France, but it was never completed.
Linderhof Palace
Linderhof is the only palace that King Ludwig II lived to see completed, and it is located near where his father, King Maximilian II, had the royal hunting lodge. Ludwig went there many times as a child and was very familiar with the location in the Graswang Valley near Ettal.
Ludwig idolized the French Sun-King Louis XIV and wanted to emulate his grand palaces in Bavaria. Throughout the Linderhof Palace, you will find sun decorations as an homage to his idol and as a symbol of royal absolute power. Linderhof was initially intended to be Ludwig's Versailles, but due mainly to an unsuitable sized area, it became a smaller project which was completed in 1886. During his construction of Linderhof, Ludwig purchased the much larger Herrenwörth island on Lake Chiemsee, and it became the new site to build his Versailles as Herrenchiemsee Palace.
The Linderhof Park is fun to explore and has a mixture of different garden designs, cascading waterfalls, fountains, and a large pond with a gilt fountain that jets water 25 meters in the air. As you walk through the park, you will find a swan pond, the Moroccan House, the Terrace gardens, a Temple of Venus, a Neptune fountain, a Royal Lodge, a chapel, a music pavilion, a Moorish kiosk, various parterres (level gardens with symmetrical patterns) and a grotto. The Venus grotto is an artificial grotto and theatre where Ludwig could sit in his small boat as it was gently rocked by a wave machine and watch his favourite operas by Wagner.
A ticket is required to tour the palace with a guide, but there are really only four rooms that served a specific purpose. The first room is the "Hall of Mirrors" which served as the main living room. Then there is Ludwig's bed chamber, the dining room with a disappearing dumb-waiter, and the small audience chamber which was used by Ludwig as a study and not a room where he would see people. There are two "Tapestry Chambers" which serve no real purpose, and there are no real tapestries on the walls, but instead, there are canvas paintings made to imitate tapestries.
A visit to Linderhof is enjoyable mainly for the gardens and palace exterior, but you might as well see the palace interior if you are there. Near the parking area, there are shops where you can purchase your ticket to tour the palace, buy a souvenir or a snack. The Schloss Linderhof Hotel is there as well, but I would rather stay in Oberammergau.
Fussen
After spending the morning at Linderhof, we travel west for about an hour through winding mountain roads to the town of Fussen just north of the Austria border. Our hockey tours often go to Fussen to play at the BLZ Arena or Bundesleistungszentrum, which ever you prefer. The main arena is a fabulous structure with windows installed above the seating area offering natural light into the building and onto the ice surface. The hometown team, EV Fussen, nicknamed the Leopards, play in the U20 Deutsche Nachwuchsliga II. The BLZ complex also has a second arena, and surprisingly, a curling rink.
Fussen is at one end of the Romantic Road which is a 350 km tourist route with interesting towns, villages and sights. Wurzburg, in wine country, is at the other end and the medieval walled town of Rothenburg, just south of Wurzburg, is one the must stops on the road.
We will stop in Fussen for a couple of hours to explore the old town and have time for lunch. Fussen is an underappreciated town with medieval walls, baroque churches, a former Benedictine Abbey (St. Mang's) and a museum with historical music instruments including violins and lutes. The interesting Fussen Castle has the unfortunate luck of being located on a few kilometers from one of the most famous castles in the world and gets no respect. With just a couple of hours in Fussen I'm walking directly to the old town's pedestrian friendly cobblestone streets to find a nice place to have lunch. I don't have a big sweet tooth, but I will try to make time to slip over to the Hotel Schlosskrone's Konditorei Kurcafe for a nice dessert. The hard part at the pastry shop is deciding which one to have.
Hohenschwangau Castle
Just a few kilometers from Fussen, you will find one of Germany's top attractions- the Neuschawanstein Castle. When you arrive to the parking place, you will immediately see a mustard colored castle that is not as famous, named Hohenschwangau. King Maximillian II of Bavaria, Ludwig's father, rebuilt this 19th century castle on the ruins of a previous castle which had been partially destroyed in various wars. The castle was restored to its original plans and became the summer residence of the royal family and a young Ludwig. The castle, which is now often overlooked by the larger Neuschwanstein Castle, can be toured along with the Museum of the Bavarian Kings. Unfortunately, our schedule does not allow time for it.
Neuschwanstein Castle
Our goal today is to see the Neuschwanstein Castle before it closes. It's a good idea to reserve your time online prior to arriving, especially in the busy season from May to September. After getting your ticket and tour time at the ticket office, you must get up to the castle courtyard on your own in time to join your tour. There are three ways to get up to the castle from the town; a walking path up to the castle that can take 20-30 minutes, horse carriages that take you most of the way up to the castle, and a shuttle bus that takes you up to the Mary's Bridge (Marien Brucke). We will take the shuttle bus which costs a couple of Euros to the Mary's Bridge drop off. The Mary's Bridge offers a fantastic panoramic view of the castle and the valley below. Tourists flock here prior to or after touring the castle to take their most prized photo of the day.
After taking our photo, we still have to walk from the Mary's Bridge on a paved path to the castle courtyard to join our English tour which takes about 35 minutes and ends, as most tours do, in a souvenir shop.
Despite its medieval look, Neuschwanstein was built in the 19th century and served no defensive purpose. It was built for one man, King Ludwig II of Bavaria, but unfortunately, he only spent eleven nights there. The original castle name was New Hohenschwangau Castle but was changed to Neuschwanstein Castle after Ludwig's death. Neuschwanstein literally means "New Swan Castle" and was named after a character in one of Wagner's operas, the Swan Knight.
In addition to being a big admirer of the French King Louis XIV, Ludwig was a big fan of the renowned composer Richard Wagner and was his patron. Many rooms in the castle were inspired by other characters in his operas, but sadly, Wagner never got a chance to see the castle as he died before its completion. The singer's hall which occupies the entire third floor is adorned with characters from Wagner's operas. The amazing woodwork in Ludwig's bedroom took fourteen carpenters four years to complete. You will find that there is no throne room in the castle for Ludwig as the Throne Hall had not been completed by the time of his death. Although the fairy tale castle is one of the most photographed buildings in the world, tourists are not allowed to take photos inside the castle.
After our tour, we can slowly make our way down to the parking area and make our 45-minute drive back to Oberammergau where we can have dinner and enjoy the evening at an outdoor patio. Maybe tonight we will go to the Ammergauer Maxbräu in the Hotel Maximillian where they brew their own beer. That concludes a great day in the Bavarian Alps.
Explore Europe With Us
Azorcan Global Sport, School and Sightseeing Tours have taken thousands to Europe on their custom group tours since 1994. Visit azorcan.net to see all our custom tour possibilities for your group of 26 or more. Individuals can join our "open" signature sport, sightseeing and sport fan tours including our popular Canada hockey fan tours to the World Juniors. At azorcan.net/media you can read our newsletters and listen to our podcasts.
Images compliments of Paul Almeida and Azorcan Tours.
Anholt tabbed to lead Canada's world junior squad after success with U18 team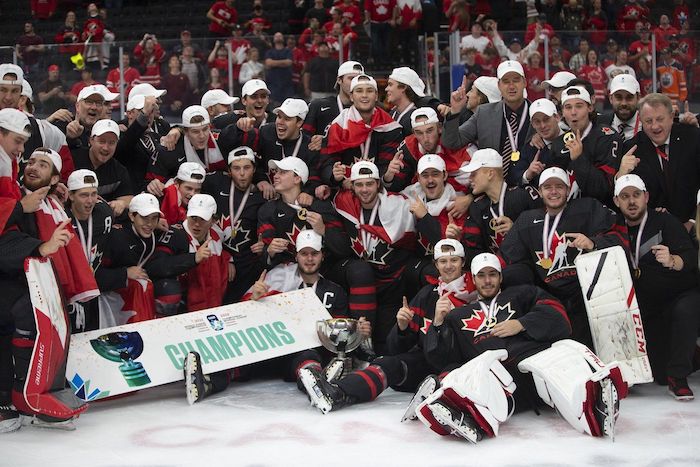 Canada celebrates the win over Finland IIHF World Junior Hockey Championship gold medal game action in Edmonton on Saturday August 20, 2022. THE CANADIAN PRESS/Jason Franson
Calgary – Peter Anholt has been tasked with helping Canada win a third straight world junior hockey championship after two successful seasons leading the country's under-18 program.
Anholt, who heads the front office of the Western Hockey League's Lethbridge Hurricanes, is one of three Canadian Hockey League general managers tabbed by Hockey Canada to oversee its men's under-17, under-18 and under-20 programs in 2023-24.
He takes over the world junior program from Ottawa 67's GM James Boyd, who helped Canada win two titles over the span of six months.
Canada beat Finland 3-2 in overtime to win the 2022 championship in Edmonton, which was held in August after being postponed from its traditional December/January slot due to the COVID-19 pandemic.
The Canadians repeated with a 3-2 overtime win over Czechia on Jan. 5 in Halifax.
The 2024 world junior championship begins Dec. 26 in Goteborg, Sweden.
Hockey Canada also announced Wednesday that Dave Brown of the Ontario Hockey League's Erie Otters will guide the men's under-17s this season, while Cam Russell of the Quebec Major Junior Hockey League's Halifax Mooseheads will take over Anholt's former position with the U18 team.
The three will work alongside Hockey Canada's hockey operations staff as part of the organization's "Program of Excellence" management group.
Duties include assisting with player and coach selection, and providing input during camps and tournaments.
Brown will lead the U17 team through the 2023 World Under-17 Hockey Challenge. Canada lost 2-1 to the United States in the final of last year's event in Langley and Delta, B.C.
Russell, meanwhile, will look to help Canada to a second consecutive Hlinka Gretzky Cup title. Canada won its 23rd gold medal at the best-on-best U18 tournament last year in Red Deer, Alta., with Anholt at the helm.
Canada did not participate in the 2021 event due to the pandemic, but won that year's U18 worlds.
"All three individuals bring a wealth of CHL experience to our program," Scott Salmond, Hockey Canada senior vice-president of hockey operations, said in a statement. "We look forward to having them work alongside our athletes and staff while leading our men's national teams next season."
This report by The Canadian Press was first published March 22, 2023.
Hearings begin before Supreme Court on federal environmental impact assessment law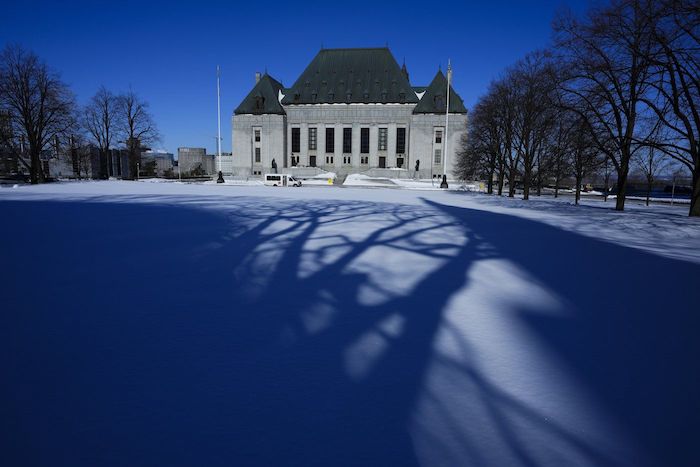 The Supreme Court of Canada is pictured in Ottawa on Friday, March 3, 2023. Arguments are underway in a long-awaited case over the federal Impact Assessment Act. THE CANADIAN PRESS/Sean Kilpatrick
Ottawa (CP) – Federal lawyers defended the government's Impact Assessment Act in the Supreme Court of Canada on Tuesday as a two-day hearing started to determine the future of how the country weighs the environmental costs of economic development.
Several of the seven-member panel of justices hearing the appeal of an Alberta decision that found the act unconstitutional quizzed Ottawa's representatives about whether the legislation is too broad.
Justice Malcolm Rowe said the act allows Ottawa to use narrow concerns over matters such as fisheries to gain control over a wide variety of unconnected issues.
"The feds get their hook in under some head of power and once the hook is in, they can use that for any purpose they want," he said.
That was one of the main concerns expressed by Alberta when it asked the province's Appeal Court for a reference on the issue.
The arguments the top court is hearing are a reference case only and its ruling will only be advisory.
Rowe said the act gives Ottawa the power to use areas of federal jurisdiction to force unconnected policies on other governments.
"Isn't the (assessment) decision really not based on the impact on federal jurisdiction, which is fish or birds or whatever, it's the broad policy of the government of Canada used in a discretionary way to say thumbs up or thumbs down on any project they want anywhere in the country?"
No, said federal lawyer Chris Rupar. He said the act forces governments to look at both positive and negative effects of a development and decide whether, on balance, it's in the public interest.
"There may be an effect which is negative, but there could also be other effects," he said. "The whole picture has to be taken into account in the public interest."
Rupar said it's not unusual for environmental assessment legislation to address a broad range of issues. Alberta's provincial version of such legislation does, he said.
Rupar said the federal law contains safeguards to ensure that it only captures development proposals that would generate "significant "impacts.
"It's not all projects or physical activities that are covered," he said. "There are thresholds."
Judicial review remains open to proponents that feel their project was wrongly reviewed, he said.
Dayna Anderson, Rupar's co-counsel, argued the legislation is needed to ensure national consistency in environmental standards.
Disallowing the bill, she said, "would create provincial enclaves and completely and totally immunize provincial resource development from federal regulation in any area, no matter the magnitude of the federal effects it would cause."
The law was defended by 11 interveners from environmental and Indigenous groups. Several pointed out there's a long string of precedents giving the federal government the right to make national environmental rules.
"Alberta and the interveners in support of its position would have this court upend decades of settled law," said Anna Johnston of the West Coast Environmental Law Association.
Others pointed out the law lives up to Canada's responsibility to Indigenous people.
"It would be both illogical and perverse if Parliament could control or limit Indigenous people — their rights and interests — but didn't have the ability to protect those rights and interests," said Mae Price, representing Alberta's Mikisew Cree First Nation.
John Gailus, representing the Lummi First Nation in British Columbia, argued the act is "empowering" for Indigenous people because it allows for the consideration of cumulative effects of development.
Joseph Castrilli of the Canadian Environmental Law Association said the law complements the federal carbon price, which the Supreme Court has already supported, as well as laws controlling toxic substances.
He argued the federal government's power to regulate trade and commerce also makes the law constitutional. Creating what he called "pollution havens" in one province can harm the others, Castrilli said.
"Intra-provincial activity capable of causing adverse interprovincial and international environmental and economic effects does affect trade and commerce because it can harm trade and commerce."
The hearing is expected to go through Wednesday, when opponents of the bill are to address the court. Eight out of 10 provinces oppose the act, as well as other groups including the Indian Resource Council and the Canadian Taxpayers Federation.
This report by The Canadian Press was first published March 21, 2023.
— By Bob Weber in Edmonton