My European Favourites – Stockholm – Djurgården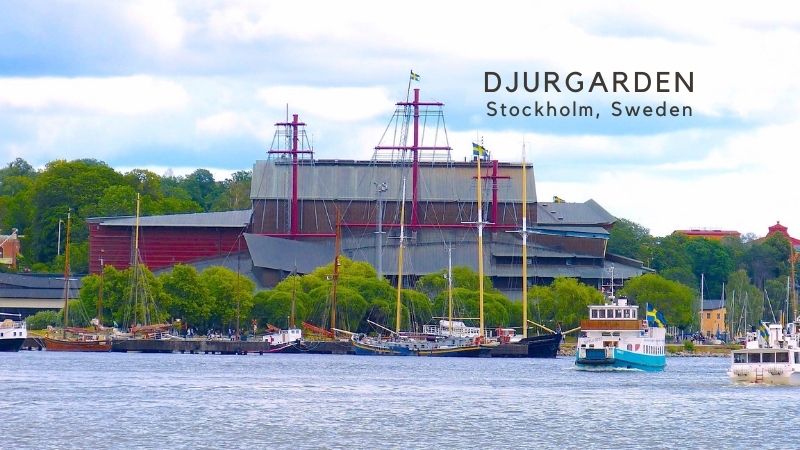 If there was one city in northern Europe that I could easily live in, I think it would be Stockholm.
The Swedish capital has over two million inhabitants and over 50 bridges connecting its fourteen islands. The city often ranks highly on the global "quality of life index" and has over one hundred museums, plus a lively culinary, theatre, music and sports scene.
If you enjoy boating, sailing and watersports, Stockholm has Lake Mälaren with more than 1,000 islands to the west. To the east of the city centre, the Saltsjön (Salt Bay) has a lengthy and picturesque archipelago with over 30,000 islands leading all the way to the Baltic Sea. With so many cottages and activities on these islands, they are a perfect getaway from the city hustle and bustle.
Stockholm's old city centre is on the island of Gamla Stan. The area is full of colorful houses from the 17th and 18th centuries and narrow cobblestoned streets with interesting shops, cafes, pubs and bars. The Royal Palace, official residence of the Swedish monarch, can be toured and the popular changing of the guard is accompanied by a military band in the summer months.
Royal Djurgården
Stockholmers enjoy a vast green space right in their city center on the island of Djurgården. The island is Scandinavia's number one tourist attraction and a favourite for nature lovers, walkers, runners, hikers and cyclists. In addition to being loved for its green spaces, it is famous for having four royal palaces, popular museums, cafes, restaurants and a large amusement park.
The history of Royal Djurgården goes back to 1452 when King Karl Knutsson purchased the southern part of the island. It was a royal hunting ground for many years and over time was opened to the public and expanded.
In 1995, King Carl Gustaf XVI officially opened the world's first national city park comprising the Ulriksdal, Haga, Brunnsviken and Djurgården districts. The 27 square kilometer park is eight times the size of New York's Central Park.
On Djurgården, you can see over one hundred bird species and eight hundred varieties of flowering plants. You can easily spend a few days in Stockholm just visiting Djurgården. Here are my favourite things to do on the island.
When you enter Djurgården from the west on the Djurgårdsbron bridge, you will find the Royal Djurgården Visitor Center. The center rents bikes to explore the island, and there is a ten to twelve kilometer path that goes around the island. They also have kayaks, canoes or pedal boats. If you want to paddle all the way around the island, expect it to take about two to three hours.
The Sjöcaféet café is located by the visitor's center and has a nice outdoor terrace overlooking the water. They have a reasonably priced menu with a variety of Swedish dishes plus they make a nice pizza. If you want a quick bite you may want to try the Korv sausage stand for a hot dog or their ice cream stand.
Vasa Museum
From the visitors' center, the Vasa ship museum is easy to spot. It's located right behind the imposing Nordiska Museum and the roof of the museum has a copper roof with ship's masts coming through it. The masts depict the actual height of the Vasa when it was in the harbour over 300 years ago.
King Gustavus Adolphus ordered the massive warship built in 1626 during a wartime period against Poland-Lithuania. To match the kings' prestige, power and ambitions, the ship was extravagantly decorated and armed with 64 cannons on two gundecks. The immense Vasa must have been a stunning sight with all the bronze cannons, ornate carvings, painted sculptures, large masts, sails set and flags flying. The problem, which was discovered during construction, was that she was unstable and top heavy.
Despite this knowledge, on the afternoon of August 10, 1628, the Vasa set sail from the quay in the Old Town. She sailed a few hundred meters, then a squall, or sudden gust of wind, forced the Vasa to list heavily to one side, but she returned upright. Moments later, a second squall listed the boat so heavily that water started to pour in through the gunports. As the water seeped into the ship, it was too much to recover from; the Vasa capsized and sunk. About 30 of the crew and passengers drowned in the incident. The sinking of the Vasa in Stockholm's harbour on her maiden voyage must have been quite shocking for the thousands of spectators who lined the sea front for a glimpse of the new ship.
Shortly after it sunk, efforts were made to retrieve the valuable bronze cannons, and over 50 were recovered. As the years passed, a few unsuccessful salvage attempts were made but eventually the exact location of the wreck was lost. Amateur archaeologist Andres Franzen, after many years of searching, found it again in 1956. Plans were made and the Vasa was finally raised to the surface in 1961 after laying in the "Salt Sea" for 333 years.
For over 20 years, the ship was housed in a temporary structure while it underwent examination and treatment to preserve it. In the early 1980's, the Swedish government decided to build a permanent museum and numerous architects submitted designs. A final design was chosen, and the Vasa Museum opened in 1990, displaying the almost intact 17th century warship. It is the most visited museum in Scandinavia with around 1.5 million visitors per year.
When you walk in to the museum, the sight of the ship is overwhelming. The ship can be seen from six different levels and there are exhibits, maps and models explaining how the ship was built, it's sailing route and eventual sinking. The museum explains the situation in Sweden during the 17th century that required the Vasa ship to be built, and has a movie theatre with a film on the ship recovery.
The Vasa museum is an absolute must if you are in Stockholm for any length of time.
Nordiska Museum
As you emerge from the Vasa Museum, you will face the back of an impressive stone building, the Nordiska Museum. It stands on an area called Lejonslätten, the lions plain, because Queen Kristina, daughter of King Gustavus who had the Vasa ship built, placed lions here during her reign in the 17th century. The Renaissance style building which was partially built for Stockholm's World´s Expo in 1897 is the home of Sweden's largest cultural and historical museum.
The Nordiska museum was founded in 1873 by Artur Hazelius, who also founded the nearby Skansen open air museum. When you enter the museum, you will see a large oak statue of King Gustav Vasa placed in the centre of an over 100 meter long open central hall with a ceiling that rises 24 meters. As you look up, you will see multiple stories surrounding the central hall.
The museum has over a million objects depicting the Nordic lifestyle and traditions from the 16th century to today. The collections of art, furniture, jewelry, fashion, glass, porcelain and interiors are interesting. The museum also has an area dedicated to the Sami, the only indigenous people in Sweden.
ABBA Museum
If you follow the main road in front of the Nordiska Museum, the Djurgårdsvågen, for about 300 meters, you will reach the entrance to the ABBA Museum. The Swedish pop group is known the world over, and their band's name is an acronym taken from the first letters in the band members first names, Agnetha Fältskog, Björn Ulvaeus, Benny Andersson, and Anni-Frid Lyngstad. They rose to fame in 1974 after winning the annual Eurovision Song Contest with the hit song 'Waterloo."
ABBA sold hundreds of millions of records worldwide during the 1970s and 1980s and were inducted into the Rock and Roll Hall of Fame in 2010. In 1999, the musical "Mama Mia!," which adapted ABBA's music, became a smash hit along with subsequent related films.
The ABBA Museum opened in 2013 and at the entrance you will get an audio tour device that is easy to use on the self guided tour. As you go through the museum, you just tap the audio pad, and the audio begins. Much of the audio is actually the band members telling stories of their lives before ABBA, how they met, how they wrote songs, how they became the iconic super group and some of the experiences they had along the way. There are interactive areas where you can sing their music or dance with them on stage.
The exhibits are well done including a recreation of the Polar Studio, where they recorded some of their music. There is a helicopter similar to the one used in the album cover ABBA ARRIVAL that you can sit in to recreate the photo. In the museum you will see gold records, archival film footage, interesting stage costumes and the caricature style ABBA dolls that were used in a music video called "The Last Video."
Before you leave, you enter the giftshop where you can get everything ABBA from souvenirs to posters, apparel and CDs. We all have listened or danced to ABBA songs over the years, and although I'm not a huge fan, the museum was very enjoyable.
Grona Lund
When you leave the ABBA Museum, you can't miss the sounds of the nearby Amusement Park.
In the late 1880s, on the south shore of Djurgården, nine acres were approved for the building of an amusement park. The park's design had to incorporate the existing houses and commercial buildings that were already on the property. Even though the park has a small footprint on the island, it has 30 different attractions including roller coasters, free fall rides, and the "Eclipse," one of the world's tallest swing rides. The "Insane" roller coaster lives up to its name as the cars flip and spin and you travel along. In addition to the rides for the thrill seekers, there are rides for young children, and carnival games where you can win prizes like huge chocolate bars.
Grona Lund often hosts rock and pop music concerts, including on the main stage in the middle of the park. Bob Marley performed at Grona Lund three times, including in 1980 when he drew 30,000 fans.
If you want a quick bite, there are about fifteen food stands offering a wide selection of items including candy, burgers, pizza, poke bowls, kebabs, gyros, churros, waffles, crepes and ice cream. If you prefer to sit and relax, there are over ten options including Mexican, BBQ and Asian restaurants and a Biergarten. Needless to say, you won't go hungry here.
The park is open from spring to late September and may be open during other dates including Halloween and the Swedish Autumn break. You can buy your tickets online in advance and get a pass that includes unlimited rides.
We have taken many youth hockey and ringette teams to Stockholm, and Grona Lund is always a hit with the kids and parents.
Skansen
If you are not into amusement parks, across the street from the Grona Lund is the slower paced Skansen open-air museum. In the late 1890s, the park was created to preserve traditions, customs and structures from different parts of Sweden prior to the industrial age. The park is much larger that Grona Lund, with over 75 acres, and it attracts over a million visitors per year.
Over 150 buildings were relocated to Skansen from throughout Sweden, and they range from simple farm structures to worskhops, school rooms and manor houses. As you walk through the small village that they have created, people in traditional dress are doing every day chores. If you enter the trade shops, you will see skilled craftsmen demonstrating their skills including bakers, tanners, silversmiths, shoemakers and glass blowers. In today's world, we take many essential products for granted that used to be made by hand in these small community work shops. To experience 19th century transportation, a 200 meter long funicular railway has been transporting people 35 meters up the north side of the Skansen hill since 1897.
Skansen's traditional Christmas market, festivals and folklore shows are very popular.
Skansen's relocated farms include domesticated animals like goats, pigs and horses. The park zoo contains over 75 species of the Nordic animals including bison, bears, seals, otters and moose. In addition to these Scandinavian natives, the zoo also features non-traditional animals like monkeys, peacocks, elephants and more.
Like Grona Lund, there are numerous options for fast food, cafes and restaurants. Taking time for a "fika" is an important Swedish custom. A fika is an opportunity to take time to share a coffee, and a little bite or a pastry, usually a cinnamon bun, with friends, colleagues or family.
A walk around the Skansen open-air museum on a nice sunny day is a great family activity.
More things to see and do in Djurgården
There are so many things to do in Djurgården. I listed some of my favourites, but you may enjoy visiting some of these options depending on your interests.
The Viking Museum opened in 2017 and it includes the interesting Ragnfrid's Saga Viking ride.
The Liljevalchs Konsthall is an art gallery and exhibition space opened in 1916.
The Prince Eugen's Waldemarsudde art museum is situated on a beautiful waterfront estate with a castle like mansion.
The Spritmuseum & The Absolut Art Collection is devoted to alcohol including Scandinavian Aquavit. After touring the museum, you can order a tasting tray of traditional spirits, Absolut vodkas or ciders.
Featuring 20th century Scandinavian and French art, the Thiel Gallery was established in 1905.
Junibacken is a children's centre inspired by the stories by the Swedish writer Astrid Lindgren.
Cirkus is a 1,650 person arena built in 1892 that used to hold the circus, but now it is mainly used for shows, concerts, performances, trade shows, meetings, parties and gala dinners.
On the north east of the island, you will find the Djurgården canal. The area across from the canal is Djurgårdsbrunn. Here you will find the Museum of Technology, the Police Museum, the Maritime Museum and more park space.
With so many activities and green space, you can see why Stockholmers love Djurgården. On you next trip to Sweden, be sure to set aside some time on your schedule to explore and enjoy it.
Explore Europe With Us
Azorcan Global Sport, School and Sightseeing Tours have taken thousands to Europe on their custom group tours since 1994. Visit azorcan.net to see all our custom tour possibilities for your group of 26 or more. Individuals can join our "open" signature sport, sightseeing and sport fan tours including our popular Canada hockey fan tours to the World Juniors. At azorcan.net/media you can read our newsletters and listen to our podcasts.
Images compliments of Paul Almeida and Azorcan Tours.
Read more of Paul's travel series – click here.
Flames trying to shake off 'worst' playoff effort in 4-1 loss to Oilers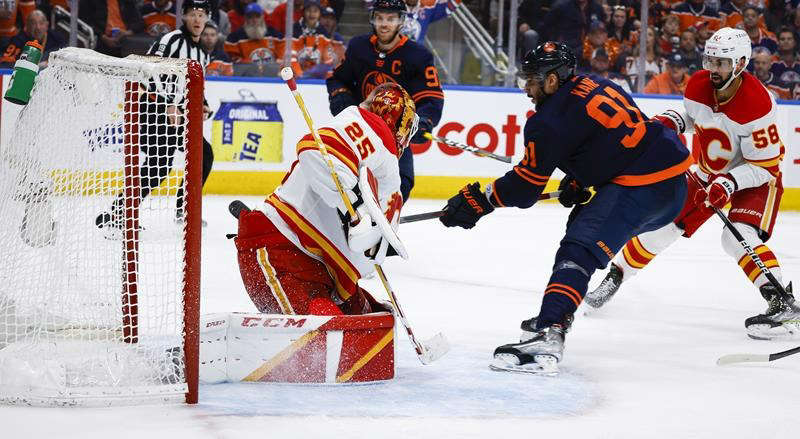 EDMONTON — If the Calgary Flames thought their second-round series was going to be a cakewalk after scoring nine goals in the opening game, they forgot the firepower of their opponent.
Evander Kane had a natural hat trick in the second period, Leon Draisaitl had four assists and Connor McDavid had three helpers to put him at 23 points in just 10 games, as the Edmonton Oilers cruised to a 4-1 win Sunday to take a 2-1 lead in the Battle of Alberta series after losing the first game 9-6.
Flames defender Rasmus Andersson felt is was easily his team's worst effort of the series.
"Yeah, probably. For sure that second period, at least," he said. "You're never happy when you play like that and you lose the second period 4-0. We left (goalie Jacob Markstrom) out to dry there one too many times."
McDavid became the first player in NHL history to record nine multi-point games in the first 10 games of the playoffs and has been a constant thorn in the Flames' side to this point.
"He had another, what, three or four-point night?" Andersson said. "He played really well today and we just have to find a way to stop him together."
It certainly wasn't just McDavid, as Draisaitl set an NHL playoff record as well, becoming the first player to ever record four assists in one period.
"They haven't played at home in this round yet and they were going to come out hard and really play with a lot of purpose in their game, a lot of speed, and they did," Flames head coach Darryl Sutter said.
The Flames can take solace that they were also down 2-1 in their opening-round series against the Dallas Stars and came back to win in seven games.
"They have home-ice advantage right now. We've got to win one game here to get it back," said Flames forward Matthew Tkachuk. "We could've lost 10-0 tonight. We could've lost 1-0 in overtime. It's the same result. We were in this position last series. It's not that hard of a recipe to figure out here. We've just got to win one game and get the series tied and go back home."
"That's the beauty of the playoffs, I guess — it's a new game in a day-and-a-half and we're excited for that," Andersson added. "Now we flip the page, we move on."
Game 4 takes place on Tuesday in Edmonton.
This report by The Canadian Press was first published May 22, 2022.
Shane Jones, The Canadian Press
Kane, McDavid, Draisaitl lead Oilers over Flames 4-1 to take 2-1 series lead
EDMONTON — Evander Kane didn't have a team four months ago.
The controversial winger lugging around plenty of off-ice baggage was confident of an NHL return at some point. He just didn't know when or where.
Now he's filling the net alongside two of hockey's best.
Kane scored a natural hat trick during an electric six-minute span and Connor McDavid provided more magic with three assists in another dominant performance as the Edmonton Oilers downed the Calgary Flames 4-1 on Sunday to take a 2-1 lead in their second-round playoff series.
I'm just happy to be part of this group," said Kane, who had his contract terminated by the San Jose Sharks in January before signing on in the Alberta capital. "Just trying to do my part."
McDavid, meanwhile, now has 23 points (six goals, 17 assists) through 10 playoff games this spring. The only players in post-season history with more over the same span are Wayne Gretzky (29 in 1983 and 25 in 1985), Mario Lemieux (25 in 1992) and Rick Middleton (23 in 1983).
"He's been on fire in the playoffs and has taken his game to the next level," Kane said. "He's not just doing it on the scoresheet. That's what's allowing him to really showcase his skill. He's physical, he's involved. A dominant force."
Leon Draisaitl, meanwhile, became the first player in league history to register four assists in a playoff period by setting up each of the home side's goals in a frantic second as the Oilers' top line combined for 10 points. Zach Hyman had the other goal for Edmonton.
"(Draisaitl) has been really good for our group," Kane said of a teammate sitting second behind McDavid in the overall playoff scoring race with 19 points despite battling through a suspected injury.
"Seems to find another level each and every night."
Mike Smith, who was briefly pulled from the action by the league's independent concussion spotter midway through the third after getting clobbered into the boards by Milan Lucic, made 32 saves for the victory.
Oliver Kylington replied for Calgary, while Jacob Markstrom allowed four goals on 34 shots before getting the hook behind a Flames group that has been outscored 8-1 since taking a 3-1 lead in the second period of Game 2. Dan Vladar made seven saves in relief.
"We lose the second period 4-0," Calgary defenceman Rasmus Andersson said. "We let one guy (McDavid) dominate."
The Oilers will look to take a 3-1 stranglehold on the best-of-seven Battle of Alberta — the first post-season meeting between the provincial rivals in 31 years — Tuesday night back at Rogers Place.
The first playoff contest in Edmonton to feature the Oilers and Flames since April 14, 1991, when Theo Fleury scored in overtime of Game 6 to spark a wild and memorable celebration, the Oilers exploded for those four goals in just over 12 minutes in the middle period, including Kane's second hat trick of the month.
Hyman opened the scoring with his sixth of the post-season 52 seconds after the restart following a 21-shot Edmonton first off a setup from Draisaitl and McDavid to ignite the crowd inside and outside the raucous, packed-to-the rafters arena.
"I think we had a lot of our younger guys that haven't been in this situation before (and) were a little bit intimidated by the atmosphere," Calgary head coach Darryl Sutter said.
Kane scored his first of the night at 6:58 off a feed from Draisaitl after the Flames turned the puck over at the offensive blue line.
He then pushed the lead to 3-0 on an outrageous McDavid rush after stepping past Calgary defenceman Noah Hanifin like he wasn't even there just 53 seconds later.
"We've let one guy beat us a few nights now," Flames forward Matthew Tkachuk said of McDavid's mastery.
"Back to the drawing board and figure out a way to stop him."
Smith made a great stop on a Johnny Gaudreau breakaway later in the period before also denying Tkachuk.
"Just trying to make saves for our group," said the 40-year-old goaltender, who spent a big chunk of the season out injured. "Trying to stay as poised as possible."
Kane completed his hat trick — the seventh-fastest in post-season history — with his 10th goal of the 2021-22 playoffs at 12:58 on a 2-on-1 with McDavid before fans littered the ice with headgear.
The 30-year-old Vancouver native is just the third Edmonton player to score three straight goals in a post-season game, joining Gretzky (1983) and Petr Kilma (1991).
After his contract was voided by San Jose, Kane signed on with his fourth NHL team despite plenty of questions about his past — from suspensions due to COVID-19 protocol violations, a bankruptcy and self-confessed gambling problems.
The biggest headlines from his personal life, however, were related to allegations of abuse lodged by his former wife, which were not proven in court. Kane has custody of the former couple's daughter.
"I didn't know Evander Kane at all," said Edmonton interim head coach Jay Woodcroft, who replaced the fired Dave Tippett in February. "What I've learned is he is a hockey player with really, really good habits.
"There's a reason why he finds success."
Markstrom, who allowed 11 combined goals in Games 1 and 2 after posting a .941 save percentage in the opening round against the Dallas Stars, got the hook in favour of Vladar to start the third with the Flames turning their attention to Game 4.
Seven points clear of Edmonton in the standings to top the Pacific Division and minus injured defenceman Chris Tanev (undisclosed) for a fourth straight contest, Calgary got a power play early in the final period looking for a spark, but Smith was sharp at every turn.
Lucic subsequently ran over the veteran netminder behind the Oilers' net midway through the third to ignite a melee involving all 10 skaters.
"When you're getting run through the end wall and you're not expecting it … it's not an ideal situation," Smith said.
"A play out of frustration, running our goalie," added Kane.
Smith was removed by the spotter in favour of Koskinen, who didn't have to make a save in just over four minutes of action, before Edmonton's starter returned to a huge ovation after re-emerging from the locker room.
Kylington got a consolation goal for the visitors — his first of the playoffs — with under five minutes to go in regulation.
The Oilers fell behind early in both games at Calgary's Scotiabank Saddledome, but following a wild 9-6 loss in the opener, rebounded with a 5-3 comeback victory two nights later to even the series.
Edmonton had a much better start Sunday, including Brett Kulak's point shot that leaked through Markstrom and hit post before being cleared.
The Flames had hoped to keep the action at 5-on-5 as much as possible after McDavid, Draisaitl and the Oilers took advantage of power play, short-handed and four-on-four situations in Game 3, but took two penalties to Edmonton's one in the first.
McDavid, who seemed to have the puck all night, went on one of his jaw-dropping rushes during his team's second man advantage, but Markstrom was there to deny the Oilers captain in what was a sign of things to come.
"Good to come back home and play these guys on our home ice," Kane said. "A good win for our group."
And one he probably didn't envision being part of not that long ago.
This report by The Canadian Press was first published May 22, 2022.
___
Follow @JClipperton_CP on Twitter.
Joshua Clipperton, The Canadian Press