In the Great White North, Canadian Hosers get Bronzed EH!
Canadian Hosers get Bronzed EH
Sometimes dreams do come true for Canadian Hosers. After a long eight-year journey, Second City Television, (SCTV) and Canada's most famous, "stubby" beer drinking, bacon eating, tuque wearing brothers, Bob and Doug McKenzie, played by Rick Moranis and Dave Thomas, now have two life sized bronzed statues install in downtown Edmonton's ICE District. Sadly, with no fanfare, no press release, a cancelled public unveiling with the stars-because of the Covid- 19 pandemic, the official unveiling event, for this beautiful work of art created by Edmonton Sculptor Ritchie Velthuis and produced by Calgary's Bronzart Casting Ltd., will have to wait for future unknown date.
SCTV CLASSIC; Bob and Doug McKenzie, Great White North's Donut Shop Parking episode. YouTube direct link
It started in late 2011 with a golden idea by Avenue Edmonton magazine publisher Orville Chubb and the magazine's editor Steven Sandor. Then, in the January 2012 edition of Avenue the first public exposure for "a petition" was printed in a column about the farfetched idea asking, "How about a prominently placed sign welcoming people to Melonville? A bronzed Bob and Doug, sitting on a park bench in Churchill Square? A simple plaque? Or maybe a ceremony, festival or annual party?"
Sandor pined about how, "Small towns do it. Big cities do it. But, in Edmonton, we don't mark our pop culture." He continued his argument, "If you are an Oilers legend, you get roads named after you", and a bronze statue! Sandor widen his pitch on how in Minnesota in honour of hometown hero Charles Schulz, you can find Peanuts characters statues sprinkled around the Twin Cities; in fact there are over 100 statues of just Lucille (Lucy) van Pelt, most of them are five-foot tall fibreglass ones, but still. Sandor continued, "in downtown Minneapolis, you'll find a statue of Mary Tyler Moore to honour Mary Richards", the TV associate producer she portrayed. And, "In Toronto's Kensington Market, you can sit next to a statue of actor Al Waxman, CBC's famous King of Kensington."
It wasn't long after the magazine hit the street that Sandor and Chubb thought the idea could actually, "take off, eh", he expands, "My phone started ringing, I would get e-mails, so many fans would telling me stories about meeting the stars, having them shooting in their neighbourhoods, so many fond memories." Sandor doesn't remember any negative feedback.
Now the hard part, the non-profit SCTV Monument Committee was formed, which included an original producer for the star-studded SCTV TV show that stills lives in Edmonton, "We had no idea how much work had to be done, we had to create an official non-profit group, the money, the city's rules for building and permanently placing a statue and so much more." Sandor continues, "So many helped us over the years, Allard Foundation and Westbury Foundation for funds, the city was great over the years, OEG and the Ice District for giving us the final place to install Velthuis' incredible work."
The fictional TV brothers and real life-long friends stayed involved and wanted to "have a voice in the project", Multi-award winning actor Dave Thomas (70), who played Doug McKenzie talked with Edmonton Journal's Fish Griwkowsky, "Rick and I were both surprised and honoured at these statues of the McKenzie brothers," Thomas told the paper. "Despite the time that has passed, we both hold dear the memories of working at the ITV Studios – with the rest of the cast and the Edmonton folks who worked behind the scenes on the SCTV show with us."
The original public unveiling was to happen before the Edmonton Oilers game against the San Jose Sharks on March 27th. Thomas confirmed, "For obvious reasons that has now been postponed." He promised when safe travel is allowed, "We will return to Edmonton to see these statues in person." There are no current plans or date for a public unveiling.
The Covid- 19 situation is very close to the Sandor home as they have been in voluntary quarantine after they received a call from Alberta Health Service (AHS) that someone at their child's school tested positive for the virus and had attended the same book fair as they did. Sandor is happy to report, "Everyone is fine, we have no systems and the quarantine for us ends on the 27th." While he is only a "little disappointed", he was not able to make the Tuesday afternoon installation, "We (the committee) are all very sad that Orville did not live to see the fruition of the project, he was a big part of this." Sandor explains with a hush to his voice, "He passed away from a massive heart attack in the summer of 2018, he was only 57….."
SCTV Classic Great White North episodes, featuring Bob and Doug McKenzie, AKA by Rick Moranis(r) and Dave Thomas. Posted in a 20 minute YouTube compulation posted by member, Matt Regimbald
Aside from Rick Moranis and Dave Thomas who played the funny talking, two bacon stained, beer drinking McKenzie brothers; there are other famous alumni that worked in Edmonton through the years of production, John Candy, Joe Flaherty, Eugene Levy, Andrea Martin, Catherine O'Hara, Martin Short, Harold Ramis, and Tony Rosato.
This SCTV YouTube channel has a great collection of over 40 videos.
Responding to the question, with so many award-winning, iconic SCTV alumni from the Edmonton years, are there any more single or a group statue in the future? Laughing out loud, "Oh NO, after all the work, time, money and what it took to get these two completed, my wife would kill me if I got involved in another statue project."
Editors's note; Never say never. Like Steve explained in his first 2012 Avenue magazine column on the McKenzie Brothers statue idea, other cities big or small do pop culture statues to honour those that were born there or made their name there and moved on. And looking on the bright side of things, rumour has it that Daryl Katz is a big SCTV fan. Given his age, 58 is perfect to be a teenager and young man when SCTV was at it height of popularity, which was also the same time the Edmonton Oilers were on their rise to the top of the National Hockey League (NHL). So for fans that would like to see a group of bronze statues; here hoping Mr. Katz reads this!
While the Ice District already has some beautiful public art pieces on display, there is still a lot of inside and outside space around the district.
Edmonton's 200+ Public art are either gifted, donated, created to commemorate a special event, or commissioned through the Percent for Art Program, which allocates a one per cent (1%) budget for the acquisition of art of the eligible construction budget for any publicly accessible municipal project. In the McKenzie Brothers statues' case, they were gifted to the city by the non-profit SCTV Monument Committee.
MeTV in Chicago put together an interesting list, 11 bronze statues of TV celebrities and where to find them. Interesting list for sure, especially the Leonard Nimoy's Spock bronze bust that is in Vulcan, Alberta.
[youtube https://www.youtube.com/watch?v=RECHKdQIumY&w=508&h=381]
Never say never. In late February 2020, headed up by the Heart of London Business Alliance, "Scenes in the Square" was unveiled inside London's famous Leicester Square in celebration of the square's 350th birthday. The project, saw a massive addition of nine new life-sized bronze statues, adding to the one pop culture Charlie Chaplin bronze that has stood alone in the square since 1979. With help from donations from family, estates and movie studios they were able to add bronzed versions of Mary Poppins, Mr. Bean, Gene Kelly, Bugs Bunny, Laurel and Hardy, Paddington Bear, Wonder Woman and Batman.
Why not Edmonton? What do you think Mr. Katz? 😉
Thoughts? drop me a line; [email protected]
Notes from Flight 163, the oilsands shuttle from Toronto to Edmonton
'A big part of my life': Orillia mourns hometown legend Gordon Lightfoot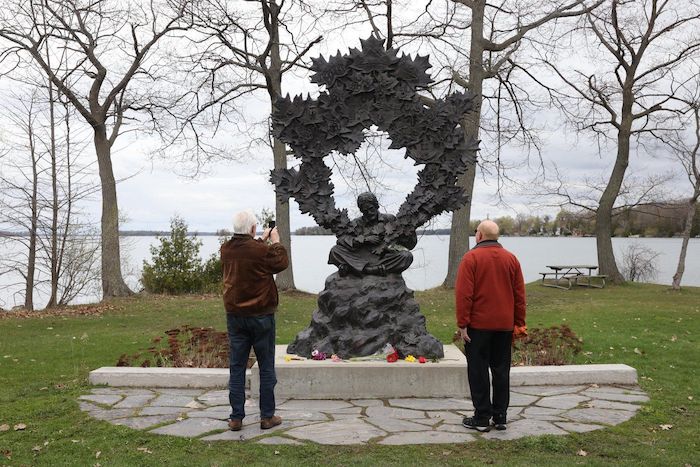 Two men pay respects at Gordon Lightfoot's Golden Leaves statue at Tudhope Park in Orillia, Ont., on Tuesday, May 2, 2023. Flowers were placed on the tribute after news broke that Lightfoot passed away at 84 years old Monday May 1, 2023. THE CANADIAN PRESS/Christopher Drost
By Sharif Hassan in Orillia
It didn't take long for the flowers to appear at the statue of Gordon Lightfoot in his Ontario hometown.
The legendary folk musician, claimed by the City of Orillia as its "favourite son," died of natural causes at a Toronto hospital on Monday at the age of 84.
Barely 24 hours later, Orillia residents stopped by the bronze sculpture of Lightfoot that stands in a city park to pay their respects.
Cam Gardy, who brought yellow flowers to lay at the base of the statue, said his mother went to school with the musician and would tell tales of how he'd perform for students.
"He has been a part of my life as I have grown up," Gardy said, adding that while he never met Lightfoot personally, he had been to one of his concerts.
"Mr. Lightfoot is iconic, not only to the residents and the city but obviously to the people across Canada."
Lightfoot put Orillia on the map, Gardy said, and was an "incredible ambassador" for the city.
"He always spoke of his town fondly," Gardy said.
Joanna Bell, who brought a rose to place at the statue, said she cried when she woke up to news of Lightfoot's death on Tuesday morning.
"Gordon Lightfoot was a big part of my life, my childhood," she said, adding that she is one of seven siblings. "He was loved by all of us, and of course he wrote the most beautiful music."
Lightfoot's music brings to mind the beauty of Canada, she said.
"He is such a well-respected Canadian," she said. "That is why I came today, I felt compelled to come."
Heather Placken, who said she's been a fan of Lightfoot's for 40 years, said she only learned of the singer's death when walking by the entrance of the Orillia park hosting his statue – an announcement had been posted by the entrance.
"I feel really honoured and grateful that I had the opportunity to see him here last summer," she said.
Lightfoot was more than just a songwriter and musician, she said.
"Every song he has ever written and sang, it tells a story of something significant that everyone of us can relate," she said.
"He was an amazing individual and for Canadians, to have somebody of that stature to look up to in the music industry is phenomenal."
Lightfoot was born in Orillia in 1938, sang in a church choir as a boy and dreamed of becoming a jazz musician.
He later emerged from Toronto's Yorkville folk club scene in the 1960s, and went on to record more than 20 studio albums and hundreds of songs, including "Early Morning Rain," "Carefree Highway" and "Sundown."
Orillia Mayor Don McIsaac said Lightfoot was highly regarded in the city.
"His homecoming concerts at the Orillia Opera House and appearances at the Mariposa Folk Festival have always been celebrated by Orillians as they welcomed him home," the mayor wrote in a statement.
"Many of us who knew him will remember his soft-spoken demeanor, generous personality and infectious laugh."
There are reminders of Lightfoot throughout Orillia, McIsaac said, noting that the singer's name graces a city auditorium stage and a trail, while a bust of him sits at the Orillia Opera House, in addition to the sculpture honouring him in the city's J.B. Tudhope Memorial Park.
"His deep roots in our city are woven into the fabric of Orillia," McIsaac said. "Our community is mourning together along with the rest of the world."
The city has lowered its flags to half-mast, the mayor said. Books of condolences for the music icon are available at the Orillia Opera House and Orillia City Centre.
A concert tour to celebrate Lightfoot's music had been set to begin on Saturday, on the stage named after him at the Orillia Opera House. It will still go ahead, with the show's creator saying she hopes it will serve as a celebration of Lightfoot's music and life.
"My band and I were huge fans of Gordon Lightfoot. The reason that we created this concert is because his music has impacted all of our lives so much," Leisa Way said in an interview.
"He's just shaped who I am as a Canadian, certainly growing up in northern Ontario, and now it will be very emotional for all of us."
Way said the concert, called Early Morning Rain: The Legend of Gordon Lightfoot, had premiered for three weeks in February 2020 but the COVID-19 pandemic meant it had to stop.
She said she hopes Saturday's concert will be a special event for the residents of Orillia.
"There's nothing that Gordon Lightfoot would love more than knowing that audiences are getting together in theaters and singing along to all of his songs," she said. "I think he'll be smiling down on us."
– with files from Maan Alhmidi in Toronto.
This report by The Canadian Press was first published May 2, 2023.
Antiquities, plucked from storeroom, on Roman Forum display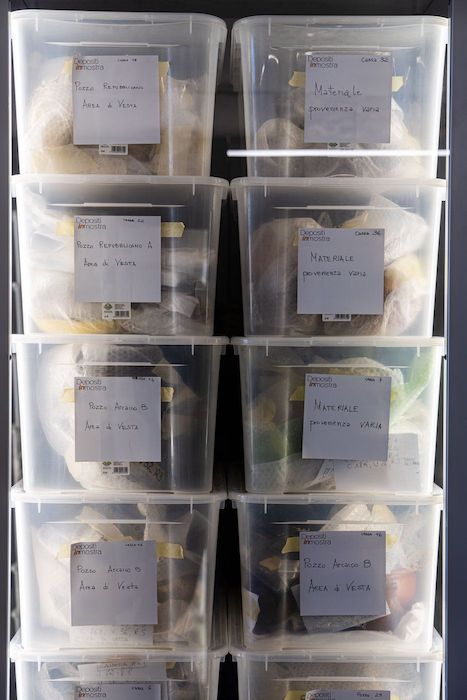 Archaelogical findings are stored in plastic tubs in the antiquities storeroom inside the Roman Forum in Rome, Wednesday, April 19, 2023. The pieces today on display at the Forum were part of the myriads of findings still kept in the Colosseum storehouse that is not open to the public. (AP Photo/Domenico Stinellis)
By Frances D'emilio in Rome
ROME (AP) — Hundreds of remnants of ancient Roman life — including colored dice, rain gutter decorations depicting mythological figures, and burial offerings 3,000 years old — have long been hidden from public sight. Until now.
For the next few months, a limited number of visitors to the Roman Forum, Colosseum or Palatine Hill can view a tantalizing display of ancient statuettes, urns, even the remarkably well-preserved skeleton of a man who lived in the 10th-century B.C. All the exhibits have been plucked from storerooms in the heart of the Italian capital.
Indeed, so many artifacts are kept in storerooms that "you could open 100 museums," said Fulvio Coletti, an archaeologist with the Colosseum archaeological park. On Wednesday, Coletti stood at the entrance to a "taberna," a cavernous space which had served commercial purposes in ancient Roman times and belonged to the palace complex of the 1st-century Emperor Tiberius.
Three such "tabernae" now double as exhibition rooms for once-hidden antiquities. To give an idea of just how many more artifacts are still not on display, curators stacked enormous see-through plastic tubs, chockful of discoveries from some 2,000 years ago and bearing minimalist labels like "Ancient Well B Area of Vesta," a reference to the temple in the Forum erected to the goddess of the hearth.
One display holds row after row of ancient colored dice — 351 in all — that in the 6th century B.C. were tossed into wells as part of rituals. Also in the exhibit is a decoration from a temple rain-gutter depicting a bearded Silenus, a mythological creature associated with Dionysus, the wine god.
Some artifacts are displayed in showcases custom-made by archaeologist Giacomo Boni, whose excavations in the first years of the 20th century revealed dozens of tombs, including many of children. Some of the tombs dated from as far back as the 10 century B.C., centuries before the construction of the Roman Forum, the center of the city's political and commercial life, when the city's inhabitants dwelt in a swampy expanse near the River Tiber.
In one display case is the largely intact skeleton of a man who was a good 1.6 meters tall (about 5-foot-4 inches), on the taller side for his time, in the 10th century B.C. He was buried with some kind of belt, whose bronze clasp survived. Found in his tomb and on display are a scattering of grains, remnants of funeral rites. Layers of mud, formed in Rome's early days, helped preserve the remains.
The director of the Colosseum's Archaeological Park said staff were working to make an inventory of artifacts kept in more than 100 storerooms, whose contents up to now have been accessible to academics but few others.
"We want in some way to make objects come to light that otherwise would be invisible to the great public," Alfonsina Russo, the director, told The Associated Press.
"We're talking of objects that tell a story, not a big story, but a daily story, a story of daily life," Russo said.
Every Friday through July, visitors can admire the antiquities pulled out of the storerooms during 90-minute guided tours. The "tabernae" are small exhibition spaces, so only eight visitors can enter during each tour. Reservations are required, and visitors must buy an entrance ticket to the archaeological park. Park officials indicated they hope the initiative can be extended or renewed.