In the Great White North, Canadian Hosers get Bronzed EH!
Canadian Hosers get Bronzed EH
Sometimes dreams do come true for Canadian Hosers. After a long eight-year journey, Second City Television, (SCTV) and Canada's most famous, "stubby" beer drinking, bacon eating, tuque wearing brothers, Bob and Doug McKenzie, played by Rick Moranis and Dave Thomas, now have two life sized bronzed statues install in downtown Edmonton's ICE District. Sadly, with no fanfare, no press release, a cancelled public unveiling with the stars-because of the Covid- 19 pandemic, the official unveiling event, for this beautiful work of art created by Edmonton Sculptor Ritchie Velthuis and produced by Calgary's Bronzart Casting Ltd., will have to wait for future unknown date.
SCTV CLASSIC; Bob and Doug McKenzie, Great White North's Donut Shop Parking episode. YouTube direct link
It started in late 2011 with a golden idea by Avenue Edmonton magazine publisher Orville Chubb and the magazine's editor Steven Sandor. Then, in the January 2012 edition of Avenue the first public exposure for "a petition" was printed in a column about the farfetched idea asking, "How about a prominently placed sign welcoming people to Melonville? A bronzed Bob and Doug, sitting on a park bench in Churchill Square? A simple plaque? Or maybe a ceremony, festival or annual party?"
Sandor pined about how, "Small towns do it. Big cities do it. But, in Edmonton, we don't mark our pop culture." He continued his argument, "If you are an Oilers legend, you get roads named after you", and a bronze statue! Sandor widen his pitch on how in Minnesota in honour of hometown hero Charles Schulz, you can find Peanuts characters statues sprinkled around the Twin Cities; in fact there are over 100 statues of just Lucille (Lucy) van Pelt, most of them are five-foot tall fibreglass ones, but still. Sandor continued, "in downtown Minneapolis, you'll find a statue of Mary Tyler Moore to honour Mary Richards", the TV associate producer she portrayed. And, "In Toronto's Kensington Market, you can sit next to a statue of actor Al Waxman, CBC's famous King of Kensington."
It wasn't long after the magazine hit the street that Sandor and Chubb thought the idea could actually, "take off, eh", he expands, "My phone started ringing, I would get e-mails, so many fans would telling me stories about meeting the stars, having them shooting in their neighbourhoods, so many fond memories." Sandor doesn't remember any negative feedback.
Now the hard part, the non-profit SCTV Monument Committee was formed, which included an original producer for the star-studded SCTV TV show that stills lives in Edmonton, "We had no idea how much work had to be done, we had to create an official non-profit group, the money, the city's rules for building and permanently placing a statue and so much more."  Sandor continues, "So many helped us over the years, Allard Foundation and Westbury Foundation for funds, the city was great over the years, OEG and the Ice District for giving us the final place to install Velthuis' incredible work."
The fictional TV brothers and real life-long friends stayed involved and wanted to "have a voice in the project", Multi-award winning actor Dave Thomas (70), who played Doug McKenzie talked with Edmonton Journal's Fish Griwkowsky, "Rick and I were both surprised and honoured at these statues of the McKenzie brothers," Thomas told the paper. "Despite the time that has passed, we both hold dear the memories of working at the ITV Studios – with the rest of the cast and the Edmonton folks who worked behind the scenes on the SCTV show with us."
The original public unveiling was to happen before the Edmonton Oilers game against the San Jose Sharks on March 27th. Thomas confirmed, "For obvious reasons that has now been postponed." He promised when safe travel is allowed, "We will return to Edmonton to see these statues in person." There are no current plans or date for a public unveiling.
The Covid- 19 situation is very close to the Sandor home as they have been in voluntary quarantine after they received a call from Alberta Health Service (AHS) that someone at their child's school tested positive for the virus and had attended the same book fair as they did. Sandor is happy to report, "Everyone is fine, we have no systems and the quarantine for us ends on the 27th." While he is only a "little disappointed", he was not able to make the Tuesday afternoon installation, "We (the committee) are all very sad that Orville did not live to see the fruition of the project, he was a big part of this." Sandor explains with a hush to his voice, "He passed away from a massive heart attack in the summer of 2018, he was only 57….."
SCTV Classic Great White North episodes, featuring Bob and Doug McKenzie, AKA by Rick Moranis(r) and Dave Thomas. Posted in a 20 minute YouTube compulation posted by member, Matt Regimbald
Aside from Rick Moranis and Dave Thomas who played the funny talking, two bacon stained, beer drinking McKenzie brothers; there are other famous alumni that worked in Edmonton through the years of production, John Candy, Joe Flaherty, Eugene Levy, Andrea Martin, Catherine O'Hara, Martin Short, Harold Ramis, and Tony Rosato.
This SCTV YouTube channel has a great collection of over 40 videos.
Responding to the question, with so many award-winning, iconic SCTV alumni from the Edmonton years, are there any more single or a group statue in the future? Laughing out loud, "Oh NO, after all the work, time, money and what it took to get these two completed, my wife would kill me if I got involved in another statue project."
Editors's note; Never say never. Like Steve explained in his first 2012 Avenue magazine column on the McKenzie Brothers statue idea, other cities big or small do pop culture statues to honour those that were born there or made their name there and moved on. And looking on the bright side of things, rumour has it that Daryl Katz is a big SCTV fan. Given his age, 58 is perfect to be a teenager and young man when SCTV was at it height of popularity, which was also the same time the Edmonton Oilers were on their rise to the top of the National Hockey League (NHL). So for fans that would like to see a group of bronze statues; here hoping Mr. Katz reads this!
While the Ice District already has some beautiful public art pieces on display, there is still a lot of inside and outside space around the district.
Edmonton's 200+ Public art are either gifted, donated, created to commemorate a special event, or commissioned through the Percent for Art Program, which allocates a one per cent (1%) budget for the acquisition of art of the eligible construction budget for any publicly accessible municipal project. In the McKenzie Brothers statues' case, they were gifted to the city by the non-profit SCTV Monument Committee.
MeTV in Chicago put together an interesting list, 11 bronze statues of TV celebrities and where to find them. Interesting list for sure, especially the Leonard Nimoy's Spock bronze bust that is in Vulcan, Alberta.
[youtube https://www.youtube.com/watch?v=RECHKdQIumY&w=508&h=381]
Never say never. In late February 2020, headed up by the Heart of London Business Alliance, "Scenes in the Square" was unveiled inside London's famous Leicester Square in celebration of the square's 350th birthday. The project, saw a massive addition of nine new life-sized bronze statues, adding to the one pop culture Charlie Chaplin bronze that has stood alone in the square since 1979. With help from donations from family, estates and movie studios they were able to add bronzed versions of Mary Poppins, Mr. Bean, Gene Kelly, Bugs Bunny, Laurel and Hardy, Paddington Bear, Wonder Woman and Batman.
Why not Edmonton? What do you think Mr. Katz? 😉
Thoughts? drop me a line; [email protected]
Notes from Flight 163, the oilsands shuttle from Toronto to Edmonton
Alberta production Pipe Nation seeking to tap musical talent for soundtrack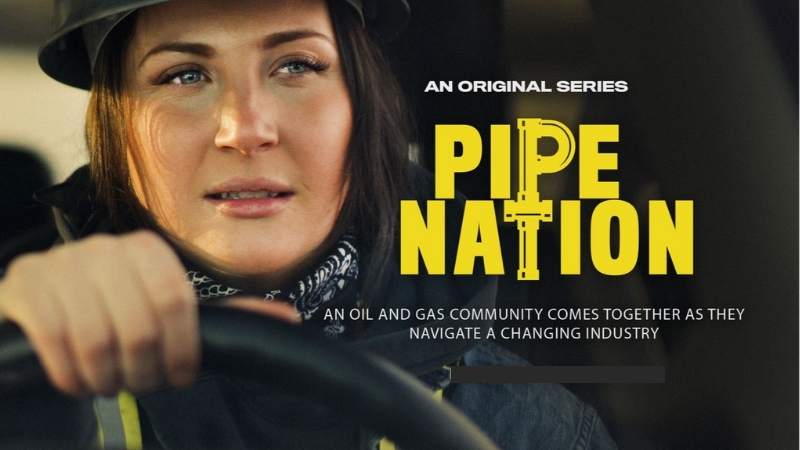 Here are the details.
January 13, 2021
Edmonton-AB, CANADA-​One of the largest independently funded tv-series in Canada, Pipe Nation, is seeking talented musicians to round out its soundtrack as the pilot episode nears completion.
The director, Raoul Bhatt, and executive producer, Dan Svedberg, are seeking submissions from Canadian and American artists to collaborate on the show's soundtrack.
The dramatic series is told through the experiences of a single mother working in the male-dominated, oil and energy industry. The pilot was filmed in August and September of 2020 in the picturesque mountains of Canada and the Edmonton area. 18 scenes and 180 takes were captured in Sundre, Alberta, which was transformed into the fictitious town of Hardwell. A great deal of effort has been put into this pilot including a $300,000 built for the show pipeline, a medical helicopter, and a long list of heavy equipment worth $180 million.
The scenes are now in editing, where the crucial process of pairing beautiful scenes with dramatic music is underway. Several genres of music including, rock, blues, country, electronic dance music, and classical will be used in the series. The show's soundtrack will be released on Apple Music, Amazon, Spotify and Google Play Music in the coming months. Director, Raoul Bhatt and his team have been in post-production for the last three months​. ​The pilot tv-series is expected to be complete by February 2021.
Musicians, labels, bands looking to collaborate or submit their work, please contact Executive Producer & Sound Designer, Daniel Svedberg, and Director, [email protected]
Read more on Todayville.
The Gift You Don't Even Know You Didn't Need…
A Jesse Roads & Friends Merry Christmas
– the gift you don't even know you didn't need…
"Probably not the worst Christmas special…"
– Jesse Roads
Well friends I am beyond excited to share with you the gift you don't even know you didn't need… I had the idea to do some sort of a Christmas special for quite some time now. I felt like it was more important than ever this year. With such a lack of joy and camaraderie among the masses (especially within the arts community due to cancellation after cancellation wreaking havoc on all of our mental health) it was clear that I could, at the very least hit my Rolodex and reach out to some of my buds.
Unlike many of my peers and fellow performers, I have been blessed with a production team and the ability to create some amazing content throughout this crazy wild global pandemic, from songs to streams and the start of a movie, so much has come from this. I feel a sense of responsibility to not let that go to waste and to do everything I can to grow as an artist while contributing to society's wellbeing somehow. Well it's Christmas! Why not get at it and spread a little festive cheer for the season. I love Christmas, always have.
Turns out some of my buds love it too! I am so very thankful to the performers that were able to jump on board with this project. All of which did so out of the kindness of their own hearts. I even managed to somehow get Clayton Bellamy of the Road Hammers to say yes! From the likes of Randi Boulton to Curtis Labelle and Devin Cooper the special is stacked!
The show is free of charge to watch and enjoy. All we ask is that you spread a little kindness wherever and however you can. Thats it. Be kind with purpose, on purpose. Click below for the show, don't forget to like and subscribe!
Jack Semple BB King Tribute concert showcases one of Canada's finest guitarists