Todayville Travel: Spring in Italy- Rome and Puglia
First in the two-part series 'Spring in Italy'
"Let's have a picnic. Maybe whoever picked up your pack will come back." "Right," I responded caustically, "to collect the 100,000 lira reward."
On a lonely country road near Ostuni, in the Province of Puglia – the heel of Italy's boot – I stopped to photograph a field of poppies in an olive grove. After a few happy snaps I jumped back in the car and motored on. Fifteen minutes later I reached for my daypack and realized in horror that I had left the pack (complete with camera lenses and phone) on the rock wall that fronted the poppy field. We sped back. The bag was gone. Impossible. We hadn't been gone half an hour and there were no other cars on the road.
While I lay morosely in the ditch, tearing hair and gnashing teeth, my wife Florence calmly analyzed the situation: "Why don't we call your Iphone?" We expectantly dialed from her cell. No answer. I moped back to the roadside. Florence then suggested, "Let's have a picnic. Maybe whoever picked up your pack will come back."
"Right," I responded caustically, "to collect the 100,000 lira reward."
We broke bread, cut cheese and sliced salami. I tried vainly to enjoy a cold Peroni on this otherwise beautiful day. It seemed impossible that, in the short time we had been away, someone could have spotted my satchel in a rock crevice on this remote country lane. "There must be another explanation," I muttered, "maybe a conspiracy."
An hour later we were disconsolately packing up when a faded 1960's era Fiat Panda pulled up and stopped tentatively beside us. An elderly man with glasses thick as an olive-oil bottle gazed out from behind the wheel. He eyed us with a mixture of suspicion and curiosity. A young boy with equally opaque glasses – obviously a blood relative – peered shyly from the passenger seat. Together they began a lengthy, incomprehensible Puglian discourse – and only when satisfied that we understood the situation, did they proudly retrieve my bag from the back seat.
"Mille, mille grazie," I said, confused but genuinely grateful. I wanted a picture but the old signor waived us off and the aged Fiat puttered slowly away. "Yup," Florence remarked, "a conspiracy."
For years my patient wife has been suggesting, "We should spend a month in Italy." And for ages I nodded – and deferred. But last spring when the annual request edged toward an ultimatum, in the interests of marital harmony, I acquiesced.
"And twenty minutes later we were checking into a quaint B&B steps away from the Vatican."
As seasoned travellers we often tour by the seat of our pants, plans random, frequently pulling into a strange town late afternoon searching for accommodation. This has worked well in some places but, in a country where you no speaka da lingua, advance booking is wiser – and infinitely less stressful.
So when the plane touched down at Rome's Leonardo da Vinci Airport in early April, our four weeks of lodging – three nights here, four nights there – were all booked. Even our ride into Rome was arranged. A driver awaited us, patiently displaying a "Mr. and Mrs. Feehan" sign. And twenty minutes later we were checking into a quaint B&B steps away from the Vatican.
We didn't organize this trip on our own – nor did we use a tour company or travel agent. We employed a much better resource: Sandy, an acquaintance who loves Italy, has been there many times and knows exactly where to direct a couple of adventurous travellers in the land of the Azzurri.
Our friend fashioned the entire itinerary: four days exploring Rome, ten days in the south, a few days biking near San Marino and a final 10 days in the rolling hills of Tuscany. Her planning was so meticulous (right down to AirB&Bs in the heart of each town plus offering detailed day-trip ideas) that I feel we owe her a substantial commission – or maybe just a nice spaghetti dinner.
So for those looking for some free advice and a fool-proof schedule for your upcoming trip to Italy, Sandy's phone number is…
Rome is a remarkable, fascinating place. This ancient capital of the empire is overflowing with architecture, museums, statuary, Roman ruins and wonderful old neighbourhoods. And despite the sprawling megalopolis that is modern Rome, its iconic sites (the Coliseum, Forum, Trevi Fountain, Spanish Steps, Pantheon and St. Peter's) can all be visited in a day's stroll.
But Rome is overwhelmed with tourists. On average 40,000 people a day cue up to shuffle obediently through the Vatican and the Sistine Chapel. April is allegedly shoulder season – and we had booked a "private tour" – but we still had to share Michelangelo's artistic brilliance with a giant throng of gawking souls, heads uniformly craned toward the majestic ceiling.
Like many big cities Rome is a little seedy. Pope Francis has allowed the homeless to camp within meters of St Peter's Square. Unfortunately this generous gesture does not add to the curb appeal of the Basilica. We felt a little uncomfortable at night, dodging snoring vagrants, cardboard houses, used needles and other discarded paraphernalia.
I'm not a big city guy so after four days with the hawkers and beggars and tourists snapping pictures with their "selfish sticks" I was happy to pick up our rental car and head for sleepy Puglia, in Italy's delightful south.
Although it has millennia of history, Italy is actually a new country – only a few years older than Canada. Giuseppe Garibaldi rode in on his horse and unified all the disparate kingdoms in 1861. But even today northern Italians tend to look down their noses at their southern brethren. And reciprocally a hint of proud defiance defines the Puglian character.
Our first stop in the south was Matera, a UNESCO world heritage site renowned for its cliffside cave dwellings or sassi. These grottos have been continuously occupied since Neolithic times and the humble Materans are enormously proud of the "negative architecture" of these underground abodes.
One warm afternoon while we strolled a grassy cliffside path, a well-dressed middle-aged man stepped out from the shadows, cigarette dangling from his lips. He introduced himself as Fabrizio and invited us to visit his family sasso and the kitchen where traditional (tipica) food was served.
"Quanto?" I asked suspiciously, concerned about the cost. "For the cave, free," he said, "and if you wish something to eat, you decide what to pay." It was nearly 1 p.m. and we were somewhat peckish, so we warily accepted his invitation.
"I was nearly full when out came two different soups, a hearty beef broth and a lentil stew. Next was a crisp pizza. I quietly undid my belt beneath the table."
Thus began the most interesting and enjoyable afternoon of our Italian visit. After showing us the intricately hand-carved rooms where the ancients slept and stabled their animals – as well as the cisterns where water and wine were stored – Fabrizio led us up a narrow passage to his open-air kitchen overlooking Matera.
Then he started the service. First, the antipasti: crusty bread with four olive oil dips, each infused with a local herb, then bruschetta made from shredded garlic and ripe dried tomatoes, then an amazing assortment of meats, cheeses and vegetables.
I was nearly full when out came two different soups, a hearty beef broth and a lentil stew. Next was a crisp pizza. I quietly undid my belt beneath the table.
Fabrizio chatted constantly while he worked – a knowing smile on his face – educating us on local foods, customs and lifestyle. There was also an unending supply of wine, "vino rosso della casa," vinted from primitivo grapes, which have been cultivated in this region for thousands of years.
"Why did we wait so long to visit Italy?"
There were so many courses I can't recall them all – fish and more cheese were in there somewhere – but I know we finished with dolce (sweets) and a jolt of espresso.
Fabrizio's motto is "less is more" but I've rarely eaten more in one sitting. Three hours after stumbling in on this amazing gastronomic and cultural experience, we stumbled out into the late afternoon sun. As we left Fabrizio called out, "Won't you have some pasta Bolognese?" I think if we had kept eating he'd still be bringing out dishes.
And what was il conto you ask? He humbly, delightedly accepted 40 euro – about $60.
A couple of weeks later on the flight home, over the drone of jet engines, I asked Florence, "Why did we wait so long to visit Italy?" She raised her eyes toward the heavens, shook her head and said, "It must have been a conspiracy." Then she smiled and nodded off.
Next time: Riccione and the Tuscan Hills
Gerry Feehan QC practised law in Red Deer for 27 years before starting his second life as a freelance travel writer and photographer.
Todayville is proud to showcase Gerry's stories developed over more than a decade of travel.
Here's another great adventure from Gerry
Flight issues? Here's what you need to know about getting compensation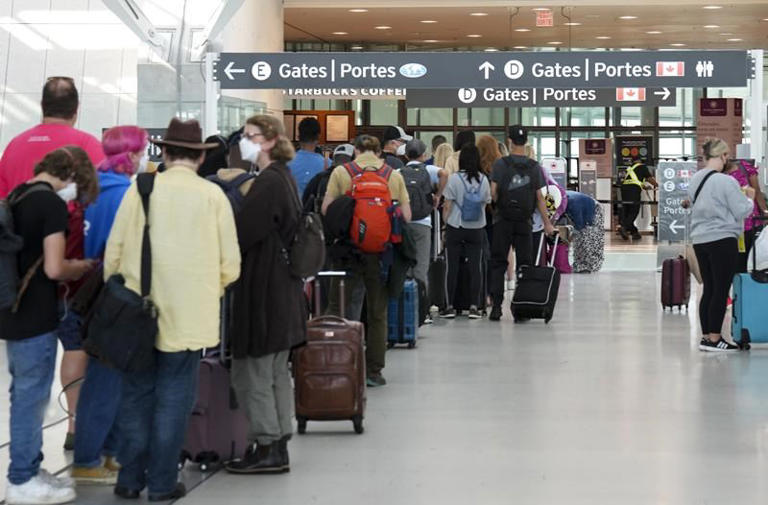 Delayed and cancelled flights are a reality this summer amid surging demand for travel, so customers should know whether they can expect compensation from airlines under federal regulations.
The Air Passenger Protection Regulations say ticket holders are entitled to financial compensation if they arrive at their destination at least three hours late, or if their flight was cancelled and the disruption was unrelated to safety issues or outside the airline's control.
Some airlines have been criticized over their explanations for the disruptions, including both Air Canada and WestJet citing staffing shortages as a safety issue. The Canadian Transportation Agency has disputed lack of staff as valid under compensation rules.
A July 8 ruling by the CTA said the threshold was high for an airline to use staffing shortages as a safety issue and found in that instance that WestJet had not met it, ordering the airline to pay what was owed to the traveller.
The CTA previously looked into the issue of cited reasons for disruptions in 2020 and found there were multiple communication issues leading to passenger frustration, but found no evidence that the airlines deliberately mischaracterized the reasons for delays and cancellation.
To dispute an airline's decision, customers need to file a request in writing for compensation to the airlines, which then have 30 days to respond.
If a traveller is unsatisfied with the airline's response they can then file a complaint to the CTA though the agency's website, but a huge backlog means travellers could have to wait some time to get a response.
The CTA faced a total of 28,673 complaints for the year up to March 31, including 12,158 new complaints and the carry-over of 16,515 reports from the previous fiscal year. Of the total, about half involved flight disruptions, while ticketing and reservations complaints also numbered in the thousands.
The higher numbers come even though many travellers don't bother to appeal their decision. Up to two-thirds of Canadian claimants give up their claim after an initial rejection by the airline, according to an online YouGov survey in 2019, though awareness of the new rules could have improved since then.
Appealing could well be worthwhile though, as a 2019 study from AirHelp, a German company that helps process claims, found that airlines wrongfully reject more than 50 per cent of valid claims at first.
The potential payouts for customers vary depending on a few factors including how lengthy the delay, how big the airline, and how much notice was given, as well as the question of whether the issue was within the airline's control and not a safety issue.
If the trip was cancelled within 14 days or less, passengers are owed $1,000 for a cancellation or delay of nine hours or more, and between $400 and $700 for delays of three to nine hours.
For those informed more than two weeks in advance, they are owed alternate travel arrangements or a refund, at the traveller's choice.
No matter how long the notice, a passenger who opts to reject a rebooking should receive $400 in compensation from large airlines and $125 for small airlines, on top of a refund.
Those denied boarding, such as from overbooking, could see between $900 and $2,400 depending on how much it delays their arrival, while there are also rules on compensation for lost and damaged baggage that can go up to $2,300.
Added rights also come into force on Sept. 8 where even if the cause of the delay is outside the airline's control, they must rebook the traveller within 48 hours on their or a competitor's flight or the traveller will be eligible for a refund.
Previously, the passenger rights regime only required refunds for flight disruptions that were within the airline's control, which excluded situations ranging from weather to war to unscheduled mechanical issues.
This report by The Canadian Press was first published Aug. 8, 2022.
The Canadian Press
A Rainy Day in Montenegro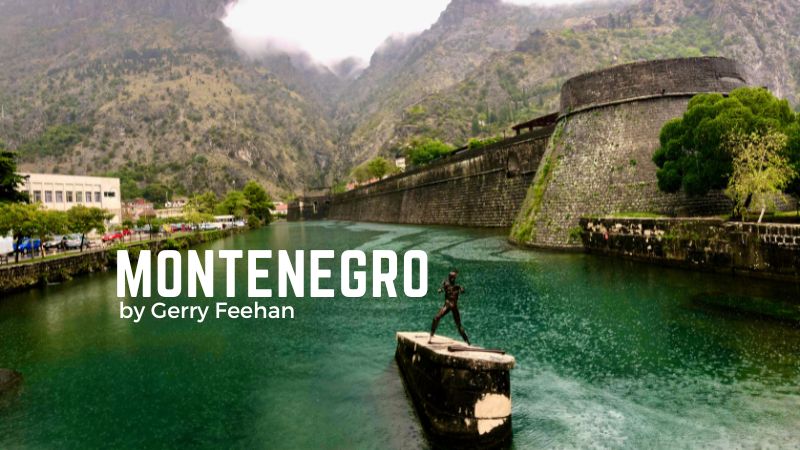 Dubrovnik City wall
Room 703, Valamar Hotel, Dubrovnik, Croatia.
I had a strange dream last night.
Well past midnight there came a quiet rap on the door. An apologetic bellboy pointed to a small man standing quietly in the hallway. The man sported a fine suit and monogrammed luggage. 'I'm sorry,' said the bellhop, 'the Valamar is sold out
this evening. This gentleman needs a room. Only for tonight. Perhaps you can accommodate.' Naturally I declined. However my wife, speaking from her comatose oblivion, insisted we invite the stranger in. 'Sshh, it's fine,' she said simultaneously
snoring, 'for today, we go to Montenegro.'
What my dream-world wife didn't anticipate—but I did—was that our uninvited, nocturnal guest would soon become an unpleasant somnambulant nuisance and ultimately transform into a weapon-wielding demon. By the time I finally, politely
asked him to depart our quarters, the intruder had morphed into a loud, apocalyptic earthquake. I awoke in a heap of sweat to a thunderous lightning storm, crawled from bed, pulled closed the trembling illuminated curtains—and swore off rakija for the balance of our Balkan holiday. I tossed and turned the rest of that uncomfortable night, occasionally glancing irritably at my happily reposed spouse. The alarm tolled at 6:15am.
In a post-hallucinogenic stupor I stumbled into the hotel lobby and ran smack dab into the selfsame night-watchman who, in my torpor, had invited Armageddon-man into our room at witching hour. 'And you call yourselves a 5-star hotel,' I remarked testily. He regarded me uncertainly, shrugged and opened the lobby doors. Outside, standing curbside beside a dark blue Mercedes van, stood a veritable giant of a man; our driver for the day. He grinned grimly, swung the passenger door open and commanded us to climb in. I was fearful the nightmare was continuing. But as we pulled away from the dewy curb our mountainous chauffeur politely introduced himself as Zoran and began a casual, intriguing introduction to the history of Montenegro.
Incessant rain made for a dreary day
The downpour began in earnest as we neared the border. The Croatian exit authority inspected our papers with palpable disinterest—then stood up, exited his cramped cubicle and promptly disappeared into the mist. 'Between shifts,' explained
Zoran with a resigned shrug. After a 10-minute, stiflingly humid delay, an equally apathetic replacement arrived to re-scrutinize our passports. Documents eventually back in hand, we were permitted to depart Croatia and make the short descent into neighbouring Montenegro where another listless guard repeated the same agonizing process.
Everyone loves passport stamps. I entreated Zoran to ask the guard for some evidence that we were actually entering mysterious Montenegro, bragging rights for the folks back home. 'This not good idea,' said Zoran apologetically—but
unequivocally—and we pulled away from the tiny damp station and into a strengthening deluge. It was a half-hearted, bureaucratic, blustery beginning to a soppy day. (For no discernable reason, other than inane custom and mutual distrust,
countries of the former Yugoslavia demand perusal of papers upon both ingress and egress. But I digress.)
Montenegro. The name evokes visions of a small, opulent seaside protectorate where luxury yachts bob in an idyllic harbor surrounded by spectacular mountains. But while the country is indeed small, and is on the ocean, and does have a stunning mountain backdrop, Montenegro is certainly not well off. In fact Montenegro is one of Croatia's poorest Balkan cousins. Together with Bosnia, Serbia and a few other newly-formed states, they were all part of Yugoslavia. In 1984 Yugoslavia hosted the Winter Olympics, welcoming the world's best athletes to a snowy paradise. Nine years later the entire federation would descend into anarchy and civil war, the lid of a centuries-old pot, boiling with religious and ethnic hatred, finally blown off. Our destination was the walled city of Kotor, a Renaissance-era gem of narrow, picture-postcard lanes. As the European crow flies, the town is not far from the Croatian border, but getting there entails a long circuitous drive around the Gulf of Kotor, which perforates deeply, fjord-like, into the Montenegrin coastline.
Kotor
On arrival, we exited hesitantly from the van, unfurled our umbrellas and splashed into town. What should have been an interesting, leisurely stroll down blind alleys and through colourful curio shops turned into a quick excursion—hurdling
overflowing gutters and dodging the deluge spilling from dilapidated gargoyles in the old fortified town. Overall, the morning was a wet bust. Zoran was apologetic, as if he were personally responsible for the obscuring rain. 'I wish you could see our beautiful mountains.'
But then came lunch—and, nonpareil, the best meal of our three-week Balkan adventure. I stepped, glasses fogged, into the Konoba Akustik Restaurant and discarded my broken umbrella amongst a stack of equally derelict parasols.
Rainwater, dripping from the ceiling, clanged into an ancient metal pail in the foyer. Expectations were low as we dodged around the overflowing bucket and took our squeaky seats at a rustic wooden table.
Then the food began to appear. First a hearty veal soup served with fresh jecmeni—barley flatbread. Then a platter of green olives and prosciutto. Then gnocchi and pasticada—beef marinated in wine vinegar. More jecmeni arrived to sop up stray sauces.
Perhaps a cocktail with your jecmeni?
The dishes kept coming. Stuffed to the gills, I declined desert, sat back in my rickety chair, and focused my attention on the adjoining table where Zoran and two large companions sat, surrounded by three nonplussed waiters and a gesticulating chef.
In unwavering concentration, they methodically devoured every dish we'd been offered plus massive plates of crni rizot—black risotto, and ajvar—spicy red pepper paste. Between mouthfuls they'd wedge in a large portion of Pag cheese. When the
skewers of lamb kebab arrived I could watch no more and directed my attention to the restaurant's ornate opaque windows and the passersby sloshing outside.
Montenegrins are not the tallest people on earth—the Dutch stubbornly cling to that lofty position. But I can state (anecdotally at least, having spent one full day in the
country) that the people of Montenegro are really, really tall. And apparently it takes a lot of calories to develop that degree of vertical span.
Zoran is on the right… in case you were confused
It was a full day. On the long drizzly drive back to the Valamar Hotel, the windshield wipers flapped incessantly, hypnotizing me into a sleepy daze, interrupted only by Zoran's occasional, meaningful collision with a muddy pothole. Nearly home, we passed through the beautiful old city of Dubrovnik. At a bus stop, under a portico tucked into the ancient city wall, I spied a small tidy man huddled under an umbrella, expensive luggage stacked neatly by his side. The fellow from my nightmare. I wiped my eyes and peered again. He was gone.
I slept dreamlessly that night.
Gerry Feehan is an award-winning travel writer and photographer. He lives in Kimberley, BC.
Thanks to Kennedy Wealth Management for sponsoring this series. Click on the ads and learn more about this long-term local business.