Turks and Caicos – The Road Less Travelled
I once had political aspirations. It was the early 1980s. A federal election was brewing. At the same time a tiny chain of British islands in the Caribbean – the Turks and Caicos – had expressed interest in forming an association with Canada.
What a great idea: Canada's own warm, winter destination. No more currency exchange swindles or fighting with hefty American tourists in a Cancun buffet line-up; just a happy bunch of Canucks soaking up the sun in our own polite corner of tropical paradise.
I would make political hay by running for office on this simple, single platform: promoting a union between Canada and the Turks and Caicos. It seemed a worthwhile diversion from Alberta's traditional campaign issues: complaining about Quebec and letting the eastern bastards freeze in the dark.
Alas, I didn't run and my nascent political ambitions, like the election, came and went. The Turks and Caicos dream faded into the blue yonder; our Prime Minister went back to exclaiming "fuddle duddle" in Parliament and the West returned to detesting the East over trivial issues such as who was going to get Alberta's gazillion petro dollars. And instead of milking the federal treasury I ended up in law school and eventually Red Deer where I practiced law for a quarter century before concluding that life was too short to spend behind a desk – even if it were in the corner office.
But some people follow through on that early opportunity to chart a different course. Bruce Twa, a law school buddy, had lawyered through a few cold Alberta winters when a chance phone call offered him the prospect of practicing warm-winter law – in the Turks and Caicos. Bruce jumped at the offer. He has now been resident in the "TCIs" for over twenty-five years, transacting real estate deals on behalf of wealthy, sophisticated, discreet clients – when he's not boating in the azure-coloured waters or snorkeling amongst parrotfish and turtles in the coral reef surrounding the islands.
I had promised (threatened?) to visit Bruce on numerous occasions over the years. Finally, arrangements were made. We'd see the tropical paradise Canada had snubbed and find out how my naïve 1980s political ambitions may have panned out.
My wife Florence and I learned even before clearing customs at Providenciales airport that the TCIs still maintain a quaint "small-island" feel. Bruce and his wife Darlene had graciously offered to host us during our stay but the border guard wouldn't allow us entry. We didn't have Bruce's home address. The officer shook his head many times, threatening us with expulsion, before calling in his superior.
She looked at our paperwork, "Oh, you staying with Bruce? I just give him a call and get his house number." She dialled and five minutes later we were standing on the curb, throwing our stuff into Bruce's pickup.
We had only four days in the TCIs; a wise use of time was paramount. I wanted to evaluate whether Canada had blundered or done right in spurning the wishes of this British Protectorate. A quick but thorough analysis of the culture, economy and history was in order. I'd keep a tally of the positives and negatives. We began our research in a calculated, scientific fashion: so we went for beer and seafood, stuffing ourselves with fresh conch and island brew. The conch fritters were fantastic but the local beer (Turk's Head) was awful. Score: one/one.
In the morning Bruce offered us the use of his beater truck so we could explore the island. I was a bit nervous about driving a standard stick shift in a strange country. "Don't worry," said Bruce, "Provo (that's what the locals call Providenciales) is small, you really can't get lost". I felt better until I turned out of his driveway onto the main highway and realized everyone was driving on the wrong side of the road. I geared down and careened into the steamy Caribbean chaos.
Our methodical investigation continued… with lunch by the sea at Grace Bay – named by Condé Nast as one of the top beaches in the world. The fish was delectable and the beer (Presidente, imported from the Dominican Republic) palatable. The score was starting to favour the unionists.
That afternoon Bruce abandoned his clients to take us on an insider's tour of his small island. The TCIs are a string of Cays ("Keys") located at the eastern end of the Bahamas chain. The capital is Grand Turk, an island 100 kilometers from Providenciales. There are numerous small Cays – mostly uninhabited – between these two major islands. Due largely to the influence of Canadian ex-pats, Provo has evolved to become both the commercial and tourism center of the TCIs.
Bruce drove us through the high-rent district. If you are in the market for a multi-million dollar beachside home, Provo has plenty to offer. And if you change your mind and decide to sell, there is no tax payable on any gain in value. In fact there's no tax of any kind in the TCIs: no tax on income or capital gains and no annual property tax on your house. But import duties and the cost of living are painfully high. Duty can be as much as 45% of a car's value. And when you buy your dream home in paradise there is a one-time stamp fee payable equal to 9.75% of the purchase price. On a $1,000,000 property the fee is almost $100,000! Ouch, that's a lot of postage.
These punishing import duties have led to some clever avoidance strategies. For example, the Turks and Caicos has many, many churches… all exempt from duty. Thus, even the humblest pastor usually drives a shiny new SUV.
We also toured the low-rent district, a stone's throw from where the millionaire's reside. The poor area, dubbed Five Cays, is where the immigrant workers – primarily Haitian – live.
The unmaintained road into Five Cays is almost impassable. This explains the abandoned vehicles we encountered – some converted into makeshift shelters; and many of the shanty houses here are a work-in-progress.
"We build piece-piece," the locals explain. Bruce often does free legal work for the poor of Five Cays. He should be careful. This kind of attitude could bring an end to lawyer jokes.
There are a number of different, confusing categories of residency in the TCIs. We arrived on a temporary (30 day) permit. Bruce and his wife are permanent residents. The Haitians rely on work permit residency.
Then there are the "Belongers". Only those persons born on the islands (with island ancestry) are true citizens, entitled to vote and hold office. Bruce and Darlene have been permanent residents of the TCIs for over two decades but can't vote. They'll never be Belongers.
This bizarre restriction on citizenship has led indirectly to a major challenge facing the Turks and Caicos: a legacy of nepotism and corruption. One afternoon Bruce took us snorkeling. We boated past the palatial home of ex-premier Michael Misick in the Leeward neighbourhood of Provo.
After building his mansion Mr. Misick leased it to the government. Then he moved in – as tenant – and collected $10,000 a month in rent from government coffers. The same day we cruised by the house, Interpol apprehended Mr. Misick in Rio de Janeiro on an international arrest warrant on charges of corruption and maladministration. Michael Misick apparently lacks neither cash nor gumption.
The tally was thickening. Would it really benefit Canada to get into bed with these types – even if the bed was a hammock swaying in a tropical breeze?
Time was running short. To judge matters objectively I needed more first-hand data… so I went bonefishing with "Bar", a local guide. Wow! The fight presented by these fish is absurd. If you are a fly-fisherman put this adventure on your bucket-list. One moment I was admiring a juvenile nurse shark hovering in the shallow waters beneath Bar's flat-bottomed boat and the next the line was spinning uncontrollably outward. It was ten minutes before I had that slippery little devil in my hands.
Motoring back to Provo we trolled past Bruce Willis' house on Parrot Cay but the place looked deserted. Perhaps he was over at Demi Moore's place having an ex-spouse, ex-pat spat.
I owed Bar $500 for the morning's fishing (I told you the TCIs are expensive). We agreed to meet at a bank up the road – but as we pulled in it was being robbed. "What happened?" I asked the security guard next door. "Sketchy… it happen piece-piece," he answered cryptically. Crime is not really an issue in the TCIs but, embarrassingly, the Provo Police Station had also recently been burgled. Thieves made off with guns, ammo and drugs held for pending court cases; adding insult to injury the police force's new uniforms ended up at a local pawnshop.
Then there's the "Potcakes" – Provo's stray dogs. Packs of barking Potcakes roam the streets of this little island at night, stealing sleep from rich and poor alike. Unfortunately, the government funding for a much-needed sterilization program came unleashed amid allegations of… corruption.
Bruce's dog Biana is a former Potcake, now fully civilized. During our boating afternoon Biana grew seasick but jumped overboard rather than vomit in her master's vessel. Bruce cut the motor, dove in and brought his AWOL canine back aboard; then she threw up.
The final tally? It's difficult to say. On our last night any negative karma evaporated when I stepped onto Bruce's deck, into the sultry Provo darkness, and smelled the air. Have you ever encountered night-blooming jasmine? The fragrance is difficult to describe but should I ever again detect its beauty floating on a tropical evening breeze, the recollection will return like scented déjà vu.
Perhaps it's best to let the Turks and Caicos dream drift away, unfulfilled. Like most things in life – politics included – things aren't so simple as may first appear. Still, it sure would be nice to see the Maple Leaf fluttering over a tropical sunset.
About the author:
Gerry Feehan QC practised law in Red Deer for 27 years before starting his second life as a freelance travel writer and photographer. He says that, while being a lawyer is more remunerative than travel writing, it isn't nearly as much fun. When not on the road, Gerry and his wife Florence live in Red Deer and Kimberley, BC. Todayville is proud to work with Gerry to re-publish some of his most compelling stories from his vast catalogue developed over more than a decade of travel.
THANKS to these great partners for making this series possible.
Read more of Gerry's stories here.
2019 Canada Winter Games Chair Lyn Radford Wins STC Sport Event Volunteer of the Year Award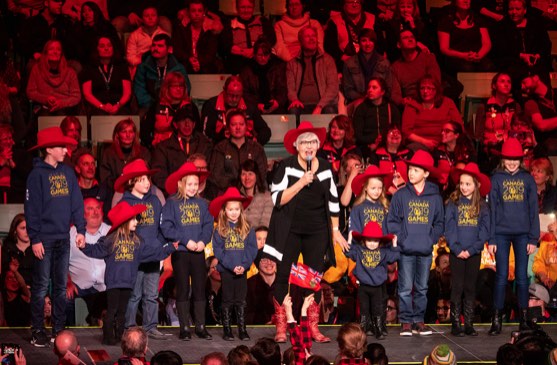 From the Canada Games Council
Lyn Radford, Chair of the 2019 Canada Winter Games, has been named the recipient of the 2020 Sport Tourism Canada (STC) Sport Event Volunteer of the Year Award.
The presentation of the 2020 PRESTIGE awards, postponed from last year, were hosted virtually as a gala on-line production. The presentation was hosted by Olympian, World Cup medallist and CBC Broadcaster Kelly VanderBeek.
The STC Sport Event Volunteer of the Year Award recognizes the outstanding contributions of an individual's volunteer efforts during the hosting of one or more sport events in Canada in 2019.
Lyn Radford Background and Accomplishments
-Lyn Radford served as the Chair of the 2019 Canada Winter Games Host Society from 2014 – 2019
-Lyn oversaw the leadership, planning, execution, governance, and fundraising of the 2019 Canada Games, while serving as the primary spokesperson for the organization
-She is the first singular female Chairperson of a Host Society in Canada Games history
Lyn has volunteered her time to other major events throughout Red Deer and Alberta including the following:
2003, 2006 and 2007 Bid Committee member for Alberta & Western Canada Games
Committee member for 2013 Memorial Cup Bid
Chair of the 2006 Alberta Summer Games
Directed the 2010 Olympic Torch Celebration
Served as a Director for 1998 Alberta Winter Games
Served as a Director for the 2004 and 2012 Scotties Tournament of Hearts
Served as a Director for the inaugural 2013 Tour of Alberta cycling race
Served as Capital Campaign Chair for Red Deer's Ronald McDonald House
Founding member of both the Alberta Sport Development Centre – Central and the Red Deer Leadership Centre
Served on the Alberta Sport Connection as the Provincial Games Chair
Served as a Director on Red Deer College's Board of Governors
Lyn has been recognized through various other awards including:
2005 Alberta Centennial Medal for Volunteer Service
2006 Toyota Never Quit Award
2007 Mayors Award of Distinction for Volunteer Service
Red Deer's 2009 Citizen of the Year
2011 Women of Excellence Lifetime Achievement Award winner
Governor General of Canada 2012 Queen Elizabeth II Diamond Jubilee Medal
2019 City of Red Deer Lifetime Achievement Award
2019 honorary bachelor of interdisciplinary studies degree
Quotes
"The 2019 Canada Winter Games were an incredible event that showcased our nation's top amateur athletes and left behind a legacy of infrastructure, sustainability, and community pride in Red Deer. Lyn Radford was the driving force behind how successful these Games were, and we are grateful for the years of hard work and dedication she invested in the 2019 Canada Winter Games. The Canada Games are stronger than ever because of Lyn, and we're thrilled that she's being recognized for all of her accomplishments."
Evan Johnston, Chair, Canada Games Council
"Congratulations to Lyn on being recognized  by Sport Tourism as the Sport Event Volunteer of the Year.  What a well deserved honor. Lyn has worked tirelessly as a volunteer for all of her adult life. No task is too small or too large for her to tackle. But the legacy of her volunteerism goes deeper than just her own involvement in a myriad of activities and events. She leads, motivates, encourages, cajoles and celebrates in such an infectious manner that the result is literally thousands of people who are giving back to their community because of her passion for commitment. The 2019 Canada Winter Games was just one of many opportunities for her to lead others to impact our community. I am sure all of the nominees have been involved in their events because of an intrinsic motivation to make a difference.  And Lyn was no different. Her motivation is never about self but about transforming community and people. During one day in the preparation for the Games, Lyn made an important presentation to our political leaders in the morning, helped with the orientation of volunteers in the afternoon and then was found hanging ornamental snowflakes from the light posts of main street in the evening. She exemplifies the saying 'life is short-do stuff that matters-for and with others."
Hugh McPherson, Vice Chair, 2019 Canada Winter Games Host Society
"Thank you to Sport Tourism Canada for recognizing the 2019 Canada Winter Games, and the hard work of our "force-to-be-reckoned with" Chair, Lyn Radford. This award recognizes the leadership, strength and fortitude demonstrated by our Chair, Lyn Radford and CEO, Scott Robinson, and the more than 5,000 incredible community volunteers. We made this once-in-a-lifetime moment ours, as individuals, as a community, and as a country in pursuit of possibilities. Congratulations Lyn on this prestigious award."
Tara Veer, Mayor of Red Deer
About the Canada Games
Held once every two years, alternating between winter and summer, the Canada Games are the largest multi-sport event in Canada for up and coming amateur athletes. Each Games features two weeks of competition, between 16 – 19 sports, approximately 3,400 summer and 2,350 winter athletes, and over 4,000 volunteers. Hosted in every province at least once since their inception in Quebec City in 1967, the Games are proud of their contribution to Canada's sport development system in addition to their lasting legacy of sport facilities, community pride and national unity.
The organization of the Canada Games is made possible thanks to the contribution and support of the Government of Canada, provincial/territorial governments, host municipalities and the Canada Games Council.
Biden White House: message discipline, no news conference
WASHINGTON — No news conference. No Oval Office address. No primetime speech to a joint session of Congress.
President Joe Biden is the first executive in four decades to reach this point in his term without holding a formal question and answer session. It reflects a White House media strategy meant both to reserve major media set-pieces for the celebration of a legislative victory and to limit unforced errors from a historically gaffe-prone politician.
Biden has opted to take questions about as often as most of his recent predecessors, but he tends to field just one or two informal inquires at a time, usually in a hurried setting at the end of an event.
In a sharp contrast with the previous administration, the White House is exerting extreme message discipline, empowering staff to speak but doing so with caution. Recalling both Biden's largely leak-free campaign and the buttoned-up Obama administration, the new White House team has carefully managed the president's appearances, trying to lower the temperature from Donald Trump's Washington and to save a big media moment to mark what could soon be a signature accomplishment: passage of the COVID-19 bill.
The message control may serve the president's purposes but it denies the media opportunities to directly press Biden on major policy issues and to engage in the kind of back-and-forth that can draw out information and thoughts that go beyond the administration's curated talking points.
"The president has lost some opportunity, I think, to speak to the country from the bully pulpit. The volume has been turned so low in the Biden White House that they need to worry about whether anyone is listening," said Frank Sesno, former head of George Washington University's school of media. "But he's not great in these news conferences. He rambles. His strongest communication is not extemporaneous."
Other modern presidents took more questions during their opening days in office.
By this point in their terms, Trump and George H.W. Bush had each held five press conferences, Bill Clinton four, George W. Bush three, Barack Obama two and Ronald Reagan one, according to a study by Martha Kumar, presidential scholar and professor emeritus at Towson University.
Biden has given five interviews as opposed to nine from Reagan and 23 from Obama.
"Biden came in with a plan for how they wanted to disseminate information. When you compare him with Trump, Biden has sense of how you use a staff, that a president can't do everything himself," Kumar said. "Biden has a press secretary who gives regular briefings. He knows you hold a news conference when you have something to say, in particular a victory. They have an idea of how to use this time, early in the administration when people are paying attention, and how valuable that is."
The new president had taken questions 39 times, according to Kumar's research, though usually just one or two shouted inquiries from a group of reporters known as the press pool at the end of an event in the White House's State Dining Room or Oval Office.
Those exchanges can at times be clunky, with the cacophony of shouts or the whir of the blades of the presidential helicopter idling on the South Lawn making it difficult to have a meaningful exchange.
"Press conferences are critical to informing the American people and holding an administration accountable to the public," said Associated Press reporter Zeke Miller, president of the White House Correspondents' Association. "As it has with prior presidents, the WHCA continues to call on President Biden to hold formal press conferences with regularity."
White House press secretary Jen Psaki on Friday defended the president's accessibility to the media and suggested that a news conference was likely by the end of March.
"I would say that his focus is on getting recovery and relief to the American people and he looks forward to continuing to engage with all of you and to other members of the media who aren't here today," Psaki said. "And we'll look forward to letting you know, as soon as that press conference is set."
The president's first address to a joint session of Congress — not technically a State of the Union address but a speech that typically has just as much pomp — is also tentatively planned for the end of March, aides have said. However, the format of the address is uncertain due to the pandemic.
The president has received high marks for two major scripted addresses, his inaugural address and his speech marking the 500,000th death to COVID-19.
Having overcome a childhood stutter, Biden has long enjoyed interplay with reporters and has defied aides' requests to ignore questions from the press. Famously long-winded, Biden has been prone to gaffes throughout his long political career and, as president, has occasionally struggled with off-the-cuff remarks.
His use of the phrase "Neanderthal thinking" this week to describe the decision by the governors of Texas and Mississippi to lift mask mandates dominated a new cycle and drew ire from Republicans. That created the type of distraction his aides have tried to avoid and, in a pandemic silver lining, were largely able to dodge during the campaign because the virus kept Biden home for months and limited the potential for public mistakes.
Firmly pledging his belief in freedom of the press, Biden has rebuked his predecessor's incendiary rhetoric toward the media, including Trump's references to reporters as "the enemy of the people." Biden restored the daily press briefing, which had gone extinct under Trump, opening a window into the workings of the White House. His staff has also fanned out over cable news to promote the COVID-19 relief bill.
And while Biden's own Twitter account, in a sharp break from Trump's social media habits, usually offers rote postings, his chief of staff Ron Klain has become a frequent tweeter, using the platform to amplify messages and critique opponents.
Delaying the news conference and joint address also, symbolically, have kept open the first chapter of Biden's presidency and perhaps extended his honeymoon. His approval rating stood at 60% in a poll released Friday from The Associated Press-NORC Center for Public Affairs Research.
Tobe Berkovitz, a professor at Boston University's college of communications, said Biden's "rope-a-dope" strategy was right for the moment.
"Presidential press conferences are not on the top of the agenda for Americans who are worried about COVID and the economic disaster that has befallen so many families," he said.
___
Lemire reported from New York.
Jonathan Lemire And Alexandra Jaffe, The Associated Press