Honouring Canada's Military History – Veteran's Week
"November 5-11 is Veteran's Week, honoring those who have served Canada, past and present, in times of war, military conflict, and peace."
Veteran's Week is dedicated to promoting the education and understanding of Canadian military history, and preserving and honoring the memory of those men and women who dedicated themselves to protecting and fostering freedom and peace. This year, Veteran's Week recognizes the 75th anniversary of the end of the Second World War, where more than one million Canadians served in the military and countless more on the home front, supplementing industry and agricultural efforts for the war.
"Veterans Affairs Canada encourages all Canadians to learn more about the sacrifices and achievements made by those who served our country, and to help preserve their legacy by passing the torch of Remembrance to future generations of Canadians."
Veteran's Week is a reminder to those of us who have experienced the violence and devastation of war only through textbooks or television to never take for granted the rights, freedoms and institutions we access on a daily basis in Canada. The men and women who selflessly stepped up to serve their country were mothers, fathers, sons, daughters, friends and loved ones whose lives would be forever changed by their service. Those who survived face lifelong battles of physical and mental trauma, and those who were lost, many of them young soldiers, would never return to enjoy the peace and liberty they had sacrificed everything to defend.
Every year, Veterans Affairs Canada encourages public engagement and participation in Veteran's Week by sharing the stories of those who served, hosting public events and remembrance ceremonies, and commissioning commemorative Veteran's Week posters.
"Veterans want Canadians to understand the price of freedom." (1)
One of this year's Veteran's Week posters features the story of retired Sergeant Norman Harold Kirby, who enlisted to serve in the Second World War in 1943 at just 17 years old. During his time as a soldier, he stormed Juno Beach on June 6, 1944 as a part of the D-Day assault, served in the Battle of Normandy, and fought in France, Belgium, Germany and the Netherlands. He was discharged in September of 1945 having led a distinguished military career, and was eventually awarded the Field-Marshal Montgomery Award for Gallantry and the Ordre National de la Légion d'honneur and a knighthood from the French Republic.
After his discharge in 1945 he returned to his home in North Vancouver, still very much a young man. "I was only 19 years old when I got home," he says, "not even old enough to vote or have a beer with my father" (2).
The second 2020 Veteran's Week poster features the retired, married veterans Corporal Anne McNamara and Flying Officer Howard McNamara.
Howard enlisted in December 1941 and graduated senior flying training in Windsor Mills, Quebec, with his younger brother. He flew in the North African Campaign in 1942, after which he transferred from Egypt to serve in the Italian Campaign. He retired in March of 1945 at the plea of his remaining family, after learning of the death of his younger brother, who had been shot down while flying over Europe. Anne joined the Royal Canadian Air Force in 1943 as a member of the Entertainment Unit, a traveling show of 30 or so people who performed on the Allied bases almost every night to keep spirits and morale among soldiers high. Anne traveled across North America and to Great Britain with the Entertainment Unit, where she witnessed the severe damage done by German bombing raids and experienced the fear of the air raid sirens herself. She retired in March of 1946 following the end of the war, after which she met her future husband Howard. The two were married in May of 1948, and currently reside in St. Laurent, Quebec (3).

"Remembering and reflecting on the significance of the contribution they made, and continue to make, strengthens the commitment to preserve the values that they fought and died for – truth, justice, peace, freedom and knowledge." (4)
These stories offer just a glance into the lived experiences of thousands of Canadian veterans who aided military and industry efforts during some of the darkest times in our national and global history. This Veteran's Week, explore opportunities to engage with Canadian military history at the local and national levels, and pay respect to our Canadian veterans and active service members as we approach Remembrance Day on November 11th.
For more information on Veteran's Week, visit https://www.veterans.gc.ca/eng/remembrance/get-involved/veterans-week.
Premier Smith uses First Ministers' meeting to catch up with Quebec Premier Legault and Saskatchewan's Scott Moe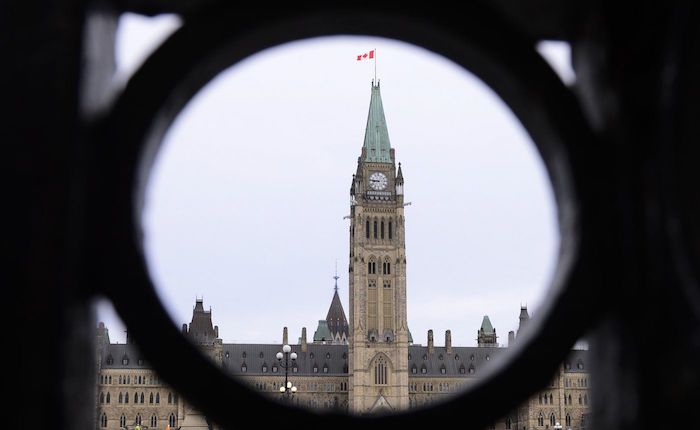 Premier Smith's update from the Ottawa
Premier Danielle Smith participated in the First Ministers' Meeting on health care in Ottawa and provided the following update.
Alberta is leading the country with major reform to health care. After 2.5 years of requests from Canada's premiers, today, the federal government presented their plan. While this is a start, overall, this is significantly lower than the premiers anticipated. Premier Smith will take this information back to her team in Alberta in advance of meeting with Canada's premiers again in the coming days.
Premier Smith also met with premiers François Legault of Quebec and Scott Moe of Saskatchewan in Ottawa in advance of today's first ministers' meeting.
Premier Smith and Premier Legault committed to a desired outcome for a health-care deal that recognizes and respects provincial jurisdiction over health delivery and leads to better outcomes for Albertans and Quebecers. Premier Smith stressed the importance of Alberta's energy sector, advocating for the importance of natural gas exploration and development both for the growth of the Canadian economy and to provide energy security for Canada's allies. Premier Legault reiterated his desire to invest in clean energy like hydroelectricity to fight climate change. Both premiers expressed concern about federal overreach and the need for the federal government to respect provincial autonomy in areas of provincial jurisdiction to better meet the needs of their citizens.
Premier Smith and Premier Moe expressed a need for flexibility in the delivery of health-care services, especially those that Alberta's Healthcare Action Plan commits to, such as reducing surgical wait times, improving ambulance services and reducing emergency room wait times. Premier Smith emphasized Alberta's progress on recovery-oriented care to support those struggling with mental health and addictions challenges and invited Premier Moe to Alberta to visit the province's recovery-oriented treatment centres. The premiers also discussed the mutual importance of the energy sector to their provinces for job growth and export to Canada's allies and a desire to work together on establishing economic corridors for trade and energy export.
Premier Smith asks Prime Minister to halt "Just Transition" legislation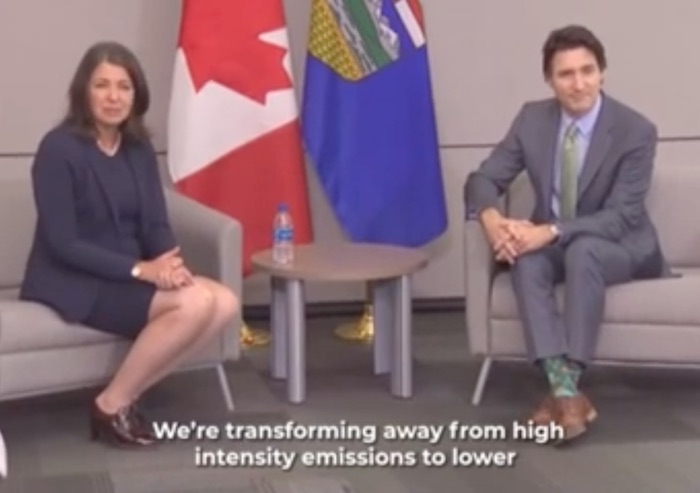 Premier Smith meets with the Prime Minister
Premier Danielle Smith met with the Prime Minister for approximately 30 minutes primarily discussing Alberta's request for the federal government to halt the introduction of its proposed 'Just Transition' legislation and other emission reduction strategies.
The Premier asked the federal government to instead work collaboratively with the Government of Alberta on developing a plan and partnership to attract energy investment and workers into Alberta's conventional, non-conventional and emerging energy sectors while reducing Canada's and Alberta's net emissions.
The Prime Minister expressed a willingness to explore this strategy with the Premier through their respective ministers and the Premier will be following up with further correspondence regarding proposed next steps in the near future.
The Premier used today's discussion to outline Alberta's expectations as to what must and must not be included in any future federal legislation, targets or policies as it relates to Alberta's energy sector. These expectations included:
Abandonment of any references to 'just transition' or any other terminology or policies that signal the phaseout of Alberta's conventional or non-conventional energy sector or workforce.
Increased workforce training and participation in all of the conventional, non-conventional and emerging energy sectors.
The need for formal consultation and collaboration with Alberta before the federal government announces or implements legislation, targets or policies that materially impact Alberta's energy sector.
Substantial increase in LNG exports to Asia through the lens of meeting targets through replacement of higher emitting fuel sources with clean Canadian LNG.
Joint federal-provincial initiatives to facilitate increased private investment in nuclear, hydrogen, bitumen beyond combustion, geothermal, lithium, helium, zero-emission vehicle, CCUS, petrochemical and other emerging technologies and fuels that make Alberta's conventional and non-conventional energy sector increasingly carbon neutral.