Community & Sustainability with Alberta Original Alley Kat Brewing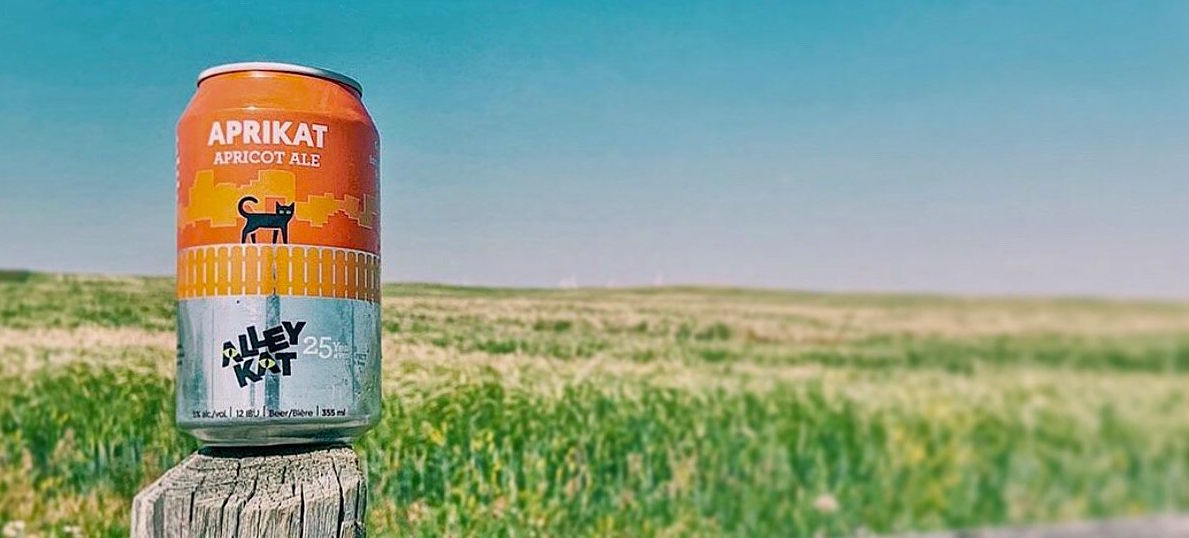 Alberta is home to more than 100 unique craft breweries, the majority of which are located in the city of Calgary and the provincial capital, Edmonton. The number of breweries has grown exponentially since 2013, when Alberta experienced a craft beer boom following legislative changes by Alberta Gaming, Liquor and Cannabis (AGLC) that made owning and operating a microbrewery far more accessible. 
Founded in 1995, well before the boom, Alley Kat Brewing is an Alberta original. Having celebrated its 25th birthday in 2020, Alley Kat is the oldest microbrewery in Edmonton and the 4th oldest in all of Alberta.
Located on 60th Ave in NW Edmonton, this brewery was originally launched by local Edmontonians Neil and Lavonne Herbst. In February 2020 the brewery was purchased by Cam French and Zane Christensen, two childhood friends from St. Albert, Alberta. 
Accountants by trade, Cam and Zane had been looking for opportunities to transition into the craft brew industry, and found Alley Kat to be a good fit. According to original founder Neil Herbst, who has remained involved with the day-to-day at Alley Kat, keeping the brewery local
was a key part of the decision. "At a time when we are seeing some craft breweries being absorbed by large multinationals, keeping Alley Kat in independent hands was extremely important to us," said Neil in 2020. "This sale ensures Alley Kay continues to remain locally owned and operated" (Alley Kat Blog, February 2020). 
Since taking over the brewery, Cam and Zane have continued to focus on the foundations laid by the Herbst's, including furthering sustainable, environmentally friendly practices wherever possible and keeping close ties with the community. In an effort to minimize their footprint as much as possible, Alley Kat looks for ways to recycle, repurpose and reduce waste throughout all stages of brewing and distribution. "From a social consciousness perspective, we know how important it is to do our part," says Cam, "Alley Kat will always look out for the good of our customers and our environment."
Alley Kat's environmental practices include repurposing their spent grain, the product leftover once flavor and sugar has been extracted from their mash, by donating it to Edmonton's Four Whistle Farm to be used as livestock feed. The brewery is also powered by Bullfrog Energy, which allows them to offset their electricity use with green energy, reducing their overall carbon footprint. Furthermore, everything that can be recycled is recycled throughout the process, and the owners continue to stress the importance of recycling the iconic Alley Kat can once it is empty. 
Alley Kat Brewery has and continues to be a dedicated member of the community in Edmonton and across Alberta. Most recently, the brewery announced a partnership with the Alberta Junior Hockey League (AJHL) in support of local teams, including the Sherwood Park Crusaders, Olds Grizzlys, Whitecourt Wolverines, Drayton Valley Thunder and the Bonnyville Pontiacs. $1 from each 6-pack of Alley Kat Blonde Ale will go towards helping cover travel, meal and equipment expenses for the young athletes.
"I played hockey for Drayton Valley growing up," says Cam, "so this is a great way to give back and help these players have the same experiences I did." 
After an exciting – if not somewhat trying – first year at Alley Kat Brewing, Cam and Zane are excited for the remainder of 2021. Fans of Alley Kat and Canmore's Grizzly Paw Brewing can look forward to a collaboration beer, coming soon in honor of 25 years for both breweries.
A new Alley Kat "Summer Fling" mixed pack, featuring 3 new beers will be coming out soon as well, just in time for patio season, and their annual summer seasonal beer will be released on April 1st!

For more information on Alley Kat Brewing, visit https://www.alleykatbeer.com
For more stories, visit Todayville Calgary.
Oilers goaltender Stalock likely to miss season due to possible heart condition
EDMONTON — Goaltender Alex Stalock will likely miss the season due to a possible heart condition, Edmonton Oilers general manager Ken Holland said Wednesday.
Speaking on the opening day of Oilers training camp, Holland said the possible condition was detected when he returned home for more tests after the team's physical exam at the end of the 2020-21 season.
"At the end of the year we did a physical. Then he went home, he went in to have additional tests. And through these additional tests he found out that he maybe has some kind of a heart condition," Holland said.
Holland said Stalock contracted COVID-19 before the start of the 56-game shortened season, but was later cleared to play and spent time on the Oilers' taxi squad after the team claimed him off waivers from the Minnesota Wild in March. 
He did not appear in a game with either Minnesota or Edmonton last season.
"He's seen a couple of cardiologists," Holland said. "He's looking to get additional opinions.
"I would say to you right now that based upon where we're at today I don't anticipate that he'll play hockey this year. But if he does get further opinions it might change his decision."
Holland said Stalock was "excited about coming to camp and pushing for a job" before getting the troubling results from the tests.
Stalock, a 34-year-old from St. Paul, Minn., has a 61-49-18 record with a 2.61 goals-against average and a .909 save percentage in 151 career NHL games with San Jose and Minnesota. 
This report by The Canadian Press was first published Sept. 22, 2021.
The Canadian Press
Regulatory group warns several Alberta doctors about sharing COVID-19 misinformation
EDMONTON — A group that oversees the practice of medicine in Alberta says it has told at least seven doctors who were spreading misinformation about COVID-19 that their behaviour was unprofessional.
Scott McLeod, registrar with the College of Physicians and Surgeons of Alberta, says the regulator has also spoken to doctors who gave into pressure from patients wanting an exemption letter– not grounded in clinical evidence — to avoid having to wear masks or vaccinations.
McLeod says the college is to publish a letter this week addressed to physicians and the public to reiterate its support for vaccines and public health restrictions put in place to try to curb the spread of COVID-19.
The college says the doctors who were warned had been spreading misinformation on social media platforms or elsewhere.
McLeod says it's disappointing to see that type of behaviour and noted it has a significant effect because doctors have a powerful voice in society.
He adds the number of doctors painting a false narrative in the province is unprecedented.
McLeod says if doctors don't stick to basic science that outlines how to protect people during a pandemic, the public and other physicians can file an official complaint with the college.
This report by The Canadian Press was first published Sept. 22, 2021.
The Canadian Press