"The Planet is not an Ashtray" – It's Time to Stop Throwing Cigarette Butts on the Ground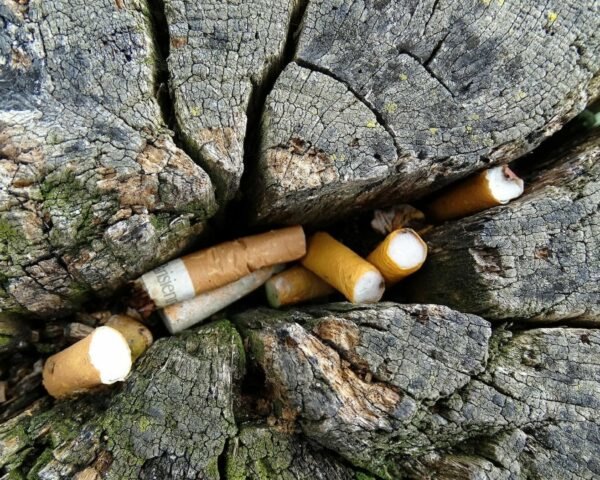 Raise your hand if you've ever witnessed someone flick their burnt out cigarette butt onto the ground while they're standing outside the pub, or walking down the sidewalk. Or, if you've ever driven over a still-lit cigarette on the road after the driver in front of you chucked it out the window of their moving car.
In a public setting, throwing a soda can or an empty coffee cup onto the ground is a hard no, often met with swift social backlash by surrounding witnesses. So why, then, is it considered socially acceptable to throw cigarette butts – literal chemical trash on fire – onto the ground?
While the act of discarding a cigarette butt onto the ground may seem insignificant in the moment, statistics show the staggering and destructive impact this decision has on the environment when made by millions of people every day.
According to a National Geographic article released in August 2019, cigarettes are the top plastic polluters around the world. Globally, approximately 6.5 trillion cigarettes are purchased each year, and of those, "an estimated two-thirds of the trillions of filters used each year are tossed into the environment."
Cigarettes are not biodegradable. The breakdown that results from weathering and time spent in the elements leads to further environmental degradation, as thousands of microscopic plastic fibers and chemicals are released. The chemicals found in cigarette ash and filters, which include arsenic, lead and benzene, among others, are poisonous to the environment and its inhabitants.
In 2019, a study led by Anglia Ruskin University (ARU) was published in the journal of Ecotoxicology and Environmental Safety highlighting how cigarette butts significantly reduce plant growth. "We believe it is the chemical composition of the filter that is causing damage to the plants," says co-author Dr. Bas Boots, "Most are made from cellulose acetate fibers, and added chemicals which make the plastic more flexible … may also be leaching out and adversely affecting the early stages of plant development."
In addition to inhibiting early plant growth, cigarette litter consistently ends up in waterways that lead to surrounding rivers, lakes, and the ocean. This contaminates the water with dangerous chemicals and plastics that poison marine life and other animals, who often mistake cigarette butts for food.
Not to mention, in regions experiencing hotter, dryer climates, cigarette butts can lead to wildfires when discarded before being properly extinguished. In June 2019, the Vancouver Island Fire Department responded to 7 fires in 7 days, all of which were caused by improperly discarded cigarette butts.
The social norm that permits cigarette butts as an acceptable form of litter is far outdated. Cigarette litter should be held to the same standard as all other forms of chemical and plastic waste that negatively impact the environment, meaning the onus is on the user to ensure proper, safe disposal.
Brain Garden is a family run business based in Vernon, British Columbia, on an international mission to eliminate cigarette litter and its detrimental environmental effects.
Founded by 'Head Gardener" Jack Elliman in 2012, Brain Garden manufactures eco-friendly, airtight Pocket Ashtrays for safe, on-the-go disposal of cigarette butts. When users drop their lit cigarettes into the Pocket Ashtray and snap it shut, the airtight seal extinguishes the butt and traps the smoke, successfully tackling 2 of the main reasons individuals litter in the first place – convenience and lingering smell.
The inspiration for the Pocket Ashtray originated in the transformational festival industry, where individuals are encouraged, if not required, to leave no trace. Though not as commonly as on a city sidewalk, even there, Elliman noticed, cigarette butts were ending up on the ground. It was there Elliman identified the need for a convenient, eco-conscious solution to keep cigarette butts from ending up in the environment.
From there, the environmentally friendly invention has expanded into the global market as a convenient, educational product that leads to less cigarette waste littering our towns, contaminating our waterways, harming our wildlife, and causing wildfires.
"It really comes down to education," says Elliman, inventor of the Pocket Ashtray, "people forget that cigarette waste is toxic waste, and now with COVID, it's a biohazard as well." Since the launch of Brain Garden 8 years ago, more than 100,000 Pocket Ashtrays have been distributed to cities, fire departments, music festivals, cleanup groups and more worldwide.
The story doesn't end there, however. The Pocket Ashtray goes one step beyond simply keeping cigarette litter off the ground. Once the Pocket Ashtray becomes full, the contents can be mailed to TerraCycle using free shipping labels provided by Brain Garden, compliments of TerraCycle. From there, TerraCycle composts the remaining paper and tobacco and recycles the cellulose acetate.
"We are about to hit 1000 total pounds of recycled cigarette litter with TerraCycle," says Elliman. This one-ton milestone is a result of global participation in various Brain Garden cigarette litter campaigns, including "butt barrels" and "butt buckets" which function alongside the Pocket Ashtrays.
The funds generated from the recycling process with TerraCycle are then put towards the Brain Garden Wildfire Prevention and Education Campaign. This campaign focuses on reducing wildfire risk by providing free Pocket Ashtrays to the smokers, promoting safe and responsible cigarette disposal, and educating the public about the dangers of improperly discarded cigarette butts.
It's 2021. Time to respect the environment, be a good human and use an ashtray.

For more information on the Pocket Ashtray and how to join Jack Elliman and Brain Garden on their ongoing mission to protect the environment from the largest global plastic pollutant, visit https://braingarden.ca
For more stories, visit Todayville Calgary.
Battle of Alberta starts with a bang as Flames down Oilers 9-6 to open playoff series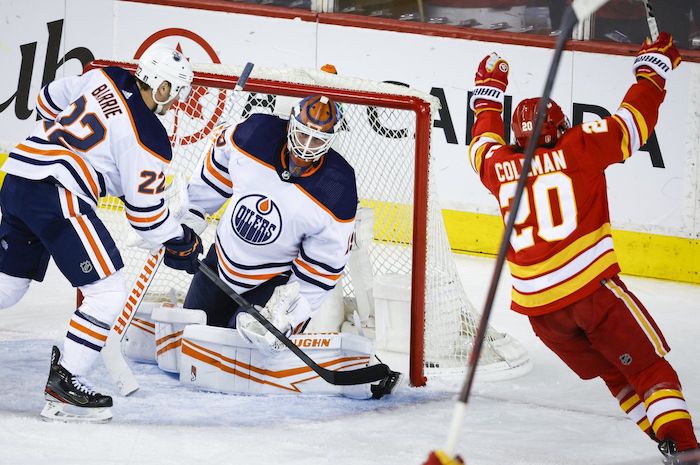 By Donna Spencer in Calgary
Matthew Tkachuk scored a hat trick for the Calgary Flames in Wednesday's 9-6 win over the Edmonton Oilers to open their playoff series.
The NHL's first playoff Battle of Alberta in 31 years compensated for its long absence with an abundance of goals in Game 1.
Blake Coleman scored twice for the Flames. Rasmus Andersson and Andrew Mangiapane each had a goal and two assists.
Elias Lindholm and Brett Ritchie also scored for Calgary while goaltender Jacob Markstrom stopped 22 shots for the win.
Zach Hyman scored twice for Edmonton. Connor McDavid produced his fourth straight multi-point game in the playoffs with a goal and three assists.
Edmonton's captain leads the league's post-season points race with five goals and 13 assists.
Leon Draisaitl had a goal and two assists and Kailer Yamamoto and Evan Bouchard also scored for the Oilers.
Edmonton starter Mike Smith was pulled in the first period after allowing three Calgary goals on 10 shots. Mikko Koskinen made 32 saves in relief.
The winner of the best-of-seven series advances to the Western Conference final.
Game 2 is Friday at the Saddledome before the series heads to Edmonton for Sunday's Game 3 and Tuesday's Game 4.
Teams that take a 1-0 lead in a best-of-seven series hold a series record of 503-232 (.684), according to NHL statisticians.
In a matchup of potent offences, the question ahead of the series was which team could keep the puck on its sticks and spend more time in the offensive zone.
Calgary dominated that department early. The Flames scored twice in a 25-second span in the first minute and led 3-0 by 6:05 when Smith was replaced by Koskinen.
Calgary's two goals in the opening 51 seconds was the fastest two goals to start an NHL playoff game, and electrified a sea of red dotted with Oiler orange and blue at the Scotiabank Saddledome.
The Oilers would not go quietly, however.
The Flames had survived a goaltender-dominated, grinding series with the Dallas Stars in the first round.
Wednesday's Game 1 was, by contrast, an open-ice track meet of mediocre goaltending. The Flames held a 40-18 edge in shots after two periods, but led 6-5 heading into the third.
Edmonton's Yamamoto briefly tied the game at 1:28 putting McDavid's rebound over Markstrom's outstretched pad.
Andersson regained the lead for Calgary at 2:57. Mangiapane from behind the net fed the all-alone defenceman whose wrist shot beat Koskinen's glove.
Tkachuk gave the Flames a two-goal lead at 8:55 with his second of the night. He snared a Draisaitl turnover at the blue line and beat Koskinen five-hole on a breakaway.
Tkachuk scored into an empty net to complete his hat trick. Hats rained down onto the Saddledome ice and chants of "we want 10" goals soon followed.
Draisaitl pulled the visitors within a goal at 19:21 of the second period when he beat Markstrom far side on an odd-man rush with McDavid.
Hyman scored at 9:38 and 14:06 of the second period. He circled out from behind the net and whipped the puck by Markstrom's glove for his second.
Hyman skated the puck into Calgary's end, stopped and got a shot away between defenceman Michael Stone's legs that deflected off Markstrom and into the top corner for his first.
Tkachuk batted in a rebound for a power-play goal at 8:24 after Bouchard converted a McDavid pass at 7:10. McDavid spun off of Dillon Dube to get a cross-ice pass away to Bouchard.
Zack Kassian's roughing penalty after Bouchard's goal gave Calgary the man-advantage for Tkachuk's goal.
Coleman struck 45 seconds into the second period and again at 6:10 for a 5-1 Flames lead.
He redirected a Noah Hanifin shot for his second goal and put a rebound over a prone Koskinen during a scramble around the crease for his first.
McDavid glided in front of the net and patiently waited for Markstrom to commit before tucking the puck between the goalie's pads at 7:41 of the first period.
Ritchie scored his first career playoff goal at 6:05. He knocked Edmonton's Evander Kane off the puck at the Oilers' blue line, reached to collect the loose puck and got a shot away under Smith's arm.
From behind the net, Backlund dished to an undefended Mangiapane in the slot for the latter to beat Smith from close range 51 seconds after opening puck drop.
Lindholm converted Calgary's first shot of the game into a goal 26 seconds after opening faceoff. He settled a bouncing puck off a cross-ice dish from Rasmus Andersson and swept it far side over Smith's glove.
The Flames were minus top shutdown defenceman Chris Tanev a second straight playoff game. He was injured in Game 6 of Calgary's first-round series against Dallas.
Tanev skated in both Tuesday's practice and in Wednesday's morning skate, but did not dress for Game 1.
Notes: With his 94th career playoff win as a head coach, Darryl Sutter joined Pat Quinn ranked No. 6 all-time . . . With three assists in Game 1, Johnny Gaudreau joined Jarome Iginla and Martin Gelinas (2004) among Flames to carry a six-game point streak in the playoffs . . . McDavid was the first Oiler to score a goal in four straight post-season games since Michael Peca and Shawn Horcoff in 2006 . . . The red lot fan zone adjacent to the Saddledome was closed Wednesday because of high winds . . . Game 1 was the highest scoring playoff game involving Calgary and Edmonton surpassing the previous high of 12 goals scored in Game 3 of the 1983 Smythe Division final.
This report by The Canadian Press was first published May 18, 2022.
This is what Jason Kenney said as he stepped down as Premier of Alberta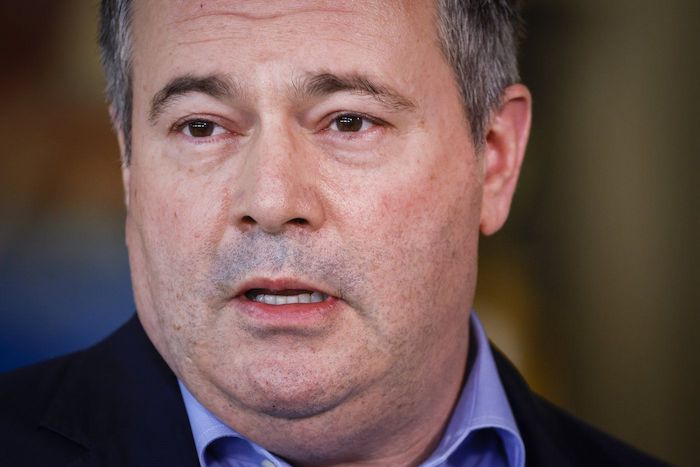 Premier Jason Kenney's address starts at the 10 minute mark and only lasts for 4 minutes.