"The Planet is not an Ashtray" – It's Time to Stop Throwing Cigarette Butts on the Ground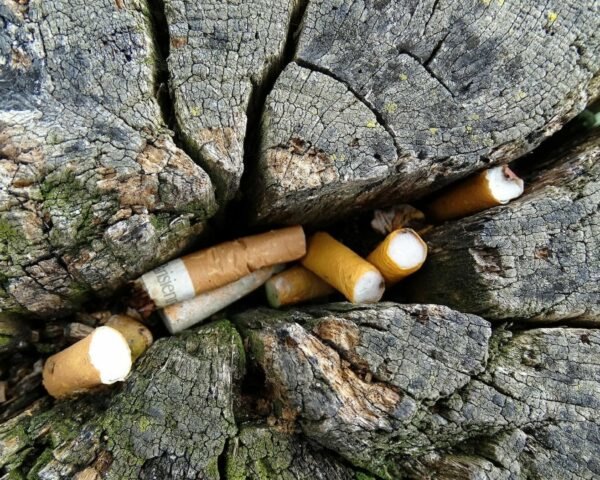 Raise your hand if you've ever witnessed someone flick their burnt out cigarette butt onto the ground while they're standing outside the pub, or walking down the sidewalk. Or, if you've ever driven over a still-lit cigarette on the road after the driver in front of you chucked it out the window of their moving car.
In a public setting, throwing a soda can or an empty coffee cup onto the ground is a hard no, often met with swift social backlash by surrounding witnesses. So why, then, is it considered socially acceptable to throw cigarette butts – literal chemical trash on fire – onto the ground?
While the act of discarding a cigarette butt onto the ground may seem insignificant in the moment, statistics show the staggering and destructive impact this decision has on the environment when made by millions of people every day.
According to a National Geographic article released in August 2019, cigarettes are the top plastic polluters around the world. Globally, approximately 6.5 trillion cigarettes are purchased each year, and of those, "an estimated two-thirds of the trillions of filters used each year are tossed into the environment."
Cigarettes are not biodegradable. The breakdown that results from weathering and time spent in the elements leads to further environmental degradation, as thousands of microscopic plastic fibers and chemicals are released. The chemicals found in cigarette ash and filters, which include arsenic, lead and benzene, among others, are poisonous to the environment and its inhabitants.
In 2019, a study led by Anglia Ruskin University (ARU) was published in the journal of Ecotoxicology and Environmental Safety highlighting how cigarette butts significantly reduce plant growth. "We believe it is the chemical composition of the filter that is causing damage to the plants," says co-author Dr. Bas Boots, "Most are made from cellulose acetate fibers, and added chemicals which make the plastic more flexible … may also be leaching out and adversely affecting the early stages of plant development."
In addition to inhibiting early plant growth, cigarette litter consistently ends up in waterways that lead to surrounding rivers, lakes, and the ocean. This contaminates the water with dangerous chemicals and plastics that poison marine life and other animals, who often mistake cigarette butts for food.
Not to mention, in regions experiencing hotter, dryer climates, cigarette butts can lead to wildfires when discarded before being properly extinguished. In June 2019, the Vancouver Island Fire Department responded to 7 fires in 7 days, all of which were caused by improperly discarded cigarette butts.
The social norm that permits cigarette butts as an acceptable form of litter is far outdated. Cigarette litter should be held to the same standard as all other forms of chemical and plastic waste that negatively impact the environment, meaning the onus is on the user to ensure proper, safe disposal.
Brain Garden is a family run business based in Vernon, British Columbia, on an international mission to eliminate cigarette litter and its detrimental environmental effects.
Founded by 'Head Gardener" Jack Elliman in 2012, Brain Garden manufactures eco-friendly, airtight Pocket Ashtrays for safe, on-the-go disposal of cigarette butts. When users drop their lit cigarettes into the Pocket Ashtray and snap it shut, the airtight seal extinguishes the butt and traps the smoke, successfully tackling 2 of the main reasons individuals litter in the first place – convenience and lingering smell.
The inspiration for the Pocket Ashtray originated in the transformational festival industry, where individuals are encouraged, if not required, to leave no trace. Though not as commonly as on a city sidewalk, even there, Elliman noticed, cigarette butts were ending up on the ground. It was there Elliman identified the need for a convenient, eco-conscious solution to keep cigarette butts from ending up in the environment.
From there, the environmentally friendly invention has expanded into the global market as a convenient, educational product that leads to less cigarette waste littering our towns, contaminating our waterways, harming our wildlife, and causing wildfires.
"It really comes down to education," says Elliman, inventor of the Pocket Ashtray, "people forget that cigarette waste is toxic waste, and now with COVID, it's a biohazard as well." Since the launch of Brain Garden 8 years ago, more than 100,000 Pocket Ashtrays have been distributed to cities, fire departments, music festivals, cleanup groups and more worldwide.
The story doesn't end there, however. The Pocket Ashtray goes one step beyond simply keeping cigarette litter off the ground. Once the Pocket Ashtray becomes full, the contents can be mailed to TerraCycle using free shipping labels provided by Brain Garden, compliments of TerraCycle. From there, TerraCycle composts the remaining paper and tobacco and recycles the cellulose acetate.
"We are about to hit 1000 total pounds of recycled cigarette litter with TerraCycle," says Elliman. This one-ton milestone is a result of global participation in various Brain Garden cigarette litter campaigns, including "butt barrels" and "butt buckets" which function alongside the Pocket Ashtrays.
The funds generated from the recycling process with TerraCycle are then put towards the Brain Garden Wildfire Prevention and Education Campaign. This campaign focuses on reducing wildfire risk by providing free Pocket Ashtrays to the smokers, promoting safe and responsible cigarette disposal, and educating the public about the dangers of improperly discarded cigarette butts.
It's 2021. Time to respect the environment, be a good human and use an ashtray.

For more information on the Pocket Ashtray and how to join Jack Elliman and Brain Garden on their ongoing mission to protect the environment from the largest global plastic pollutant, visit https://braingarden.ca
For more stories, visit Todayville Calgary.
Lafreniere scores in OT to lift Rangers over Flames 5-4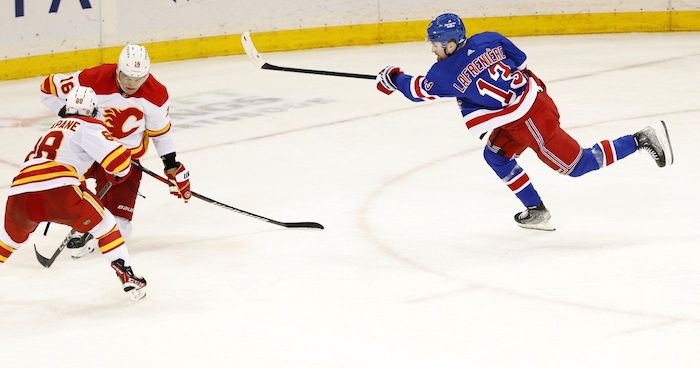 By Allan Kreda in New York
NEW YORK (AP) — Alexis Lafreniere scored 1:37 into overtime and Jaroslav Halak made 28 saves as the New York Rangers beat the Calgary Flames 5-4 on Monday night.
Lafreniere led a 2-on-1 rush and then tracked down the rebound of Mika Zibanejad's shot, beating netminder Jacob Markstrom for his seventh goal this season. That ended a frenzied game that was tied four times and featured several fights following big hits — two by Rangers captain Jacob Trouba.
"Getting the game-winning goal in OT is always fun," the 21-year-old Lafreniere said. "It was a great up-and-down game with two really good goalies. It was fun to play."
Calgary's Andrew Mangiapane and Michael Stone scored two minutes apart early in the third period to give the Flames a 4-3 lead, but Zibanejad scored his second goal of the game — his team-leading 24th — to tie it for the fourth time at 12:55.
Filip Chytil also scored twice for the Rangers, who improved to 9-2-3 in their last 14 games and are 17-4-3 since Dec. 5.
Halak has won six straight and seven of his last eight appearances.
Zibanejad put New York ahead 3-2 with 14 seconds left in the second but Mangiapane scored at 6:38 of the third to tie it. The play was reviewed to determine if Mangiapane kicked in the puck with his skate, but the goal stood.
"It wasn't pretty at times. … It was a hard battle. We just kept going," Zibanejad said. "It was a big two points and a great way to come back from the break."
Zibanejad's first goal came as he roofed the puck past Markstrom on the power play with assists to Chris Kreider and Artemi Panarin. The assist was Panarin's 300th point with the Rangers.
Chytil opened the scoring at 5:37 of the first, rifling a high shot past Markstrom. Kaapo Kakko and Adam Fox assisted.
Calgary forward Blake Coleman tied it at 10:25 with his 11th goal.
There were several skirmishes in the first as both teams were playing for the first time since Jan. 27 following the All-Star break.
"It wasn't a great hockey game, but it was an exciting game," Rangers coach Gerard Gallant said. "It was different — a bunch of fights going on. … Maybe the break was too short."
Trouba tussled with Calgary's Chris Tanev after the defenseman leveled Flames forward Dillon Dube with an open-ice check.
Later in the first, several fights ensued after Rangers forward Sammy Blais drilled Flames forward Milan Lucic. New York rookie Will Cuylle fought Calgary's MacKenzie Weegar, and Lucic was assessed an extra two minutes for roughing against Rangers forward Jake Leschyshyn.
"Exciting game. Fun game. I thought we were valiant to come back," Flames coach Darryl Sutter said. "I thought we played really well. … There were three or four hits. They were clean, big hits."
Chytil put the Rangers ahead 2-1 on a breakaway at 2:02 of the second. Fans at Madison Square Garden chanted the 23-year-old Czech forward's name after his second goal.
"That's cool, feels very good," he said. "It motivates me to be better the next shift and show what I can do."
Chytil has a career-best 18 goals and 31 points this season. He has six goals in his last four games and 14 points — 10 goals — in his last 12 games.
Calgary's Tyler Toffoli tied it at 2 with his 19th goal on the power play at 16:45 of the second.
Trouba struck again with just under a minute left in the second, body-checking Nazem Kadri hard in the Rangers zone, then fighting Dube who rushed to his teammate's defense. Dube received an extra two-minute penalty for instigating, and Zibanejad scored the go-ahead goal on the ensuing power play.
NOTES: Zibanejad's 83rd power-play goal for the Rangers moved him ahead of Phil Esposito and Jean Ratelle into a tie with Vic Hadfield for sixth place on the franchise list. … Calgary scratched defensemen Dennis Gilbert and Connor Mackey, plus forward Brett Ritchie. … The Rangers scratched forwards Julien Gauthier and Vitali Kravtsov, plus defenseman Libor Hajek. … The teams meet again Feb. 18 in Calgary.
UP NEXT
Flames: Visit the Detroit Red Wings on Thursday.
Rangers: Host the Vancouver Canucks on Wednesday.
___
AP NHL: www.apnews.com/hub/NHL and www.twitter.com/AP_Sports
'I am sorry': Man convicted in stabbing of Calgary chef apologizes at sentencing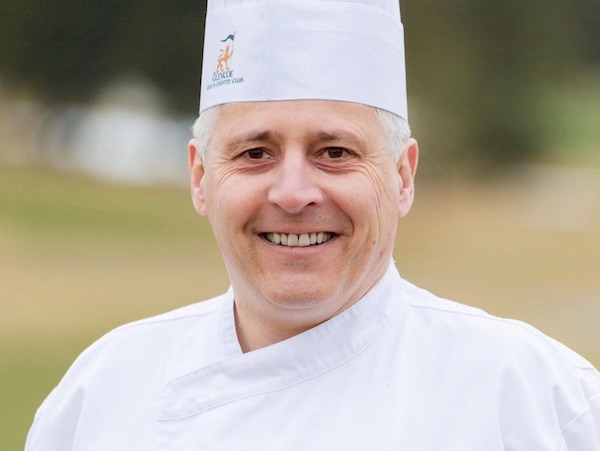 By Bill Graveland in Calgary
A man convicted of killing a chef apologized Monday and expressed dismay that no one with the victim's family was in court to to hear it.
Tommie Holloway was convicted of manslaughter while his accomplice, Anthony Dodgson, was found guilty of second-degree murder in the death of Christophe Herblin.
Herblin was stabbed to death in a parking lot outside his soon-to-be opened Calgary café following a break-in in 2020.
Holloway, 33, told his sentencing hearing that he hoped his words would get through to Herblin's wife, who wrote in a victim impact statement last December that the killing had left her broken and struggling "to make sense of this tragedy."
"It got to me. Got me emotional," said Holloway.
"I just wish they were here today so I could look at them eye-to-eye, apologize for my actions. I know no amount of words that I'm going to say is going to bring back their loved one, but I do want them to know that I am sorry."
The Crown has recommended Holloway serve 12 years in prison. Defence lawyer Kim Ross said his client had no previous criminal record, has made efforts to turn his life around and should serve three to five years.
"I'm not standing here saying that imprisonment is not appropriate here. The issue is how long," Ross told Court of King's Bench Justice Blair Nixon.
"Mr. Holloway has clearly learned his lesson … and I submit with some degree of confidence that this court will never see Mr. Holloway back here again."
Herblin was a longtime executive sous chef at the Glencoe Golf and Country Club, and his new restaurant was weeks away from opening.
Court heard Dodgson and Holloway broke into the restaurant with plans to get through a wall into an adjacent cannabis shop. They fled when a car drove by and returned later to continue their robbery attempt but became frustrated as Herblin had showed up.
Holloway smashed Herblin's car windows in order to lure him into the parking lot. Dodgson attacked him and stabbed him nine times.
Herblin staggered to a nearby gas station for help and died shortly after police officers came to his aid.
Ross said Holloway had no knowledge of what was going to happen and immediately ran off after smashing out the car's windows.
"Mr. Holloway at that point did not know what had happened. He did not know that Mr. Herblin was in the state that he was in and that he had gone to the Shell looking for help," Ross said.
"He was leaving the scene of a possible break and enter. Certainly at the time of his leaving he did not know."
Dodgson receives an automatic life sentence for the murder conviction. When the sentencing hearing began for both men in December, the Crown argued that Dodgson should not be eligible for parole for 15 to18 years. His lawyer asked for a range of 10 to 12 years.
The judge is scheduled to deliver his sentence for Holloway and Dodgson on Feb. 24.
This report by The Canadian Press was first published Feb. 6, 2023.
This is a corrected story. A previous version said lawyers were recommending the time Holloway should serve before he is eligible for parole.