Getting the Next Generation of Alberta Youth Excited about Renewable Energy with Eavor Technologies Inc.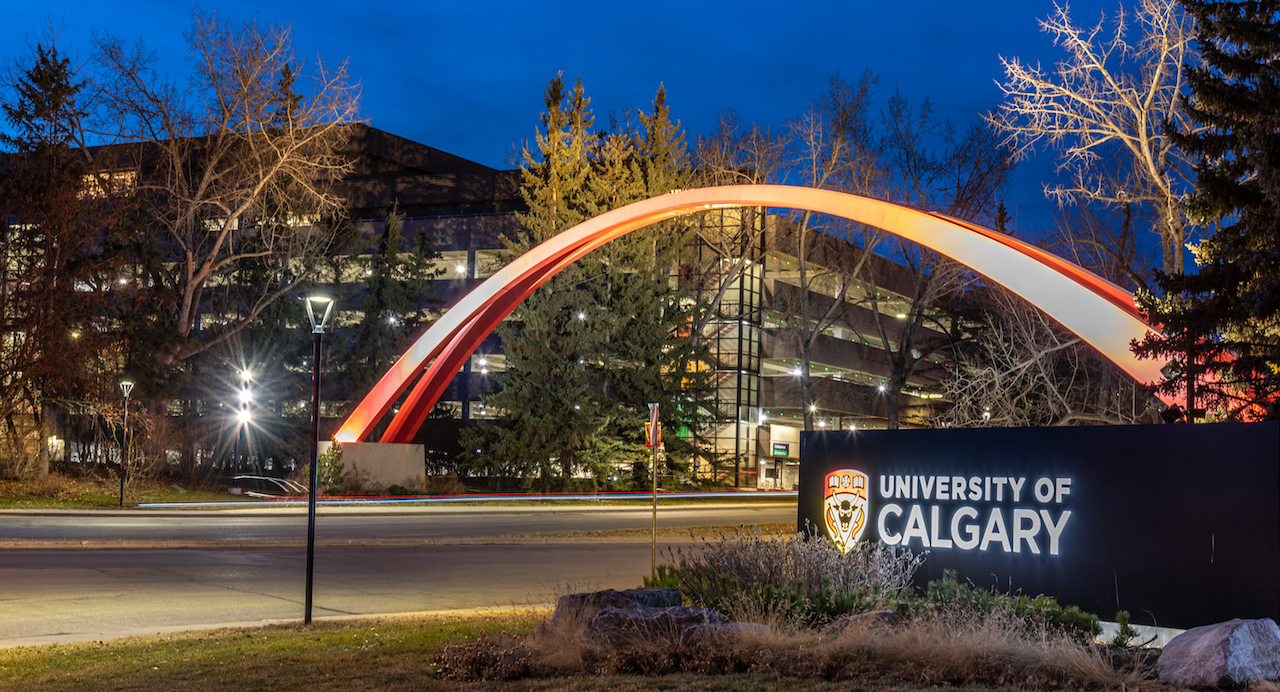 In February 2021, oil giants bp and Chevron, along with a number of other notable groups announced their decision to back Calgary-based geothermal company Eavor Technologies Inc. through a $40 million funding round. Since then, discussions regarding the pivot away from oil and gas into renewables have captured national interest. Is this a sign the shift is officially underway?
Eavor Technologies is a local geothermal tech company making international waves in the global renewable energy arena. By revolutionizing the approach to geothermal energy, Eavor's technology has eradicated several of the costly, inefficient measures associated with traditional geothermal. Without experiencing the limitations of traditional geothermal, nor being subject to intermittency issues associated with wind and solar, Eavor's solution is one the world sorely needs.
Alberta Minister of Jobs, Economy and Innovation Doug Schweitzer recently commended Eavor in an address discussing ongoing economic diversification in Alberta, noting private sector investment in provincial geothermal wells. "Eavor Technologies of Calgary has raised significant money for this, and plans to produce enough geothermal power to heat thousands of homes over the next decade," said Schweitzer.
In light of recent developments in the oil and gas industry, Eavor's ongoing mission to harness the Earth's geothermal potential to provide reliable, scalable, baseload power for millions of homes in the coming years has taken on a new key component.
Following the announcement, Eavor has taken several steps to further invest in academia in Alberta through the launch of an ongoing educational campaign aimed at engaging Alberta youth in the future of renewable energy in the province and across the nation. As a local, cutting edge technology company on a mission to positively change the world, Eavor recognizes the importance of encouraging the bright members of the young generation to ask questions and actively participate in the ongoing changes occurring in the energy industry.
"Eavor has developed a unique renewable energy solution by applying established or proven technologies in an innovative and creative way," says Bailey Schwarz, Lead Engineer for Eavor. "Educating and engaging the next generation will encourage creative thinking and problem solving in the energy sector that will keep building on these innovations in every sector."
Earlier this month, Eavor Technologies Inc. announced a multi-year research and development partnership with the University of Calgary Department of Chemical and Petroleum Engineering and the National Science and Engineering Research Council (NSERC) valued at almost $1 million.
This partnership will focus on building on existing Alberta drilling technology to effectively further applications for geothermal exploration and development, while educating the public and creating new jobs for Albertans.
Engaging young adults at the university level is a key part of Eavor's investment in geothermal education and development in Alberta, however, it doesn't end there.
On March 10, 2021, team members from Calgary tech company Eavor Technologies Inc. visited Bearspaw Christian School in northwest Calgary to present their cutting-edge closed loop geothermal technology to the 10th grade science classes.
The presentation was led by Eavor's Lead Engineer Bailey Schwarz, Senior Business Development Leader Neil Ethier and Chief Business Development Officer, Paul Cairns.
The team introduced Eavor's mission, discussed the differing forms of renewable energy and explained the Eavor-Loop in relation to traditional geothermal. Bailey Schwarz then covered thermodynamics before introducing Eavor-Lite, Eavor's successful, third party validated demonstration project located in Rocky Mountain House, Alberta.
"The presentations went really well," says Schwarz, "I was really impressed with the interest the students showed and the challenging questions they asked our team."
The presentation to Bearspaw Christian School is part of Eavor's ongoing educational outreach campaign designed to get the younger generation excited about ongoing developments in the field of renewable energy. As future scientists, engineers, and entrepreneurs, the bright students in Mr. Dallas Peterson's 10th grade science class were captivated by Eavor's presentation. They kept the team on their toes by asking endless questions to better understand the Eavor-Loop technology. "We were all really impressed by all the questions," says Paul Cairns, CBDO of Eavor, "we really want to encourage these young kids to think differently."
Cairns closed the presentation by introducing a two-part Eavor Challenge. Part one is an opportunity for students to further explore Eavor's global geothermal energy potential by determining the best possible location for a future Eavor-Loop. They were given a curated list of potential locations, which need to be ranked according to feasibility based on geological, economical, and socio-political factors – this list includes Mars.
Eavor has partnered with Bearspaw Christian School to continue the challenge into the next school year, when a science research option being offered by Mr. Peterson will give students the chance to explore Eavor in extreme depth.
"I hope they come away from this experience excited for the future, and feeling that they will have an important part to play," says Mr. Peterson, Bearspaw Secondary Science teacher, "I believe we need to foster the conversation with our youth surrounding the question, 'in what ways could we envision energy alternatives?' It's so important to instill a hope for the future."
To encourage creativity alongside education, Eavor will be awarding an Oculus Quest Virtual Reality Headset, pre-loaded with the Eavor-Lite Virtual Tour, to one student from each semester who exceeds the challenge.
Eavor prides itself on being at the forefront of renewable energy development in Alberta, and investment and education for Alberta's youth and young adults is a crucial step in ensuring a successful, prosperous future for the province. Students in grade school, high school, university and graduate school all have an important part to play in furthering provincial and national goals surrounding the pivot towards renewable energy.
"Investing in our youth is investing in our future," says Paul Cairns, Chief Business Development Officer for Eavor Technologies. Eavor is proud to play a part in getting the next generation of Alberta youth excited and engaged in renewable technology, and geothermal energy development.

University of Calgary Positions
The University of Calgary is hiring several positions for its multi-year R&D project with Eavor Technologies.
Research Associate in Drilling Operations, Drilling Performance Optimization, Data Analytics, Drilling Modelling and Control.

M.Sc. in engineering required, industry experience and/or Ph.D. preferred.

Postdoctoral Fellow in Drilling Mechanics, Bit-Rock interaction Modelling and Non-Linear System Dynamics and Control.

A recent Ph.D. in engineering required.
Three Ph.D. Research Assistantships in:
1) Hydraulic percussion hammer modelling
2) Physics-informed data-driven model development
3) Estimation techniques for digital twinning
To apply, please send your CV, Cover Letter, and a Writing Sample to Roman Shor at roman.shor@ucalgary.ca
Eavor's virtual tour and link to the Oculus Quest App can be experienced here: https://eavor.com/eavor-lite-virtual-tour
For more stories, visit Todayville Calgary.
Province orders dismissal of Chestermere Mayor, three councillors, and all three CAO's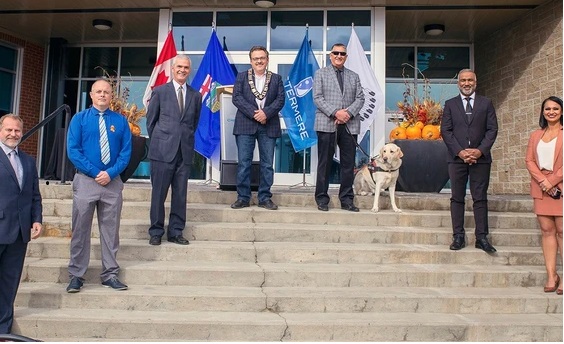 City of Chestermere/Facebook)
City of Chestermere councillors and senior staff dismissed
Minister of Municipal Affairs Ric McIver has issued a ministerial order dismissing four of the City of Chestermere's municipal councillors and all three chief administrative officers (CAOs).
After the city failed to comply with the supervision of the official administrator and some of the minister's directives that have been in place since March 15, 2023, Minister McIver has dismissed Mayor Jeff Colvin, Coun. Mel Foat, Coun. Blaine Funk and Coun. Stephen Hanley, as well as the three CAOs.
The directives, intended to restore good governance to the City of Chestermere, were issued following a municipal inspection. Since then, the city has continued to be managed in an irregular, improper and improvident manner.
"The directives issued by my predecessor are not onerous and represent the bare minimum that citizens ought to expect from their municipal government. However, after undertaking all reasonable efforts to have the city comply with its obligations, it has failed to do so. I am profoundly disappointed that it has come to this, but the people of Chestermere deserve better. This community should be able to have trust in its local elected government."
While the minister determined that the city has failed to comply with its obligations, he has also determined that dismissal of Coun. Shannon Dean, Coun. Sandy Johal-Watt and Coun. Ritesh Narayan was not justified given their efforts to hold council to account and attempt to move council in a more positive direction toward proper governance practices and compliance with legislation.
Councillors Dean, Johal-Watt and Narayan remain as elected councillors but will have no role in the governance of the city until a byelection is held and council quorum is restored.
The ministerial order dismissing Chestermere council members and senior administration is effective Dec. 4. An official administrator and interim CAO are in place to oversee the City of Chestermere's governance and operations until a byelection is held to elect new councillors for the vacant positions at a date to be determined in 2024.
Quick facts
A municipal inspection was ordered by the minister of Municipal Affairs under the Municipal Government Act (Section 571) in May 2022.
The independent inspection, which concluded in September 2022, found the City of Chestermere to be managed in an irregular, improper and improvident manner.
An official administrator was appointed in September 2022 to supervise the municipality and its council.
On March 15, 2023, the minister of Municipal Affairs issued 12 binding directives through a ministerial order requiring the City of Chestermere to take action to address key areas of concern.
On Oct. 18, the minister of Municipal Affairs issued to the City of Chestermere a notice of intent to issue a ministerial order which would dismiss all seven council members from office, as well as all three CAOs.
Premier Smith reacts to Liberal Government's announcement on new methane reduction targets at COP 28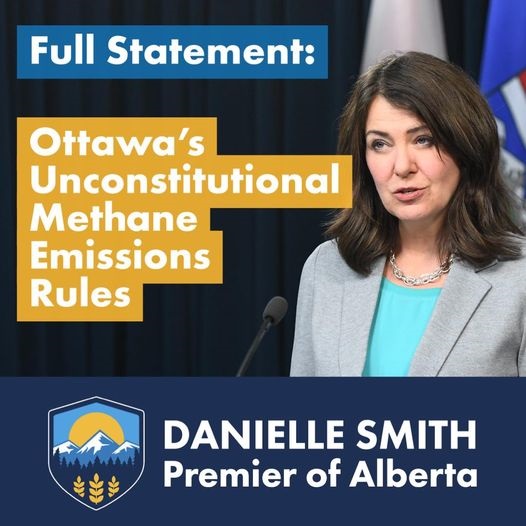 Federal methane emissions targets: Joint statement
"Once again, the federal government is setting unrealistic targets and timelines. Infrastructure can only be updated as quickly as technology allows. For example, Alberta will not accept nor impose a total ban on flaring at this time, as it is a critical health and safety practice during production. Any regulation that completely prohibits this is putting lives at risk"
Premier Danielle Smith and Minister of Environment and Protected Areas Rebecca Schulz issued the following statement on the federal government's proposed methane emissions regulations:
"The federal government has unilaterally established new methane emissions rules and targets to help win international headlines. Instead of building on Alberta's award-winning approach, Ottawa wants to replace it with costly, dangerous and unconstitutional new federal regulations that won't benefit anyone beyond Environment and Climate Change Minister Steven Guilbeault's post-office career.
"Managing emissions from Alberta's oil and gas industry is our constitutional right and responsibility, not Ottawa's, and we are getting the job done. Using a province-led approach, Alberta has already reduced methane emissions from the oil and gas sector by 45 per cent – hitting our target three years early – and we're just getting started.
"Meanwhile, not only is it illegal for Ottawa to attempt to regulate our industries in this manner, Ottawa also hasn't even hit one of its past arbitrary and unscientific emissions targets largely because it has little to no credible expertise regulating the natural resource, agricultural and other industry sectors in this space.
"Ottawa could have helped us keep reducing emissions with joint incentive programs in line with Alberta's Emissions Reduction and Energy Development Plan. It could have listened to the Supreme Court's declaration that the Impact Assessment Act was unconstitutional and abandoned this kind of arrogant and ineffective scheme. Instead, these new regulations threaten our successful province-led approach and impede good work that's already underway.
"Once again, the federal government is setting unrealistic targets and timelines. Infrastructure can only be updated as quickly as technology allows. For example, Alberta will not accept nor impose a total ban on flaring at this time, as it is a critical health and safety practice during production. Any regulation that completely prohibits this is putting lives at risk. A total ban would also be costly, resulting in shut-ins and loss of production.
"This approach will also cost tens of billions in infrastructure upgrades, yet Ottawa has provided virtually no financial support to do so. Thousands of Albertans could be put out of work in the coming years due to these costly regulations. A federal government willing to invest $37.7 billion into just three battery plants in Ontario and Quebec cannot credibly refuse to provide tax credits and financial incentives for producers in Alberta and Saskatchewan to assist with achieving a carbon-neutral economy by 2050.
"For years, Alberta, not Ottawa, has done the hard work and achieved results. We strongly support reducing methane emissions and have invested tens of millions into developing these technologies. Minister Guilbeault must work with us, and not against us, to keep cutting methane emissions and charting a course for carbon neutrality by 2050.
"Given the unconstitutional nature of this latest federal intrusion into our provincial jurisdiction, our government will use every tool at our disposal to ensure these absurd federal regulations are never implemented in our province."