Best Places to Visit to Lose Yourself
Best Places to Visit to Lose Yourself
If you are struggling with personal anxiety, depression, or addiction, it is important to find a way to unwind and take a break from yourself. Getting the distance you need requires losing yourself in a new environment and concentrating on the meaning of your life. Doing so will provide you with the power you need to beat addiction.
Spending Time Outdoors is Healing
One of the most effective ways to lose yourself is to spend time outdoors. People have noted for generations that the natural world has healing powers. However, it goes beyond simply making a person feel better. Nature is, in many ways, our natural environment. When you go kayaking, take a hike, or camp in the woods, you are coming back to an instinctive home.
It might not be easy for you to manage this kind of outdoor living at first. Many people struggle to enjoy camping or will miss modern electronic technology. However, that's a big part of why the outdoors are so effective for losing yourself. If you find a comfortable, but not extravagant, cabin in the woods, you cut yourself off from the sometimes negative influence of the modern world.
Great Places to Camp
A few of the best places to camp in our province include Banff National Park, Jasper National Park, and Waterton Lakes National Park. Each has their advantages. For example, at Banff, you can hike to glacial lakes and can camp in one of the most natural and beautiful places on the planet, just a few hours away.
Vacations Can Be Helpful, Too
While spending time in nature is the most efficient way to lose yourself, it may not be right for everybody. Some people simply can't handle those kinds of mental or physical demands. That's when a nice vacation can be so effective. People who spend time in beautiful vacation areas often find their troubles disappear and their mind clears wonderfully.
Consider a Mexican Vacation
Mexico is a relatively short flight from Canada and there are plenty of great places where you can vacation. One particularly beautiful destination is Cancun, which has a variety of wonderful beaches to relax on while you lose yourself and your worries.
You could also check out Mexico City, where ancient Aztec ruins exist next to places like the Frida Kahlo Museum. And in Teotihuacan, you can visit the ancient Pyramid of the Sun and celebrate the Day of the Dead in style.
Why Finding Yourself Again Matters
Losing yourself on a road trip to a relaxing vacation spot is just part of the journey towards addiction recovery. Once you have lost yourself and experienced mental and spiritual awakenings, you need to find yourself again. After an experience like this, you are not going to be the same person. That's a good thing, as the person you were before was struggling with an addiction.
How do you find yourself? By spending time in your new area and thinking hard about who you are as a person. For example, you could try to figure out why you started using, why it became an addiction, and what you can do to stop it. You can also try to rediscover your life goals and brainstorm ways to achieve them.
Losing Yourself Can Help With Addiction
By losing yourself and your troubles in a new environment, you can open up new avenues of self-expression and personal understanding. Many people in similar situations turn to an addiction recovery center in times like these. They can be a powerful tool for those who can't seem to shake their substance abuse and who need help regaining a sober life.
So if you need help beating addiction, consider visiting one of these treatment centers. They are a healthy and healing way to get through withdrawal, identify the influences behind your addiction, and walk away as a clean and sober person. While it won't be easy, it will help you become the person you deserve to be and make success a real possibility.
Kevin Gardner
Maybe Kevin's article gave you the travel bug? Check out some of Gerry's adventures and get out and see the world.
Todayville Travel: Turks and Caicos – The Road Less Travelled
Paul McCartney's rediscovered photos show Beatlemania from the inside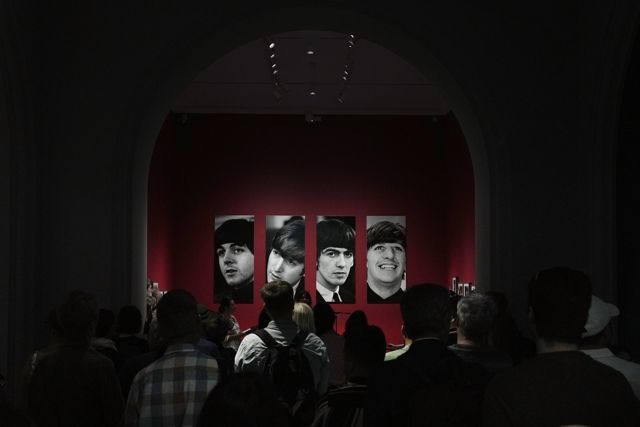 Visitors look at pictures during a preview of Paul McCartney Photographs 1963-64: Eyes of the Storm exhibition at the National Portrait Gallery in London, Britain, Tuesday, June 27, 2023. The exhibition consists of unseen photographs taken by Paul McCartney from the Beatles at the height of Beatlemania. The gallery will open it's doors from June 28, 2023 until October 1, 2023. (AP Photo/Frank Augstein)
By Jill Lawless in London
LONDON (AP) — Is there really a new way to look at The Beatles, one of the most filmed and photographed bands in history?
Yes, says Britain's National Portrait Gallery, which is providing a fresh perspective with an exhibition of band's-eye-view images that Paul McCartney captured as the group shot to global fame.
Gallery director Nicholas Cullinan said the exhibit, subtitled "Eyes of the Storm," is a chance "to see, for the very first time, Beatlemania from the inside out."
The seed for the exhibit was sown in 2020, that year of lockdown projects, when McCartney dug out 1,000 forgotten photos he'd taken in 1963 and 1964, as the Fab Four went from emerging British celebrities to world megastars. He and his team asked if the National Portrait Gallery was interested in displaying them.
"I think you can probably guess our response," Cullinan said as he introduced the exhibition to journalists in London on Tuesday.
The show includes 250 photos taken in England, France and the United States that illustrate The Beatles' journey from cramped dressing rooms in provincial British theaters to stadium shows and luxury hotels.
"It was a crazy whirlwind that we were living through," McCartney writes in a note present at the start of the exhibit. "We were just wondering at the world, excited about all these little things that were making up our lives."
Rosie Broadley, who curated the show, said the gallery soon realized the trove "wasn't just interesting pictures by a famous person."
"It's actually telling an important story about cultural history — British cultural history and international cultural history," she said. "This is a moment when British culture took over the world for a while."
The display begins in late 1963, shortly after McCartney acquired a Pentax 35mm camera. The early black-and-white images include portraits of The Beatles, their parents, girlfriends, crew and colleagues, including manager Brian Epstein.
Broadley said these images depict "a parochial postwar British celebrity" — concerts in provincial cinemas alongside now-obscure bands like Peter Jay and the Jaywalkers, 16-night variety-style Christmas shows at London's Finsbury Park Astoria.
Cullinan said the photos convey a "sense of intimacy" missing from professional photos of the band.
"This wasn't The Beatles being photographed by press photographers of paparazzi but peer-to-peer," he said. "So there's a real tenderness and vulnerability to these images."
In January 1964, McCartney took his camera with the band to Paris, capturing the city at the height of its French New Wave cool. While there, The Beatles learned that "I Want to Hold Your Hand" was a No. 1 hit in the United States.
Within days, they were on a plane to New York, where their Feb. 9 performance on "The Ed Sullivan Show" was watched by 73 million people, and nothing was ever the same again.
The U.S. section of the exhibit shows the band's increasingly frenetic life. Many of the shots were taken from planes, trains and chauffeur-driven automobiles and show crowds of screaming fans and rows of police. Sometimes, McCartney turned his lens back on the newspaper and magazine photographers looking at him.
One striking shot was taken through the back window of a car as a crowd chased the band down a Manhattan street, a scene echoed in the band's first feature film, "A Hard Day's Night," made later that year.
McCartney also took pictures of strangers – a girl seen through a train window, ground crew at Miami airport goofing around.
The band's final stop was Miami, where McCartney switched to color film. The results, Broadley said, "look like a Technicolor movie, like an Elvis film." The photos show John, Paul, George and Ringo swimming, sunbathing, water skiing, even fishing. From a hotel window, McCartney photographed fans writing "I love Paul" in giant letters in the sand.
McCartney, 81, spent hours talking to curators about the photos and his memories as they prepared the exhibit, one of the shows reopening the National Portrait Gallery after a three-year renovation.
The images were preserved for decades on undeveloped negatives or contact sheets, and McCartney had never seen them in large format until the gallery had them printed.
The project was not without risks. McCartney acknowledges he's not a professional photographer – though his late wife, Linda McCartney, was, as is their daughter Mary McCartney. Some of the photos are blurry or hastily composed. But what they lack in technique they make up for in spontaneity.
Broadley said McCartney "was nervous about showing some of the less formally composed ones or the less in-focus ones."
"But I think we persuaded him that we liked those because of the story that they tell," she said. "It's quite nice to have those ones where they're sitting around with a cup of tea before the event."
___
"Paul McCartney Photographs 1963-64: Eyes of the Storm" is on at the National Portrait Gallery in London from Wednesday until Oct. 1.
Pride Toronto director feels connection with Jays is still strong after Bass saga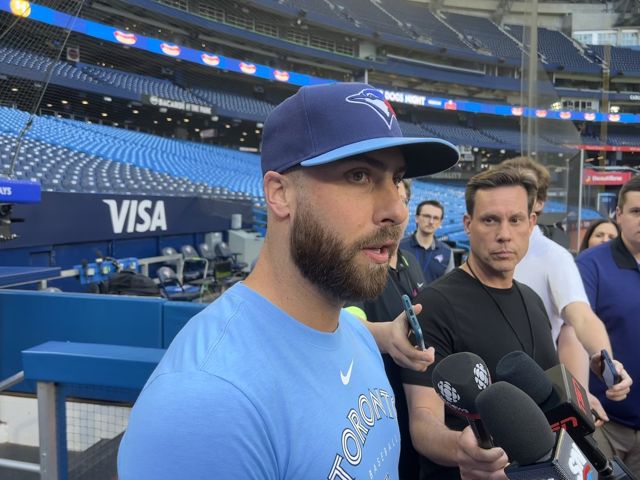 By Gregory Strong in Toronto
Pride Toronto executive director Sherwin Modeste feels the organization's relationship with the Blue Jays remains strong but notes there are still "mixed feelings out there" as a result of the Anthony Bass saga.
"The entire community has not let go and has not forgiven," Modeste said. "It's going to take time. For some folks, it may take two weeks. For some folks, it may take a year.
"But we have to allow people to deal with this as individuals."
Bass was designated for assignment last Friday before the start of Pride Weekend festivities at Rogers Centre. The move came nearly two weeks after the pitcher shared a social media post that supported anti-LGBTQ boycotts.
"I think the Jays did what they should have done, which was provide opportunities for Anthony to really reflect on his behaviour," Modeste said. "Clearly I think Anthony as an individual has (his) own personal beliefs and the issues that (he) needs to work on. I thought the final decision, I was fine with it.
"I'm a believer that when you call people out, you have to call them in and provide an opportunity for them to change that behaviour. But I don't think that Anthony was there. So I think they made the right call."
The Bass story started to snowball after his brief apology on May 30. He prefaced his statement by saying, "I'll make this quick," before returning to the dugout without taking questions.
Linguist Edwin Battistella, the author of "Sorry About That: The Language of Public Apology," said while it was positive that Bass said he planned to educate himself, he didn't say whether he was sorry for sharing the post or for hurting the community.
"Bass was kind of struggling there with the specificity part," Battistella said from Ashland, Ore. "He sort of waffles about what he's apologizing for."
Bass was noticeably booed by home fans in his next pitching appearance.
Over the days that followed, he spoke in the clubhouse on occasion to a few Jays beat reporters.
In an interview with The Canadian Press and Sportsnet, Bass weighed in on a "really good conversation" he had with Modeste at the stadium on June 6. Modeste would call the one-hour chat a "good second step" as part of a "continuation of learning."
Bass also revealed that the idea of catching the ceremonial first pitch on the opening night of Pride Weekend was discussed.
The front office, meanwhile, was publicly silent on the Bass developments until last Thursday, when general manager Ross Atkins was peppered with questions about the reliever and the team's handling of the situation.
"That's definitely too long before the organization has anything to say," said strategic communications expert Julia Rim Shepard from Toronto Metropolitan University. "It really should be immediate. "The individual should be brought in immediately to have a conversation about how (they're) going to go forward together."
Rob Goodman, a former speech writer and now a TMU assistant professor in the department of politics and public administration, said there's no "one-size-fits-all" guide for handling these kind of developments.
"I would say that in this situation, it's as if Anthony Bass and the Blue Jays in many ways ended up in a worst-case scenario because what he did was go out and go through the motions of giving an apology that he really didn't seem to mean," Goodman said. "I don't think that leaves anyone happy."
A short time after Atkins' first availability, Bass spoke in a scrum setting that likely sealed his demotion.
He said he initially didn't think the video post – which described the selling of Pride-themed merchandise as "evil" and "demonic" – was hateful.
"That's why I posted it originally," he said that day. "When I look back at it, I can see how people can view it that way and that's why I was apologetic."
Atkins explained the subsequent roster move as a "baseball decision to make our team better," adding the distraction was something that the club had to factor in.
Bass, 35, had a solid year last season but struggled over 22 appearances this year. The Dearborn, Mich., native had a 4.95 earned-run average and was used in low-leverage situations.
His planned participation in Friday's ceremonial first pitch proceedings, which was confirmed by Modeste a few days beforehand, became a polarizing subject.
Bass's final media scrum as a Blue Jay only raised the potential for significant awkwardness. His demotion made it a moot point.
Pitcher Kevin Gausman filled in by catching a ball thrown by longtime LGBTQ advocate leZlie Lee Kam.
Shepard said Bass's involvement likely would not have gone over well.
"I think the climate would have been quite terrible," she said. "I think it could have escalated to things being thrown on the field."
Modeste, meanwhile, was on hand that night to hold up a giant Pride flag on the field before the game. Over 35,000 spectators were in attendance, many wearing rainbow flag jerseys.
"It was moving to be able to be a part of (it)," Modeste said. "You could feel the energy in the room. Yes, there are some folks that are still upset. I said to the Jays and I said to the Jays Care (Foundation), 'Don't expect everyone to just forget and forgive. For some folks it's going to take longer to come back.'
"But again, we saw the spirit of wanting to come together and wanting to celebrate Pride. I can tell you it was spectacular."
Messages left with Bass and his agent were not returned.
The Blue Jays have until Friday to trade Bass or put him on waivers. He's in the final year of a contract that pays him US$3 million this season.
This report by The Canadian Press was first published June 13, 2023.