A Look at the Craft Brewery Boom in Alberta
The microbrewery landscape in Alberta is composed of a niche collection of local businesses, each offering a creative and completely unique approach to beer and dining. Each location tells a different story through its brews, taproom, artwork, product design and individual take on what makes Alberta beer the best. 
In this strange and creative world, there is something for everyone. Consumers can enjoy the favorite Super Saturation New England Pale Ale while sitting with friends beneath indoor wooden cabins at Cabin Brewing Company, Brewery of the Year winner at the 2020 Alberta Beer Awards. Those with an affinity for sci-fi might enjoy sampling a flight from Zero Issue while kicking back with a comic book. Patio enthusiasts can enjoy the sunshine while sipping on the 2020 Award winners for Patio Beers at Tool Shed Brewing Company, Sea Change Brewing Co. or Analog Brewing. 
Since 2013, the number of microbreweries in Alberta has skyrocketed. What was once one of the most sparsely populated craft beer industries in Canada has become one of the most exciting destinations for craft beer connoisseurs. 
According to Avenue Magazine, in December 2013, the Alberta Gaming and Liquor Commission made adjustments to the "antiquated laws that made starting a brewery or brewpub a formidable undertaking," opening the doors for Alberta brewers to pursue their passion. Since then, there has been a steady increase in craft breweries across Alberta, from no more than 13 in 2013 to 123 province-wide as of January 2020. According to Canadian Beer News, the Alberta brew industry now employs an estimated 3,000 people.
Although each brewery could not be more individual and unique, together these businesses form a tight-knit community built on support, collaboration and a mutual desire to see the craft beer market continue to succeed in Alberta and across Canada. According to Alberta Beer, "Alberta brewers know everyone wins when we support and nurture our communities." 
In Calgary, the craft beer industry has also undergone an extreme expansion in recent years. There are over 30 brewery-taprooms throughout the city, which is also home to a number of collectives. These include the Barley Belt, a collection of breweries spanning several kilometres throughout Calgary's southeast, and Brewery Flats, a craft beer tour featuring a number of breweries in the Inglewood area. 
Offering an ever-changing selection of local brews on tap, the breweries in Calgary push the limits with an ongoing series of strange and spectacular creations. Some stay for a while, some are gone before your next visit. 
Follow Todayville Calgary to learn more about Calgary's unique breweries, now featuring exclusive weekly updates from Whats on Tap? 
Stars and RCMP chopper combine to rescue fallen ice climber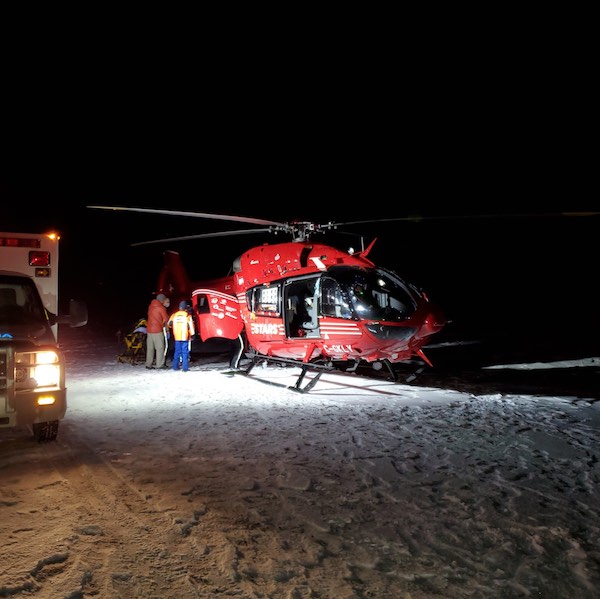 From Alberta RCMP media relations
Rocky Mountain House RCMP assist in ice climber rescue
On Jan. 15, 2021 at approximately 2:30 p.m., Rocky Mountain House RCMP received a dispatch of a fallen ice climber who was in need of medical assistance. A SOS beacon was received locating the fallen ice climber at the south end of Abraham Lake. Reports indicate the climber fell approximately 12 meters.
RCMP, EMS, Search and Rescue (SAR), STARS air ambulance and Alstrom Helicopters assisted in the rescue. The 28 year old injured male was long line rescued from his location by Alstrom Helicopters, with the assistance of Rocky Mountain House SAR. STARS was waiting nearby and further transported the injured male to a Calgary hospital.
The rescued male suffered serious but non life threatening injuries as a result of his fall.
Everyone who assisted in this rescue should be commended for their professional, swift and incredible work. Well done!
Oilers place goalie Mike Smith on long-term injured reserve
EDMONTON — The Edmonton Oilers have placed goaltender Mike Smith on long-term injury reserve, and have re-assigned Olivier Rodrigue to the club's taxi squad, pending quarantine protocols. 
Edmonton announced both transaction on Friday, but did not elaborate on Smith's injury.
Smith was supposed to start Thursday's game at home against the Vancouver Canucks but was declared inactive, forcing Mikko Koskinen into back-to-back starts. 
Smith and Koskinen were expected to split duties in the Oilers net this season. Edmonton re-signed the 38-year-old Smith to a one-year contract in the off-season. 
Rodrigue had been with the Graz99ers of the Austrian National League.
The 20-year-old Rodrigue was drafted 62nd overall by Edmonton in 2018.
This report by The Canadian Press was first published January 15, 2021.
The Canadian Press