Durham Dissonance: Lots Of Smoke, No Firings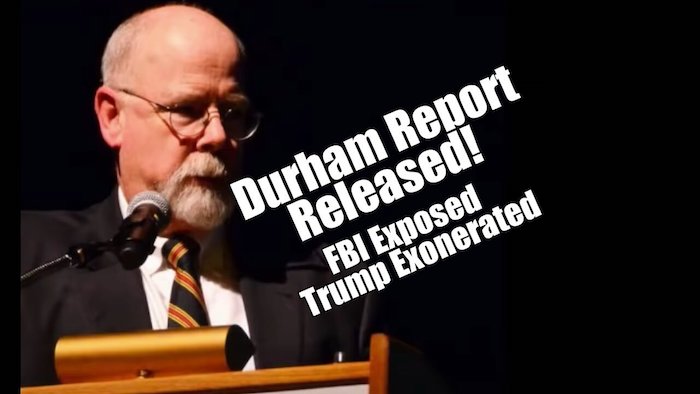 We are listening to a Canadian podcast on which the Svengali behind Justin Trudeau describes Donald Trump as the lyingest liar who ever lied. (Possible). He describes Trump's effect on public credibility in apocalyptic terms. Never is heard a word about what the Biden Crime Family has done to people's confidence in officialdom. Nor what Trudeau's own cupidity has wrought in Tinker Toy world.
There is bliss in the purity of his indictment. Hustlers always enjoy bliss. While Trump's penchant for bloviation is beyond doubt, there is something slightly mind-bending about setting down a marker on Orange Man Bad's effect on the body politic while somehow ignoring Skippy's effect on Canada.
Insert irony here: This chin-tugging about the dread POTUS 45 was coming just as a U.S. Special Counsel John Durham was announcing that Hillary Clinton and the Democratic Party conspired with the FBI/ CIA, the Obama Administration and the legacy media to fix the 2016 presidential election. When that effort failed, the same actors staged a four-year-long running coup against a democratically elected president using the fake Russiagate narrative. ("Worse than Watergate," thundered Watergate auteur Carl Bernstein.) If they were the tinder then the amenable media was the accelerant.
Like Trump or not— and he has created bitter enemies on both sides of the political spectrum— no president has likely ever had such treachery levelled at him. Any attempts by the Mueller Investigation or inspector-general Michael Horowitz to suggest Trump's might be not guilty only took the fire higher for his detractors. Yet, even that religious effort almost was not enough. Had Covid not intervened Trump likely would be in the middle of his second term as we speak.
While John Durham did not announce criminal charges, the political findings should be a irrevocable stain on the FBI, the Democrats, Hillary Clinton and their allies in media. Of course they won't be. The purge succeeded brilliantly— a huge tranche of the public in the U.S. (and Canada) is still willfully clueless about the fraud thanks to a media that blames everything on FOX News. You can hear the believers crying to their TVs, "Rachel Maddow, I can't quit you." (Oddly, Carl Bernstein has gone AWOL.)
It was Veep meets Succession— punctuated by a howling media that shouted "The Walls Are Closing In" and "Blockbuster" since 2016. It's hard to overstate the epic scope of this parade of venal, crass actors using the apparatus of government to strengthen their grasp on power. Russiagate makes Watergate look like Bonny and Clyde hitting up Dust Bowl banks.
Hours after Durham's report went public, many of the principals who executed the fraud— like Andrew McCabe, Peter Strzok and John Brennan— were in their new guises as "correspondents" for MSNBC, CNN and the Big Three networks, ragging on the Report. Their point of attack was that Durham's findings— findings they'd vehemently denied— were old news now that they're confirmed. This was like Nixon allies John Ehrlichman and H.R. Haldeman parsing the Watergate burglars on Walter Cronkite's network.
While many signs point to the abject corruption, nothing speaks more than the Pulitzer Prizes awarded to the New York Times, The Washington Post and their reporters for a story that is now entirely discredited. And the Pulitzer hacks refusing to rescind awards given to those who carried the fabrications to the public.
"How can the journalists who bit on all the Steele stories, the Alfa nonsense, Hamilton 68 — how do you all live with yourselves?" asked independent journalist Matt Taibbi. Easy. They're too far gone after so much time, he continues. "We now know nothing punctures the national (Trump) madness. It'll be the same with this report. The lunatic is on the grass, and nothing will coax him off."
None of this has gotten down to Gerry Butts and the Canadian chattering class, of course. They're as insatiably besotted as anyone yelling "Impeach Trump" down south. The cartoon figures created by their American media idols were passionately embraced by Canada's media, too. Perhaps with even greater venom by those Canadians who need America Hate to feel whole every day. The stories on bleach, fine people, Alfa Bank, Michael Cohen, border walls etc. were recorded as acts of faith in Canadian newsrooms. And remain so today.
The Laurentian worthies have no idea what John Durham's report says. Worse, they don't care. Like the words to a song they learned at camp as ten years olds, the Russiagate Rhapsody will always be in their hearts, an undisturbed moment of happier days when getting stories wrong got you promotions and journalistic prizes. You see, it's easy to do in Canada, where Mr. Butts' protegé buys off the media and now empowers the CRTC disinformation czars to control the message.
What once was Canada's modesty and trusting nature is now slack-jawed obeisance to American Woke folk. It's sad. But Mr. Butts probably thinks it's progress.
Sign up today for Not The Public Broadcaster newsletters. Hot takes/ cool slants on sports and current affairs. Have the latest columns delivered to your mail box. Tell your friends to join, too. Always provocative, always independent. https://share.hsforms.com/16edbhhC3TTKg6jAaRyP7rActsj5
Bruce Dowbiggin @dowbboy is the editor of Not The Public Broadcaster A two-time winner of the Gemini Award as Canada's top television sports broadcaster, he's a regular contributor to Sirius XM Canada Talks Ch. 167. Inexact Science: The Six Most Compelling Draft Years In NHL History, his new book with his son Evan, was voted the seventh-best professional hockey book of all time by bookauthority.org . His 2004 book Money Players was voted sixth best on the same list, and is available via http://brucedowbigginbooks.ca/book-personalaccount.aspx
Should Poilievre Go Around The Legacy Media With His Message?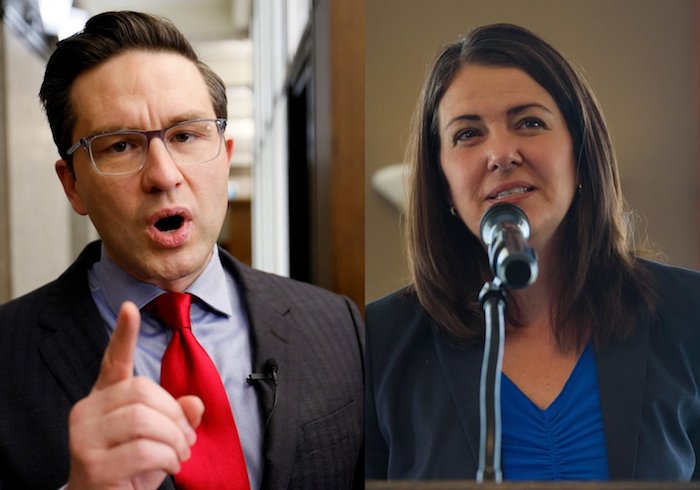 "It's amazing that we have an entire industry dedicated to making sure voters don't know what the government is up to. It's called Legacy Media."— Scott Adams
Is Pierre Poilievre's lesson from the 2023 Alberta election campaign that he simply go around the Media Party when he finally faces off against Justin Trudeau and/or the Liberals? To pass on their debates and town halls, sticking to his own carefully scripted events? The Alberta vote says maybe.
Despite 18 months of intense, bitter strafing from the chattering class, premier Danielle Smith emerged with a majority government on Monday. With 52.4 percent of the vote, she has an eleven-seat buffer in which to operate. (Although in Alberta politics that's still a narrow gangplank.)
Certainly it would be hard to get worse press than Smith got from the provincial and national media. Like Hansel and Gretel, the arbiters of #samethink laid a trail for the voters to follow. Using every flip and flop in Smith's tumultuous political journey they sought to create a narrative path. As happened when they conflated the Trucker Convoy into Three Weeks That Shook The World, the Media Party expected dutiful adherence to the taste makers with pleas like this.
"Dr. Lynora Saxinger MD FRCPC Infectious Diseases @AntibioticDoc May 27 I'm in a social media group with 1000s of AB doctors discussing exit plans if there's a Smith UCP win…"
Of course, none of them are going anywhere, because, contrary to media, every province in Canada (and many U.S. states) are afflicted the same way. Even when Smith staved off NDP lifer Notley in the televised debate the believers stayed fixed on this trail. One of their most beloved notions is that every group disparity can be explained by some form of bigotry. So Smith's backers had to be far-right, gun-toting, God-obsessed goobers that you wouldn't want at your Scotch nosing.
Bolstered by some polls that showed a dead heat, those ridings that want tunas with good taste, not tunas that taste good, knocked off Calgary-based UPC cabinet members and others without tattoos and nose rings.
Yet, with everything going for them— a photogenic NDP leader in Notley an unpredictable UPC leader, the Covid hangover— the media couldn't get their woman over the finish line. The (spare me) "donut ridings", smaller communities and the farming country checked out months before when the NDP started hinting at a 38 percent rise in corporate taxes ("still lowest run the nation") and adopting Justin Trudeau's Transition Program for gas and oil.
They weren't buying the absurd notion of the NDP and its unionized pals as the voice of the common person the in the province. They passed on people who believe men can have babies, who believe government controls the weather, who believe politicians create jobs? All this passed without comment from media slappies. Not so for the people who don't spend 18 hours a day on Twitter and Tik Tok.
You wouldn't have seen this demographic by watching CBC, CTV, Global and the predictable media snobs. Earnestly trying to play the results down the middle (sure) on Monday they served up disaffected UPC ex-cabinet whingers, "unbiased" professors wearing NDP buttons and reporters 10 minutes out of J School to craft the narrative.
Sample a) Hapless @CBCNews talking head announced a UPC candidate winning his riding by over 5,000 votes. "Clearly a big win by NDP there," she bubbled. (Some habits die hard at the Corp). Sample b): After the vote CBC's The National seemed to boast that Notley had finished a close second while Smith had finished second from the bottom.
The over/under on the word "unions" being mentioned by "independent" panelists in a sentence with NDP was about 1. And the under cashed. Odd, seeing as how so many producing the broadcasts and writing for legacy papers are union members. The best news for @Alberta_UCP was lifer socialist Notley vowing to defend the rights of Alberta's unions for another four years. Andrea Horvath, here she comes!
So how should Poilievre handle the lurking beast that awaits his campaign with open notebooks and closed minds? Put a different way, what would he and the Conservatives have to lose by doing what Governor Glenn Youngkin did in the state of Virginia when he upset the Democratic machine in 2021?
Faced with the overwhelming Democratic financial pump next door in DC and the Trump Noise Machine on his other flank, Youngkin decided it was better to use social media to find his voters and craft his message. Wielding a family-based conservative message on education he knew he'd be wasting his time doing the dog-and-pony farce of legacy media with its union shills and their gotcha' questions.
So the Virginia state GOP avoided the Media Party as much as possible, submitting only to limited exposure. "Experts" predicted doom by going the social-media route. Youngkin was accused of banning books. But on election night the multi millionaire scored a massive win over "those who must be obeyed". The triumph carried from the governor's chair down to the school-board level. (Youngkin is now being mentioned as a GOP presidential candidate.)
Poilievre îs going to change zero minds in sit-downs with the Toronto Star editorial board. Worse, they'll contort his message, further convincing the Wine Moms of Toronto that PP is a Trump disciple (the ultimate Family Compact sneer). CBC and CTV panels will furrow their brows about right-wing extremism. The Toronto media community will dig up fundamentalist Christians— as if they're more extreme than full-term abortion supporters.
It's a loser's game to always play in then other team's end of the field. Maybe Poilievre and his comms team can come up with something that changes the game. Like going directly to the electorate with their message. And leaving the bought-and-paid-for national media outside the door.
Sign up today for Not The Public Broadcaster newsletters. Hot takes/ cool slants on sports and current affairs. Have the latest columns delivered to your mail box. Tell your friends to join, too. Always provocative, always independent. https://share.hsforms.com/16edbhhC3TTKg6jAaRyP7rActsj5
Bruce Dowbiggin @dowbboy is the editor of Not The Public Broadcaster A two-time winner of the Gemini Award as Canada's top television sports broadcaster, he's a regular contributor to Sirius XM Canada Talks Ch. 167. Inexact Science: The Six Most Compelling Draft Years In NHL History, his new book with his son Evan, was voted the seventh-best professional hockey book of all time by bookauthority.org . His 2004 book Money Players was voted sixth best on the same list, and is available via http://brucedowbigginbooks.ca/book-personalaccount.aspx
Succession Planning: Justin's Excellent Chinese Adventure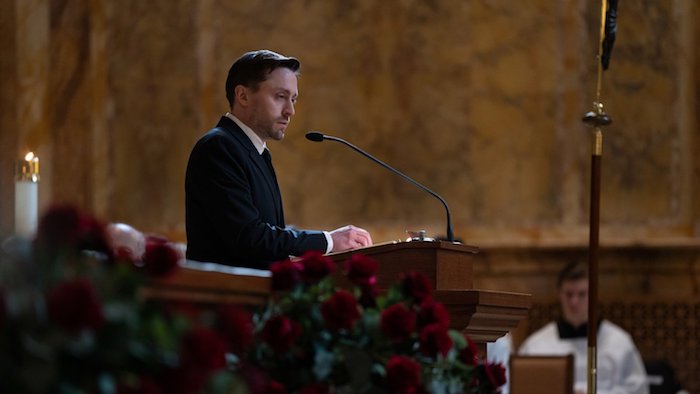 These are sad days. After this weekend we won't have Roman Roy to kick around any longer. In case your Sunday nights have been spent in quiet contemplation the past few years you'll know that Roy (played with Quisling-like glee by Kieran Culkin) is the obsequious youngest child of communications titan Logan Roy in the binge-worthy HBO series Succession.
When last we saw this quivering mass of sarcasm and sexual confusion Roman was trying to deliver a eulogy beside his dead father's casket. It did not go well. No matter. After this Sunday, he'll be living in rerun heaven. That we could only say the same for another, similar privileged dramatic persona, Justin Trudeau.
To those with keen memories the comparison between the blubbering, inconsolable Roman Roy and Canada's current PM Justin Trudeau is inescapable. Skippy, too, was delegated to eulogize his real father, Pierre in 2000. The result was a lachrymose cascade to rival the Lachine Rapids. Still in his Lord Fautleroy phase, Justin was seen by onlookers as the doting eldest son, a man too sensitive for this life. Little did we know that the performance at Notre Dame Cathedral that day was in fact an audition for higher office.
While Roman Roy's breakdown seems to have scuttled his hopes of grasping the brass ring in the family business Waystar, Trudeau's bathetic performance cemented him in the Liberal party as a man they could sell to the gormless hordes of voters in the key 416/613/514 hotbeds.
Soon he was spreading his lugubrious charm on global fronts, touting his sleeves-rolled-up vision while herding "billions" of disobedient children like Italian prime minister Georgia Meloni or these hapless boobs.
And so "Roman" Trudeau has worked this highwire act through every sort of catastrophe since 2015. The PM may have done enough to sink many careers. Remember the Aga Khan? Bollywood? Blackface? SNC Lavalin? WE Charity? How he has escaped cancellation when Culkin's character is headed to the Crave TV boneyard is one of the mysteries of the age.
This week past has rendered another episode that not even the skilled writers of Succession would dare pull off. Having somehow missed the fact that the Chinese government has been actively stirring up trouble in Canada's elections— elections in which he has personally eked out victory— Trudeau decided to calm Canadians by producing a report on the extent to which his pals in Beijing have been playing for him.
But here— screen writers take note— is the master stroke. The man in the funny socks decided that the ideal rapporteur for the job of reassuring the nation of his purity was old family friend, onetime board apparatchik in the Trudeau Foundation whose children are reported to have gone to university in China, and governor-general who'll do what he's told, David Johnston. Talk about deus ex machina!
Why the octogenarian Johnston accepted this poisoned chalice is anyone's guess— writers would call it implausible, unethical for a China hand to be arbitrating this. But accept he did. And Tuesday he disgorged his findings which say, in effect, a public inquiry might unearth too many state secrets. So let's not go there. Trust me.
Hinting at the utter dysfunction of the PM's office, the petrified bureaucracy beneath Justin and the epic incuriosity of Trudeau's cabinet chums, Johnston admitted that the PM's claims of being ignorant of warnings from CSIS about this problem dating back years might actually have merit.
A fig leaf! Yes, a fig leaf that the ethically bereft PM grasped with both hands, saying in effect that it's a wonder he can even get the RCMP to do a musical ride into the Trucker Convoy. But to sit atop a chain of command this moribund? Canada is lucky he's there to hold it all together.
Even Johnston's many friends in the Family Compact were befuddled. Which was the greater lapse? The former McGill U. Principal (President) accepting to work as Trudeau's get-out-of-jail-free card or the slap-dash scholarship of the piece? Former Conservative leader Erin O'Toole— the man defeated by Trudeau in 2020— wrote that Johnston only interviewed him on this Sino Scandal after he'd sent the opus off for translation.
We'd say that, this time, Trudeau has exceeded even the plausibility of a Succession script. His scolding by an irate Meloni, followed by this Chinese codswallop must surely mean the end of his character on the long-running PMO show. How can he continue to erode confidence in government— especially his own government— with this carnival of chaos?
Being a betting type we'd say Succession is not coming back after Sunday. But we think the show runners for Trudeau's long-running show still have at least one remaining season left for more Justin antics. Unless the Chinese say no, of course.
Sign up today for Not The Public Broadcaster newsletters. Hot takes/ cool slants on sports and current affairs. Have the latest columns delivered to your mail box. Tell your friends to join, too. Always provocative, always independent. https://share.hsforms.com/16edbhhC3TTKg6jAaRyP7rActsj5
Bruce Dowbiggin @dowbboy is the editor of Not The Public Broadcaster A two-time winner of the Gemini Award as Canada's top television sports broadcaster, he's a regular contributor to Sirius XM Canada Talks Ch. 167. Inexact Science: The Six Most Compelling Draft Years In NHL History, his new book with his son Evan, was voted the seventh-best professional hockey book of all time by bookauthority.org . His 2004 book Money Players was voted sixth best on the same list, and is available via http://brucedowbigginbooks.ca/book-personalaccount.aspx