Dream Home Lottery "Battle of Alberta" offers impressive Oilers and Flames prizes this weekend!
Central Alberta Child Advocacy 2019 Dream Home Lottery Battle of Alberta
Support your team and a great cause this weekend by purchasing tickets to Central Alberta's largest Dream Home Lottery!
We invite you to join us for our 3 day "Battle of Alberta" event, starting, Friday January 11th!
Decide whose team you're on – Oilers or Flames and enter your ballot for that team to show your support and see who gets the most votes! One ballot will be given for each ticket package purchased directly at the house this Friday, Saturday and Sunday. Ballots in for the Calgary Flames have a chance to win an autographed Glencross Jersey, and ballots in for the Edmonton Oilers have a chance to win an autographed Russell Jersey. After the jerseys have been drawn for, all ballots will be entered in for a chance to win 4 loge seats to Monday, January 14th Oilers vs Sabres game! Ballots will be drawn Sunday, January 13th at 5pm.
We will be joined by local radio stations all weekend long: Friday 11th – Real Country 95.5 & Z98.9 Mid- day show (10am-2pm), Saturday 12th – Big 105.5 on location from 1-5pm, and Sunday 13th – 106.7 The Drive on location from 1-5pm.
Hamburgers and Smokies will be supplied by Nossack Fine Meats, with generous donations from Cobs Bread and community donors – available Saturday the 12th from 1-4pm.
Visit the Dream Home at 57 Larratt Close, Red Deer for your chance to buy tickets before the Early Bird Deadline (January 15th, 11pm)! Early Bird Prizes include cash prizes of $50,000, $25,000 and $10,000. Tickets start at just $35 with over $1.8 Million in prizes to be won! To purchase tickets online or for more information visit our lottery website: cacaclottery.ca or call: 1-833-475-4402
Proceeds from the Dream Home Lottery will be in support of the Central Alberta Child Advocacy Centre. Every ticket sold supports the CACAC and is an investment in the promise and possibility of a healthy future for our children and our community.
Here' another story from Todayville about the Child Advocacy Centre's new home at RDC.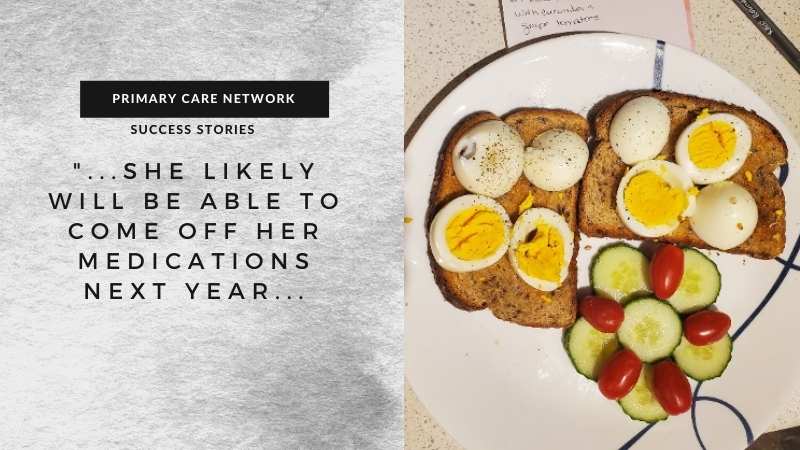 Sue Ann went to the doctor. While the doctor addressed the issue at hand, he also did a bunch of tests. Sue Ann was in the 225-pound weight range and not surprisingly when the test results came back her blood sugar value was very high. The doctor started her on metformin right away and went through some trial and error to get the right dose and combination of mediation for her condition. She started out losing about 10 pounds every 6 weeks.
Before she knew it, she was down 30 pounds. She met with a dietitian to learn the best healthy eating strategies.  She now journals her food intake and plans her meals. She met with the RDPCN family nurse to learn more about her blood sugar and how her lifestyle choices affect it, to plan her exercise activities and for overall support and motivation. Sue Ann states she often loses motivation at about 3 months into any lifestyle intervention but this time she has the drive and support to keep going.
Sue Ann has made great progress. Sue Ann has a deteriorating spine syndrome so losing weight has really decreased her back issues. She feels so much better, more energetic and more confident. She has gone from a size 18 to a size 10 and lost 3 inches off her top, her waist and her hips. Her blood sugar is now in the normal range. She has a plan and is willing to put in the hard work to accomplish her plan. Her doctor says she likely will be able to come off her medications next year- another motivating factor. Sue Ann is very thankful to all the team members that have helped her make these positive changes!
To learn more about the RDPCN programs, visit www.reddeerpcn.com
Getting My Blood Glucose Back in the Normal Range Gave Me Tears of Joy
Changes Coming to Red Deer Festival of Trees
Red Deer Regional Health Foundation Board modifies this year's event.
On the recommendation of Alberta Health Services, the Foundation Board of Directors has decided to modify this year's Festival of Trees. The event will be revised, while still raising funds to provide critical equipment for the operating room at the Red Deer Regional Hospital.
The public will be welcomed to participate in the Tree Room and Silent Auction virtually and in person, however Candy Cane Lane, Mistletoe Magic, Festival of Wines, Preview Dinner and the Gift Shop will not be taking place.
"The health and safety of our guests, sponsors, volunteers and staff is our number one priority," said Dustin Eckstrand, Foundation Board Chair. "However, we still need support to enhance healthcare in Central Alberta so we hope the community will help us fund equipment for the operating room at our hospital despite these changes."
The public can also support Festival of Trees by purchasing tickets for the Christmas Jingle Cash Lottery. The top prize is $25,000 cash plus an early bird prize of $5,000. Tickets start at $10 and are available online at https://www.reddeerfestivaloftrees.ca/jingle
We thank everyone for their understanding and are grateful to our sponsors and volunteers for their support. We look forward to providing a safe celebration that features some of our traditional festivities.