Drayton Valley residents returning home as evacuation order is lifted
Update 13: Alberta wildfire situation (May 16, 5:30 p.m.)
The evacuation order has been lifted for the Town of Drayton Valley and parts of Brazeau County. Re-entry began at 2 p.m.
Those evacuated due to wildfires should register at local reception centres or at emergencyregistration.alberta.ca.
Current situation
Alberta has declared a provincial state of emergency. Visit alberta.ca/emergency for information or call 310-4455, now available 24-7.
The fire danger is extreme in northern Alberta with temperatures expected to increase again toward the end of this week. A moderate to high fire rating remains for the Rockies.
Current wildfire information is available on the Alberta Wildfire Status Dashboard.
A fire ban and an off-highway vehicle restriction are in place across the Forest Protection Area.
Parts of Alberta are experiencing moderate to high-risk smoky conditions.

Learn more about the potential affects of wildfire smoke on your health.
Wildfire smoke can travel long distances.
Visit firesmoke.ca to see where the smoke affecting your area is coming from.

Evacuation orders: 23
Alberta Emergency Alerts: 17 (12 critical alerts, five advisories)
Number of evacuees: 19,576
Alberta currently has more than 2,500 wildland firefighters, including personnel from partner agencies across Canada and the United States as well as the Canadian Armed Forces, 165 helicopters, 31 fixed-wing aircraft, and heavy equipment responding to wildfires in the province.
An additional 61 personnel are arriving today from Ontario, with 21 expected to arrive from New Brunswick tomorrow.
New information
A mandatory evacuation order was issued for the town of Swan Hills at 1:15 p.m.
The evacuation order has been lifted for the town of Drayton Valley and parts of Brazeau County.
Re-entry operations for the town of Drayton Valley began at 2 p.m. today.
Local municipalities, First Nations and Metis Settlements may require financial assistance to compensate volunteer firefighters who may not be able to leave their regular jobs in order to join or continue firefighting efforts. Alberta's government is providing additional support for local firefighting costs to help strengthen the province's response capacity, improve public safety and assist communities during an unprecedented wildfire season.
Support for evacuees
Since the announcement of one-time emergency financial assistance for evacuees, more than 10,400 applications have been processed.
More than $15.8 million in e-transfers has been sent to evacuees.
More than $3.3 million in debit cards has been distributed.
Debit cards are available for evacuees unable to receive an e-transfer at 16 Alberta Supports Centre locations with extended hours and at Edmonton and Calgary evacuation centres.
Donations
Albertans who wish to help can make cash donations through the Canadian Red Cross or within their regions to a recognized charitable organization of their choice.
The Government of Canada and the Government of Alberta will each match every dollar donated to the Canadian Red Cross 2023 Alberta Fires Appeal. This means that every $1 donated will become $3 to support those affected by the wildfires.
Individuals and companies with goods or services to offer or donate to support the government's response to the wildfire can email

[email protected]

.ca.
For more information on the emergency and supports for evacuees, go to alberta.ca/emergency.
"With success comes challenge." Premier Smith to Alberta Municipalities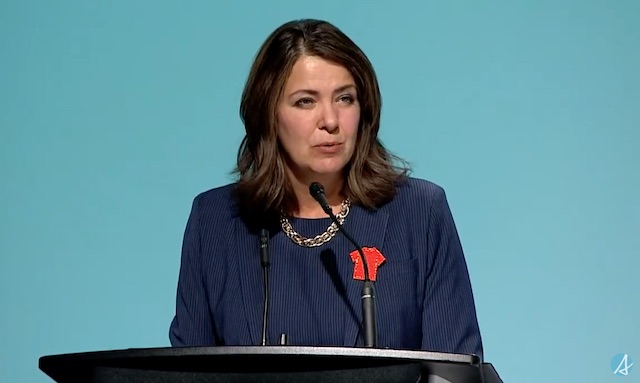 Premier Danielle Smith delivered a keynote address at the 2023 Alberta Municipalities Convention in Edmonton.
Alberta says first steps to reform provincial health delivery system coming this fall
Alberta Premier Danielle Smith speaks to the media in Calgary, Monday, Sept. 18, 2023. Smith says the first steps are coming this fall to reconfigure Alberta's health delivery system – a plan the Opposition calls a recipe for more chaos from a government fresh off turning lab testing into a debacle. THE CANADIAN PRESS/Jeff McIntosh
By Dean Bennett in Edmonton, Alberta, Canada
Premier Danielle Smith says the first steps are coming this fall to reconfigure Alberta's health delivery system — a plan the Opposition calls a recipe for more chaos from a government fresh off turning lab testing into a debacle.
"We will not delay," Smith told mayors, councillors and other local leaders at the Alberta Municipalities convention Friday.
She said Health Minister Adriana LaGrange is to present her proposal to Smith and cabinet Wednesday on how to decentralize Alberta Health Services.
"If we get the cabinet approval and the caucus approval, we would be moving on some of that direction in the fall so that we are prepared for the new budget cycle in February."
Smith has directed LaGrange to revamp the structure of Alberta Health Services, better known as AHS, saying it needs to be more responsive to regional needs and focus more on direct hospital care.
She has said LaGrange will look at whether AHS still needs to be in charge of non-acute functions such as midwifery, primary care staffing and continuing care.
Alberta finished centralizing its health system 15 years ago to create AHS.
Smith has made AHS reform the centrepiece of her leadership.
Last year, she fired the governing board of AHS and replaced it with a single administrator. She blamed the agency for failing to step up during the COVID-19 pandemic as hospitals came close to being overrun with patients.
Opposition NDP Leader Rachel Notley said Smith's plan is only going to make things worse, particularly given the province abandoned last month its attempt to fully privatize community lab services after the changes resulted in long waits for tests in Calgary and southern Alberta.
"People all across this province are struggling to get access to lab (testing) now because of the dysfunction of this UCP (government)," Notley told reporters after her speech to Alberta Municipalities delegates.
"Overlaying more disorganization on top of that is a recipe for further undermining our health care and our public health care.
"There is not a single solitary thing that this UCP government has done under (former premier) Jason Kenney's leadership or Danielle Smith's leadership that has made our health care better."
Alberta Municipalities represents and speaks for villages, towns and cities that make up about 85 per cent of the province's population.
Wetaskiwin Mayor Tyler Gandam, the newly elected president of Alberta Municipalities, said they're hoping for changes and improvements to fix doctor shortages and emergency rooms forced to limit their operating hours.
"I was speaking with members of council from Ponoka and hearing that their emergency room had been shut down nearly 20 times this year so far," Gandam told reporters.
"The last thing that a person should be worrying about is whether or not the emergency room is going to be open or an ambulance is going to able to respond to their call when they need it."
The convention focused mainly on calls for more funding from the province.
On Thursday, delegates voted 98 per cent on a motion calling on the province to roll back years of municipal funding cuts on infrastructure.
The association says the province has cut both per capita spending and the percentage of total budget spending for years, resulting in about $1.3 billion less investment in community infrastructure per year that needs to be returned, particularly as the province continues to attract thousands more newcomers a year.
Smith said she will look at ways to get more money to municipalities to help bring property taxes down along with more one-time funding from recent budget surpluses to help accelerate capital projects.
"'I've watched it happen many times that we're very generous (and) increase the funding when times are good, and then when times turn the other way, we ask you to take a pretty big haircut, and that puts a lot of extra pressure on you," Smith told the delegates.
This report by The Canadian Press was first published Sept. 29, 2023.