Draw date is June 1. Last chance for 50/50 tickets to support the Alberta Sports Hall of Fame and Museum!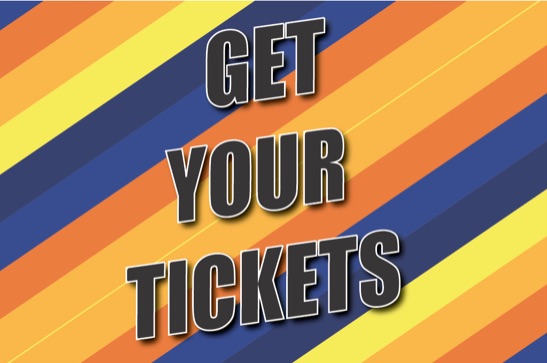 Only 3 days left!
Last chance for 50/50 tickets!
Win up to $10,000! In these challenging times, the Alberta Sports Hall of Fame is excited to launch our 50/50 fundraiser in support of a new interactive! 
The winner will receive a minimum cash prize of $4000 or 50% of ticket sales (whichever is greater) up to a maximum of $10,000. 

The Alberta Sports Hall of Fame is the province's affordable, family-friendly experience, celebrating Alberta's long and rich sporting history.
Our facility boasts over 7,000 feet of exhibition space including a VR multi-sports area, the Mt. Everest Treadwall climbing wall, an Obie interactive projector, a dedicated parent and toddler area, an adaptive sports gallery featuring a 200-metre wheelchair race, a Hoops FX arcade basketball game, a Super Chexx bubble hockey game, the "Feel the Rush" bobsleigh experience and our retro ski machine.
With a collection boasting over 16,000 artifacts from our province's sports history, you can see why the Alberta Sports Hall of Fame is an experience worth stopping for.
Our hope is to add another new interactive! 
Technology changes quickly, and we are often forced to play catchup. While we have been able to upgrade several of our interactive offerings over the past year, there is still significant work ahead. All funds raised from our 50/50 will go towards purchasing a new active gaming experience.
Please help support Your Hall by purchasing tickets.
The lucky winner will be contacted to claim their prize payout. Thank you for your support.
The odds of winning the lottery 1 in 14 million. The odds of winning our 50/50 as of now is 1 in 10,000!

Do not miss out on this opportunity on this chance to win big!

Last day to buy tickets is May 31, 2021.
Win up to $10,000! In these challenging times, the Alberta Sports Hall of Fame is excited to launch our 50/50 fundraiser in support of a new interactive! 
Ticket prices:
100 for $100
20 for $50
4 for $20
1 for $10
Click the button below to go to our raffle and purchase your tickets!
New Red Deer City Councillor joins frontline workers in protest against 'mandatory' vaccination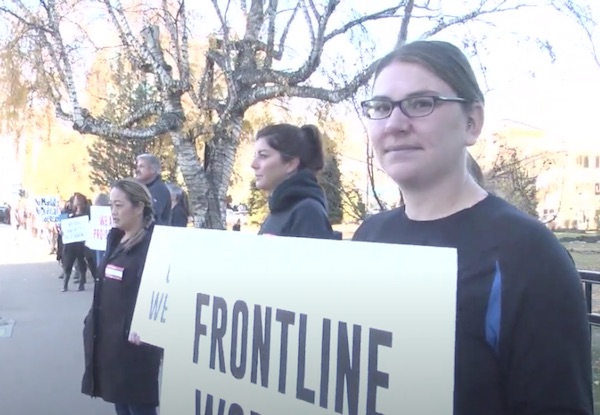 Under imminent threat of losing their jobs, as many as two hundred frontline healthcare workers including paramedics, nurses, and fire fighters gathered in downtown Red Deer Thursday afternoon for a silent protest in front of City Hall Park.  Organizer Kaitlin King, a paramedic from the North Central region says she represents thousands of workers who've already had covid and benefit from a very high level of immunity.  Despite her opposition to the covid vaccines, King says she'd be willing to be tested on a regular basis if that was an option.
As of Friday afternoon, AHS claims 94% of it's employees are fully vaccinated.  That number is contested by those who point out the AHS boosted the percentage of vaccinated employees drastically by dropping "casual" employees from their stats.
Whatever the actual number is, AHS has decided it it too high.  Friday, AHS announced via Twitter, that the deadline for AHS employees to be vaccinated or face the loss of their jobs would be delayed from November 1st, to December 1st.
AHS is hoping thousands of employees who've decided against the jab so far, will change their minds and begin the process in the coming days.
Meanwhile it appears Vaccine Mandates will be hotly contested by Red Deer's new City Council.  Newly elected Councillor Victor Doerksen attended the silent rally Thursday.  Doerksen is looking forward to discussing the validity of mandates with his fellow council members as soon as possible.
Saskatchewan Roughriders avoid season sweep in downing Calgary Stampeders 20-17
CALGARY — The Saskatchewan Roughriders avoided a third consecutive loss to the Stampeders with a 20-17 win Saturday in Calgary.
By a quirk of the CFL schedule, Calgary is the only opponent the Roughriders have played so far in October interrupted only by a bye week.
The Winnipeg Blue Bombers hammering the B.C. Lions 45-0 in another West Division game Saturday to get to 10-1 means the defending Grey Cup champions will host the division final Dec. 5.
Saskatchewan (6-4), Calgary (5-6) and the Lions (4-6) are in a race to have the Nov. 28 division semifinal in their stadiums, while the Edmonton Elks (2-7) languish in the basement.
The Stampeders took two games off Saskatchewan in early October to secure the season series. Calgary would rank higher in the standings in the event of a tie between the two clubs at the end of the regular season.
Trailing 10-6 at halftime Saturday, the Roughriders rallied with a pair of second-half touchdowns in front of an announced 21,672 at McMahon Stadium.
Roughriders quarterback Cody Fajardo completed 21-of-26 pass attempts for 222 yards. He threw touchdown passes to Brayden Lenius and Kyran Moore and was intercepted once.
Saskatchewan kicker Brett Lauther kicked field goals from 48 and 52 yards, but missed from 54 and 44 yards.
Fajardo earned his first career victory against the Stampeders as did Craig Dickenson as Saskatchewan's head coach.
Quarterback Bo Levi Mitchell was 21 for 31 in passing Saturday to become the Stampeders' leader in all-time completions.
The 31-year-old Texan needed just two Saturday to surpass previous leader Henry Burris (2,267), and he produced them on Calgary's opening drive.
Mitchell threw for 311 yards to be 14 shy of a career 30,000.
Two of his three interceptions occurred in Saturday's second half, however, when Mitchell was also sacked four times.
Ka'Deem Carey scored a rushing touchdown, Richie Sindani made a touchdown catch and Rene Paredes kicked a 12-yard field goal for Calgary.
With just under two minutes remaining in the game, Mitchell's 44-yard bomb to Shawn Bane put the hosts on Saskatchewan's 24-yard-line .
A four-yard scoring throw to Sindani on the goal-line, plus the convert, had the Stampeders trailing by a field goal with 48 seconds remaining.
Calgary's attempt to recover an onside kick failed, however, on a leaping grab by Saskatchewan's Duke Williams. The Stampeders had the ball for one final drive, but didn't score again.
Saskatchewan's Jeremy Clark ran an interception back to Calgary's 13-yard line on the final play of the third quarter. On a third-and-goal, Fajardo threw to Moore in the end zone for a 20-10 lead.
The Roughriders led for the first time in the game midway through the third when Fajardo found Lenius in the end zone with a 13-yard pass.
Isaac Adeyemi-Berglund fumbled a return in the first half's final seconds for Saskatchewan to recover. Lauther was wide on a 44-yard attempt, however, after success from 52 out on Saskatchewan's previous drive.
Carey's one-yard scoring plunge finished a 12-play, 92-yard drive in the second quarter.
Calgary's march downfield featured Kamar Jorden's acrobatic grab for a 31-yard reception to get to Saskatchewan's doorstep.
Lauther kicked a 48-yard field goal on the final play of the opening quarter for a 3-3 score. He then missed a 54-yard attempt early in the second quarter.
Saskatchewan didn't take advantage of a Jacob Dearborn interception early in the first quarter. A subsequent fumble on a snap gave Calgary the ball back on their own 27-yard line.
Calgary converted a Branden Dozier interception on Saskatchewan's opening drive of the game into a 12-yard field goal by Paredes.
Notes: D'haquille "Duke" Williams compiled 48 receiving yards on three catches in his Roughriders debut. The former CFL all-star with Edmonton spent the last two seasons with the NFL's Buffalo Bills . . . Stampeder defensive end Folarin Orimolade sacked Fajardo twice after missing seven games with an ankle injury.
This report by The Canadian Press was first published Oct. 23, 2021
Donna Spencer, The Canadian Press