Dozens of liquor violations and other infractions – Sylvan Lake RCMP step up presence at beach and parks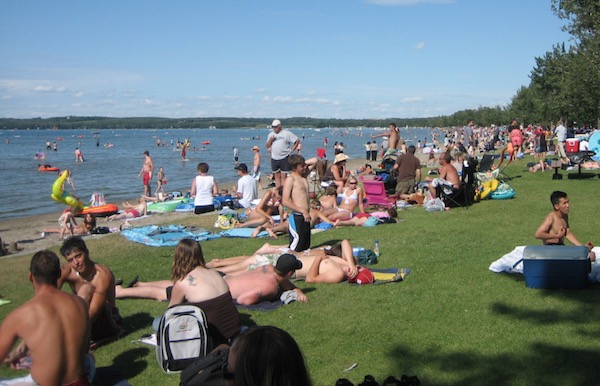 News Release from Sylvan Lake RCMP
Sylvan Lake RCMP advise of increased presence due to concerning behaviours and infractions
The recent hot weather and removal of COVID restrictions lead to Albertans flocking to recreational areas over the Canada Day weekend. Although Albertans are encouraged to take full advantage of the beautiful landscapes and everything this amazing province has to offer, the Sylvan Lake RCMP would like to remind recreational enthusiasts that Alberta's Provincial liquor and cannabis laws apply in public areas.
Sylvan Lake RCMP, in partnership with Town of Sylvan Lake Peace Officers, continue to provide an increased presence in and around the parks and beaches of Sylvan Lake and area due to an increase in concerning behaviors.
In recent weeks, RCMP have charged dozens of liquor related infractions under the Gaming and Liquor Act over the long weekend. 49 liquor tickets were handed out among other infractions. Several complaints have been received in regards to underage drinking and assaults.
Under the GLA, it is an offence to have open liquor in public places that are not temporary residences (such as campsites and motorhomes), or designated picnic areas. Open liquor is prohibited in all other public places, and can result in fines of $120.
"Our priority is to ensure everyone has a safe and enjoyable summer in our beautiful town," says Staff Sergeant Jeff McBeth, Detachment Commander of Sylvan Lake RCMP. "Together, we can make this happen."
Sylvan Lake RCMP are asking for the public's assistance in reporting suspicious activity in these areas. Please contact the Sylvan Lake RCMP at 403-858-7200. If you wish to remain anonymous, you can contact Crime Stoppers at 1-800-222-8477 (TIPS), online at www.P3Tips.com or by using the "P3 Tips" app available through the Apple App or Google Play Store.
Politicians raise concerns about carbon pricing benefits given to oilsands companies
EDMONTON — Federal and provincial politicians are raising questions about Alberta government support provided to profitable oilsands companies that say carbon pricing hurts their competitiveness.
A recently released Alberta government document lists oilsands producers that have benefitted from a 2018 program designed to soften the blow of carbon pricing for companies whose competitors don't pay those costs.
The program allows successful applicants to meet reduction targets through a greater emphasis on offsets, apply for emissions reduction grants or simply emit more carbon.
The document shows the only company that has benefitted from the program every year between 2018 and 2020 is Canadian Natural Resources Limited, which declared more than $2 billion in profits in the third quarter of 2021.
Alberta New Democrat environment critic Marlin Schmidt says the province must be more transparent, pointing out the document doesn't say what benefits CNRL received, how big they were or how they were justified.
Federal Environment Minister Steven Guilbeault says his office is looking into how the program was used.
He says if problems are found, it could have an effect on the agreement between Alberta and Ottawa on carbon pricing.
This report by The Canadian Press was first published Dec. 8, 2021.
The Canadian Press
Kenney touts 'Alberta is back' in first speech to Calgary Chamber since 2019
CALGARY — Premier Jason Kenney used his first address to the Calgary Chamber of Commerce since the start of the pandemic to tout the recovery of Alberta's economy amid high energy prices.
Saying that 'Alberta is back', he noted that in the first quarter next year the provincial GDP is expected to finally surpass the level it was in 2014 before a crash in oil prices pushed the province into recession.
He says that is a sharp turnaround from the early days of the pandemic when unemployment hit 25 per cent and for close to 10 weeks the province was unable to sell an Alberta government bond.
Kenney says the recovery has been helped by an increase in demand for oil and gas, but argues that it's not part of a roller-coaster in commodities because rising prices show the continued importance of energy.
He used the address to emphasize his United Conservative government's strategy of low taxes to attract investment, noting that the province accelerated its corporate tax cut to make it the lowest in Canada.
Kenney also says his government is focused on attracting more people to the province to boost its labour pool through initiatives like rapid certification programs.
This report by The Canadian Press was first published Dec. 8, 2021.
The Canadian Press