Alberta leads the country in eliminating surgery backlog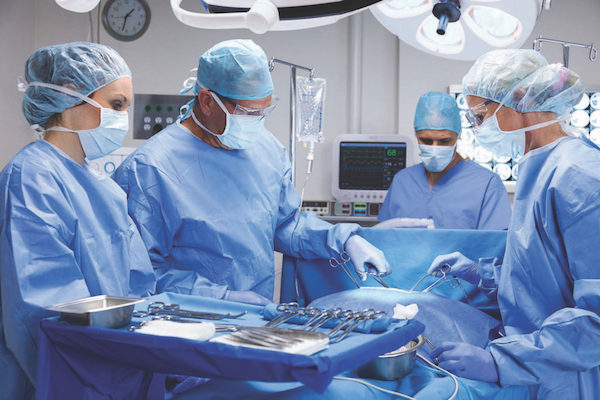 Surgery volumes exceed pre-pandemic levels
Alberta is now exceeding 100 per cent capacity for surgical volumes and is leading the country in eliminating the COVID-19 surgical backlog.
While all provinces delayed surgeries during the pandemic, Alberta delayed fewer surgeries than other provinces. For example, in the second wave, five to 10 per cent of surgeries were delayed in Alberta compared with between 30 and 60 per cent of surgeries postponed in Ontario, British Columbia and Quebec.
"As the pandemic recedes, Alberta's government will be pushing as hard as we can to ensure that any delayed surgeries are completed as fast as possible. Thanks to the incredible dedication of surgical teams in AHS and at chartered surgical facilities, we are getting closer and closer to that goal."
Through its surgical recovery plan, Alberta expects to recover faster than many other provinces.
The surgical recovery plan is now integrated into the Alberta Surgical Initiative, which will provide all Albertans the surgeries they need within recommended wait times. The initiative is improving and standardizing the entire surgical system from the time patients seek advice from their family doctor, to when they are referred to a specialist, to their surgery and rehabilitation.
"By carefully reducing the number of surgeries being performed in response to the pandemic, we were able to increase capacity in our intensive care units and ensure people with COVID-19 who needed ICU care could receive it. Now, we are able to focus on our surgical recovery plan. I am so proud of our teams who continue to work hard to ensure Albertans have high-quality care."
Quick facts
Throughout the 2020-21 fiscal year, surgical teams were able to support surgical activity at about 92 per cent of pre-COVID levels, with more than 268,000 surgeries completed compared with approximately 290,000 in the previous fiscal year.
About 40,000 surgeries were delayed in Alberta over the past 16 months:

25,000 surgeries were delayed in the first wave in the spring of 2020. All delayed surgeries from the first wave have been completed.
5,000 surgeries were delayed in the second wave during fall 2020 and early winter 2021. Another 10,000 surgeries were delayed in the third wave beginning in April 2021.
95 per cent, approximately 12,000, of these surgeries have been rebooked.

No emergency or urgent surgeries were delayed or postponed during the pandemic.
Most cancer surgeries continued during Alberta's pandemic response.
Alberta RCMP investigating deaths of mother and her toddler as homicides
HINTON, Alta. — Alberta RCMP say its major crimes unit is investigating the deaths of a mother and her 16-month-old toddler as homicides. 
Mounties in Hinton, Alta., say the pair were reported missing on Thursday night from the community 290 kilometres west of Edmonton.
Police say the bodies of the mother and her child have since been found.
RCMP say a 53-year-old man was arrested Friday in Hinton and remains in custody.
There was no word on any charges.
Police say there is no risk to the public.
This report by The Canadian Press was first published Sept. 17, 2021
The Canadian Press
B.C. willing to help Alberta in COVID-19 battle, but needs hospital space: Horgan
VANCOUVER — Premier John Horgan says the province is willing to help Alberta when it comes to battling COVID-19, but the priority is on ensuring hospitals in British Columbia don't become overwhelmed.
Horgan says he's spoken to Alberta Premier Jason Kenney about the COVID-19 situation and B.C. will help in any way it can.
But Horgan says the focus for B.C. is ensuring that its intensive care units do not become overwhelmed with COVID-19 patients and force the cancellation of more surgeries.
B.C. reported 768 new cases of COVID-19 on Friday, bringing the number of active cases to 6,031.
The province also reported 11 new deaths, raising the death toll to 1,888 since the pandemic began.
As of Friday, the province says 86.5 per cent of eligible people 12 and older had received their first dose of a COVID-19 vaccine and almost 79 per cent had received their second dose.
This report by The Canadian Press was first published Sept. 17, 2021.
The Canadian Press