Viewing information for Calgary Stampede fireworks in Red Deer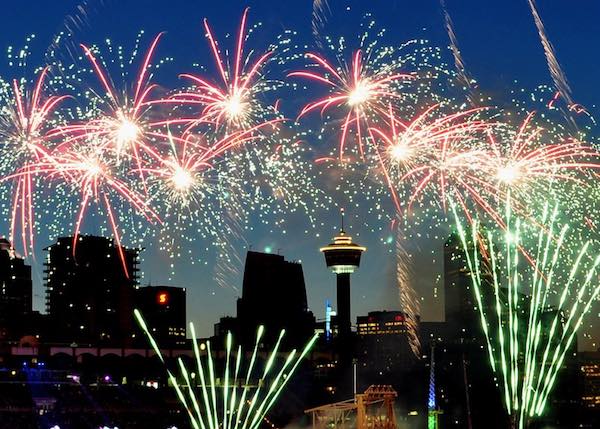 As announced on Monday, the Calgary Stampede will be bring 'The Fireworks Spectacular presented by Bell' to Red Deer on July 9 at 11 p.m.
The fireworks will be set off in the downtown area, but viewable from many parts of the city. Here's how to enjoy the show:
Watch from downtown and neighbouring areas – consider watching from your backyard, a local park or a parking lot. Or hop on an e-scooter and head downtown!
Anywhere fireworks set off from Bower Ponds have been visible in the past. Note, there will be very limited parking at Bower Ponds and Capstone, so please consider the other viewing options. The parking lots at Bower Ponds will close when it's full.
Catch the live broadcast on CTV Calgary or CTV2 Alberta.
The fireworks start at 11 p.m. and the show is approximately 15 minutes long. Please plan for higher than normal traffic at Bower Ponds, Capstone and throughout the downtown core.
To accommodate the fireworks, there will be some road and trail closures:
Fencing will be installed in the area between the Taylor Bridge and 47 Street; as a result the path through Capstone (Green spine) will be closed July 8 and 9.
The River Walk trail from the Taylor Bridge to 47 Street will be closed at approximately 10 p.m. on July 9, and will reopened after the fireworks are over.
45 Street/47 Street through Capstone will close from approximately 10 p.m. until the fireworks are over. Local access for residents only will be available.
As one of Alberta's four largest cities, Red Deer was selected, along with Calgary, Edmonton and Lethbridge, by the Calgary Stampede to participate in the Fireworks Spectacular.
The Fireworks Spectacular will also be broadcast live on CTV Calgary and CTV2 Alberta beginning at 11 p.m. so you can watch from the comfort of your own home.
For more information about the fireworks on Red Deer, visit: www.reddeer.ca/fireworks.
For more information about the Fireworks Spectacular, please visit CalgaryStampede.com. 
Edmonton Oilers re-sign forward Kailer Yamamoto to one-year contract
EDMONTON — The Edmonton Oilers have extended the contract of forward Kailer Yamamoto by a year.
The Oilers and the 22-year-old from Spokane, Wash., agreed to a one-year deal worth $1.175 million.
Yamamoto compiled eight goals, 13 assists and 26 penalty minutes over 52 games for Edmonton last season.  
The five-foot-eight, 155-pound forward carried a plus-minus of nine through the season.
He led all Oiler forwards in blocked shots with 40, ranked fourth in average ice time (16.22 minutes) and was sixth in hits (52).
Yamamoto was a first-round pick (22nd overall) of the Oilers in 2017. 
He has a career 20 goals and 32 assists in 105 games for Edmonton.
This report by The Canadian Press was first published Sept. 18, 2021.
The Canadian Press
Alberta RCMP investigating deaths of mother and her toddler as homicides
HINTON, Alta. — Alberta RCMP say its major crimes unit is investigating the deaths of a mother and her 16-month-old toddler as homicides. 
Mounties in Hinton, Alta., say the pair were reported missing on Thursday night from the community 290 kilometres west of Edmonton.
Police say the bodies of the mother and her child have since been found.
RCMP say a 53-year-old man was arrested Friday in Hinton and remains in custody.
There was no word on any charges.
Police say there is no risk to the public.
This report by The Canadian Press was first published Sept. 17, 2021
The Canadian Press