Viewing information for Calgary Stampede fireworks in Red Deer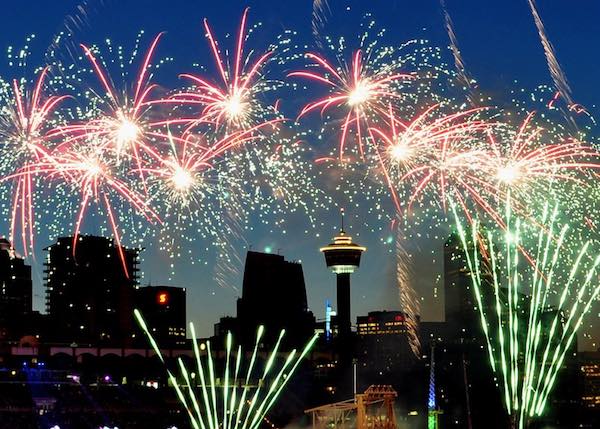 As announced on Monday, the Calgary Stampede will be bring 'The Fireworks Spectacular presented by Bell' to Red Deer on July 9 at 11 p.m.
The fireworks will be set off in the downtown area, but viewable from many parts of the city. Here's how to enjoy the show:
Watch from downtown and neighbouring areas – consider watching from your backyard, a local park or a parking lot. Or hop on an e-scooter and head downtown!
Anywhere fireworks set off from Bower Ponds have been visible in the past. Note, there will be very limited parking at Bower Ponds and Capstone, so please consider the other viewing options. The parking lots at Bower Ponds will close when it's full.
Catch the live broadcast on CTV Calgary or CTV2 Alberta.
The fireworks start at 11 p.m. and the show is approximately 15 minutes long. Please plan for higher than normal traffic at Bower Ponds, Capstone and throughout the downtown core.
To accommodate the fireworks, there will be some road and trail closures:
Fencing will be installed in the area between the Taylor Bridge and 47 Street; as a result the path through Capstone (Green spine) will be closed July 8 and 9.
The River Walk trail from the Taylor Bridge to 47 Street will be closed at approximately 10 p.m. on July 9, and will reopened after the fireworks are over.
45 Street/47 Street through Capstone will close from approximately 10 p.m. until the fireworks are over. Local access for residents only will be available.
As one of Alberta's four largest cities, Red Deer was selected, along with Calgary, Edmonton and Lethbridge, by the Calgary Stampede to participate in the Fireworks Spectacular.
The Fireworks Spectacular will also be broadcast live on CTV Calgary and CTV2 Alberta beginning at 11 p.m. so you can watch from the comfort of your own home.
For more information about the fireworks on Red Deer, visit: www.reddeer.ca/fireworks.
For more information about the Fireworks Spectacular, please visit CalgaryStampede.com.
Lafreniere scores in OT to lift Rangers over Flames 5-4
By Allan Kreda in New York
NEW YORK (AP) — Alexis Lafreniere scored 1:37 into overtime and Jaroslav Halak made 28 saves as the New York Rangers beat the Calgary Flames 5-4 on Monday night.
Lafreniere led a 2-on-1 rush and then tracked down the rebound of Mika Zibanejad's shot, beating netminder Jacob Markstrom for his seventh goal this season. That ended a frenzied game that was tied four times and featured several fights following big hits — two by Rangers captain Jacob Trouba.
"Getting the game-winning goal in OT is always fun," the 21-year-old Lafreniere said. "It was a great up-and-down game with two really good goalies. It was fun to play."
Calgary's Andrew Mangiapane and Michael Stone scored two minutes apart early in the third period to give the Flames a 4-3 lead, but Zibanejad scored his second goal of the game — his team-leading 24th — to tie it for the fourth time at 12:55.
Filip Chytil also scored twice for the Rangers, who improved to 9-2-3 in their last 14 games and are 17-4-3 since Dec. 5.
Halak has won six straight and seven of his last eight appearances.
Zibanejad put New York ahead 3-2 with 14 seconds left in the second but Mangiapane scored at 6:38 of the third to tie it. The play was reviewed to determine if Mangiapane kicked in the puck with his skate, but the goal stood.
"It wasn't pretty at times. … It was a hard battle. We just kept going," Zibanejad said. "It was a big two points and a great way to come back from the break."
Zibanejad's first goal came as he roofed the puck past Markstrom on the power play with assists to Chris Kreider and Artemi Panarin. The assist was Panarin's 300th point with the Rangers.
Chytil opened the scoring at 5:37 of the first, rifling a high shot past Markstrom. Kaapo Kakko and Adam Fox assisted.
Calgary forward Blake Coleman tied it at 10:25 with his 11th goal.
There were several skirmishes in the first as both teams were playing for the first time since Jan. 27 following the All-Star break.
"It wasn't a great hockey game, but it was an exciting game," Rangers coach Gerard Gallant said. "It was different — a bunch of fights going on. … Maybe the break was too short."
Trouba tussled with Calgary's Chris Tanev after the defenseman leveled Flames forward Dillon Dube with an open-ice check.
Later in the first, several fights ensued after Rangers forward Sammy Blais drilled Flames forward Milan Lucic. New York rookie Will Cuylle fought Calgary's MacKenzie Weegar, and Lucic was assessed an extra two minutes for roughing against Rangers forward Jake Leschyshyn.
"Exciting game. Fun game. I thought we were valiant to come back," Flames coach Darryl Sutter said. "I thought we played really well. … There were three or four hits. They were clean, big hits."
Chytil put the Rangers ahead 2-1 on a breakaway at 2:02 of the second. Fans at Madison Square Garden chanted the 23-year-old Czech forward's name after his second goal.
"That's cool, feels very good," he said. "It motivates me to be better the next shift and show what I can do."
Chytil has a career-best 18 goals and 31 points this season. He has six goals in his last four games and 14 points — 10 goals — in his last 12 games.
Calgary's Tyler Toffoli tied it at 2 with his 19th goal on the power play at 16:45 of the second.
Trouba struck again with just under a minute left in the second, body-checking Nazem Kadri hard in the Rangers zone, then fighting Dube who rushed to his teammate's defense. Dube received an extra two-minute penalty for instigating, and Zibanejad scored the go-ahead goal on the ensuing power play.
NOTES: Zibanejad's 83rd power-play goal for the Rangers moved him ahead of Phil Esposito and Jean Ratelle into a tie with Vic Hadfield for sixth place on the franchise list. … Calgary scratched defensemen Dennis Gilbert and Connor Mackey, plus forward Brett Ritchie. … The Rangers scratched forwards Julien Gauthier and Vitali Kravtsov, plus defenseman Libor Hajek. … The teams meet again Feb. 18 in Calgary.
UP NEXT
Flames: Visit the Detroit Red Wings on Thursday.
Rangers: Host the Vancouver Canucks on Wednesday.
___
AP NHL: www.apnews.com/hub/NHL and www.twitter.com/AP_Sports
'I am sorry': Man convicted in stabbing of Calgary chef apologizes at sentencing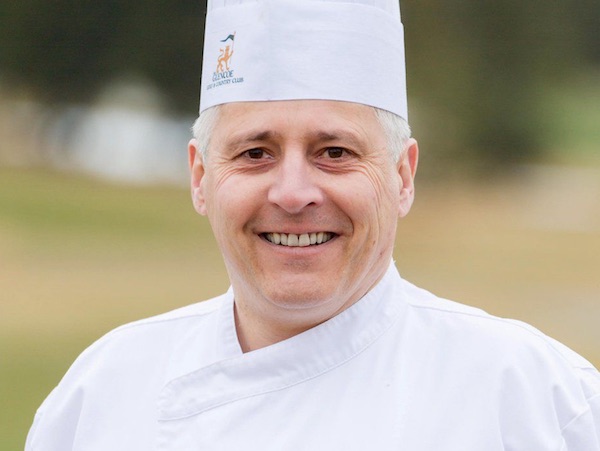 By Bill Graveland in Calgary
A man convicted of killing a chef apologized Monday and expressed dismay that no one with the victim's family was in court to to hear it.
Tommie Holloway was convicted of manslaughter while his accomplice, Anthony Dodgson, was found guilty of second-degree murder in the death of Christophe Herblin.
Herblin was stabbed to death in a parking lot outside his soon-to-be opened Calgary café following a break-in in 2020.
Holloway, 33, told his sentencing hearing that he hoped his words would get through to Herblin's wife, who wrote in a victim impact statement last December that the killing had left her broken and struggling "to make sense of this tragedy."
"It got to me. Got me emotional," said Holloway.
"I just wish they were here today so I could look at them eye-to-eye, apologize for my actions. I know no amount of words that I'm going to say is going to bring back their loved one, but I do want them to know that I am sorry."
The Crown has recommended Holloway serve 12 years in prison. Defence lawyer Kim Ross said his client had no previous criminal record, has made efforts to turn his life around and should serve three to five years.
"I'm not standing here saying that imprisonment is not appropriate here. The issue is how long," Ross told Court of King's Bench Justice Blair Nixon.
"Mr. Holloway has clearly learned his lesson … and I submit with some degree of confidence that this court will never see Mr. Holloway back here again."
Herblin was a longtime executive sous chef at the Glencoe Golf and Country Club, and his new restaurant was weeks away from opening.
Court heard Dodgson and Holloway broke into the restaurant with plans to get through a wall into an adjacent cannabis shop. They fled when a car drove by and returned later to continue their robbery attempt but became frustrated as Herblin had showed up.
Holloway smashed Herblin's car windows in order to lure him into the parking lot. Dodgson attacked him and stabbed him nine times.
Herblin staggered to a nearby gas station for help and died shortly after police officers came to his aid.
Ross said Holloway had no knowledge of what was going to happen and immediately ran off after smashing out the car's windows.
"Mr. Holloway at that point did not know what had happened. He did not know that Mr. Herblin was in the state that he was in and that he had gone to the Shell looking for help," Ross said.
"He was leaving the scene of a possible break and enter. Certainly at the time of his leaving he did not know."
Dodgson receives an automatic life sentence for the murder conviction. When the sentencing hearing began for both men in December, the Crown argued that Dodgson should not be eligible for parole for 15 to18 years. His lawyer asked for a range of 10 to 12 years.
The judge is scheduled to deliver his sentence for Holloway and Dodgson on Feb. 24.
This report by The Canadian Press was first published Feb. 6, 2023.
This is a corrected story. A previous version said lawyers were recommending the time Holloway should serve before he is eligible for parole.