Downtown Business Spotlight: Tribe
This week's Business Spotlight shines on Tribe! This unique restaurant is located right on Ross Street (4930 Ross Street) and offers a menu inspired from places all around the world. We sat down with manager, Brandon Bouchard, to learn more!
What is your business?
Tribe is a restaurant and bar located in the heart of Red Deer's downtown on the Ross St Patio.
When did your business open?
Our space has been open for roughly 4 years. In that time we've expanded and doubled in square footage and also tripled our staff.
What makes your business unique?
We believe we have the "sexiest" room in town. Our guests are often commenting positively on the space and how much they love the warm ambiance. "There's no other place like this in Red Deer", "I feel like I'm in another city", or just "Wow" are the words we hear the most. Our "Modern World Food" is very popular and is inspired from regions around the globe. And one of the main reasons we continue to remain a hot spot in the downtown, we believe, is our staff. Our team is absolutely amazing. Friendly, funny, and flirty… the staff's number one focus is the guest experience and it shows. Our room is often filled with laughter and huge smiles. Our goal is that no one leaves hungry, and everyone leaves happy!
Our slogan is "Eat a Little. Drink a Little. Flirt a Little. Tell Your Most Awesome Stories."
What are some products/services that you offer?
Aside from the obvious dine-in and takeout options we also offer private party bookings and can typically cater to groups of easily 40-50 guests. We also offer the occasional theme or event nights such as Tapas nights, Wine Tasting events, Holiday Parties and more!
Why did you choose Downtown Red Deer as the location for your business?
Tribe, as well as it's sister store Sunwork's Living, are located downtown because Red Deer's downtown is the place to be! To be surrounded by so many other unique shops and businesses makes being in the area a truly wonderful experience and we wouldn't want to be anywhere else.
What do you think makes Downtown vibrant?
In order for any downtown to be vibrant, the citizens need to occupy that space. With the growing number of retail shops, restaurants and bars, and other services that can be found in the area it's no wonder folks are visiting the downtown more than ever. Shopping local and supporting small businesses is important now more than ever and with endless locally owned businesses in the area it's no wonder we are seeing more vibrancy in the area, and we believe this trend will continue to attract NEW businesses downtown.
I love Downtown Red Deer because… most everything you might need or want can be found in one attractive and exciting neighbourhood, and your friends are probably there too.
Looking for some "Modern World Food" for dinner or maybe looking at attending one of their event nights? Check out Tribe's social media pages and website for more information!
Website: http://tribeflatout.com
Instagram: https://www.instagram.com/tribeflatout/
Facebook: https://www.facebook.com/tribeflatout/
Twitter: https://twitter.com/tribeflatout
Business Spotlight: Ewyn Weight-Loss Studios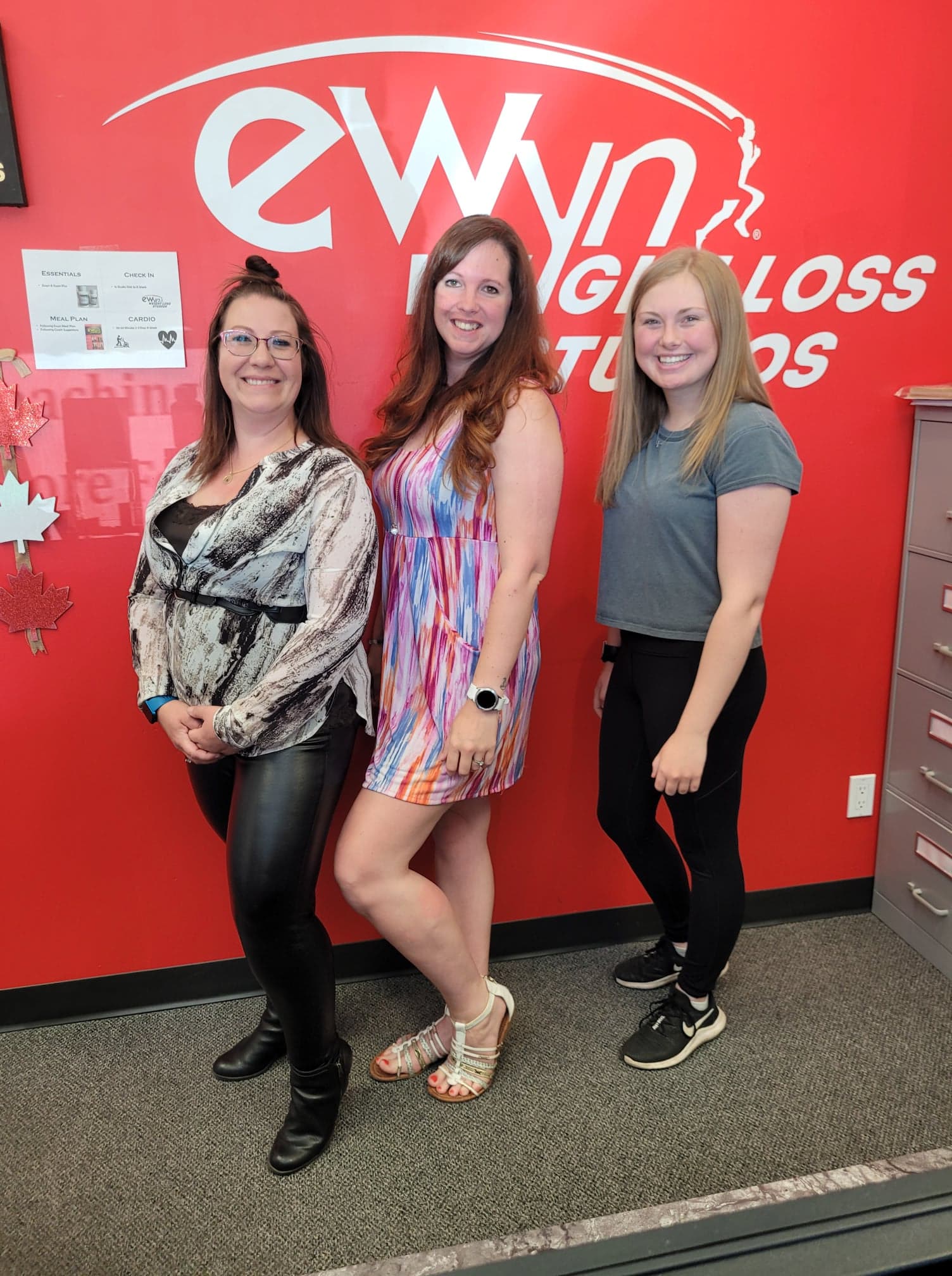 1. What is your business?
Ewyn Weight-Loss Studios support clients on their weight-loss journey through programing, healthy eating, stress management and much more; they are a hub for healthy living.
2. When did your business open?
This Ewyn studio opened in 2017, but Natalie has been running it since 2019
3. What makes your business unique?
Stabilization and maintenance are what make Ewyn's weight-loss different, working with clients to reach their goals than helping them maintain the perfect balance for their individualized goals to make weight loss truly sustainable.
4. What are some products/services that you offer?
A FREE consultation followed by individual programming per client to help them reach their goals of healthy living and weight loss.
5. Why did you choose Downtown Red Deer as the location for your business?
The business was already placed downtown when I took over, but I do find that we get about 15-20% of our business from people stating they saw us as they drove by.
6. What do you think makes Downtown vibrant?
The greenery and opportunity for living an active lifestyle with the tails and outside gyms.
7. Finish this sentence: I love Downtown Red Deer because…
I love the downtown Market, and it has such a sense of community and fresh, inexpensive vegetables. I often recommend it to my clients.
It's proving to be a lively summer on the Ross Street Patio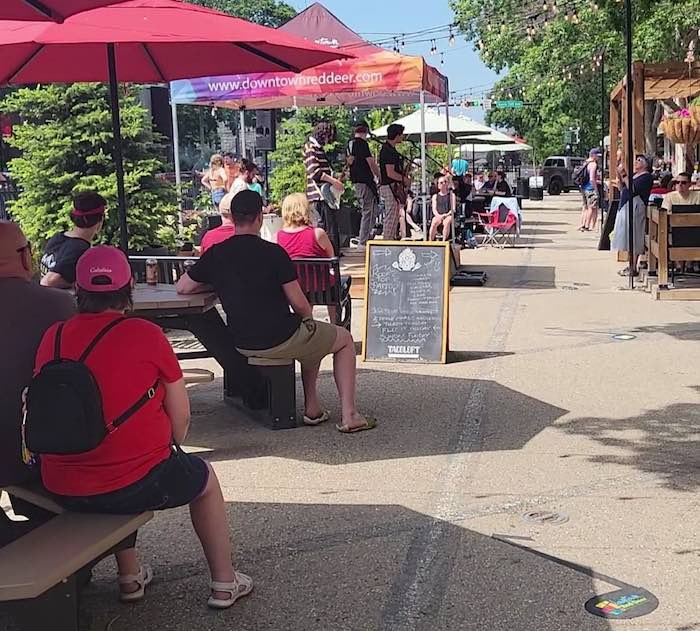 By Mark Weber
With the new designation of being an Entertainment District, there's an exciting new vibe resonating across Red Deer's Ross Street Patio.
Earlier this year, City council approved Entertainment District status for the Patio, meaning that the Ross Street Patio is now a place where adults can consume alcohol outside of a licensed premises while taking in various forms of live entertainment. Prior to the May 24th council meeting, City administration determined a new bylaw was needed to support the DBA's request and sought direction from council before proceeding.
According to the City, Entertainment Districts are new to the province, having been created last December through an amendment to the Gaming, Liquor and Cannabis Act. "We are getting brilliant feedback – it has been so well-received,"
explained Amanda Gould, the DBA's executive director. There have been no issues either, she added, pointing out that folks have been responsible and simply enjoying the option to have a drink while listening to artists perform on the Patio each week. "They're having a drink, they're getting rid of their garbage, and then they are on their way. It's been absolutely brilliant – it's been a dream. "It's great to be able to offer this to people who come downtown."
Gould has also noted that the designation would help to further revitalize the downtown core by drawing more folks down to not only check out the entertainment that is running on the Patio all summer, but to also see all that downtown ultimately has to offer.
Business owners have also been saying it's been a positive move. "Tribe, in particular, on Canada Day saw a 30 per cent increase in sales."
The regular performances are also proving a major draw this summer. "We get people of so many different walks of life coming down to see them – it's so interesting to watch the Patio right now. We get in at half past eight, and then you go around the corner to look at the Patio to check and make sure everything is good as we do every morning. People are outside City Roast having coffee, sitting on the picnic benches, having their breakfast, or just sitting down to have a chat – it's just lovely to see. And then it gets full on the days that we have the entertainment going on."
Thursday and Friday performances run from 12 – 1:30 p.m. with Wednesday performances going from 4:30 – 6:30 p.m. "Wednesdays continue to be our best day as we have the market going on then, too."
Visitors are invited to come down and purchase all their fresh fruits and veggies between 3:30 and 6:30 p.m. each Wednesday.
The annual car boot sale will soon be happening as well – they will be on Wednesdays also, she added. "Wednesdays are 'the day'," she added with a laugh.
According to the DBA's website, "Load up your car, truck, or van with any items from your house that you wish to sell (or that you would normally put out in a garage sale) and come down to Little Gaetz Avenue for the Downtown Red Deer Car Boot Sale." Pre-registration & payment required for those wishing to sell.
And to top of the celebratory spirit, a special limited-edition beer created by Sawback Brewing specifically for the Patio has proven to be a hit as well. "People love it," said Gould, adding the beer – available at several downtown restaurants – will be available through the summer. The musical performances and the market both run through to the early fall.
For more about the Downtown Business Association and all that is planned for the Ross Street Patio, find them on Facebook or visit www.downtownreddeer.com.