Downtown Business Spotlight: Original Joe's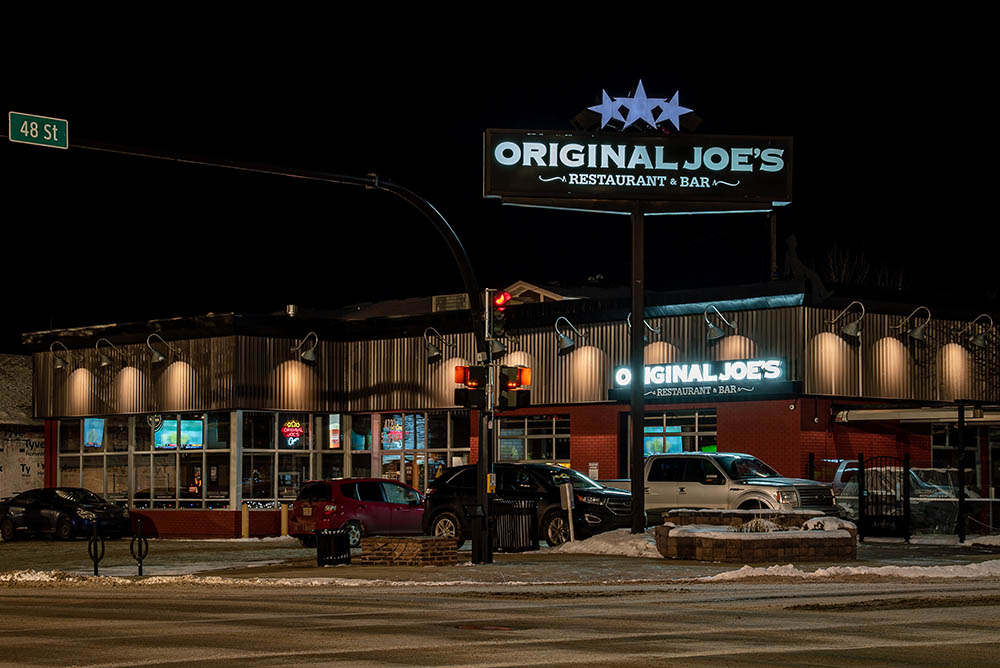 This week's Business Spotlight shines on Original Joe's Red Deer! This unique restaurant is located right at 4720 51 Ave.
What is your business?
We are a locally owned restaurant and pub; Down to Earth and Down the Street. On our menu you will find a variety of fresh takes on comfort food.  We've got something to satisfy beer lovers, wine aficionados, and cocktail enthusiasts alike. Our extensive drink menu includes solid classics, local and craft favorites, and enough new discoveries to keep things interesting. 
When did your business open?
November 1, 2005 
What makes your business unique?
We are all about good times, good friends and great food. A warm, down to earth place where old friends gather, new friends are made and everyone is welcome. 
What are some products/services that you offer?
We offer wholesome, delicious meals made with fresh ingredients prepped and prepared by hand – in house. We have everything from Nachos to Burgers & Wraps to Steak to Fish & Chips! 
What do you think makes Downtown vibrant?
This history and locally owned businesses!  Downtown is full of unique old buildings that are largely occupied by locally owned businesses. There is a feeling of community in Downtown Red Deer that is unusual for a City.  Downtown Red Deer is beautiful – City Hall Park, the Ross Street Patio, the lights, the cobblestone, and so much more.  
I love Downtown Red Deer because… it is the heart of our City! 
Canadian firm Just Energy warns of huge losses due to extreme Texas winter weather
CALGARY — Shares in Canadian energy retailer Just Energy Group Inc. are falling after it warned it may not be able to continue operating due to hundreds of millions of dollars in losses because of extreme winter weather in Texas over the past week.
In a news release, the company says it is facing a loss of US$250 million (about C$315 million) due to high electricity prices during the unusually cold weather from Feb. 13 to 19.
It says its price of power in Texas was artificially set at US$9,000 per megawatt-hour for much of the week, resulting in a "substantial negative financial impact" unless there is corrective action by the government.
Just Energy shares were halted on Monday morning in Toronto. They quickly lost almost a third of their value after trading was opened again, falling as much as $2.42 to $4.86.
The company says it has delayed financial reports expected last week for the periods ending Dec. 31 until late this week, so it can better review and understand the impact of the Texas event.
Just Energy markets natural gas and electricity at a retail level under several brand names in jurisdictions in Canada and the United States, including Texas, Ontario and B.C.
"The financial impact of the weather event on the company, once known, could be materially adverse to the company's liquidity and its ability to continue as a going concern," Just Energy warned.
This report by The Canadian Press was first published Feb. 22, 2021.
Companies in this story: (TSX:JE)
The Canadian Press
Union pressing Olymel to pay employees during COVID-19 shutdown at Alberta plant
RED DEER, Alta. — The union representing staff at a central Alberta pork plant says it's exploring legal options to make sure workers are paid during a shutdown brought on by a COVID-19 outbreak. 
Olymel indefinitely closed its hog slaughtering, cutting and deboning operation in Red Deer, Alta., earlier this week after hundreds of workers became infected with the virus.
The president of United Food and Commercial Workers Local 401 says in a statement that the union believes laying off workers without pay during the temporary closure contravenes its collective agreement with the company. 
Thomas Hesse says the union believes the company may also be in contravention of employment standards under Alberta law, and the union's lawyers are reviewing the matter.
An Olymel spokesman confirms that earlier this week all employees were notified by personal letter that they would be laid off throughout the temporary closure. 
Richard Vigneault says in an email that the closure is a case of force majeure — or unforeseeable circumstances — and there is no provision in the contract for staff to be paid after operations have ceased. 
He says Olymel is maintaining workers' insurance coverage and will offer wage advances with flexible terms as a bridge until government assistance comes through. 
Alberta Health says that, as of Thursday afternoon, it had been notified of 389 cases linked to the Olymel outbreak, 197 of them were active, with one death. 
The Canadian Press