Downtown Business Spotlight: H&R Block
This week's Business Spotlight shines on H&R Block's downtown location at # 107, 4711 51 Avenue. We sat down with District Manager Janice Will, to learn more!
What is your business?
H& R Block is a tax preparation business and we help clients file their personal, business corporate, and US taxes and we also do bookkeeping for our clients. When you file your taxes at H&R Block you can do it a number of ways such as virtually, you can upload your files on our website and a tax expert will file it for you and prepare it for you. And then you can also bring in to our easy drop off where you just put your tax documents into an envelope, and you bring it in to our office. And then a tax expert will go over that with you and file that on your behalf. We also have our Do It Yourself software.
Now the other thing that we have is our Tax Academy, we offer that every year starting in September, and this is how we recruit our tax associates for the coming year.
When did your business open?
Our business opened in 1994 at this location and H&R block has been in Canada for over 55 years.
What makes your business unique?
Actually we have a couple of things that make us unique and one is our H&R Block Advantage and what that is, is it's basically a maximum refund guarantee and audit assistance. This is offered to everyone who files with H&R Block at no cost, and also that we're open year-round. The other thing is our Tax Academy, we have online classes, and this is the first time that we've just had strictly online due to COVID and they're available at convenient times. The total course is 72 hours and in a guided online classroom setting. It includes tax theory and hands-on interactive learning with the latest tax preparation software. In this, there are real-world tax exercises as well as you can have one on one with your virtual instructor and know that once you complete the course then you have an opportunity to interview for employment with H&R Block and definitely have positions available. And if you are hired then we offer a flexible schedule as well as you can take more online learning and other courses to build your tax knowledge as well as your client base.
Another thing that makes us unique if our free second look. It will review up to three of your past returns looking for money, and well do that for free. So if others have done your taxes and you wanted them to be looked over we will actually look over those for free and help you file them if need be.
What are some products/services that you offer?
One of the things that we offer is the instant refund. This service is a great benefit for clients because then they can get their refund instantly. If you file your taxes at H&R Block and meet with a tax associate, we can see whether or not you can qualify for that. The other thing that we have is Peace Of Mind and by purchasing the Peace Of Mind Extended Service Plan you'll have one of our professionals that'll be with you through your ongoing CRA assessment or audit throughout the entire process. We also have Pay With Refund. And that's paid later with H&R Block's Pay With Refund. If you're getting a refund, then you could qualify, and then rather than paying out of pocket fees, we will take them out of your refund. So you can get your taxes often, catch 22 to get your taxes filed without making a payment.
Why did you choose Downtown Red Deer as the location for your business?
Because it's very central to a lot of other businesses and because we have a great location just in the midst of the downtown as well.
What do you think makes Downtown vibrant?
So I was thinking about this and I love how many activities we have throughout the year. We have the Wednesday Downtown Red Deer Market. We have the seasonal patio programming, CentreFest, the parade, Red Deer Lights the Night, and many more. And all these activities are year-round!
I love Downtown Red Deer because… it's the Culture Center of our community. And that is what I feel it is. And I really feel that the Downtown Business Association has been a great partner and driving clients to the downtown for our businesses, and also making it part of the culture center for Red Deer.
Be sure to head into H&R Block for all of your tax needs! For more information about H&R Block visit their website!
Red Deer DBA announces Entertainment District events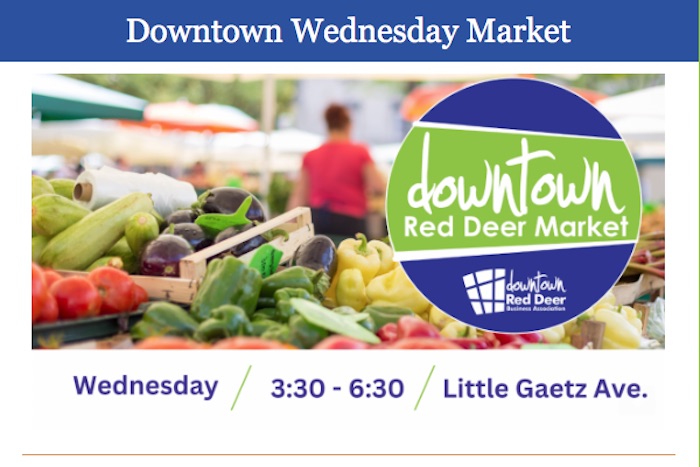 With great enthusiasm and anticipation, the Downtown Business Association (DBA) is thrilled to share some exciting updates and plans for the future! After careful consideration and a deep understanding of our community's needs, we are here to announce our latest developments.
Firstly, while we understand the disappointment caused by the cancellation of the upcoming season of the Downtown Saturday Market, we want to assure you that this decision was made with the utmost care and consideration. Our valued vendors and attendees have shown incredible support and enthusiasm for this new venture, and for that, we are truly grateful.
Though we faced time constraints and logistical challenges that hindered our ability to organize the event effectively, we have not lost sight of our mission to bring joy and entertainment to the community. Our plans for the Wednesday Market remain unchanged and we are are thrilled to inform you that the music programming meant for Saturday market entertainment will continue to thrive!
Every Saturday from 2-4pm, the public patio will come alive with soul-stirring performances from amazing artists from all over Central Alberta and beyond. Best of all, this event is free and open to the public, inviting everyone to share in the magic of live music. This will be in addition to the regularly scheduled Tuesday – Friday Programming, with an extra special open mic night every Thursday evening. Friday's will take it up a notch with business-led events that will make your evenings truly unforgettable.
We have an incredible lineup of events and activities planned for this summer to enhance your enjoyment of the Ross Street Patio, day and night. To stay up-to-date with all the showtimes and artist line-ups, we encourage you to follow us on our social media channels.
In addition, our Host-It! Program offers community partners the opportunity to use the stage every Saturday throughout the summer. Imagine the possibilities—music, theatre, art galleries, and so much more. We are committed to providing a platform for diverse activities that will invigorate the heart of our downtown. And let's not forget the festivals! The Downtown Business Association is proud to support several upcoming festivals on Ross Street and nearby this summer. These celebrations will infuse the area with a joyful and festive atmosphere, attracting thousands of visitors to revel in the excitement. After immersing yourself in these vibrant events, the Ross Street Patio will be the perfect spot to unwind and savor a refreshing beverage.
Our little Entertainment District has flourished, and we couldn't be prouder. The first full summer season with this new bylaw in place promises to be an absolute triumph, as we are still the only Entertainment District in Alberta.
Looking ahead, the DBA remains dedicated to fostering a vibrant and thriving downtown. We are already hard at work planning an afternoon market for next year based on valuable community feedback. This revised schedule will provide vendors with greater flexibility and the opportunity to participate in other morning markets. We are committed to announcing and implementing these efforts earlier, ensuring that vendors have ample time to plan their seasons accordingly.
Together, as a united community, we will continue to create successful opportunities for all. Let's embrace the vibrant future that awaits us and build a downtown that will inspire and uplift us all.
Downtown Business Association announces Saturday market for Red Deer on Little Gaetz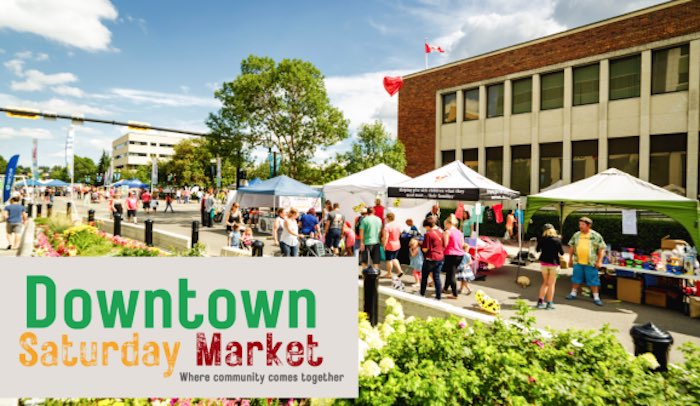 Red Deer Downtown Business Association launches Downtown Saturday Market
The Red Deer Downtown Business Association (DBA) is proud to announce the launch of a brand-new downtown market for Red Deer, starting Saturday, May 20th at 10am, located on Ross Street and Little Gaetz.
This open-air urban market will have no restrictions on vendors and can accommodate everyone! The downtown business community are thrilled to welcome visitors to the core and their offerings are sure to delight. Attendees can enjoy the many benefits of the Entertainment District, which includes revelling in the numerous food and beverage options on the Ross Street Patio while taking in the local live music.
The cost to be a vendor in the new DBA Downtown Saturday Market is an affordable $40 per week and all vendors must complete an application form to attend. The application will be live on
downtownredder.com
on Thursday, April 27th, 2023 (tomorrow) at noon. The application can be both completed and submitted online. Once the application is approved, vendors will be contacted by the Market Manager to confirm the online payment process and be provided with a booth number and map for access.
To follow along for the latest information, head to the social media accounts:
"This is an exciting opportunity for the DBA to really showcase the downtown and its businesses. It will enable visitors to shop local with both the vendors and brick and mortar businesses while exploring some of the other attractions, including the many murals that are located all over downtown".
Amanda Gould, DBA Executive Director.
"The new DBA Downtown Market will be transformative for downtown Red Deer as it shows the community the countless positive things we have to offer while attracting various demographics. This is not just a win for the downtown, but for the community, and if we want to succeed in revitalizing the downtown core, this is the biggest and most effective step we can take".
Brandon Bouchard, DBA Board Chair and General Manager at Tribe Restaurant.
The Downtown Business Association has been operating in Red Deer for 40 years, serving approximately 450 business owners in the Downtown area. Through partnerships and leadership in advocacy and promotion, the DBA is the catalyst for a vibrant and prosperous downtown that is the place to live, work, play and do business.
For more information, please contact:
Amanda Gould Executive Director
Red Deer Downtown Business Association