Downtown Business Spotlight: H&R Block
This week's Business Spotlight shines on H&R Block's downtown location at # 107, 4711 51 Avenue. We sat down with District Manager Janice Will, to learn more!
What is your business?
H& R Block is a tax preparation business and we help clients file their personal, business corporate, and US taxes and we also do bookkeeping for our clients. When you file your taxes at H&R Block you can do it a number of ways such as virtually, you can upload your files on our website and a tax expert will file it for you and prepare it for you. And then you can also bring in to our easy drop off where you just put your tax documents into an envelope, and you bring it in to our office. And then a tax expert will go over that with you and file that on your behalf. We also have our Do It Yourself software.
Now the other thing that we have is our Tax Academy, we offer that every year starting in September, and this is how we recruit our tax associates for the coming year.
When did your business open?
Our business opened in 1994 at this location and H&R block has been in Canada for over 55 years.
What makes your business unique?
Actually we have a couple of things that make us unique and one is our H&R Block Advantage and what that is, is it's basically a maximum refund guarantee and audit assistance. This is offered to everyone who files with H&R Block at no cost, and also that we're open year-round. The other thing is our Tax Academy, we have online classes, and this is the first time that we've just had strictly online due to COVID and they're available at convenient times. The total course is 72 hours and in a guided online classroom setting. It includes tax theory and hands-on interactive learning with the latest tax preparation software. In this, there are real-world tax exercises as well as you can have one on one with your virtual instructor and know that once you complete the course then you have an opportunity to interview for employment with H&R Block and definitely have positions available. And if you are hired then we offer a flexible schedule as well as you can take more online learning and other courses to build your tax knowledge as well as your client base.
Another thing that makes us unique if our free second look. It will review up to three of your past returns looking for money, and well do that for free. So if others have done your taxes and you wanted them to be looked over we will actually look over those for free and help you file them if need be.
What are some products/services that you offer?
One of the things that we offer is the instant refund. This service is a great benefit for clients because then they can get their refund instantly. If you file your taxes at H&R Block and meet with a tax associate, we can see whether or not you can qualify for that. The other thing that we have is Peace Of Mind and by purchasing the Peace Of Mind Extended Service Plan you'll have one of our professionals that'll be with you through your ongoing CRA assessment or audit throughout the entire process. We also have Pay With Refund. And that's paid later with H&R Block's Pay With Refund. If you're getting a refund, then you could qualify, and then rather than paying out of pocket fees, we will take them out of your refund. So you can get your taxes often, catch 22 to get your taxes filed without making a payment.
Why did you choose Downtown Red Deer as the location for your business?
Because it's very central to a lot of other businesses and because we have a great location just in the midst of the downtown as well.
What do you think makes Downtown vibrant?
So I was thinking about this and I love how many activities we have throughout the year. We have the Wednesday Downtown Red Deer Market. We have the seasonal patio programming, CentreFest, the parade, Red Deer Lights the Night, and many more. And all these activities are year-round!
I love Downtown Red Deer because… it's the Culture Center of our community. And that is what I feel it is. And I really feel that the Downtown Business Association has been a great partner and driving clients to the downtown for our businesses, and also making it part of the culture center for Red Deer.
Be sure to head into H&R Block for all of your tax needs! For more information about H&R Block visit their website!
Website: https://www.hrblock.ca/stores/4711-51-ave-107/
Red Deer Brewery to hold Beer Tasting on the Ross Street Patio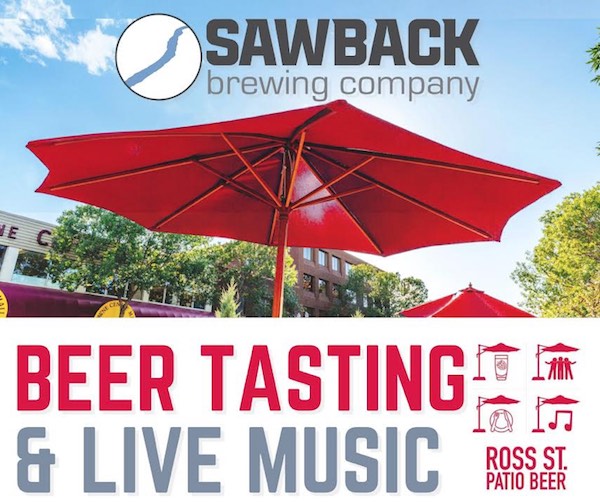 Sawback Beer Tasting on the Ross Street Patio
The Ross Street Patio is celebrating its 10th summer and Sawback Brewing Co. is releasing a new Raspberry Ale named after the Downtown's most loved feature – The Ross Street Patio!
On Friday, May 27th, the Downtown Business Association and Sawback Brewing will host a free tasting from 5-8PM, complete with live music from Paeton Cameron and James Adams and a light snack from Chubby's Jerk BBQ & Kitchen! Visitors can then grab a seat on one of the adjacent restaurant patios for a full-sized Ross Street Patio Beer and enjoy the show. This event is free and open to the public.
Amanda Gould, Executive Director of the DBA says, "This is such an exciting time for the Ross Street Patio and Downtown. We have so much planned over the summer and the next natural step is to license the entire patio through council deeming it an Entertainment District. We will find out in the beginning of June if council approve the bylaw and, straight after that, you can start enjoying full-sized beverages right on the patio while enjoying the summer entertainment!"
The Ross Street Patio is the hub of downtown entertainment, and the DBA is proud to be programming it for the summer season – summer activities include art installations, live music and family fun activities. "Follow us on Facebook to keep updated on what's going on and when. If you are a community group or an event organizer wishing to bring some activity to Ross Street Patio, please direct message or call the DBA to find out about the support, including financial support, that we can provide to help your event or activity come to life."
The Downtown Business Association has been operating in Red Deer for over 30 years, serving approximately five-hundred business owners in the Downtown area. Through partnerships and leadership in advocacy and promotion, the DBA is the catalyst for a vibrant and prosperous downtown that is the place to live, work, play and do business.
Downtown Red Deer: safe, fun and open for business!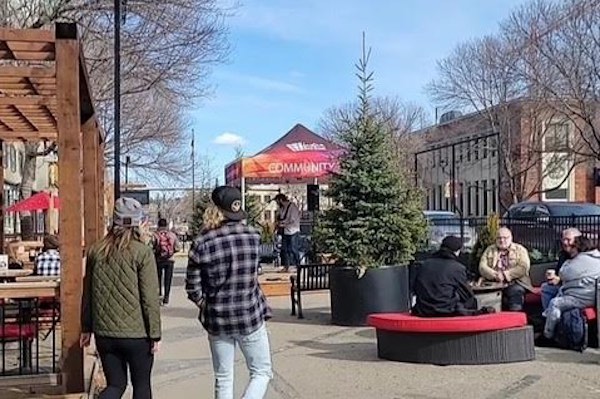 By Mark Weber
With summer just around the corner, downtown Red Deer is all the more bustling with fun events and even more local businesses to check out. But there are a few misconceptions about the area that persist, and that can even prevent some folks from visiting the city's increasingly vibrant core. "Downtown Red Deer has an always lot of good things going for it," explained Amanda Gould, executive director of the Downtown Business Association. "Sometimes, that is outweighed by the perception people have of downtown. "What we need to remember is all that has been happening downtown, what with the murals, the events, the alley upgrades – there are a lot of good things happening. And it's making it such a great destination to come and visit and to also set up your business," she added.
"We have seen, over the last year, an increase of 50 new businesses downtown. It's great news, and the downtown is a great place to go." As mentioned, however, certain misconceptions about the downtown area persist including that
there is a significant parking problem. "We absolutely do not have a parking issue," noted Gould. Visitors may not always be able to park directly in front of their destinations, particularly if they are in a facility with lots of other businesses and agencies, but there are typically plenty of places to park nearby if you are prepared for a short jaunt. "If you were to travel just a half a block down the street, or even a block down, you will find there are usually plenty of spaces. We are lucky that our downtown is walkable as well."
She also mentioned that some residents believe that downtown Red Deer is unsafe. "Again, this is a misperception – it's not the reality of it," she said. "We are so lucky as a neighbourhood downtown to have our own RCMP policing unit everyday – they chat with business owners and help them solve any safety issues they may come into contact with," she said. "There is a team of seven on that unit, and surely that makes downtown one of the safest places to be."
As to the surge in businesses, Gould noted that reasonable rents attract local entrepreneurs to launch ventures there as well – nicely adding to the growing variety of businesses in the area. It's yet another plus for Red Deer residents.
In the meantime, one of downtown's most prominent features – the Ross Street Patio – is really starting to liven up these days with the warmer weather and regularly scheduled musical performances. 'Music on the Ross Street Patio' is a free event and is open to all ages. Performances run from 4:30 –7:30 p.m. on show nights. Another annual favourite, the Downtown Market, kicks off on Wednesday, May 25. An accredited farmers' market, visitors are invited to come down and purchase all their fresh fruits and veggies between 3:30 and 6:30 p.m. each Wednesday. Live music on the Ross Street Patio is also a key feature on Wednesdays.
Gould added that Friday, May 27, is the official kick-off to summer on the Ross Street Patio. To celebrate, they have partnered with Sawback Brewing to introduce a limited-edition Ross Street Patio beer which is super exciting, she explained. "Free samples will be available at 5 p.m. that day (May 27). There will also be music and other activities. The special beer, featured at several downtown restaurants, will be available through the summer.
Looking into June, performances on the Patio will run on Wednesdays, Thursdays and Fridays. "Businesses are now opening up their patios – and we've got the music happening on the Patio, so we are really starting to see a lot more people coming down, spending some time outside and enjoying the live music that we are putting on," she said.
For more about the Downtown Business Association and all that is planned for the Ross Street Patio, find them on Facebook or visit www.downtownreddeer.com.