Downtown Business Spotlight: H&R Block
This week's Business Spotlight shines on H&R Block's downtown location at # 107, 4711 51 Avenue. We sat down with District Manager Janice Will, to learn more!
What is your business?
H& R Block is a tax preparation business and we help clients file their personal, business corporate, and US taxes and we also do bookkeeping for our clients. When you file your taxes at H&R Block you can do it a number of ways such as virtually, you can upload your files on our website and a tax expert will file it for you and prepare it for you. And then you can also bring in to our easy drop off where you just put your tax documents into an envelope, and you bring it in to our office. And then a tax expert will go over that with you and file that on your behalf. We also have our Do It Yourself software.
Now the other thing that we have is our Tax Academy, we offer that every year starting in September, and this is how we recruit our tax associates for the coming year.
When did your business open?
Our business opened in 1994 at this location and H&R block has been in Canada for over 55 years.
What makes your business unique?
Actually we have a couple of things that make us unique and one is our H&R Block Advantage and what that is, is it's basically a maximum refund guarantee and audit assistance. This is offered to everyone who files with H&R Block at no cost, and also that we're open year-round. The other thing is our Tax Academy, we have online classes, and this is the first time that we've just had strictly online due to COVID and they're available at convenient times. The total course is 72 hours and in a guided online classroom setting. It includes tax theory and hands-on interactive learning with the latest tax preparation software. In this, there are real-world tax exercises as well as you can have one on one with your virtual instructor and know that once you complete the course then you have an opportunity to interview for employment with H&R Block and definitely have positions available. And if you are hired then we offer a flexible schedule as well as you can take more online learning and other courses to build your tax knowledge as well as your client base.
Another thing that makes us unique if our free second look. It will review up to three of your past returns looking for money, and well do that for free. So if others have done your taxes and you wanted them to be looked over we will actually look over those for free and help you file them if need be.
What are some products/services that you offer?
One of the things that we offer is the instant refund. This service is a great benefit for clients because then they can get their refund instantly. If you file your taxes at H&R Block and meet with a tax associate, we can see whether or not you can qualify for that. The other thing that we have is Peace Of Mind and by purchasing the Peace Of Mind Extended Service Plan you'll have one of our professionals that'll be with you through your ongoing CRA assessment or audit throughout the entire process. We also have Pay With Refund. And that's paid later with H&R Block's Pay With Refund. If you're getting a refund, then you could qualify, and then rather than paying out of pocket fees, we will take them out of your refund. So you can get your taxes often, catch 22 to get your taxes filed without making a payment.
Why did you choose Downtown Red Deer as the location for your business?
Because it's very central to a lot of other businesses and because we have a great location just in the midst of the downtown as well.
What do you think makes Downtown vibrant?
So I was thinking about this and I love how many activities we have throughout the year. We have the Wednesday Downtown Red Deer Market. We have the seasonal patio programming, CentreFest, the parade, Red Deer Lights the Night, and many more. And all these activities are year-round!
I love Downtown Red Deer because… it's the Culture Center of our community. And that is what I feel it is. And I really feel that the Downtown Business Association has been a great partner and driving clients to the downtown for our businesses, and also making it part of the culture center for Red Deer.
Be sure to head into H&R Block for all of your tax needs! For more information about H&R Block visit their website!
Website: https://www.hrblock.ca/stores/4711-51-ave-107/
Southside Dodge donates new van to Ronald McDonald House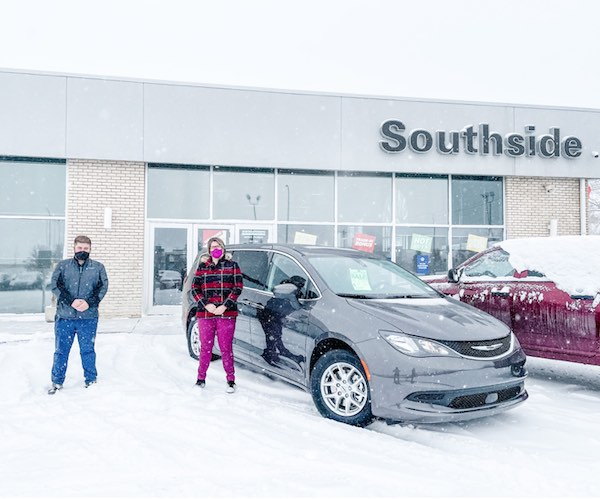 Matt Swainson (Vice President & General Manager, Southside Dodge Chrysler Jeep Ram) -left , Lori Rechlo (General Manager, Ronald McDonald House Charities Alberta – Red Deer House) – right
Submitted by

Sarah Heibein, 

Stakeholder Relations Manager, Central Alberta Ronald McDonald House

We've received a donation of use of a Dodge Caravan from Southside Dodge- they've been an incredible support of us over the years.  Attached is the photo we took at the dealership when we picked up the keys on Friday.
Ronald McDonald House Charities Alberta, Red Deer House is truly grateful to Matt Swainson and his entire team at Southside Dodge for their steadfast support of our work to keep families together during the unimaginable hardship of the need to travel for medical treatment for their sick or injured child. Our House is not a nice to have, but a need to have, and we are honoured to work with such an amazing community partner in Southside. The use of the 2021 Dodge Caravan will help us to keep our operating costs down so that we can focus on our work to keep families close.
We have operated in the city for over 8 years, ensuring there is a safe and comfortable place for families to rest while they focus on the recovery of their child(ren).
We are grateful to everyone in Red Deer who supports us!  😊
Smiles Thru Lindsey reaching out with a new video message and urging Albertans to look out for each other at this challenging time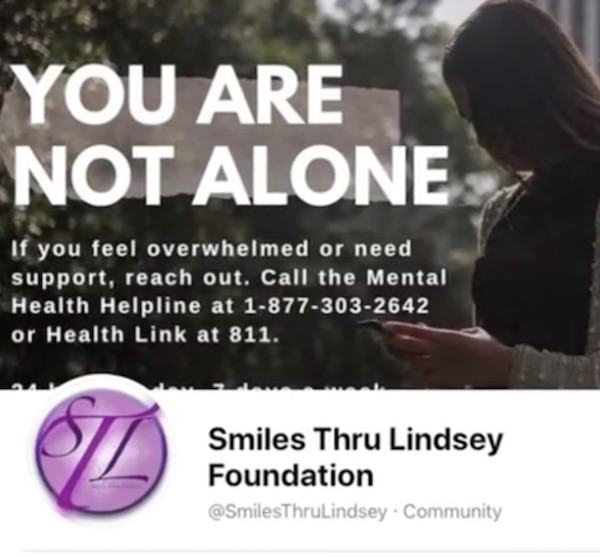 The holiday season is well behind us, we're heading into the coldest part of the winter, and although the days are starting to grow longer there's still a definite lack of daylight in our lives.  The winter blues are a real thing and this year we have COVID, a whole new serious problem to add to our mental health issues.
COVID is also the reason the Smiles Thru Lindsey team has not been able do public events for many months.  Unable to reach out physically through school visits and fund raisers, Smiles Thru Lindsey is reminding Central Albertans to check in on each other.  Also, please follow the Smiles Thru Lindsey Facebook page .  They'll lead you to the resources you or your loved ones need right away.
Meet Lindsey and the Smiles Thru Lindsey team in this powerful video.  …And remember to check in on the people in your life.
If you'd like to help Smiles Thru Lindsey with a donation please click here.