Downtown Business Spotlight: Collegiate Sports Medicine
We turn our business spotlight on Collegiate Sports Medicine Main Clinic, located at 51 21 47th St. This exceptional downtown business is leading the way in sports medicine in central Alberta. The clinic offers a wide variety of treatment options to everyday people and the team at collegiate strive to help everyone get back to being their best through knowledge, training, and expertise. We spoke to Melanie Tuck, founder and owner of Collegiate Sports Medicine to learn more!
What is your business?
We are Collegiate Sports Medicine. The word 'collegiate' means like a college so it has to do with teaching and continual learning.
We are an interdisciplinary clinic that is collaborative based. The idea came from the sport model of care where an athlete will receive access to services and collaborative teams of care providers immediately after an injury. For example, an athletic therapist with the team can assess the injury, will immediately talk to the team doctor, will contact imaging or a surgical consult if needed, and get back to the therapist who is doing the rehab.
So, the process is very timely and collaborative, and in keeping with the sport model of care, we are educating the athlete.
From that perspective, we felt very strongly that every person, whether they are an athlete or not, deserves the same level of care. We wanted to advocate on behalf of the client and bridge the gap between clients and other health care professionals.
We are always striving to be better for our clients, they in turn push us to stay educated on new and better treatment options to give them the best possible outcome in their recovery.
When did your business open?
Our original location on Ross St opened in 2003. This location opened in 2013.
What makes your business unique?
We are a values-based organization and strive to hire people with the same mindset and aligned philosophies such as learning/teaching, responsibility, ethics, and integrity. To us, that's more important in our hiring then if they have the right credentials. We tend to look for people that live an active lifestyle and have backgrounds in sport, kinesiology, and movement sciences. It is what sets us apart.
What are some products/services that you offer?
Our primary services are physiotherapy, athletic therapy, massage therapy, and chiropractic with a sports specialty. The practitioners that specialize in these disciplines offer additional services:
Injury assessment & rehabilitation
MVA treatment
Manuel & manipulative therapy
Headache & TMJ treatment
Postoperative treatment
Male & female pelvic health
Injury specific client education and home programming
Personal training/rehabilitation
Acupuncture/IMS/dry needling
Chronic pain & acute injury care
Running gait analysis and biochemical eval
Gait and posture assessment
Active release techniques
Shockwave therapy
Functional capacity evals
Myofascial release and cupping
Cranial sacral therapy
Sport and therapeutic massage
Deep tissue & trigger point massage
Courses/workshops
Athletic, k taping, and taping for dysfunction
Vestibular rehabilitation therapy
Custom foot orthotics & custom knee bracing
We have a store in our main clinic that carries items such as sports medicine supplies, a variety of braces as well as exercise and rehab equipment. We only carry high-quality items, that are sports specific and that we endorse.
Why did you choose Downtown Red Deer as the location for your business?
I was honestly just looking for a place and came upon the original location. We remained in downtown because our clients found the location central for them to get too.  We were able to move to this current location and offer our clients free parking which was the issue on Ross St. We are well-positioned here.
What do you think makes Downtown vibrant?
I think the arts and entertainment that is available, the things that were added recently such as the flowers, music, sculptures, and restaurants. As well, the patio that was put in for people to have more outdoor seating in the summer, the markets, and the sandwich boards that are out in front of businesses, all give it a small-town feel and I think people really like that.
I love Downtown Red Deer because… It is where we started our business! We have extended outside of downtown with a clinic in Olds and at the college but downtown holds a special feeling because it is where we began.
Along with the downtown location, Collegiate Sports Medicine has two other locations to serve you!
Red Deer Campus
Gary W. Harris Canada Games Centre
Unit 104 – 120 College Circle in Red Deer
And in Olds:
5114 – 51 St.
Be sure to follow Collegiate Sports Medicine on:
Facebook: https://www.facebook.com/collegiate.sports.medicine/
Instagram: https://www.instagram.com/collegiatesportsmedicine/
Twitter: https://twitter.com/CollegiateSpMed
And check out their website: https://collegiatesportsmedicine.ca/
Smiles Thru Lindsey reaching out with a new video message and urging Albertans to look out for each other at this challenging time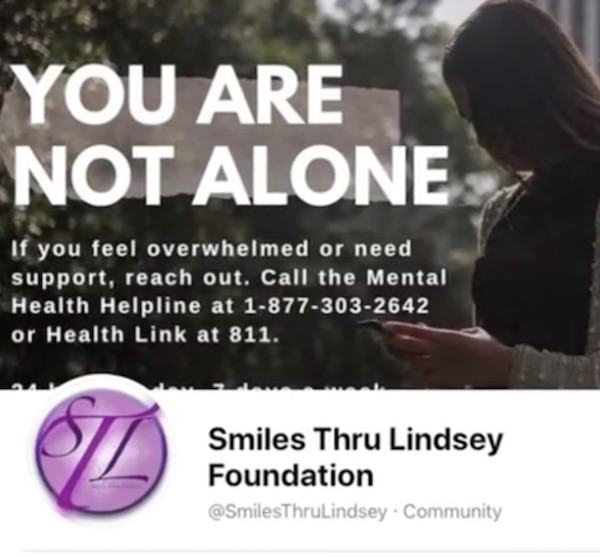 The holiday season is well behind us, we're heading into the coldest part of the winter, and although the days are starting to grow longer there's still a definite lack of daylight in our lives.  The winter blues are a real thing and this year we have COVID, a whole new serious problem to add to our mental health issues.
COVID is also the reason the Smiles Thru Lindsey team has not been able do public events for many months.  Unable to reach out physically through school visits and fund raisers, Smiles Thru Lindsey is reminding Central Albertans to check in on each other.  Also, please follow the Smiles Thru Lindsey Facebook page .  They'll lead you to the resources you or your loved ones need right away.
Meet Lindsey and the Smiles Thru Lindsey team in this powerful video.  …And remember to check in on the people in your life.
If you'd like to help Smiles Thru Lindsey with a donation please click here.
Hope, Faith and Love:  the Music Ministry of Gerard Renaud
"I feel more alive today in God than I did 20 years ago," said Gerard Renaud in the Red Deer Sacred Heart sanctuary.
The musician and worship leader had been asked by Shalom World, an international Catholic Ministry network with programs ranging from daily mass to talk shows, to provide worship music and meditations in 2019 but God had other plans.
"Shalom had come to Red Deer and put on a weekend at Sacred Heart Catholic Church and I had attended as I had never been to one before," said Renaud.  "They needed a guitarist, so I helped out and tailored my song choice to the theme of the weekend and they liked that.  Many of the international leaders were here and they invited me to be part of their Dallas event.  "
Renaud recalled that God had other plans as there were glitches in registration, so the Dallas trip was cancelled. Instead, he went to Vancouver to visit family and while he was there, he was part of 4 events with healings, music ministry and more members of Shalom management met with him!
Fast forward one year.
Early this Fall, Shalom came calling, this time they asked for two short devotions for Rejoice, one of which has already been posted (The Great Commission) and a second on Advent (Due December 18).
Communicating the grace and love of God has always been foremost in Renaud's' life.
"When I was a young man my family lived in Maple Ridge, BC, and I learned to play the guitar when I was nine years old on a 1965 Fender," remembered Renaud.  "My dad taught me 3 chords  in 1974. I credit God with giving me the talent to lean how to play and three months later, my family was the choir at St. Pats and we changed the music style to be more Avant Garde and by the time we changed churches 4 years later, church attendance was up even at the early masses."
By 1977 his family was playing up to 140 times a year in prisons, churches, and seniors' homes.
"Wherever we were wanted, we played," he said.  "The most memorable show we ever did was in 1977 at Alouette which was a medium security prison in Maple Ridge.  There were close to 200 inmates and we played during a prayer service and afterwards, we put on our regular show.  We played all kinds of music, There were not many at the service, but when we started to sing our standard set everyone left, and we were wondering what happened.  Not long later, we packed the chapel, and every wall was full!"
He noted that as a young boy of 12 he was singing 'Wasted Days and Wasted Nights,' and laughed about it.  "What does a 12-year old boy know about wasted days?  But, while we entertained our audiences, we ended up with an acapella Amazing Grace that had people in tears seeking the forgiveness of God."
Experiences like that shaped his family's music and ministry.
His spiritual journey is not restricted to music but also includes counseling and leading healing masses world-wide, a ministry that Sacred Heart has embraced for close to 3 years.
"When we had our first healing Mass in Red Deer more than 200 people came up for prayer," he remembered smiling.  "Father Tom, priest at the time, called him over and asked him a simple question, 'Where did these people come from?' I told Fr. Tom that if we hold one, they will come and they did."
Looking over the sanctuary, he continued to speak.
"But you have to remember that the Holy Spirit only moves like that after great prayer and humility, and we had spent 6 months praying every week for that," he said.  "All I did was to be obedient and do my part.  When I ministered in India, the same thing happened.  Over a couple of months, I led worship and prayed for thousands of people, some of whom I keep in contact with!  God is amazing."
When Shalom came calling, Renaud knew he had to let God speak.
The Great Commission | Gerard Renaud (shalomworld.org)
"My heart is evangelism, and I knew I had to challenge my audience with both a strong message and a powerful song so I chose 'What will you do with the time you have left,'" he said.  "We filmed it at Sacred Heart and after their editing, it debuted in early December."
He was not prepared for the impact his segment would have.
"One of the people of Shalom contacted me and told me that it had been posted in 4 countries and they had been receiving comments from Australia, Canada, Europe and the United States," he noted.  "Not only that, but even in this parish, the response from my fellow believers is amazing with people wanting to help.  Our parish priest, Father Jann wants us to produce a series of videos on faith, doctrine, and the gospels.  We are looking into equipment to help us live stream and work on our video ministry, all because of an invitation from Shalom."
Looking up at the cross, Renaud concluded with a simple statement, "If God asks something of you, do not walk away, but be obedient.  The rewards will be worth every sacrifice."
Renaud leads worship at Sacred Heart Catholic Church at the 11 a.m. Sunday Mass.